A very common question that I hear from couples when they're starting to plan their weddings is along the lines of when things should be done. Well, a large part of "getting things done" involves working with vendors, and therefore, that question then turns into "When to hire your wedding vendors".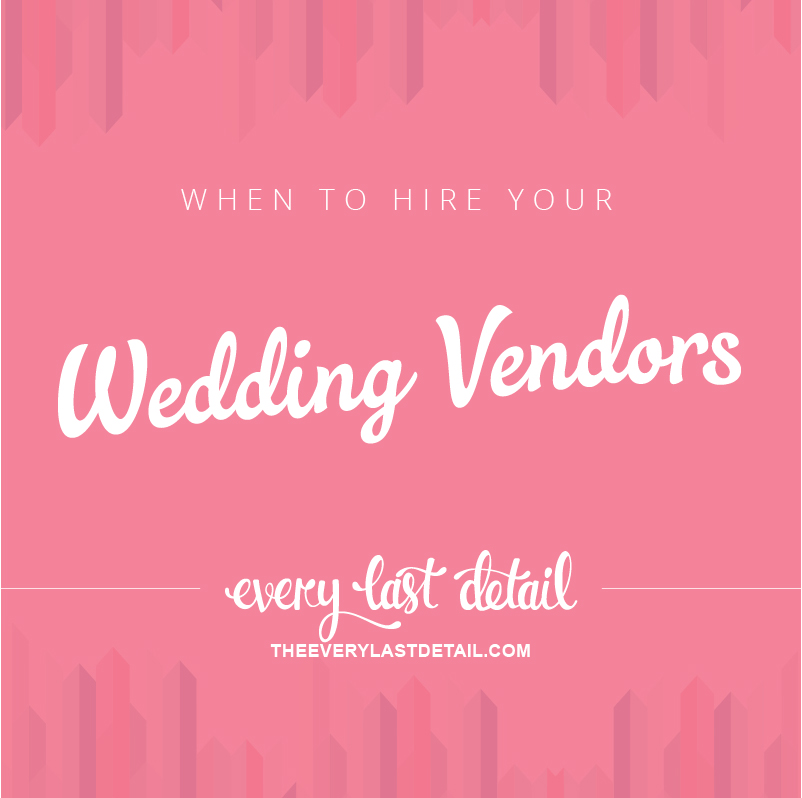 You see, hiring your wedding vendors is one of THE most important parts of planning your wedding- because your vendor team is going to be one of the major factors that affect the success of your wedding. And the thing about hiring vendors is that yes, there are recommended times to do so (like 10 months before your wedding, 8  months before, etc), but at the same time, good vendors book up FAST, no matter when your wedding is! I've heard of and witnessed quite a few couples not being able to get the vendors they want because they waited too long to hire them. Of course you deserve to have the vendors you want and love, and so much of this depends on booking them in time. So I've put together my recommended order to follow when it comes hiring your wedding vendors…
1. Find and hire your wedding planner.
 It doesn't even have to be a planner for Full Planning–  it's just a good idea to meet with a planner to discuss ideas and get vendor recommendations. (At this time, absolutely start looking for and researching vendors, particularly photographers)
2. Choose your date and book your venue.
The wedding date and venue go hand-in-hand. If you have a venue that you love, but they're not available for the day you want, you can flexible with your date. Or if you're set on a date, you can shop for venues that are available for your wedding day.
3. Photographer
As soon as you've booked your venue and you have your date, nail down your photographer. By now you should have a good idea of the style of photography you like, since you should have been doing research on photographers all this time. Make your list of favorites, inquire about whether they have your date available, schedule meetings, and then book your choice ASAP!
4. Cinematographer
Definitely consider hiring a videographer/cinematographer for your wedding day. There is nothing like actually seeing the events of the day in ACTION, and cinematographers can capture so much of your day in a unique way. Great cinematographers book up fairly quickly, so if you know you want one, do this shortly after booking a photographer!
5. Consider hiring an event design & decor company.
Hiring an event design and decor company will cover a couple different vendors for you, and the majority of the time save you money (in rentals, fees, and delivery). These companies usually encompass lighting, flowers, draping, rentals and basically help you create the look and style for your wedding. They'll handle setting everything up and tearing everything down for you too, which is a big plus. If you're not going to use an event decor company, the other option is to find your floral designer, as well as vendors for lighting, draping, and any rentals.
6. Food & Beverage!
If your venue doesn't provide food, find your caterer!
7. Invitations & Paper Goods
Once you have your wedding design and style figured out (number 5 above), you'll want to get started on designing your invitations and other paper goods for your wedding. Having a good wedding invitation can play an important part in your wedding and conveying to guests the style and theme of your wedding- among other things.
8. Entertainment
Decide if you want a live band or a DJ to handle the music for your wedding. Do your research- ask for recommendations, look on Wedding Wire- basically just follow this blog post. :)
9. Extras!
Finally, hire any other vendors that you might need- a photo booth, cigar rollers, day-of coordinator (if you didn't already hire one for step 1), etc.
This list is based on what books up first, based on my experience. It's very common for good vendors to be booked a year (or more) out. This is especially the case for popular wedding dates and wedding seasons. A good rule of thumb to follow is that it's never too early to hire your vendors (although something like 5 years is a bit early). The earlier, the better! If you find all your vendors and hire them early on, you can enjoy being engaged, planning other aspects of your wedding (like the DETAILS!), and focus on starting your life with your new spouse!
Any other recommendations of vendors that might book up fast? Have any of you encountered an issue of a vendor that you want being booked already? 

A version of this post was originally shared in 2014. It has since been revamped and updated to further educate couples planning their wedding!
The following two tabs change content below.
Lauren Grove is the editor and owner of Every Last Detail. A clueless bride-turned-wedding planner, Lauren uses her experiences and knowledge to educate and inspire brides all over the world.