This may sound really silly, but when I was planning my wedding, I had no clue about how to inquire with wedding vendors! (Given, this was also a few years ago, and I know it's crazy to think about, but websites and email weren't quite as easy as they are today. Y'all are SO lucky that you have so many wonderful communication tools at your fingertips!) I didn't know where to look, where to start, or what to do. It was almost like I was at a total standstill in my planning- all because I didn't know what to do!
Of course I've learned a lot more since I planned my wedding, thanks to becoming a wedding planner afterwards. And so many times, I found myself thinking, "If I had only known this when I was planning!" So in case any of you are in the same position now, I thought I would share some of my insight about how to inquire with wedding vendors- so you don't end up being stuck in a standstill in your planning like I was!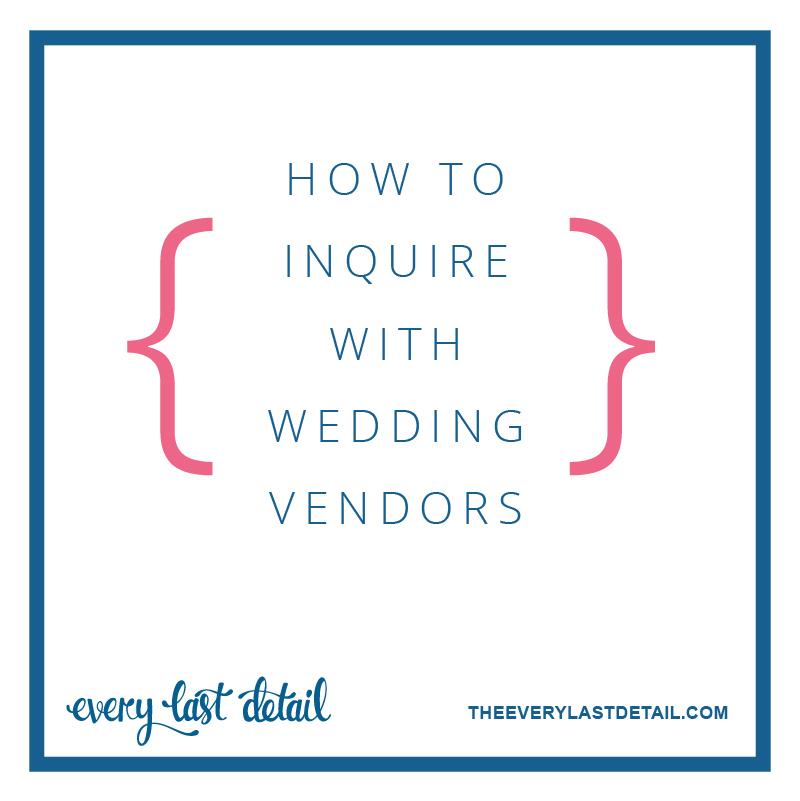 1. Do your research!
First and foremost, search in The V List for the most awesome vendors that I myself have extensively verified and vetted. Go to their websites and look around. Websites now are FILLED with lots of information, and if you have any questions, or maybe you want to know what they charge, chances are good that the information will be right on someone's site. Look at their work (of course), but also look at their About page and get a feel for their personality. [Go here for more tips on finding vendors!]
PS: DON'T BE AFRAID TO INQUIRE with vendors like I was! Also know that it's okay to search outside of where your wedding is occurring. Vendors are always willing to travel, and who knows- your absolute favorite photographer could be in the next town over! 
2. Narrow Down
Don't just send one big mass email to every single vendor in your area. It's really important for you to find vendors that *you* like. Make a list, narrow it down to your top choices, and send inquiries to them. My recommendation is to have a list of 3-5 and start there.
3. Keep things Short, Sweet, & Informative
When you inquire, you can either send an inquiry through a vendor's form on their sites (if they have one), or email. (You can also call if you really want to, but for organization purposes, I recommend keeping things online.) No matter the method you choose, keep things short, sweet, and informative. Start off by telling the vendor why you are inquiring with them- what is it about them that drew you to them? I know it's corny, but it will establish a nice sense of relationship for both of you. :) Provide them with your wedding date, your venue, a little bit about the kind of wedding you're wanting to have, what services of theirs you are interested in, and what your estimated budget is for those services.
4. Respond!
This is of course the biggest thing of all- respond! Start an email conversation once the vendor has responded to your inquiry. They might respond with information for you, or they may ask if you want to setup a time to meet. At the very least, just respond to let them know you've received their email and will get back to them (we all know that email isn't always the most reliable!). And another big thing- if you've decided to go with someone else, please let them know!
And that's it- it's all really quite simple to inquire with wedding vendors… the real work is in finding *who* you want to inquire with! :)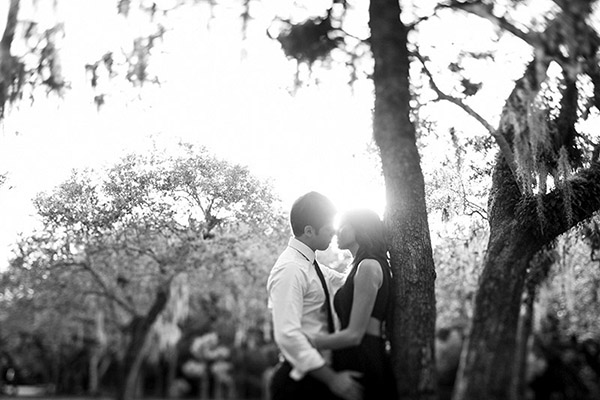 Image by Elaine Palladino Photography
I also asked some of ELD's V List members to share some of their expert advice about inquiring with wedding vendors- it's all AMAZING insight!
On Finding Vendors…
"Every bride deserves to be surrounded by perfect choices on her wedding day, you need to love and trust your vendors. So spend time finding your perfect choice and go with your gut instead of price-shopping when you find them." – Kate Breuer Photographer
"1) Trust your professional planner to help guide you in the right direction. He/She has worked with these professionals before and will recommend great vendors who are the best fit for you (in personality, budget, style, etc.).
2) If you're researching a planner, go with your gut! Be honest and candid. You'll be entrusting this person to help you make big decisions for the next 6-12 months, so your relationship is important!
3) Budget is important, but if you find a vendor you adore and are compatible with, it's really amazing when you end up finding that their services are invaluable." – Avis of Carillon Weddings
"Don't forget to take a look at their investment page to make sure your estimated budget is in their starting price.  Will save you a ton of time in narrowing down the ones you will be meeting with. Also, make sure you and that vendor get along 100%. I think that really meshing well with your vendors really help for a successful day." – Bumby Photography
"Do research. If they have a website read it, especially pages like faqs. Getting these things out of the way before the first meeting or email means a quicker start and more time can be spent on the fun stuff. It also shows a great respect to the vendor. When brides are prepared and do their research, it shows me a lot (the word humbleness even comes to mind) and I normally go above and beyond even more so because I appreciate their consideration of me." – Valerie of Val Marie Paper
On Inquiring… 
"Be as organized and give as much up front direction as you can. Any details, communicate! Pick vendors you truly get along with and you TRUST. You shouldn't have to stress or micromanage your vendors." – Kristi of Markit Photography
"Don't send out blind emails, I know it's very overwhelming out there, but do a little research first before contacting a vendor(s), make sure you are contacting the right people otherwise you will soon have a very full inbox with spam mail!" – Michelle Elaine Weddings
"Give all the information you have so far (like location & date) and tell us something about yourself or wedding details so we can get an idea if we'd be a good match for you whether that's stylistically (you love romantic and feminine details) or personally (you and you're fiancé met in high school)." – Caroline of Caroline & Evan Photography
"Don't send a mass email bcc or cc-ing all the vendors in that category you are interested in. I know it is time consuming, but you want to form a relationship with people so they are invested in your day. A one-on-one conversation is best to develop that." – Leigh Pearce Weddings
On Hiring…
"Don't hire a vendor just based on budget and expect them to change to fit your style. Make sure they share your vision & style first and foremost." – Jessica Charles Photography
"If you end up booking another vendor, make sure to just let the other vendors you inquired with know that you went with someone else!" – Michelle Kristine Photography
"Do some research and go to meetings prepared. Be ready to ask questions and to talk about yourself, your fiancé, and the details of your wedding day. It's so important to find vendors who are a good fit in every sense of the word (budget, style, personality). In order to find that out you need to be open and honest right away. Also, follow up if you decide to go with someone else as a courtesy." – Kelly Hancock Events
"Trust your vendors when they give advice – they've been through more weddings than you and know what works and what doesn't. A good working relationship is built on two way trust." – Brent of Live View Studios
———————————————
I can tell you that I most certainly wish I had known all of this when I was planning my own wedding. In fact, if I had known these tidbits, my wedding would have turned out 100% different!  So friends, learn from my mistakes! :)
I'm sure lots of you have started inquiring with potential vendors by now… have any other tips to add? Or maybe you have a specific question? Share or ask in the comments below!
The following two tabs change content below.
Lauren Grove is the editor and owner of Every Last Detail. A clueless bride-turned-wedding planner, Lauren uses her experiences and knowledge to educate and inspire brides all over the world.