Alrighty, so we are officially at the half-way mark of the First Things First list of 10 steps to start planning your wedding! If you need to catch up, you can do so here!
So you've set your budget, started your guest list, have a few optimal dates selected, and have decided on what style of wedding you want. Now it's time for the thing that sets EVERYTHING in motion- choosing your wedding venue! Once you have your venue, you can really start getting into the nitty gritty details of planning your wedding- because of course you can't do anything until you have "booked" your wedding venue. [Let's also keep in mind that "booked" means you have paid a deposit and signed a contract. :)]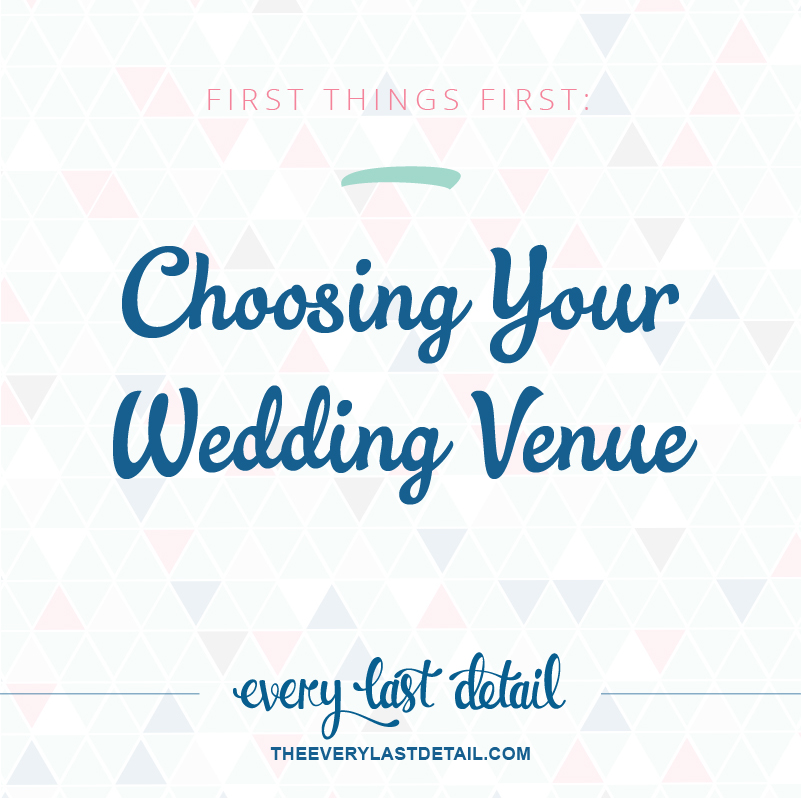 Sometimes brides already have a specific venue in mind- like if you've always wanted to get married at your childhood church and have your reception at your hometown's country club. However, it's the most common situation to do some research on possible wedding venues and then tour a few. So I have a few questions that you can ask yourself that will help guide you in the process of choosing your wedding venue…
1. What *type* of venue do you want?
This goes along with choosing your wedding style. Do you want an elegant ballroom wedding, or a causal beach wedding? Maybe an outdoor farm wedding or a modern art gallery? As you see just from those descriptions, you have several "types" of venues to choose from for your wedding- and the "style" of wedding you want to have will help you determine that.
2. Do you want extra amenities, or just a blank canvas?
Going along with the "type" of venue, You'll need to decide on if you want a venue that provides everything, or a venue that just provide a space. I myself prefer a blank space, but that also involves needing several other vendors. There are venues that have different levels of what they offer too- a venue that does everything (planning and flowers included), a hotel that will take care of food and provide you with a room block for guests, or a literal blank space that requires you to bring everything in. It's all based on what you prefer, so it definitely helps to know beforehand what you're looking for along the lines of venue amenities.
3. Can you bring in your own vendors?
Lately I've been hearing about more and more venues that have a "preferred vendor list"- meaning that they will only allow brides to work with the vendors on their list. I definitely think that all of your vendors should give you recommendations of who they like to work with and who they think is awesome. But I certainly do NOT agree with the practice of telling a bride that if she wants to get married at XYZ venue, she can ONLY choose from these 5 vendors to work with. What's even more disturbing to me is that some venues are also requiring vendors to pay to be on these preferred vendor lists, meaning that they might not be on there because of their awesome quality. I've heard of brides who couldn't work with their dream photographer, wedding planner, or caterer because they weren't on their venue's "list", and that is just heartbreaking! So if the vendors that you want to work with are important to you, make sure your venue allow you to work with whoever you want!
[Note: This is nothing against preferred vendor lists- I think they can be very helpful. But lists from venues that require vendors to pay, as well as venues preventing brides from working with who they want- well these things don't help at all!]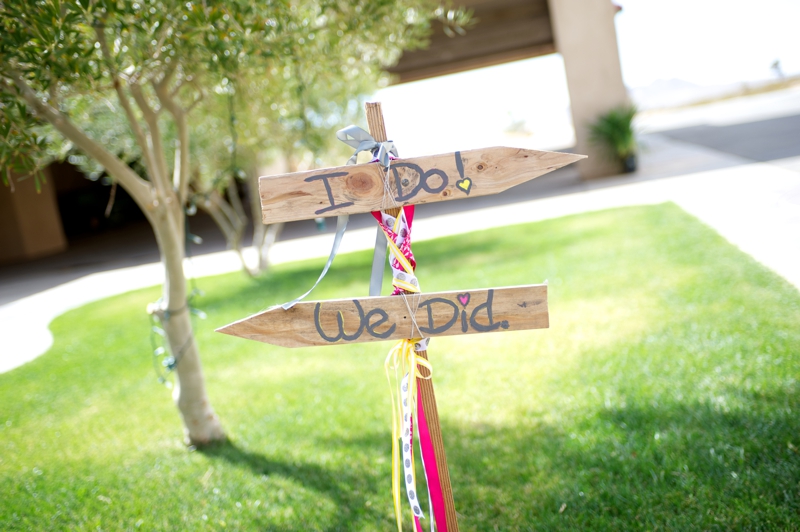 Photo by D'Avello Photography
4. Is the venue available for your preferred dates?
Remember those wedding date options you decided on in Step #2? This is where they come in handy! When you're inquiring with a venue, give them your date options and ask if they are available for any of those dates. Often times venues book out a year to a year and a half in advance, so if you're planning your wedding on a shorter timeline, date availability could be a deal-breaker or a deal-maker!
5. How will your venue work into wedding day logistics?
This usually isn't thought about this early on in the planning process, but I encourage you to start thinking about it NOW! When I say wedding day logistics, I mean everything about the flow of your wedding day. From where you're getting ready and travel time, to where guests are staying and how easy is it going to be to get to/from your wedding venue. This is especially important to consider if you are planning on having your ceremony at a different location than your venue. If you're considering a venue that is not a hotel and you will be having lots of out of town guests, you definitely need to be thinking about logistics now. Travel to and from a reception venue with lots of out of town guests can prove to be a sticky situation!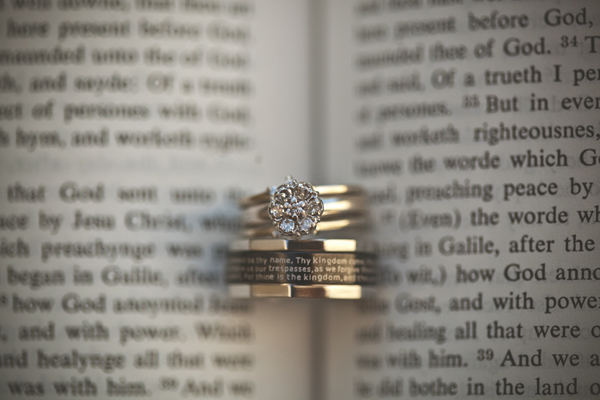 Photo by Michelle Kristine Photography
And to make sure I didn't miss anything, I asked Every Last Vendor members to share their advice with us:
"Be aware of the full cost of the venue(s) before making a decision. Up front, that $2000 rental at the rustic barn may seem like a deal, but after you factor in renting your linens, china, additional catering staff, and more, you could be looking at a much higher cost than going with a more inclusive venue that initially seemed "expensive". I recommend creating a spreadsheet to compare apples to apples when making the venue decision, as it's helpful to see the bottom line for each option. Keep in mind a wedding planner can help you estimate what hidden costs you might be looking at." – Cassie of Flaire Weddings & Events
"Make sure to know what other vendors you want and what your budget is before booking your venue. It's usually the first thing you book & usually before you know your budget. So if you had a 10K budget, unless that's all you really want, it might not be wise to spend $7K on your venue. As a bride I knew I wanted a lot of people, but that photo, video, & planning were most important to me. So even though I loved some venues that were too much of my budget to book. Eventually I found the perfect one." – Heather of Meet The Burks
"Be sure you know exactly what is included in the rental fee, and what isn't. I.e. security, overtime, tables/chairs, dance floor, etc." – Heather of First Coast Weddings & Events
"Sit down and read the reviews of the venues that interest you. You can learn quite a bit about what to ask and what to stay away from by reading the experience of others. Also, get a wedding planner who is familiar with the area venues you are wanting. As him/her very direct questions including the pricing of the venue, do you have to use their catering or other vendors and availability." – Mari Darr~Welch Modern Photojournalist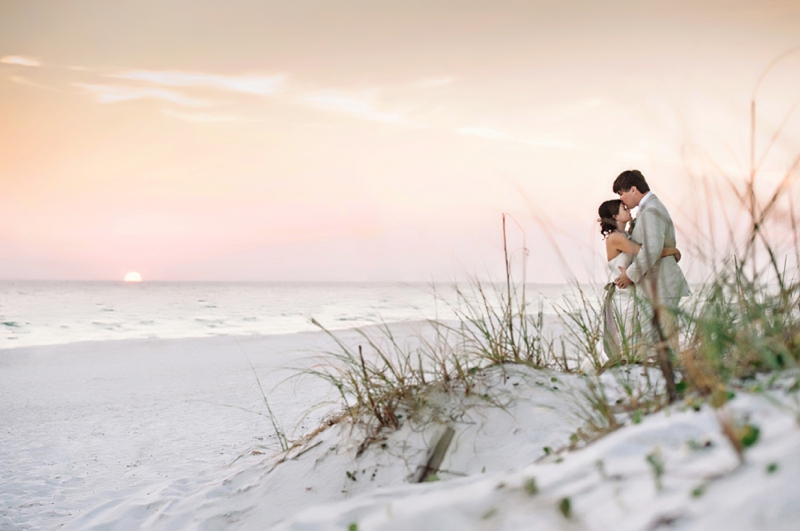 Photo by Dear Wesleyann
"Consider the ease for yourself and your guests of choosing a venue where all the events can happen so no one has to travel between the ceremony and reception." -Becka of Studio222 Photography
"Before booking your venue, know how it will work logistically! It may look beautiful but not work for what you're planning. You also need to know what is included in the rental price (ie: tables, chairs, etc) Some venues come with tables and chairs but the chairs don't match your decor, which means you have to rent more, and cause your budget to increase. If it comes with linen, the line may be basic and you may have to rent. You need to ask these questions to know the added expenses." – Lissahn of Enraptured Events
"Make sure that your venue isn't limiting vendors who are allowed to work there like DJs or Catering if there is a company or idea you are very attached to." – Samm of Imprint Cinema
"Before you begin to look for venues figure out what will be your budget, how many guests you will have, what is the theme, and if you would like to bring in your own catering company. Once you know the answers, you can start researching venues that fit within those perimeters. This way, you won't waste time or fall in love with a venue that won't accommodate the number guests you'll have or won't allow outside catering, etc." – Emmanuela of Precious Occasions
"Once you've done everything mentioned above and found your perfect venue be open to multiple dates, especially if you want to get married in a popular month or season. Your dream venue can likely only host one wedding per day." – Tiffany of Avant Images
"When choosing a venue, research will only take you so far. Visiting a space is a necessity to see the realistic view of the venue and what is being offered. Besides taking into account all the logistics like how many can be accommodated, the cost etc., also take notice about how you personally feel in a venue, whether the overall aesthetic adheres to the type of event you want to host and how you want to celebrate." – Roey Mizrahi Events
————————————————————————-
With the questions above and all of these great tips, hopefully you'll be able to make a decision that you're happy with when choosing your venue!
Brides, have any of you already selected your wedding venues? What kind of venue are you having your reception at? What helped you make your decision? 
The following two tabs change content below.
Lauren Grove is the editor and owner of Every Last Detail. A clueless bride-turned-wedding planner, Lauren uses her experiences and knowledge to educate and inspire brides all over the world.