Happy Monday everyone! As I mentioned on Friday, I'm off on an "ELD Gulf Coast Roadtrip" this week! Everything is of course still business as usual here at ELD, but I wanted to do something a little fun for all of you while I'm "away"!
One day, I was being interviewed, and all of my answers kept leading back to the invitations. It was then that I knew I REALLY had to get some tips and advice for invites on ELD! Of course since invitations aren't quite my specialty (even though they're one of my FAVORITE details), I asked some of the amazing ELV paper pros to share their expertise with us as part of ELD's Stationery Week! So every day this week, in addition to the usual daily posts, you will be getting tips, advice, and insight about wedding stationery! We're starting Stationery Week week off with Julie of Ten Four Paper sharing some insight into the first thing you need to know about wedding invitations… the design!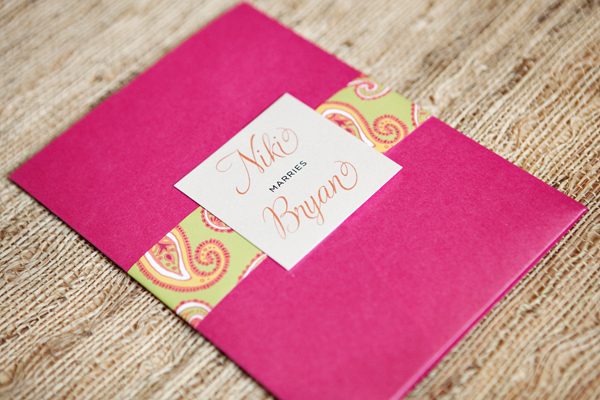 I'm so excited to share some tips on ELD today concerning my favorite part of weddings… invitations! There are truly so many options and wonderful stationers out there, and the possibilities are endless when it comes to sending your guests something special. I always like to remind my clients that invitations are the FIRST impression guests receive of your event, so why not make them memorable? Designing your invitations can be a bit overwhelming, so here are some ideas to inspire you and break things down…
Color
Color is a great way to infuse personality into your invites, and it is easy to coordinate paper goods with the colors used throughout your wedding. Color choices can be influenced by the season in which you are getting married, the location of your wedding or the use of certain colors simply because you like them! Whites, grays and metallics are great for winter or minimalist weddings. Greens, yellows and pinks scream spring and summer, while oranges, reds and browns pick up the warm colors of Autumn. It can also be fun to pick colors that contrast with each other, such as purple and yellow, teal and coral, or blue and orange. Make sure to pick colors you love and are comfortable with, and your paper items will look great!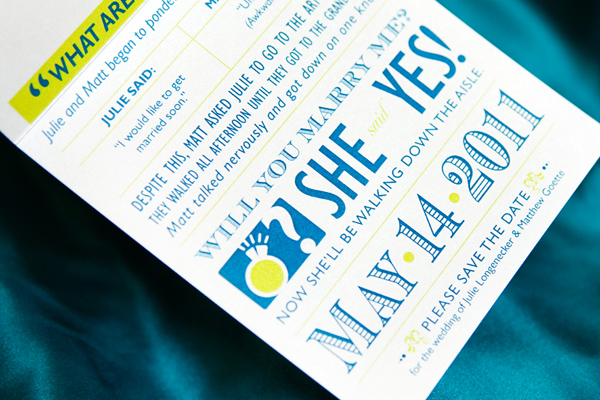 Font
Font choices are another way you can personalize your wedding stationery. As with color, it is important to choose fonts that match the style of your wedding. For formal, traditional weddings, it is often best to go with elegant script fonts and serif typefaces. Serif typefaces have little "feet" or serifs on the ends of the letters, and can look sophisticated and fancy. For more informal and modern weddings, sans-serif fonts and twists on classic scripts can add a unique touch. As with color, it can be fun to use contrasting fonts to add interest to the invitations. Consider having your name in a bolder script font, and all of the subsequent information in a more muted font, so your names stand out!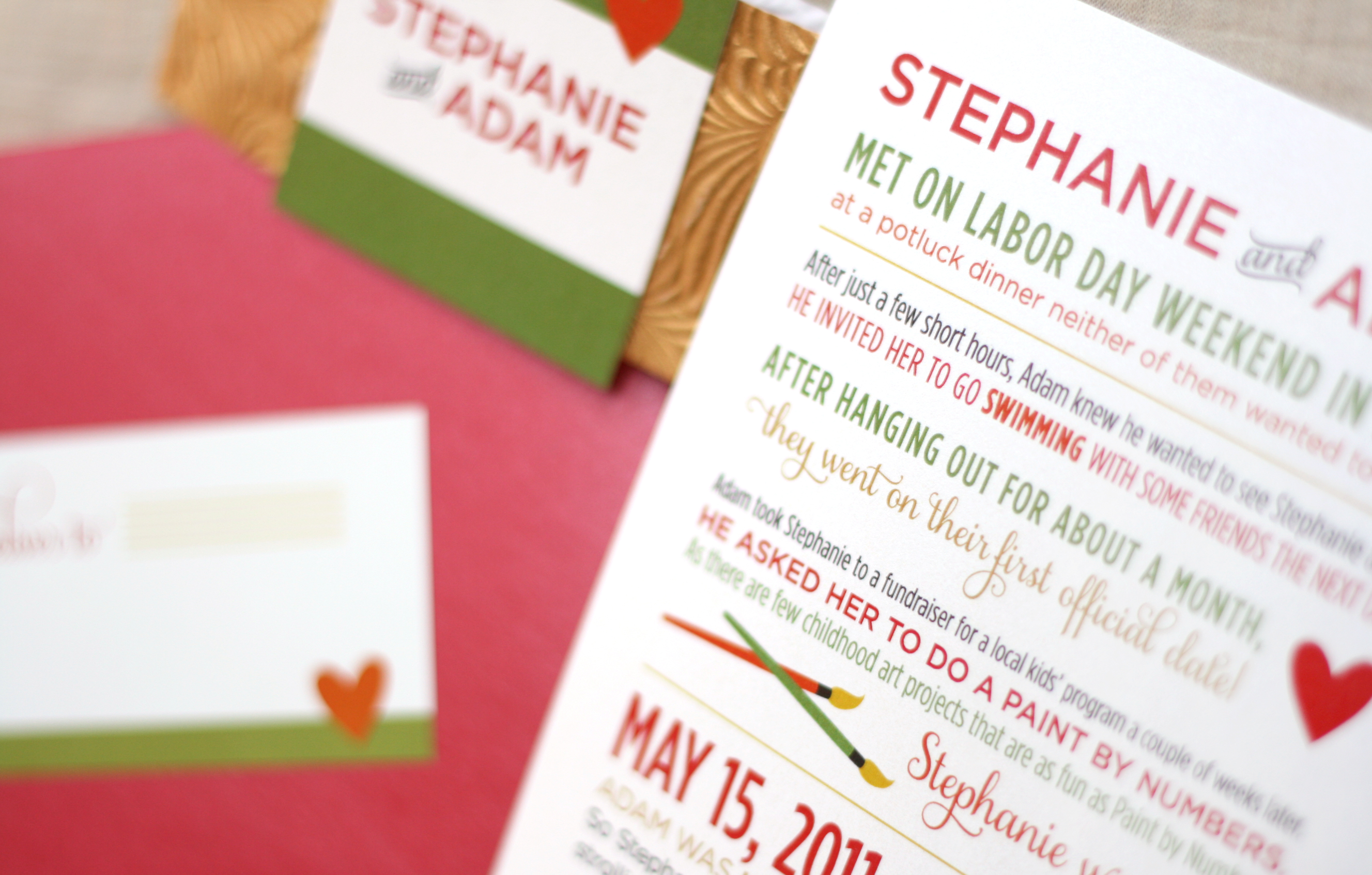 Paper
The paper your invites get printed on can be just as important as the design itself! I always suggest a heavy, crisp cardstock for any wedding invitation, to match the importance of the day. From there, make sure you look at all sorts of paper stocks, from pearlescent shimmer paper to more textural linen finishes. There are also many different weights of paper, so you are not limited to standard cardstock. Always ask for a sample of the paper your invitations will be printed on, to make sure you like the way it looks and feels before printing your entire invitation order!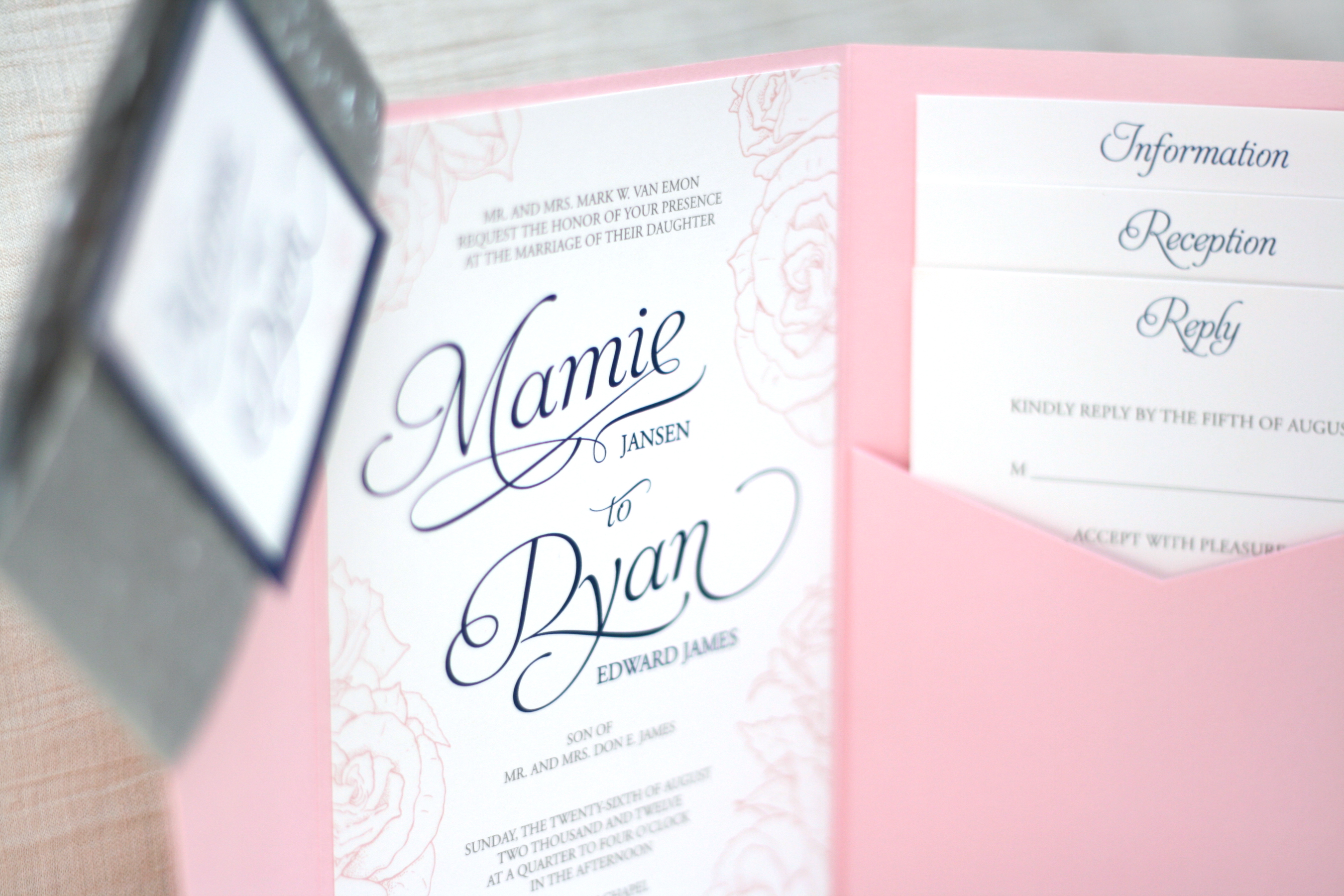 Layout
There are many layouts you can use to organize the information you are presenting to your guests. A typical invitation is a 5" x 7" or A7 size. This does not mean you are limited to this size, you will just find it to be the most common in designer collections! Other layouts and sizes are always possible, so make sure to ask your stationer for ideas. It is also important to note that any square invitations will be a bit more costly to mail than rectangular ones, due to USPS guidelines.
When thinking of the layout of your invitations, it is important for you to know how much information you need to give your guests. This will help your stationer determine the appropriate number of extra cards and items you need to best present everything. Some brides like to use pockets to organize the extra cards, while others can find them overwhelming and prefer to simply place the items in an envelope. In the end, it is really a personal preference, and completely up to you! Just choose a layout you are comfortable with and your guests will be thrilled and informed!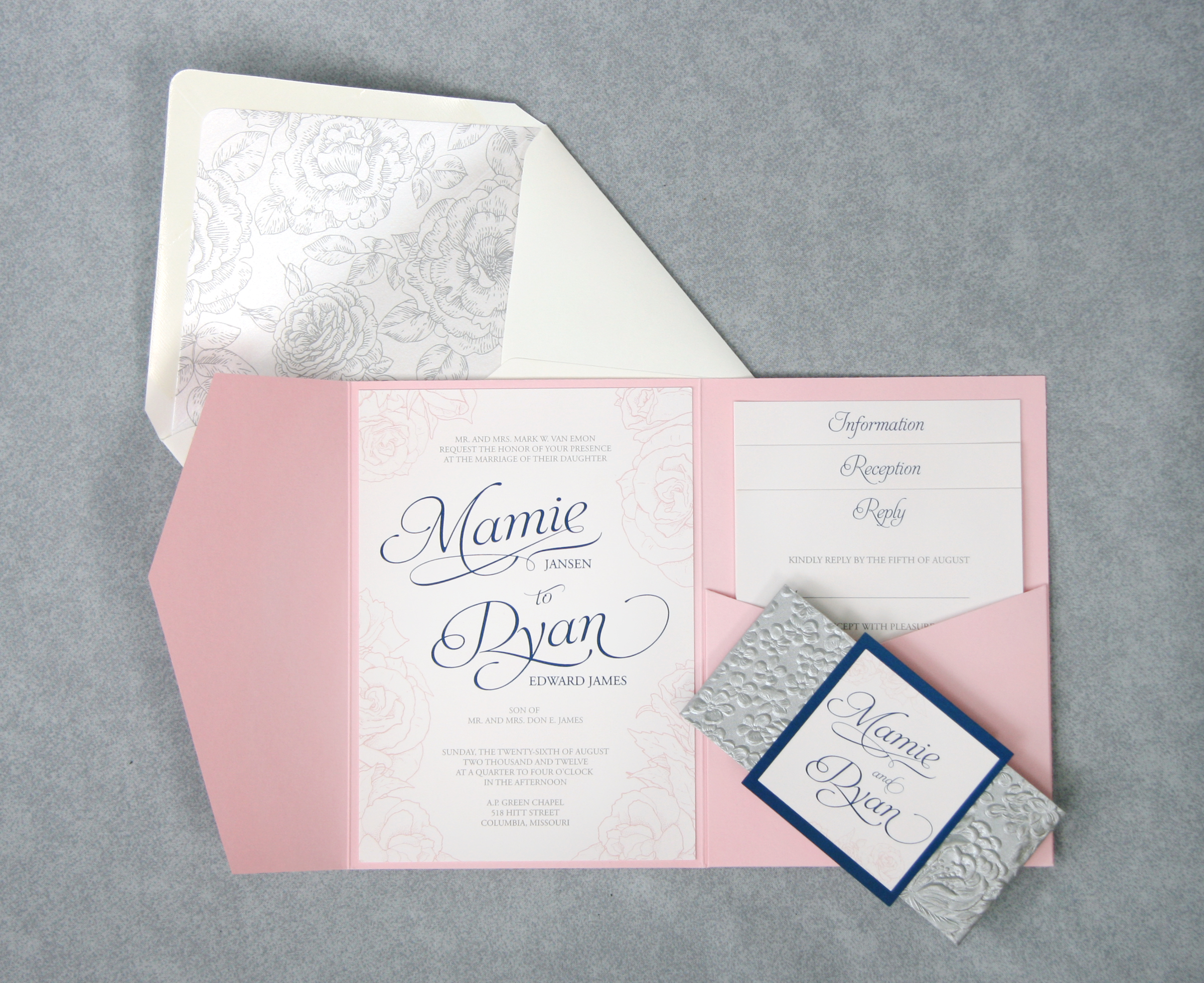 Embellishments
Ribbons, handmade papers, envelope liners and rhinestones… there are many ways to add extra details to your invitations. While embellishments will add to the cost of your invitations, sometimes an additional extra detail can go a long way. Bright envelope liners can add a fun pop of color, and textural handmade papers can add an element of interest. Think of embellishments as a way to make your invitations unique and personal to you!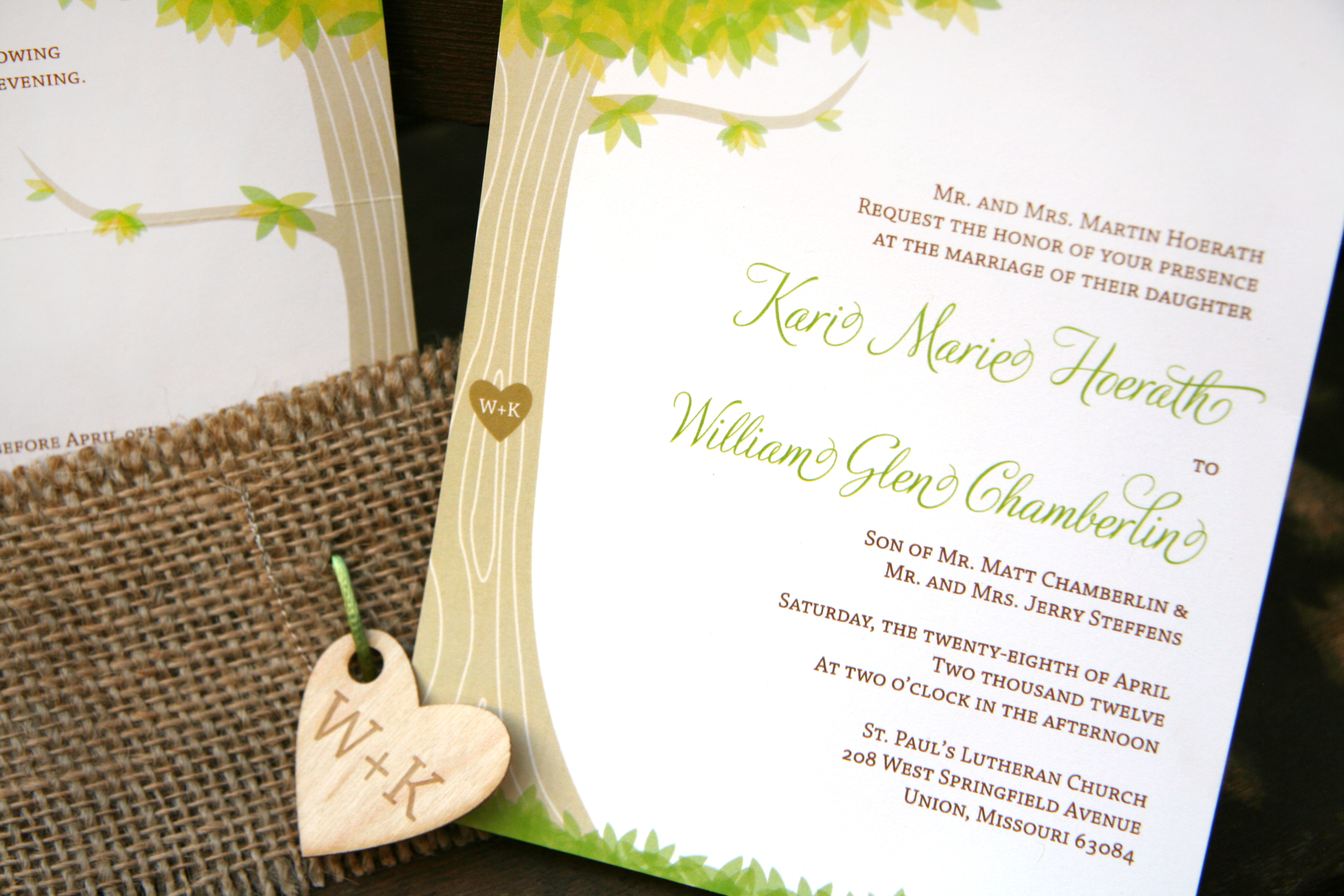 As with all other aspects of your invitations, it is important to think of the overall style of your event. Burlap wraps probably won't be a good fit for a fancy ballroom wedding, and Swarovski crystals might not make sense for a casual beach affair. The more you tell your stationer about your event and personal style, the more they can brainstorm unique touches that will make your invitations unique.
Just like any other wedding vendor, I recommend finding a stationer you like and trust. Make sure your invitations reflect YOUR personality, and never be afraid to ask a lot of questions! The invitation design process can be a bit scary, but just make sure you stay true to your style and comfort level, and you will end up with invitations you love and excited guests!
——————————————————————————————
Julie, thank you SO much for sharing this information with us! I know I most definitely never even considered ANY of this when it came to my invitations! Brides, be sure to check out some of Julie's (Ten Four Paper) fabulous work in her ELV gallery and on her website! And then come back tomorrow for more of Stationery Week! :) 
The following two tabs change content below.
Lauren Grove is the editor and owner of Every Last Detail. A clueless bride-turned-wedding planner, Lauren uses her experiences and knowledge to educate and inspire brides all over the world.