Whether you just got engaged (congratulations!) or you've been planning your wedding for many months, your guest list can become your least favorite topic. In fact, a recent Facebook poll we did confirmed this! You and your fiancé likely have friends and family of your own who definitely need to make the list, while your parents likely have their own must-haves. In turn, the guest list can be come a tricky game of sorts! So to help you try to keep the peace and calm for all, here's our 10-point guide to planning your guest list…
[PS: Make sure to pin the graphic below, so you can reference this post now and further along your planning journey!]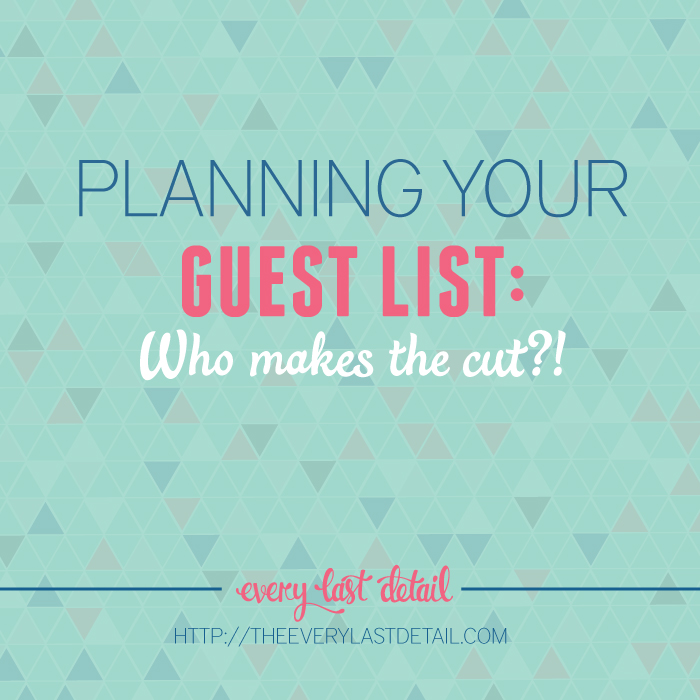 1. Start Creating Your List Early
Although you may want to avoid this task all together, plan to start creating your list early. We're talking about the big list of each and every person you would love to have present on your wedding day. There's no need to categorize the list or feel like you have to stick to a certain number, just write! By doing this, you will never feel as though you're crunched for time, which will also help to eliminate the fear of forgetting to invite one of your closest friends. Plus, starting early allows you, your fiancé, and your families the most time to edit the list to a point where everyone is happy.
2. Your Wedding Size
Aside from your dream list of guests, the other factor to consider very early on is how large or small you envision your wedding. If you've always dreamed of hosting an elaborate celebration with 250 guests, that's great! However, if the idea of having that number of guests present overwhelms you, consider having an intimate wedding with only your closest family and perhaps a few friends present. Either way, never forget that this is your wedding!
3. Keep Your Venue & Budget in Mind
Your venue can only accommodate so many people, and there are two ways to look at this fact. We advise brides to first create a rough guest list count, and then begin searching for a venue. The other option is to book your venue and then create your guest list based off of the guest count the venue can accommodate. Also, realize your venue, food, and drinks will require over 50% of your budget. If your current guest count exceeds your budget in any way, start editing your number- because after all, your guest count is the one thing that has the biggest impact on your budget!
4. Distribute the List Fairly
There are so many different ways to fairly allocate the guest list between you and your fiancé as well as your families. Family size, important friends, and paying parties will all play a part. However, the most fair way to initially distribute the list is either in thirds (1/3 for you and your fiancé, 1/3 for your parents, and 1/3 for the groom's parents) or 50/50 (50% for you and your fiancé and 50% for both sets of parents).
5. Creating Your Formal List
Although it may feel strange at first, one of the best ways to create your list is to have tiers – must-haves (your immediate family and best friends), would like (extended family and close friends), and would be nice (friends you're not in constant contact with, co-workers, etc). If you find that you need to cut your list down, having the ability to start at the bottom and work your way back up will cause less heartache than having one large list and making an attempt to cut back when each and every person feels important. As a note, give guests traveling in from out of town the same level of importance as you normally would. Allow your guests to make the decision as to whether or not they would like to travel for your wedding.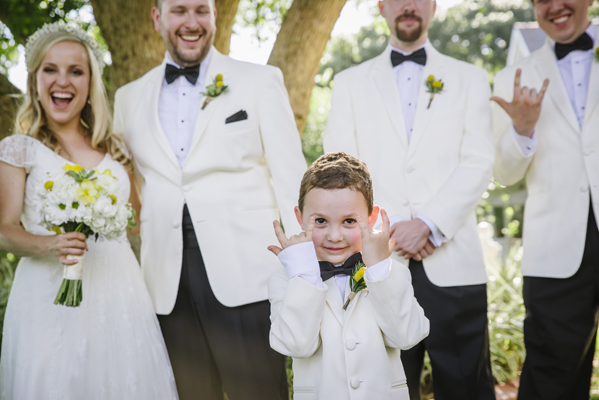 Image by Ashlee Hamon Photography
6. Inviting Plus Ones
If you're inviting a guest who is married, you must invite their spouse. If you know a guest is in a long-term relationship and/or you're also close with their partner, the best thing to do is invite both. Lastly, it's a nice gesture to allow members of the wedding party to extend an invitation to a date if they would like. Otherwise, including an option for single guests to bring a plus one is not a requirement.
7. Inviting Children
Whether or not you extend an invitation to the children of your guests will largely depend on the atmosphere you would like present at your wedding. If you decide to invite kids, try to include them on the dance floor and consider having games for them to play (lawn games are perfect for outdoor weddings!). If you're having a flower girl and/or ring bearer in your ceremony or you're hosting a destination wedding and do not want children at your reception, plan to hire a babysitting service that will allow parents to attend your reception and leave their kids with a caretaker.
8. Communication is Key
In order to finalize your guest list, plan to meet in person (if possible) with your fiancé and all of your parents. Your lists may be within your ideal guest count; however, it's also very possible that one group may have an overflow of people they would like to invite. Rather than getting frustrated, go through your lists together. If you don't know the possible guest, ask why they are on the list. Then either talk through perhaps not inviting them or see if a guest can be removed from another list to allow room for another guest to be added. The most important thing to remember when finalizing your list is to be kind to each other. It's difficult (we're well aware!), but you will get much more accomplished by being kind and calm than you will by being angry.
9. Sending Invitations
Once your guest count is finalized, the first step is to mail save-the-dates. You will want to mail these roughly six months prior to your wedding. Plan to mail your invitations 6 weeks in advance. Realize that 20%-30% of your guests may be unable to attend your wedding. As you receive responses back that guests are unable to attend, you're welcome to send an invitation to guests who were not initially invited but who you would love to have in attendance if your count allows.
10. Handling RSVPs
Do not allow RSVP to sit in a pile! Instead, create a spreadsheet in Google Docs or Excel, and enter the guest's name, whether or not they're attending, and their meal choice. Also, plan to add a column where you can enter their table number once your seating chart is in place. Having this document is important because you can send it to your caterer, as well as your stationer or calligrapher if you're having a seating chart, escort cards, or place cards designed. Lastly, if you and your fiancé are working with an event planner, ask your planner if she would like the RSVP cards to be mailed to her address rather than yours or your parents'. Some planners are happy to manage your guest list, plus it prevents you from having to create a spreadsheet and remembering to send it to your vendors as your wedding date nears.
---
So friends, do you have any tips for creating and managing a guest list? Please leave them in the comments- we'd love to hear!
The following two tabs change content below.
My name is Carly, and I live for love whether it's the love I witness between my family members and friends or the love I have for places and weddings. For these reasons and more, I write about the wedding industry, and I'm an event planner, designer, and floral stylist who will forever be in love with flowers, pink, and bows.