Many of you may know that my goal for Every Last Detail is to educate brides- and the world- about weddings. A very large part of this involves spreading the word about what a wedding costs, and while it's not always the happiest topic, it's a very necessary aspect of wedding planning. And so, in 2012, I surveyed wedding professionals across the United States to find out what their average bride spent with them. I conducted the survey again last year, and today I'm excited to share what a wedding costs when you use professionals with you all!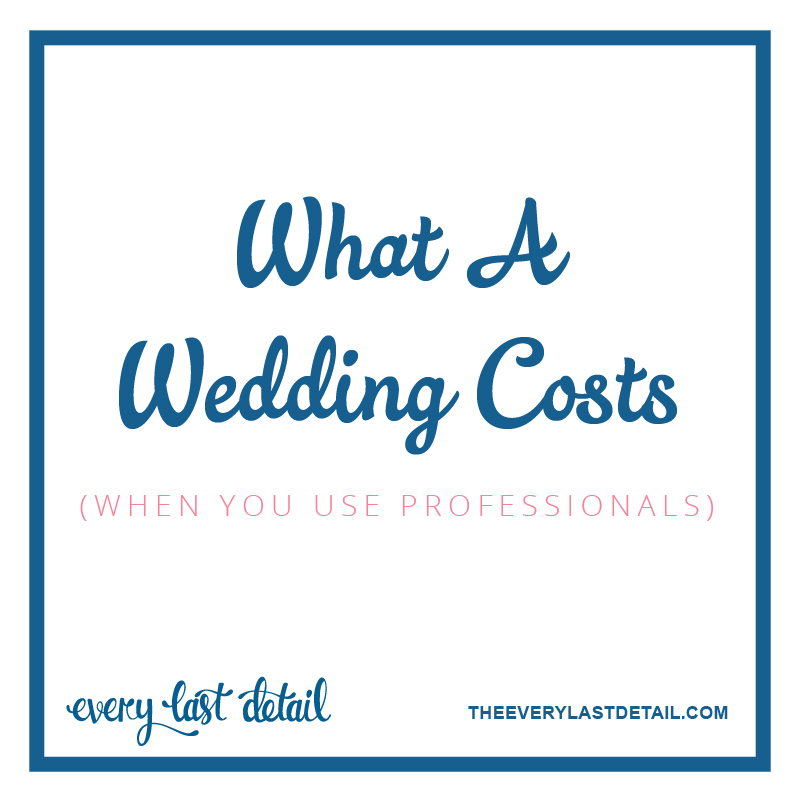 Before we talk data and numbers though, it's important you know something: the weddings I talk about here on ELD don't encompass all weddings… they are a certain type of wedding. (Yes, there are types of weddings!) These weddings that I speak of are weddings that use professionals. These weddings are what I know- it's the type of wedding that I myself had, and it's the type of wedding that I planned for other brides. Sure, you can have a wedding without using professionals- and it will undoubtedly be a lot less expensive. But those aren't the weddings that I have experience in, and therefore, they are not the weddings that I speak of here on Every Last Detail. :) My biggest regret from my own wedding is that I was clueless about all things weddings. The truth is, my wedding would have been a whole lot better if I had just known more- more about vendors, more about what to do, more about what things should cost… heck, more about everything having to do with weddings! This is of course the driving force behind why I started Every Last Detail, and it is my hope for ELD to be a source that brides can turn to for candid, truthful insight about weddings. Which is precisely why I talk about some of the "taboo" topics, like what a wedding costs.
So with that said, let's actually find out what a wedding costs when you use professionals…

Infographic design by PostFilm Design
A few things to note regarding this data:
*The average guest count for these weddings= 143
*Data represents all of the United States.
*Catering and venues can often times be one in the same.
Sharing this information has been a LONG time coming! In all honesty, I'm kind of late in posting it- this year and time has been flying by, and I'm kind of in denial that May is almost over… but I didn't want another day to go by without you all having this information! I hope this will serve as a tool so you can know and be prepared for what to expect wedding vendors to cost. Because half the battle of setting a wedding budget is just knowing what to expect! And if you have any questions at all, please don't hesitate to ask below in the comments!

The following two tabs change content below.
Lauren Grove is the editor and owner of Every Last Detail. A clueless bride-turned-wedding planner, Lauren uses her experiences and knowledge to educate and inspire brides all over the world.