Hi everyone! So today I'm releasing something that I have been working on for a very long time- over a year actually. As some of you know, I'm on a mission to educate brides– because you can't be expected to know about weddings when you've never planned one before! Well, for the last year, I have been collecting data from WEDDING PROFESSIONALS throughout the US. This data is what surveyed wedding vendors have reported that their brides spend with them on average. I set out on this informative mission so that brides can have *some idea* of what to expect when using professionals for their wedding. I'm so excited to finally be able to share this information with you all!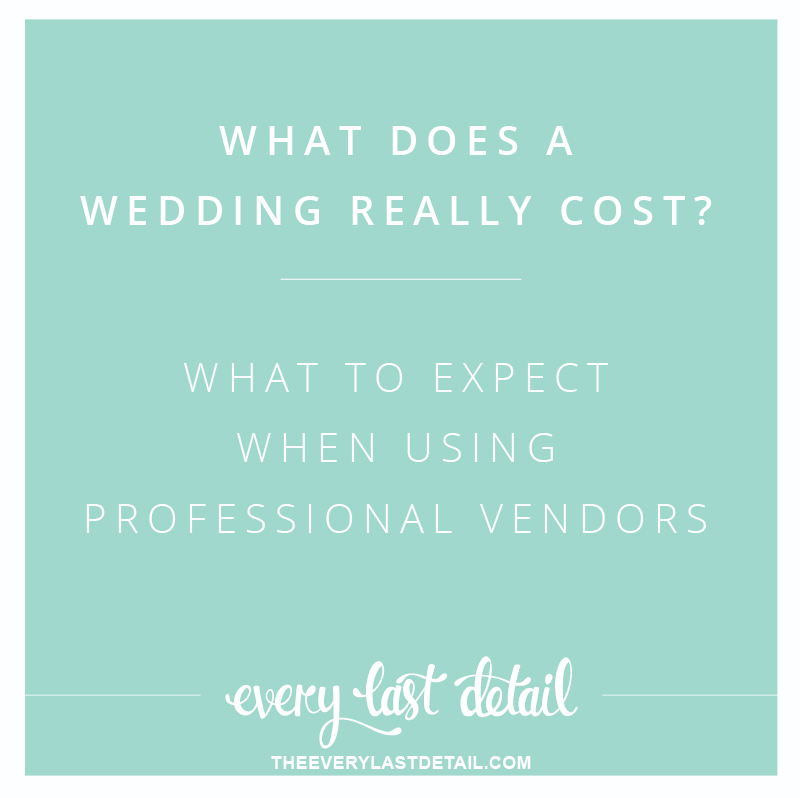 *Please note that these figures are averages obtained directly from professional wedding vendors all over the United States.*
[Please note that there were a few "vendor categories" not included in the sampling, such as officiants, favors, gifts, and fashion. All of these categories are incredibly varied, most of which (except for fashion) are in price ranges of the low hundreds.]
I'm hoping that this information will serve as an educated bit of knowledge for brides on what to expect for estimated wedding cost when using professional wedding vendors. I want everyone to be educated and prepared- because I know that if I had known this information myself, I would have most definitely made some better decisions! Please know that I'm not saying that these numbers are required in any way, shape, or form. Pricing does indeed vary depending on location, experience, what you get, etc. These are just averages sampled from wedding professionals throughout the country, and I intend to continue to collect data and release an updated version of this infographic next year as well. In the coming weeks, I will be addressing each vendor type and their associated average costs to further this informative series. :)
You see, when I myself was a bride, I had NO CLUE about what to expect what a wedding would cost. I wanted to do everything "by the book" and hire professionals, but I didn't know what to expect. No clue whatsoever. What I didn't know at the time, was that I wasn't alone in this. Now that I've been in the wedding industry for 3 years, there have been several times that I've heard brides say, "How am I supposed to figure out my budget if I don't know what things for a wedding are supposed to cost?" You have the budget percentage suggestions in magazines and on websites, but even that doesn't tell you what to expect your photographer or planner to cost. And sure, you can refer to the national statistics and whatnot, but in my experience, even those numbers aren't accurate- at least not for the weddings that I've seen! In the "real world", when you're purchasing something, it always helps to know what to expect to spend- at least a range. For example- you go to buy a cocktail dress at a department store, and you know to expect to see a range of about $70 to $120 (give or take), right? Well, this my friends, is to provide you with an expectation of what to spend for wedding vendors!
Want more information on vendor pricing and wedding budget? Check out these posts:
Why Do Weddings Cost So Much?!
Do "Off Season" Discounts Exist?
How To Find Out Wedding Vendor Pricing
Comparing Vendors: Apples To Oranges
Why You Shouldn't Negotiate With Wedding Vendors
Have questions? What have you yourself experience as far as pricing, and what area are you in? Share your own experience in the comments if you have already booked your vendors!
The following two tabs change content below.
Lauren Grove is the editor and owner of Every Last Detail. A clueless bride-turned-wedding planner, Lauren uses her experiences and knowledge to educate and inspire brides all over the world.