Wedding invitations are one of my absolute favorite wedding details, and if you ask me, I think they might be the most important wedding detail too! Not only do they serve the very important purpose of informing your guests, but they (and your Save The Date if you send them) are the very first thing that people will see when it comes to your wedding, and therefore set the tone for many other aspects of your wedding.
With that said, let's go over a few things that would be helpful for you to know and remember when it comes to wedding invitations…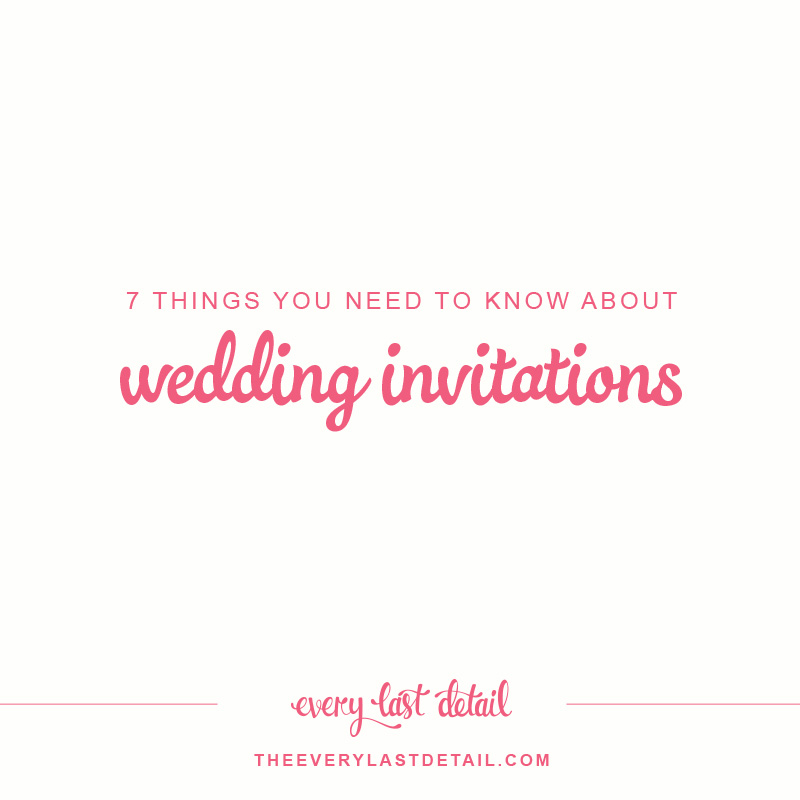 Custom is the way to go…
Custom invitations are the way to go- and NO, they're NOT as expensive as you think! I think that just because the word "custom" is associated with it, many people automatically think something is out of their price range- I know I did! (Sidenote: essentially everything for your wedding IS custom, because your wedding should be CUSTOM to YOU!) Think of it this way- would you rather have your wedding invitation be something mass produced that a million other brides have used for their own weddings? Or would you rather have something designed to match your wedding with all of your preferences, information, and requirements? I myself didn't even know I could have custom wedding invitations, and it's one of my major wedding regrets. There are SO many amazing designers out there, and I know you will find someone who is perfect for you!
Click here to see ELD's approved stationery designers in The V List! 
Design Takes Time…
With that said, you need time to have your invitations designed. It will be a process that you will go through with your stationery designer, you will have to make edits, changes, tweaks, etc. Start this design process 6 months before your wedding. (Oh, and while we're on the topic of designing invitations… don't ever expect a designer to replicate someone else's design. Show them your inspiration for the style and look of what you like, and then they can create something custom for you from your inspiration. Don't ask them to copy someone else's work- it's illegal!)
Read more here: DESIGNING YOUR WEDDING INVITATIONS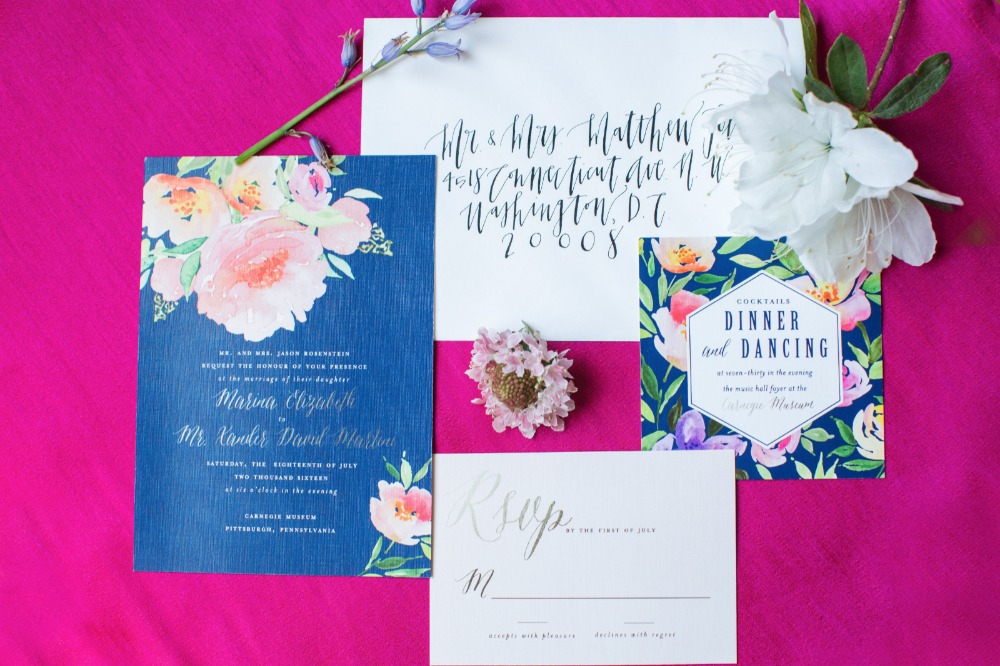 Custom wedding invitation design by Blush Paper Co.
Inform…
Your wedding invitations are meant to inform your guests, so you of course want to make sure you're doing just that! Include you and your partner's names, the host names (if applicable), the location, and recommended attire. You can include the address if you wish, but if you're having a directions card, then it's not necessary.
On that note, it's always a good idea to include an information card (sometimes called a directions and/or accommodations card) in your invitation. This will do the job of providing your guests with even more information than the actual could provide. And definitely include your wedding website too!
Read more here: INFORMING GUESTS WITH YOUR WEDDING INVITATION
Proofread…
You don't know how many times I've heard about invitations being printed wrong because of a lack of proofreading! Your stationer most likely doesn't know the exact spelling of your fiance's name, your parents' names, your venue's name, etc- but you do! Make sure you look over the proofs sent to you, and then have at least 2 other people look them over as well!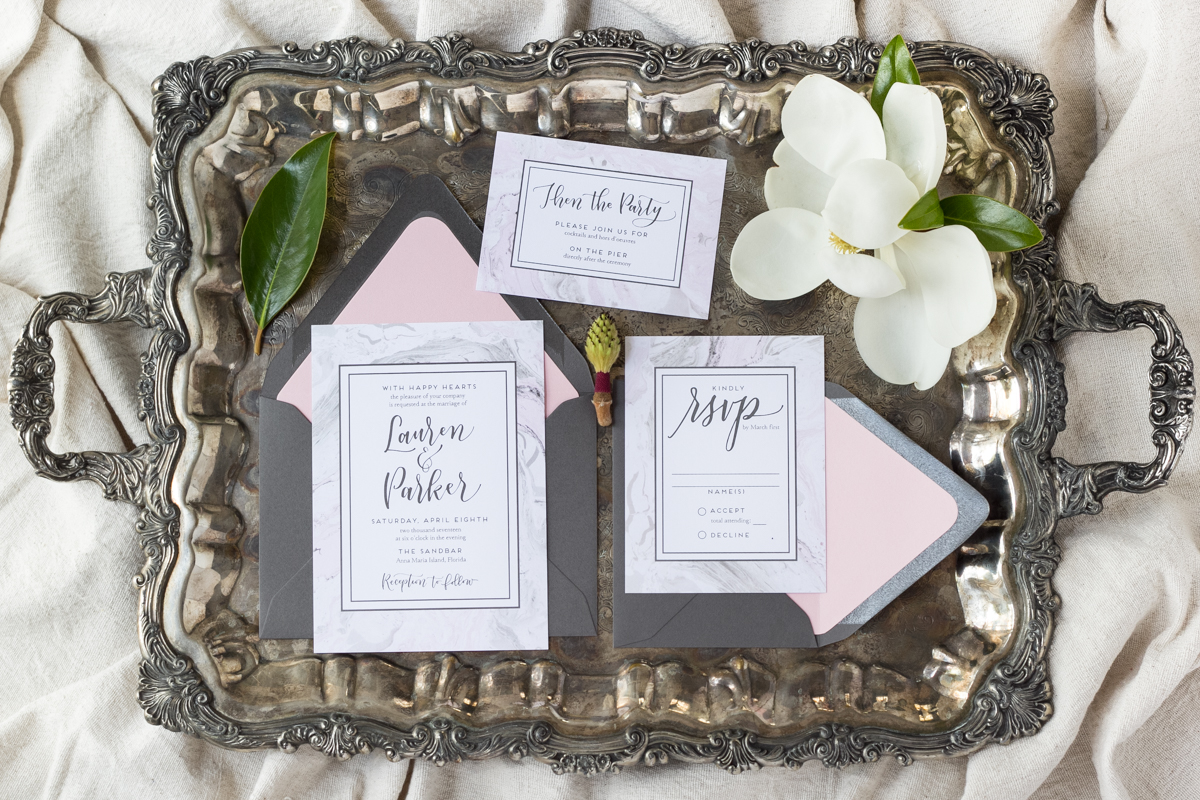 Custom invitation design by Feathered Heart Prints
How Many To Order…
Remember that you don't have to order one invitation for EVERY person on your guest list. Many of the people you invite will be couples, and I'm pretty sure most of those people live at the same address, right? So when thinking of how many invitations to order, just cut your number of guests in half and you'll have a good estimate. Of course you definitely want to make sure to do a final count, and always order extra invitations just in case! Also, if you have divided your guest list into an A and B list, make sure you have enough additional invitations to send to some of the B list if you have A list guests RSVP with a "no"!
When To Send…
Your wedding invitations should be sent out 8 to 10 weeks prior to your wedding day. If your wedding is taking place around a holiday or during a busy time of year, definitely send 10 weeks before. If you have sent out a Save The Date, you will be "safe" to send in the normal 8 week window.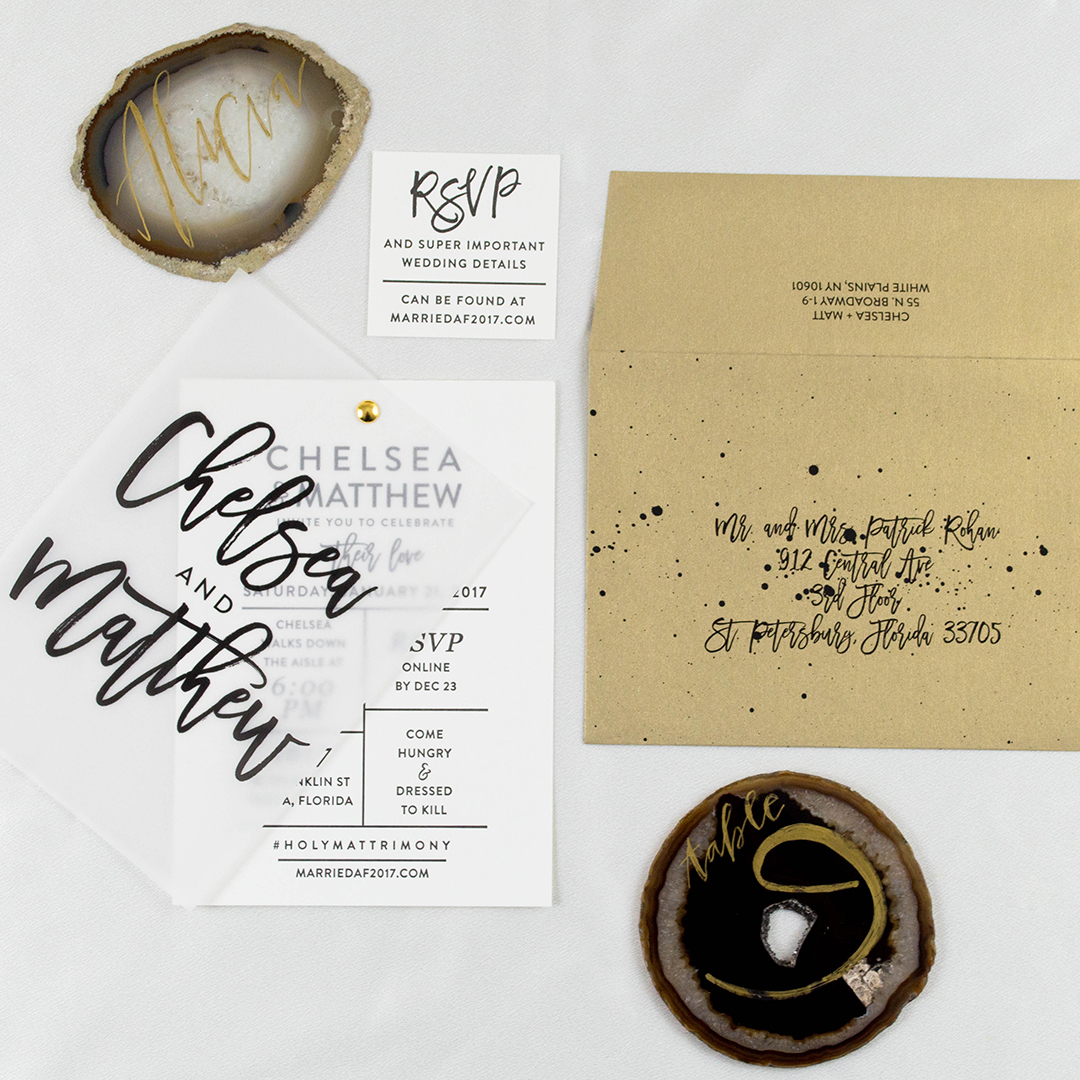 Custom invitation design by A&P Design Co.
Don't forget…
Don't forget about postage and other paper elements too! The majority of the time an invitation is NOT going to just take a normal stamp, so you're going to need to take it to the post office and have it weighed before you buy your stamps. And you'll need stamps for your RSVPs too- don't forget those!
Read more here: HOW TO MAIL WEDDING INVITATIONS
As for the other paper elements, people always think about them, but they're often forgotten in the excitement of the invitation design. These items are also very important in information your guests, but just on your wedding day- menus, escort cards, programs, etc. Even though they're not needed until the day of your wedding, I definitely recommend having your stationer design these items along with your invitations so they're ready to go once you have all of the details to "fill in".
All of this information is important to know no matter where you are in your planning, but of course it's key to remember 6 months before your wedding, because then it's time to start on your wedding invitations!
So do you have any questions about wedding invitations that I or stationery pros can answer for you? Have any of you started on your wedding invitations yet? 

---
Search our Vetted & Verified Vendors

The following two tabs change content below.
Lauren Grove is the editor and owner of Every Last Detail. A clueless bride-turned-wedding planner, Lauren uses her experiences and knowledge to educate and inspire brides all over the world.