"It's a question that just about everyone is wondering- what will post-Coronavirus weddings be like?
Just as with everything surrounding COVID-19, there are way more unanswered questions than absolute knowns. But, as areas start to open up a bit more, you may want to know what your possibilities are for having a post-Coronavirus wedding.
This is definitely something that I myself am wondering too, not just because it's my industry involved, but because my sister is set to have her wedding in November of this year. Now, sticking to the guidelines of many wedding professionals, she has been moving forward with her wedding plans- in fact, she just booked her wedding DJ last week!
But, it would irresponsible of us if we DIDN'T start to think about ways that her wedding- and others- might have to change from what was previously expected. So I turned to ELD's network of wedding experts to get their insight and find out what they are thinking… here are the elements that may need to change for post-Coronavirus weddings: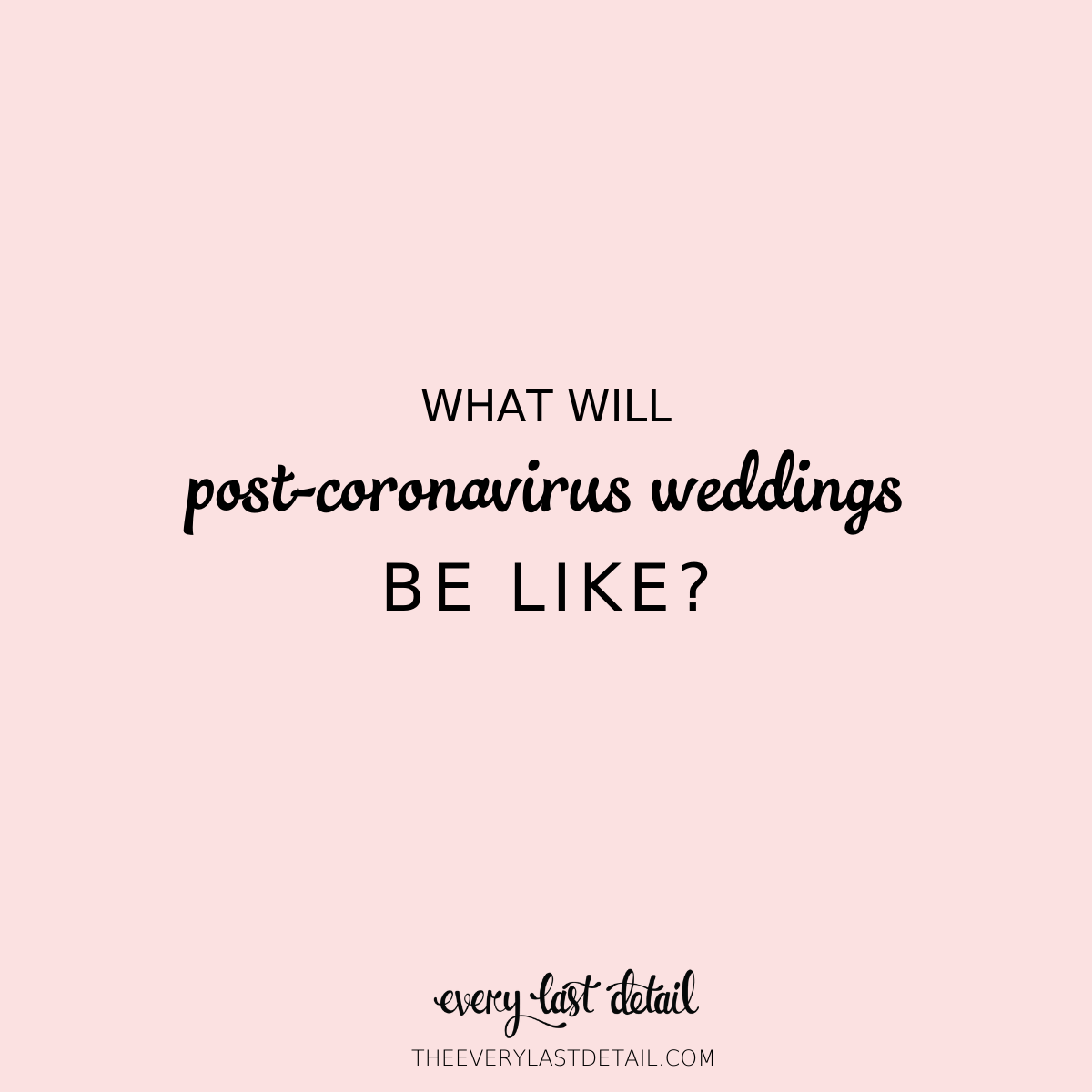 Guest count
This is of course the big, obvious change that will likely need to happen. I would expect that as areas start to open up more, there will be limits on how many people can gather in one location together. Not to mention that your guests might not be very comfortable being with 100 people who they don't know. A lot of these guidelines are going to be contingent on your venue, as Adair of Dairing Events mentions, "because some have a higher or lower capacity, some are restaurants that have liquor license, some are shells that you bring in all your vendors."
In a nutshell, what I'm seeing thus far is if the venue has a "restaurant", they can stick to the guidelines that are in place for those establishments. But if it just an empty space where you have to bring in the food, then you are going to be bound to the "group gathering" guidelines.
As Mandi of Beauty Brigade shared, "we'll be seeing a lot more intimate, elopement style weddings with only close family present." So, if a smaller guest count means your close family and friends who are already seeing each other, then so be it! Andreia of Events by The Flower Studio says, "Weddings will be more intimate, more like a family reunion/celebration," and we love that thought! 
"

prepare now for an altered guest list"
Valerie Gernhauser of Sapphire Events shared some insight into what she is doing for her couples: "I'm advising my fall 2020 clients to prepare now for an altered guest list, should they decide to keep their original date and not postpone. I've been talking with each of them about weighing the options, which include a guest count of around 50 guests or fewer, in a mini wedding or micro wedding format, and also a guest list that contemplates 25% of the fire marshall capacity at their venue."
Now, it's a whole other thing to talk about whether or not you actually WANT a smaller guest count for your wedding. I can tell you this- I had 200 people at my own wedding, and I absolutely wish I had less than that. But I want to reassure you that you can still have an amazing wedding if you keep it small. In fact, it can be even more amazing, because you can spend more of your budget on decor and details! ;)
And we love the sentiment that Sarah of Kindred Wed Events, who specializes in intimate weddings, shared: "As guest count decreases, the time spent with each guest increases so the intimacy of a small wedding grows."
Food
It's no secret that weddings usually do revolve around food and beverage (as does so much of the cost of weddings). In a post-Coronavirus wedding, some of the typical food and drink aspects of a wedding will need to be altered. For example, a bar area will likely not be permitted, as it is potential place for gathering, so drinks would need to be provided by servers (either passed or by order). But, this would be a great opportunity for having a signature drink!
"It is also very likely that buffet and action station food service will not be a good idea until a vaccine is in place, so seated dinners for all (even in the South where they aren't always the norm!) will be expected as we do phase into celebrations," Valerie of Sapphire Events mentioned.

Layout
We now have the "6 feet apart" rule engrained into our minds, and with post-Coronavirus weddings, this is going to be a big factor. So, luckily, spreading tables out will be a little easier for now, since your guest count is likely reduced. This is where having a wedding planner is going to be, yet again, such a great benefit, because she or he can handle figuring all of this out for you!
Valerie of Sapphire Events shares that "Where a venue might have been considered too large for a small guest count wedding, we now need all the extra square footage to allow for people to move throughout a space with proper distancing. New floor plans that group households together at a table and have more service area margin around the tables bringing a six-door distance to seated tables."
I could also see smaller tables being a good idea to help with the need for layout changes. Oh, and for your ceremony- this could be a great excuse to do something instead of chairs all in a row! Sofas that are setup in groupings, where family units can sit together, or maybe even on the ground on blankets or rugs. Don't be afraid to do what isn't the "norm"- get creative!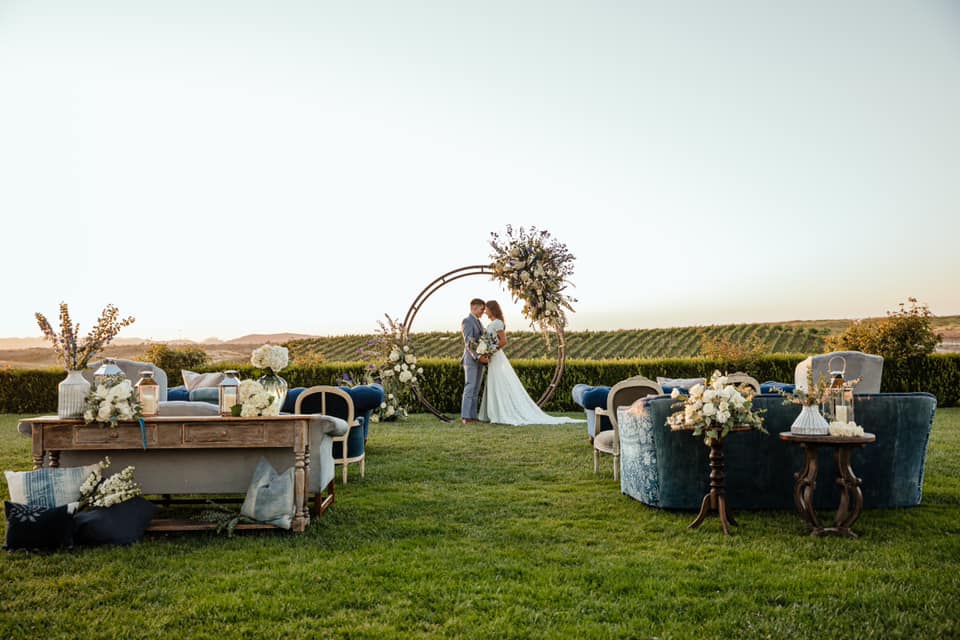 Michelle Garibay Events, Leaf Photography
Reception
With restrictions on how many people can gather in a location, this could be a little difficult for the typical reception activities, like cocktail hour and dancing, to occur. Sarah of Kindred Wed Events says, "I see weddings becoming smaller and shorter! We might also see more ceremony only weddings, where couples will be postponing the reception-type elements for a later date when guests can gather in larger groups and closer together!" We're loving the idea of doing a dinner-party style wedding reception, and then throwing a party later on! They can be two totally different events- how fun would that be?! 
"Postpone the reception-type elements for a later date when guests can gather in larger groups and closer together."
KMC Weddings & Events, photo by Kaleigh Turner Photography
And actually, I want to brainstorm that concept of a dinner-party style reception some more! This would mean that you would have "servers" (where they would also be taking your drink orders, as mentioned in the food and beverage section above) coming to tables, just like at a restaurant. You could have some softer, more instrumental music during dinner, still have your first dance and parent dances, and then have dessert. I'm sure there could even be a few other activities that you could do… like what about having a portrait station? Your photographer could take an elegant, posed photo with you and each of your guests, maintaining social distance when needed.
What else do you think could be incorporated for a more low-key reception for post-Coronavirus weddings?
Extras
There will likely be a few "extras" with post-Coronavirus weddings too. As Valerie of Sapphire Events mentions, "optional masks for guests but masks and gloves for all service providers, and possible temperature checks upon entry at venues," may be a few of those extras. Things like sanitizing stations throughout your reception area will be needed as well. But you really could work with your professionals to make all of these extras a part of your wedding. Custom masks, sanitizing areas that are at high tops with matching linens and flowers, and even custom labels to match your wedding.
Christine of Quartz Photo Booth in Houston mentions that "there will be more technology involved, especially to allow elderly relatives to attend virtually." I could definitely see multiple things like "streaming stations" happening, so people who can't attend your wedding in person can still be there to see and hear what's happening. This would be something that you would want to ask your videographer about, or even someone who has a photo booth. Technology is pretty great nowadays- use it to your advantage! 
And also, don't be afraid to ask your vendors if you have an idea for something or if they have any suggestions for what you can do to make your guests and the people working at your wedding feel more comfortable.
---
I know this is such a hard time, and figuring out what to do (or not do)for post-Coronavirus weddings is definitely stressful. I still absolutely stand by my recommendation to hire a wedding planner, because again- it's times like these that are the REASON why you hire a planner! You can find our vetted and verified planners here, or you can always reach out to me to ask for a direct recommendation too. 
See more of our Coronavirus Wedding Resources here.