There tend be a whole lot of misconceptions about working with a planner. Not having a hand in planning your wedding, and the thought that you can only have a wedding planner if you're having a fairytale million dollar wedding are two of the most popular ones that I hear. But one of the things about wedding planners that some don't understand is this:
A wedding planner can't do

EVERYTHING

for you.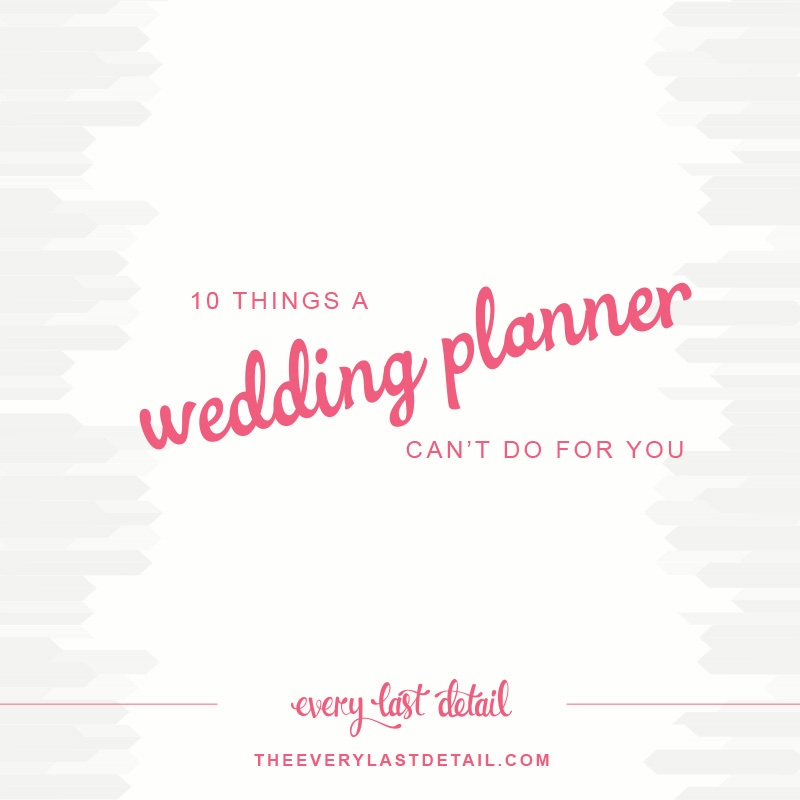 That's right friends- there are some things that YOU will still need to do, regardless of whether you've hired a planner or not. These things typically have to do with personal relationships, making decisions, and having knowledge of history and relationships.
So, we've asked our friend and wedding planner pro Nellie of Nellie Sparkman Events to share her insights regarding all of this- take it away Nellie!
---
As a Wedding Planner, while we wish we could do it all for you, there are some things that fall outside of our duties. Depending on the level of service you have hired a Wedding Planner for, here are 10 things you will usually need to do for your Wedding Planner (aka what a wedding planner can't do):
Create a Guest List and Obtain Guest Addresses
Creating a guest list and obtaining guest addresses is the first thing to do after getting engaged- after celebrating, of course! This guest list will dictate where your ceremony and reception will be held, as well as how your wedding budget will be spent. Typically, weddings can expect to see 80% of the total guests who are invited actually attend the event. And don't forget- the more guests that attend, the higher the budget!
Budget
The budget conversation needs to occur between the Couple, Parents and any other parties that might be paying for the celebration. Prior to hiring a Wedding Planner, it is a good idea to have clear budget expectations and conversations to ensure that hiring particular vendors is the best investment for your wedding day.
[If you're looking for examples of what weddings really cost, click here!]
Sign Contracts and Pay Vendors
While a Wedding Planner can direct couples to book the best vendors and review contracts prior to a contract signing, ultimately, the services provided are between the clients and the service provider. Legally, it is best that the client signs all contracts and pays vendors directly.
Make Decisions: Likes and Dislikes
As a Wedding Planner, we want your wedding day to be a reflection of you and your love story. Our job is to help navigate you through the planning process, while making suggestions along the way. Your job is to make decisions, and tell us what you like and dislike so your wedding day can be completely yours. Unfortunately, we cannot read minds, so any insight you can provide us, whether it be a Pinterest board, magazine clippings or things that you disliked at your cousin's wedding, are all great ways to help us navigate your wedding design.
Register
Registering is such a fun activity for a newly engaged couple to do together! Make it fun, bring snacks and ask a friend (or mom) to tag along if it gets too overwhelming. Everyone has their own taste and what works for some people's registry will not always work for the next person's. Heck, you can even register online in multiple places (we love MyRegistry.com for this), which is super easy and fun too! Just remember to stick to what works for YOU and your life together!
Break Venue Rules
Venue rules are there for a reason! Do not ask your Wedding Planner to break rules on your behalf. If the venue says no sparklers, do not have sparklers! If you are in a Catholic Church, do not request that the Wedding Planner move the altar- it is there for a reason. Often times, Wedding Planners work at the same venue time and time again, so breaking rules at a venue could lead to consequences long after your wedding day is over.
Do Other Vendors' Jobs
Our job is to plan and coordinate your wedding and the vendors involved. If we are setting and striking chairs, cutting cake, bussing tables, or serving alcohol, we cannot do what you hired us to do. If specialty chairs need to be brought in, hire the rental company to set up and take down the chairs. If a cake needs to be cut, this is the job of the catering company (as they hold the catering license). When a planner ends up doing the tasks of other vendors to help couples save money, money comes out of their own pockets to make a wedding day happen seamlessly.
Place Guests on Floor Plan
Who knows your family and friends dynamic best? You do! We will create your floor plan, tablescapes, and all the pretty details, but when it comes to sitting Uncle Sal next to Aunt June- that is for you and your family to decide on. Make sure you submit these details to your planner two to three weeks prior to your wedding date so they can distribute these details to the caterer, bar service, venue and stationer.
Obtain Marriage License
Each state has different requirements when it comes to obtaining a marriage license and your Wedding Planner will be well versed in where to go, when to go, and who needs to go to the local courthouse to obtain the marriage license. But this is definitely something that you will need to be present for!
Mediate between Family Members and Bridal Party
Often times Wedding Planners become one of your closest allies in the planning process. With that said, please do not rely on your Wedding Planner to diffuse drama between family members or bridal party members. Our purpose is to bring together a beautiful wedding day with the finest of vendors and be a sounding board for etiquette and advice along the way. Will we do everything in our power to make sure it's the best day for you? You bet. But we definitely strive to keep to ourselves when it comes to any drama!

The following two tabs change content below.
This post was written by an ELD Team Member... and there's a good chance she likely loves weddings, Kate Spade, and wedding details, as all of #TeamELD does!