Deciding on what steps to take for a Covid-affected wedding has been one of the most frequent questions I've received over the last few months. The truth of the matter is, there are SO MANY variables and SO MANY unknowns- there really is no way to truly know or predict the future (anyone else think that we would've been in a better place by now?!). This is also something that my own family has been navigating for my sister's upcoming November wedding. So needless to say, I get it. 
So when Sarah of Kindred Weddings and Events shared her thought process with me, I knew it was something that might be helpful for others. It's a mix of identifying your wedding expectations and determining what is more important to you, and it's brilliant. So, without further ado, take it away Sarah! 
---
HOW TO DECIDE ON NEXT STEPS FOR YOUR COVID-AFFECTED WEDDING
---
HAS COVID-19 CHANGED YOUR WEDDING EXPECTATIONS?? I hope it has!! I know so many couples are facing some new realities as public gatherings have been paused. Weddings, as they were, are not happening. However, you have OPTIONS that still include getting married. Now, it's all about wading through the sea of expectations and riding the waves of your values!
You've probably felt that weight before when making any wedding planning decision. The desire to make everyone else happy with what you choose. When making decisions, we feel pressure to choose one thing over another because of expectations. These expectations can come from within, or from outside of ourselves.
Looking at this in terms of the wedding planning process, you may have certain expectations of what a wedding should cost based on your experiences (or lack thereof) with planning large life events. You might also have an expectation of what a wedding day should feel like based on what you believe or others have told you.
Outside expectations may come from friends and family members who mean well but tell you things need to be a certain way for your wedding to be a real wedding. Their expectations might also create fearful thoughts and worries that run through your mind, as you don't know how someone else will respond when their expectations aren't met. These types of expectations are also all around you in the media. Movies and reality tv shows depicting "perfect" wedding days and a bride getting everything she wants because it's "her day".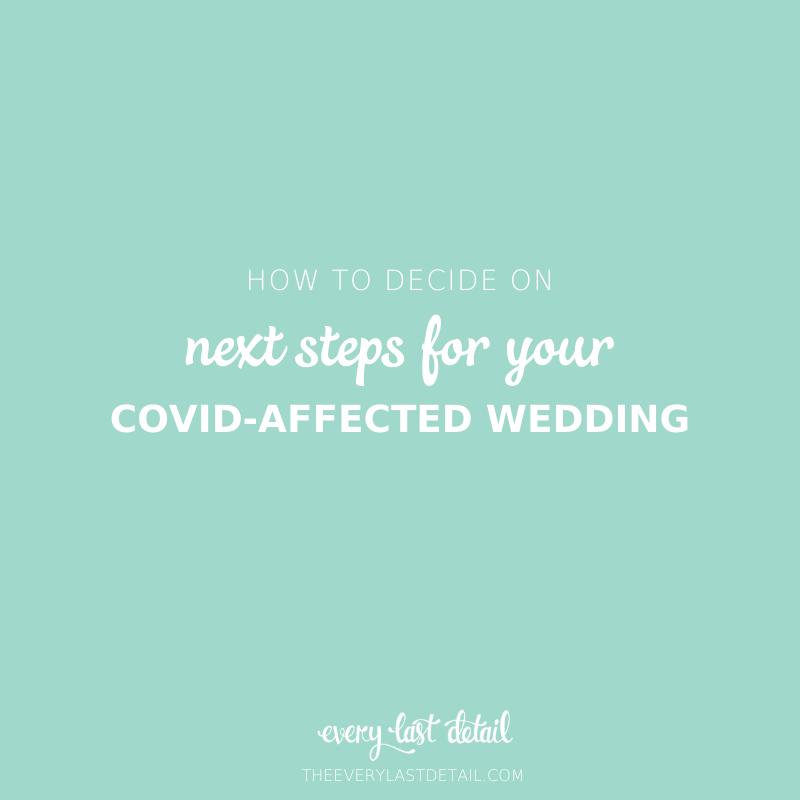 When our inner expectations and outer expectations conflict, it can be easy to allow decision fatigue to settle in. There are three camps that you might fall into when reacting to making some big decisions.
Maybe it feels easier to sit and wait it out until a specific answer is clear.
Or you may feel the desire to let someone else make the final decision.
For others, they may decide to disengage their own expectations.
In our society today we can see all of these as very valid responses to the pandemic outbreak and the sudden halt of the wedding industry. If we look a little deeper at our natural responses, they can also teach us what we really value in the scenario. 
Sit and Wait it Out
---
Your expectations started somewhere. They come from deep within. Sometimes those expectations can be tossed aside easily, and other times it's all you have to hold on to and you won't loosen your grip. Holding out hope for the best possible outcome can create moments of tremendous growth in ourselves and our relationships. 
Let Someone Else Decide
---
Like many couples in this uncertain time, you may feel like your decision-making power has been wrenched away from you completely. There's always someone new telling you what you are and are not allowed to do at this time. Rather than getting upset and pointing fingers, you might see this as a gift. An out. A scapegoat of strange sorts. Your plans are going to change and maybe that will be for the best- whether for your relationships, or your wedding as a whole. 
Release Expectations
---
We have been conditioned from a young age that sometimes things just don't go our way. But still, we tend to focus on the things we can't control in life creating strife and stress. Conversely, focusing on what you do have control over can absolutely release you from expectations that weigh you down. 
Let's funnel this concept of releasing expectations into the new set of decisions today's engaged couples are facing. In the case that your originally planned wedding cannot or may not happen, you will need to process and create a new plan based on what you value the most. 
Take a look at the sliding scale I created as tool below. You will see three categories – Experience, Time, Money. Each of these concepts is a value type that most couples will have to wrestle with as new decisions are made about their wedding day. Depending on where you fall on the value scale, you can begin to uncover the best next steps.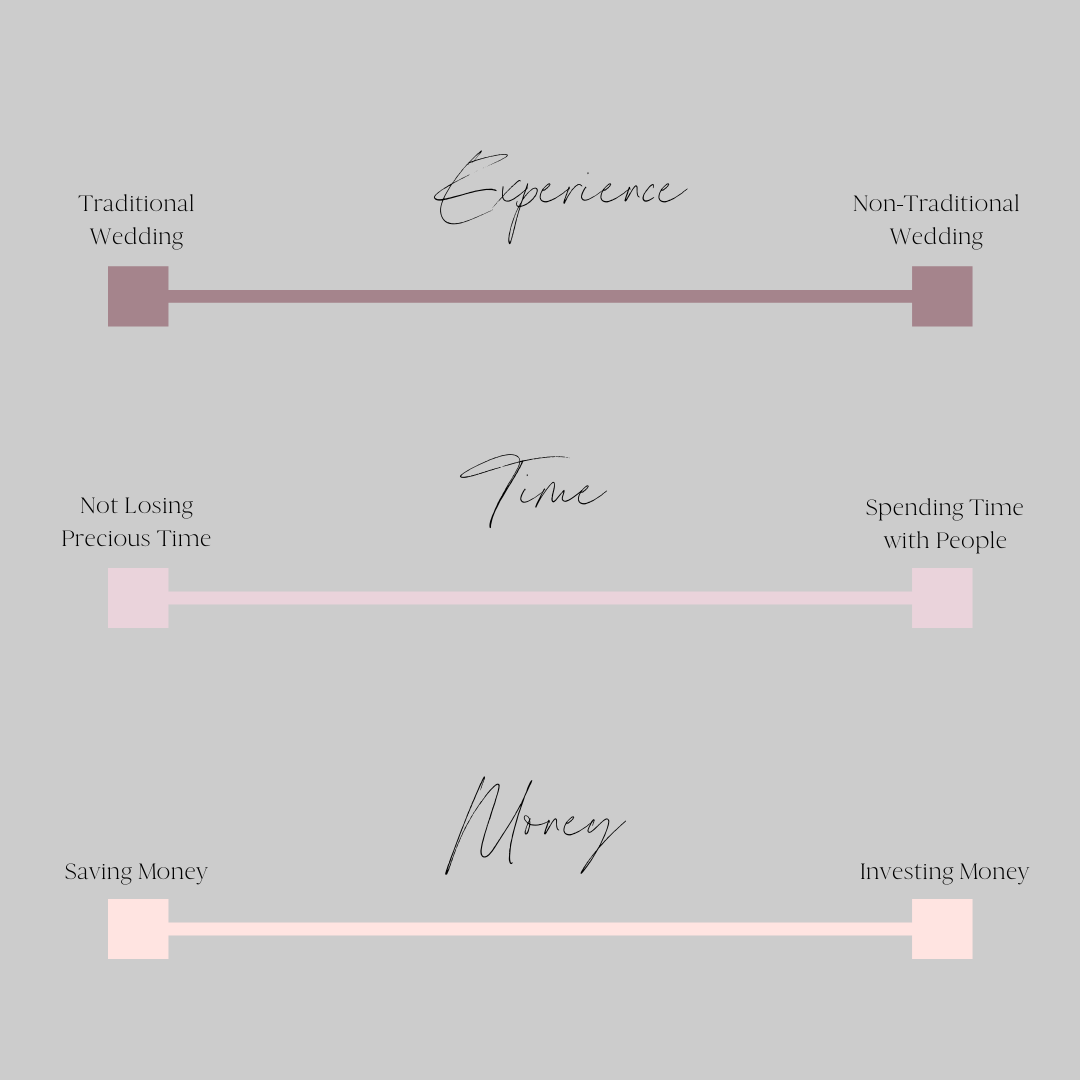 Let's take a look at Experience first.
If the most important thing for your wedding day is being able to celebrate with everyone exactly the way you originally pictured it, you value the full traditional wedding experience (or your original plan). In this case, you might choose to pause planning and reschedule your wedding to take place at a later date when travel and spending money are commonplace again. 
Next up, is Time.
If your wedding date has significant value to you, your biggest concern and motivation will probably be keeping the exact same date. You may opt for getting married in your living room or family backyard with minimal preparation and possibly no family or friends present. This is an example of valuing your time over the traditions of getting married.
Thirdly, let's take a look at Money.
If you've already invested your money in your dream vendors, and you still want to do everything possible to work with them, maybe you shift your view of a wedding day around. Think about the value created in focusing on your marriage foundation, instead of focusing on a specific wedding day. In this case, you could decide to keep investing money and plan a dream elopement or intimate wedding for when small gatherings are allowed. By choosing to refocus on a different aspect of your wedding day (your relationships), the process (wedding planning) is outshone by the outcome (being married).
There are also multiple variations on many of these "expectation outcomes". For example, valuing Time and Experience. You may right now value getting married quickly, but still want to celebrate all of your relationships and their impact on your journey to marriage later on. Many couples are opting to wed in living rooms, backyards, or the courthouse (if they are open). This process can be quick and efficient. But they are still planning a larger celebration to include their friends and family in their life change sometime in the future. Maybe it's a vow renewal on their one year anniversary or a big dance party without the fanfare or traditions. 
An example of valuing Money and Experience: I know some couples have had to make the decision to postpone their wedding day because their finances have taken a huge hit in our current economy. They won't be able to make payments while unemployed or on furlough. They also know they do not want to create hardships for their guests who may need to choose between health and finances as well in the coming months in order to travel across states to attend. It would break their hearts to not be able to celebrate fully with their guests in masks having to stay 6 feet apart. They have put value on Money and Experience in their specific circumstance. 
As an intimate wedding planner, I have been hearing from a record amount of couples recently who desire to still have a wedding day the second it's safe to gather in small groups. They understand the health and financial implications facing our world right now and are willing to do something a little different. A small wedding could be anything from gathering 10 family members together on a cliffside in Big Sur, to spending a weekend together in a bed and breakfast reminiscing about life's adventures and sharing marriage advice. These couples know the amount of time spent with their guests is of utmost importance, and they want to create the most amazing experience possible. In a situation like this, they are placing value on Experience and Money. 
When you value an experience, you expect everyone to be present and to have a good time.
When you value time, you expect to have what you want when you want it. 
When you value money, you expect to pay for something only when it meets all of your needs and desires. 
You can absolutely value ALL THREE THINGS – this is not an if/or situation! But digging deep into what it is you value about getting married can help you uncover the best way to proceed forward. 
---
PS: For even more, head over to Sarah's website for a guide about How to Postpone + Downsize Your Wedding during COVID-19! 
About the Author
Sarah Blessinger

Kindred Weddings & Events

Intimate wedding planner and designer serving Southern California. Be it creating a logistics layout, or checking off items in a timeline I find so much joy in helping couples navigate the process of planning. My goal is to cheer you on, make planning easy & enjoyable, and provide you with an experience that leaves you feeling invested in & loved on so you can spend time loving on your special people. ​ I'm a born & raised Cali girl, and call the San Fernando Valley home now with my two best friends - my nerdy & extremely patient husband Jeremiah and our snuggly kitty, River (who acts more like a dog!).
The following two tabs change content below.
This post was written by an ELD Team Member... and there's a good chance she likely loves weddings, Kate Spade, and wedding details, as all of #TeamELD does!