It seems like it's a big secret. A faux paus. A bad word even. What exactly am I referring to?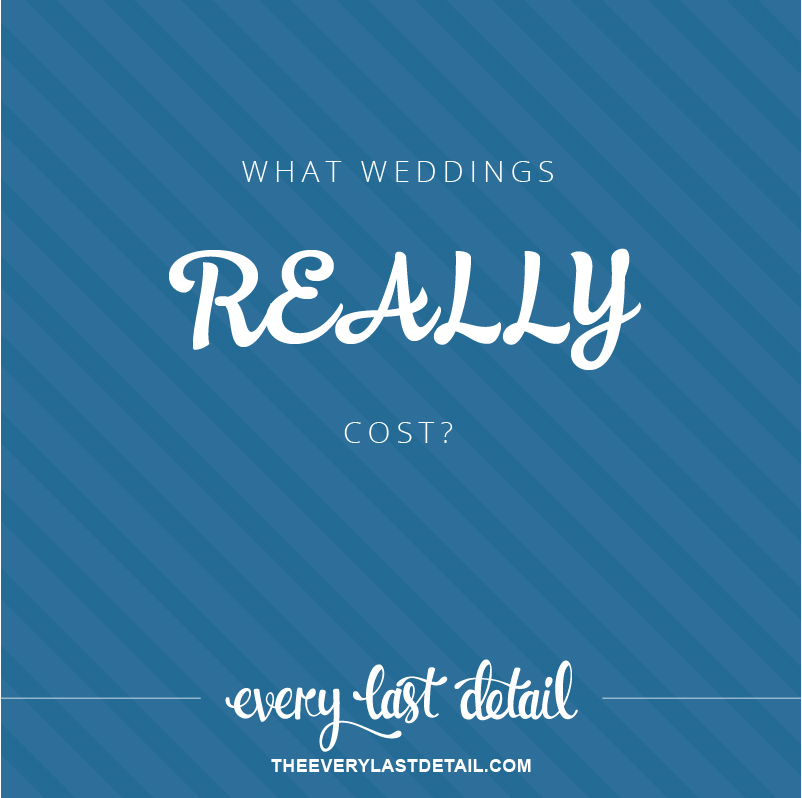 The thing is, what weddings really cost shouldn't be a secret or seen as a bad word. It would be in everyone's best interest if everyone just knew the truth, don't you think? Well, since I'm all about being honest and telling the truth about weddings, it's time to talk about this little secret that everyone seems so afraid of: weddings cost money!
So let's start with the basics. A wedding is a celebration of marriage between two people in love. In most cases, a wedding usually consists of a ceremony and a reception. A ceremony requires an officiant and a marriage license. A reception usually has food and alcohol, cake, music, and decorations. And then there are people who are providing various services- a planner, a photographer, a DJ or a band, bartenders, etc. In the most general terms, a typical wedding is composed of products, and services… all of which are meant to be enjoyed, used, and consumed.
[Tweet "There are certain elements that differentiate a wedding from any other "party" that you throw."]
Because let's face it- you have a different set of expectations for your wedding than you would have for a backyard barbecue. You wouldn't normally have 100+ people over for a party where you supply all the food and drinks and entertainment, right? You don't normally get all dolled up and put on a long fancy dress for a backyard barbecue, right? A wedding is different from other events, and it really can't be compared to "just a party" because it's not the same thing.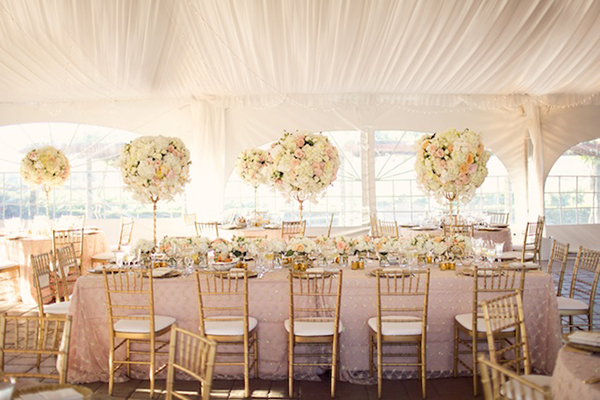 Image by Reign 7 Photography
So now that the stage has been set for what makes a "wedding", let's get to the money part. All of this started when I was chatting with some single friends about weddings, and why they cost so much. One of them told me that she wanted a simple wedding, just around 80-100 people, and that her boyfriend had already stated he didn't want to spend more than $10,000. She also mentioned that she understood the need to use professionals and didn't want to sacrifice that. And she proceeded to ask me, "So what would a wedding like this cost?"
I did some quick calculations, got as far as calculating venue, food, and beverage, and I was at the $10K mark already! Forget about a photographer, a coordinator, flowers, and rentals- there certainly wasn't room for that in this $10,000 limit!
This 10 minute conversation and quick calculations got me thinking.
We all know that the fewer guests you have, the less you end up spending. But as easy as it sounds, it's actually *really* hard to have a small number of guests. Case in point: When I was planning my wedding, I got to 100 guests just with family and close friends- and I know many of you are in that same boat. But even when doing calculations for less than 100 guests, I still couldn't stay within that $10,000 limit. The utter and complete truth is that I can't figure out how you can have a wedding for this amount without making some extreme sacrifices.
[Full Disclosure: When I was a wedding planner, I never planned a wedding that was under $30,000. This is why you will rarely see me talking about a budget wedding, how to cut corners, how to do things yourself, etc. My expertise is in weddings that use professionals to make them happen. I will be the first to tell you that I don't know budget weddings, and I know it can be done, but I myself would not be able to do a wedding for under $15,000. This is likely because I believe in hiring professionals and I know what things actually cost for a wedding.]
But this isn't about having a wedding for $10,000- it's about what weddings really cost, and why they cost what they do!
Now don't go and crucify me. I've seen weddings that happened for less than $15,000- I know it can happen. But in all these cases, something had to give… or more specifically, someone…
The wedding took place in the backyard of a couple's home or a friend's home. The photographer was a cousin who had a decent camera- but the couple never got the photos. The food was made by an aunt– and she was stressed beyond measure, spent all day cooking but still ran out of food, and won't remember her niece's wedding day without going into a panic attack. The bride's best friend is an interior designer and handled all of the decor. The groom's brother is a graphic designer.
I'm not saying that because you have a wedding in your backyard or your aunt makes your food it's not a wedding. I'm just saying that something was sacrificed and/or someone helped out. All of these things I just mentioned- if you do have family and friends who can help you with these items, it's a wonderful blessing and you are SO lucky- because you can end up spending less on your wedding.
What if you don't have family and friends to help out? 
Or what if you don't *want* to have to sacrifice something? 
These are very real possibilities my friends, and I know that some of you are probably facing this very issue right now. Heck, this was the very same situation I was in when it came to planning my own wedding, and the friend I mentioned above? She also doesn't have family and friends who can offer anything to help out. The answer to this dilemma?
Hire professionals.
Now, it's definitely no secret that I 100% support the hiring of professionals for a wedding. I believe in supporting small businesses. I believe that when someone makes a living doing something every weekend and has experience way beyond what you could ever imagine, you should pay them for that. Why not pay someone who knows what they're doing, instead of trying to wing it and stress yourself-and everyone else- out? Well, lots of people actually end up not hiring professionals for their weddings because they're trying to save money- but it almost always ends up in disappointment.
[Tweet "Why not pay someone who knows what they're doing, instead of stressing yourself out?"]
So with that base established, let's get to the juicy details of what weddings really cost!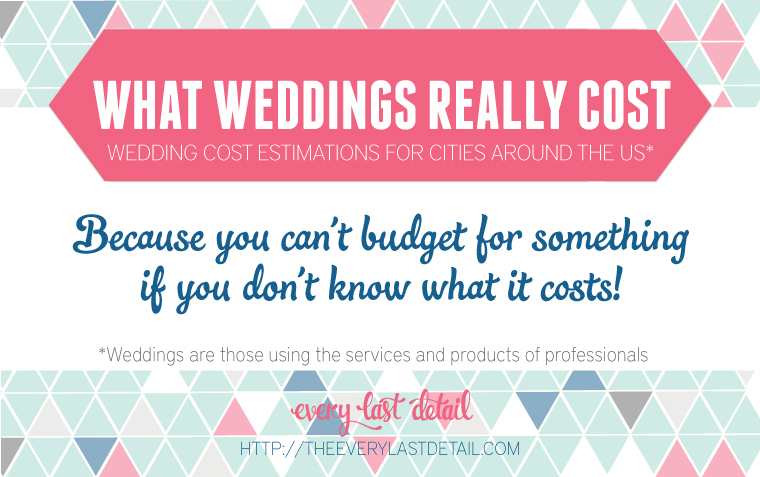 It's important to understand that wedding costs are all relative, because it depends on LOTS of specifics- not everyone has the same exact wedding, right? Number of guests, what kind of food you're having, location, types of centerpieces, types of linens, what kind of rentals… I could go on for days. But no matter what your total budget is, I've found that when you break it all down, it starts making a bit more sense as to why a wedding "costs so much".
Let's go back to the beginning of this post, when I mentioned the various elements that make up a wedding. Even if you set a max budget for your wedding, you're not just paying $10,000 or $20,000 to any one person. Because for a wedding to happen, it takes a combination of several different products and services.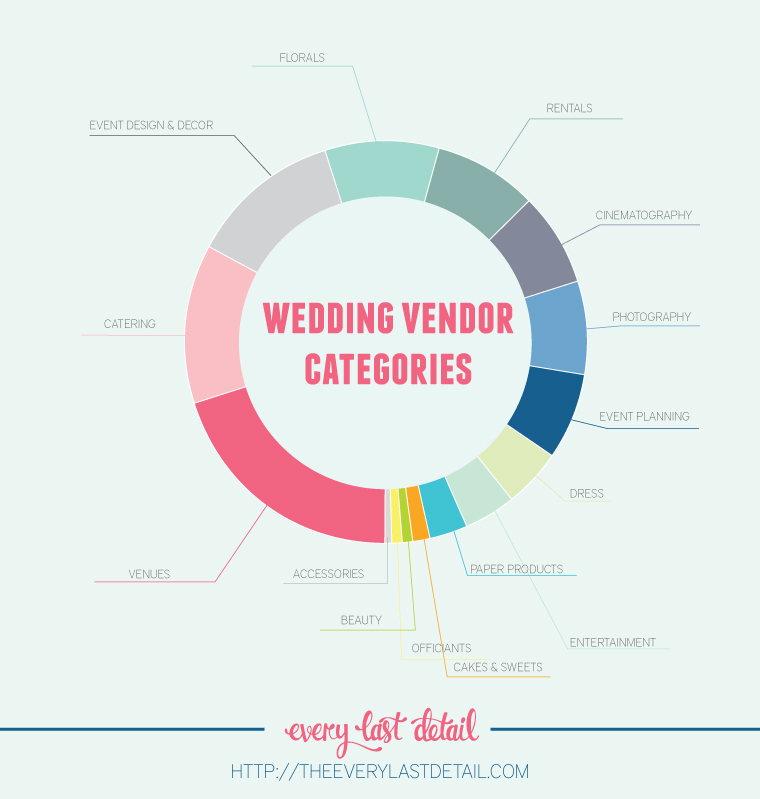 So I thought that perhaps it would help you all understand this concept a little better if we broke down these various elements and showed what a typical wedding for 100 guests would cost.
To do this, I asked wedding planners of The V List from all over the country to provide me with a broad estimation of what a "simple and pretty" wedding for 100 people using professionals would cost for their area. They each used the same elements that I've shared below:
Venue Rental
Food and Beverage
Rentals (Basic needs)
Florals & Decor (Simple centerpiece of single stem of tulips in various vases; bridal party of 4 bridesmaids and 4 groomsmen)
Linens (Basic)
Photographer
Cinematography
Month-of Planner
Transportation
Entertainment
Hair & Makeup (Bride only)
Cake
Paper Goods
Ceremony Costs
[Note: Attire is not included in these estimations since the dress is often considered a "special circumstance" when it comes to budgeting. This also includes the bride's accessories.]
I'm sharing all of this information because when it comes down to it,
the big issue that people run into with weddings is budget versus expectations.
Because really- how can you budget for something if you don't know what things should cost? That's just crazy! Sure, you can say that you want to spend $X, but what happens when you find out that you can't get anything for that amount?

Below are estimations for what a "simple" 100 person wedding would cost in cities across the United States. Click on each link to be taken to that area's estimation.
My aim in providing this information is for everyone to be 

educated

about weddings and armed with knowledge of what to expect. So maybe one day, couples' wedding expectations can finally start living up to their wedding dreams!
If you clicked through to any of the above estimations, you can see that sadly, we're not living in Candyland. Even though a wedding is a happy time, filled with beautiful things, this unfortunately doesn't mean that the normal rules of society and capitalism don't apply. Yes, weddings are expensive. But it's because you're paying for products and services, just as you would pay for anything else. And not only that, but your wedding is one day that you will remember for the rest of your life. What you do for your wedding day, what you spend, and how you remember it is in your hands. So now take this information, and go plan the wedding that will be perfect for you and your future spouse! 
---
I'd love to hear from you about all of this! What is your perspective on the cost of weddings? Have you learned anything while planning your wedding that has changed your outlook?

*This post was originally post in January 2014, and has since been revamped and updated.
The following two tabs change content below.
Lauren Grove is the editor and owner of Every Last Detail. A clueless bride-turned-wedding planner, Lauren uses her experiences and knowledge to educate and inspire brides all over the world.