The information below is part of the "What Weddings Really Cost" post and is meant to provide knowledge about wedding costs. Please read this post to understand the below information!
Below is an estimation for what a very basic, "simple and pretty" 100 guest wedding would cost in Eastern Pennsylvania.
Please note: This is JUST an estimation to show average price points for the various elements needed for a wedding, and does not include any "bells and whistles". This should not be considered an exact representation of all Pennsylvania weddings, as each wedding is unique to the couple and their preferences!
VENUE: $3000
(for ceremony and reception space; may include use of some tables/chairs)
FOOD AND BEVERAGE: $10,000
(assuming fair-to-good food for cocktail hour and dinner, plus beer/wine/signature drink bar)
FLORALS & DECOR: $3500
(personal flowers, ceremony decor and reception decor)
LINENS/RENTALS: $2000-$5000
(not including tent since venue is included above; closer to $5000-$7000 with tent and lighting; more with flooring)
PHOTOGRAPHER: $3500-$5000
(basic coverage, engagement shoot; if albums and prints included, closer to $5000-$6000)
CINEMATOGRAPHER: $3000
(basic coverage)
MONTH-OF PLANNER: $1600
(assuming a start date of 1-2+ months out)
PAPER GOODS: $800
(including invites, postage and day-of stationery)
ENTERTAINMENT/MUSIC: $2000-$8000
(ranging for good-to-great DJ, average-sized band and ceremony musicians)
HAIR & MAKEUP: $250
(bride only)
TRANSPORTATION: $1000
(including guests transportation)
CAKE: $500
(mmm… cake)
CEREMONY COSTS: $400-$800
(including license and officiant fees)
TOTAL: $31,550-$42,450
This estimation is courtesy of Pennsylvania wedding planner Danielle Pasternak of DPNAK Weddings, who is a member of The V List.
A note from Danielle:
"While it's tough to give a "super" accurate breakdown without a boat-load of research and number crunching, I did a rough estimate based on what I typically see for my weddings. Our weddings are usually very beautiful, but not over the top. These obviously aren't "exact" averages, but they're what we see on average for the Eastern PA area."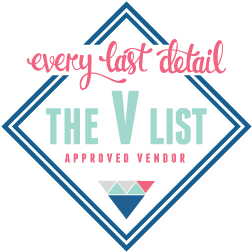 Getting married in the Pennsylvania area? Click above to find Pennsylvania area V List Members!