The information below is part of the "What Weddings Really Cost" post and is meant to provide knowledge about wedding costs. Please read this post to understand the below information!
Below is an estimation for what a very basic, "simple and pretty" 100 guest wedding would cost in Southern California.
Please note: This is JUST an estimation to show average price points for the various elements needed for a wedding, and does not include any "bells and whistles". This should not be considered an exact representation of all Southern California weddings, as each wedding is unique to the couple and their preferences!
VENUE: $10,000++ (not including food and beverage)
FOOD AND BEVERAGE: $150 – $250+ PER PERSON
(PLUS SERVICE FEE OF 18% – 22% AND AND CA STATE SALES TAX)
FLORALS & DECOR: $3,000 – $5,000
LINENS/RENTALS: $1,500 – $2,500+
PHOTOGRAPHER: $3,500 – $6,000
CINEMATOGRAPHER: $2,500
MONTH-OF PLANNER: $2,500
PAPER GOODS: $2,500 (average for custom design)
ENTERTAINMENT/MUSIC: $2,000 – $3,500+ (just for a DJ)
HAIR & MAKEUP: $600 (JUST THE BRIDE)
TRANSPORTATION: $600 – $1,000+
CAKE: $1,000+
TOTAL: $45,000 – $55,000
Note: Some hotels and venues in Beverly Hills have a minimum of 50K so it depends on what part of Southern California you want to get married.  It really varies from county to county.  
This estimation is courtesy of Southern California wedding planner Hylah White of Hylah White Special Events, who is a member of The V List.
A note from Hylah:
"It is so hard to put an average on a wedding because there are just so many variables to consider. Every couple has a different idea of what they consider important to them.  They all have a different

 

opinion on what  "simple yet pretty" looks like!   A really good example is linens.  Some couples really don't care if the venue provides basic poly cotton linen but they don't realize that that 'free' basic poly cotton linen doesn't go to the floor and they will see table legs and then that changes their mind.  

Also, something else that I think a lot of couples don't take into account is a 10% buffer that includes unexpected items (i.e. permits, tips, refundable cleaning deposit, having to put a rush on something, marriage license, etc).  Another thing that I am noticing is that some companies are adding a minimum to rentals if it is high peak wedding season. 

I will say this- when it comes to the wedding industry you honestly get what you pay for.  Some couples get sticker shock and they they don't understand why something costs so much.  I think if anything it is the responsibility of the vendor and/or planner to break down WHY something costs what it does.   Some couples get a quote for rentals and are shocked by the price and do hours of research and find someone who will give it to them for a lower price but what they don't know is sometimes that price doesn't include setup or the chairs come and they are broken.  I think that if anything, couples will save time, energy, and money if they hire a professional wedding planner.  Even if they don't hire them for full service, they can at least hire them for partial so they have someone to guide them through the process and point them in the right direction."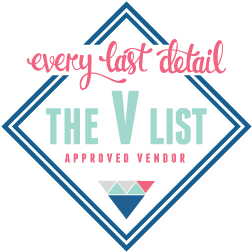 Getting married in the Southern California area? Click above to find California V List Members!