Today we're answering a question about something that is close to my heart: "Do I need a wedding planner?"
Yes my friends- you NEED a wedding planner, you DESERVE a wedding planner, and you should have a wedding planner. Every engaged couple NEEDS a wedding planner.  Planning a wedding is stressful, and no one should have to have any additional amount of stress than what they already have!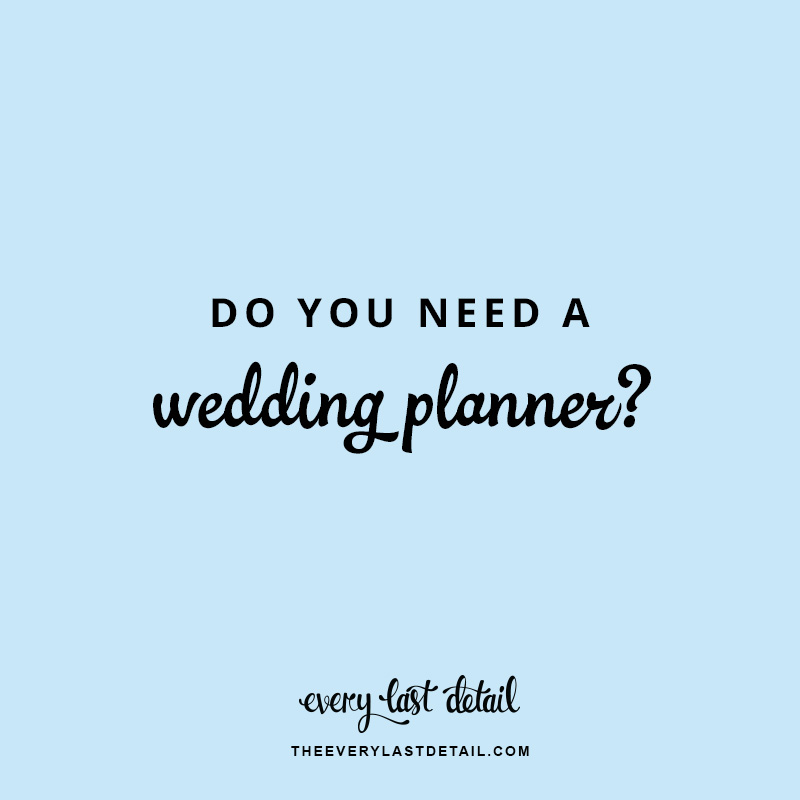 Before getting into any of the details, let's talk about something… wedding planners aren't just for daddy's little girls, movie stars, and debutantes (no offense to any of those ladies) anymore! Forget what you see in the movies and on TV. That's not real life. You planning your wedding and wanting to just elope because it's so stressful? THAT is real life- and you can do something about it.
Having a wedding planner doesn't need to be considered "optional" or a "luxury".
I myself used to think this, so I immediately dismissed having a wedding planner… until I got so overwhelmed with planning my wedding that I actually looked into a wedding planner. Once I did that, I realized that planners really aren't that expensive in the grand scheme of things, and if you find the right one, he or she is worth every penny!
Over the past few years, I've heard lots of reasons for why couples think they can't have or don't need a wedding planner. And honestly, most of these reasons are just things that couples tell themselves so they feel better about not having a wedding planner. So for today, let's discuss these "reasons" for not having a planner that I hear so very often…
"I'm on a tight budget."
Everyone is on a budget when planning a wedding. And most everyone is on a tight budget at that! But you know what? If you have a wedding planner, he or she will be able to HELP you with that budget. They will tell you what you need and what you don't need (aka, that you don't have to waste money on X, Y, or Z). They might even be able to pull a few strings here or there (not saying they WILL, but it does help to know someone).
And you know what else? When it comes to cost and selection, there are LOTS of planners out there. I'm sure you can find one that fits within your budget (just make sure you like them too- that's a whole other post though!). If you need to, make it work- cut out 10 guests, don't get those expensive bridesmaid gifts, or forgo cocktail napkins. I promise that it will be the BEST money you spend. And one other thing (speaking as a former wedding planner now)… I can't even count how many times I've saved my couples money. Just saying.
"I want to be able to plan my own wedding."
Heck yes, of course you want to plan your own wedding- so did I! But you want the FUN parts of planning your wedding. Not the stressful/annoying/crazy parts. Like finding out pricing for rentals. Or getting vendors to call you back/respond to you. Or figuring out your wedding day timeline. Or receiving deliveries and overseeing setup, AND cleaning up.
If you have a wedding planner, you WILL still be planning your wedding. You WILL still have control over what happens for your wedding. I promise you- you will. It will just be you planning your wedding with more guidance, knowledge, and a directed focus. And on the day of… oh my goodness, you'll be able to just ENJOY your wedding, let go of everything and enjoy your day! :)
"I have a specific vision for my wedding and I don't want to trust anyone else to execute it."
Having a specific vision is all the more reason to have a planner! I promise you, if you have a planner that you connect with, he or she is going to understand what you are envisioning for your wedding. More so than anyone else, because they will know how to successfully make it happen for you. As far as having your vision reflect YOU, you would actually be surprised at how hard planners work to get to know you and make sure your wedding reflects you and your fiancé. :) If you hire the right planner, they WILL NOT force their own wants upon you for your wedding- they want it to be YOUR wedding, not theirs or someone else's!  [Note from my former wedding planner self: All of the past brides that I've worked closely with to design and plan their weddings, I actually now consider my friends (love you ladies!)- because we connected and I understood their visions. In fact, it was like we were on the same wavelength- even with some creepy ESP moments. ;)]
"I want to design/craft/DIY with my sister/friends/mother/grandmother while planning my wedding."
Having a wedding planner will not take the joy and fun out of doing wedding-related tasks and projects with your family and friends. If that's what you want, do it. Your planner will probably actually have suggestions or tips for whatever you're doing! You can still design your whole wedding with your sister, or craft with your best friend, or bake cakes with your grandmother. You can absolutely have a planner even if you want other people to be involved with your wedding. :)
"My sister/friend/cousin just got married and she is going to plan my wedding."
OR
"My sister/friend/cousin/mom/aunt has done other weddings and is going to plan my wedding."
Okay, so this can only apply if your sister/friend/cousin/aunt/mother/grandmother IS a wedding planner. ;) [And mind you, if they are, they'll probably make you hire someone for the day of the wedding so they can enjoy it- in fact my friends have already insisted that I NOT work at their weddings.] So other than that situation, you want to be able to ENJOY your planning experience with your family members. You don't want to butt heads with your mom or hate your sister/friend by the end of the planning process. In the case of someone who has recently gotten married wanting to help you, sure, take their suggestions on what vendors they used for their own wedding, but that's really as far as you need to go. Plus, wouldn't it be better to have fun with them during your wedding planning instead of stressing them (and yourself) out?
And then there's the DAY OF the wedding. You want your sister/friend/cousin/aunt/mother/grandmother to ENJOY your wedding, right?! I guarantee you they want to enjoy it too! (Take it from me- I've planned friends weddings before, and it's no fun to have to sit on the sidelines and be the wedding planner when everyone else is having fun!) And you don't want them spending the day of your wedding (or the day before for that matter) schlepping things all around your venue, overseeing setup, calling vendors, dealing with messes, etc etc. It's hard work friends… you don't want to wish that on any of the people you love. ;)
"My venue has a planner."
So here's the thing- most ALL venues have coordinators, but they aren't wedding planners. The truth of the matter is that they're there for the venue. They are there to handle logistical matters for the venue, therefore needing to have a relationship with you. Their concern is the venue, as it should be, since that is who pays their paycheck. When it comes to actually planning you wedding? The only thing they're going to do is handle things having to do with the venue (like what appetizers you want served at cocktail hour, or when you want dinner to start). They won't make appointments for you, help you design your wedding, assist you in choosing your stationery, or create a timeline for your whole wedding day. They're going to be there on the day of your wedding, but they won't be there when you need them to bustle your dress (and then fix it when it breaks), hold your bouquet, tell you when to cut the cake, or put your overnight bags in the limo. In fact, many of them go home after the cake is cut. So please please PLEASE don't consider a venue coordinator as an excuse for not having YOUR OWN wedding planner. (PS- my venue had a coordinator too… she was gone as soon as guests were done with dinner.)
"I really really really can't afford a wedding planner."
Okay, well if you've weighed the options and you really can't afford to have a wedding planner help you with the full planning of your wedding, there are alternatives! Many planners have smaller packages available- "partial" planning so to speak. This is always a great option if you've already found your venue and hired a few vendors but need help with logistics, design, etc. Can't afford that? Move on to another option… "Month Of" planning (sometimes known as Day-Of, which is actually a big fat LIE because no one can walk into a wedding on the day of and know what's going on). This will at least ensure that you have all your ducks in a row for the wedding day. You will have help in creating your wedding day timeline, confirming your vendors, and most of all, handling everything on the day-of the wedding! So if you can't spring for a planner, at least have a coordinator!
Oh and one more thing- with how hard you are working in your fabulous job that I know you have, why on Earth would you want to add ANOTHER FULL TIME job to your workload? There is a reason that wedding planners exist. Wedding planning takes a lot of time, so why not leave it to someone who knows what their doing- and whose job it already is?!
I know the biggest thing that it comes down to when deciding whether or not you need a planner is money. Yep, everyone is on a budget, I know that. But the thing is, a planner might not be as much as you think they are. Sure, there are some planners that charge a lot, but there are also some that don't charge as much. You have lots and lots of options out there when it comes to planners- it won't hurt anything to look around and inquire with planners about what their packages and costs are. When it comes down to it, a wedding planner's goal is to help YOU plan your wedding.
You CAN have a wedding planner. You NEED a wedding planner. You deserve to have an amazing, stress-free wedding, and so yes… you DESERVE a wedding planner! :)
---
So, now that all of that is out in the open…
Do you have a reason for why you think you don't need a wedding planner?
Share here, maybe I can shed some light on it for you! And any wedding planners reading this, if you have any other reasons to add, please do (with the explanation too of course)!
---

A version of this post was originally published in February 2012, and it has since been revamped and updated. 
The following two tabs change content below.
Lauren Grove is the editor and owner of Every Last Detail. A clueless bride-turned-wedding planner, Lauren uses her experiences and knowledge to educate and inspire brides all over the world.