Having been a wedding planner in my "past life", I often think back to the last wedding that I "officially" planned. It was a super amazing wedding, for a super amazing couple. I always say that if I had continued to plan weddings, they and my second-to-last couple were my absolute "ideal couple". They had their own vision and their own opinions about things, but they also trusted my opinion. More times than not, they asked me before making any decisions. And by the end of their wedding planning, they weren't just a couple that I planned a wedding for- they were my friends. [See the end of this post to learn more about why I don't plan weddings anymore.]
The thing that I always remember from my time planning weddings is how every bride (or groom) I worked with would say at some point during the process, "Oh my goodness, I don't know what I would do without you!" Looking back, it's occurred to me that at first, some of those couples weren't even sure if they needed a wedding planner. But it was mostly just because they didn't realize all of the things that a planner *really* does… which is exactly why I'm going to share some of those things with you today!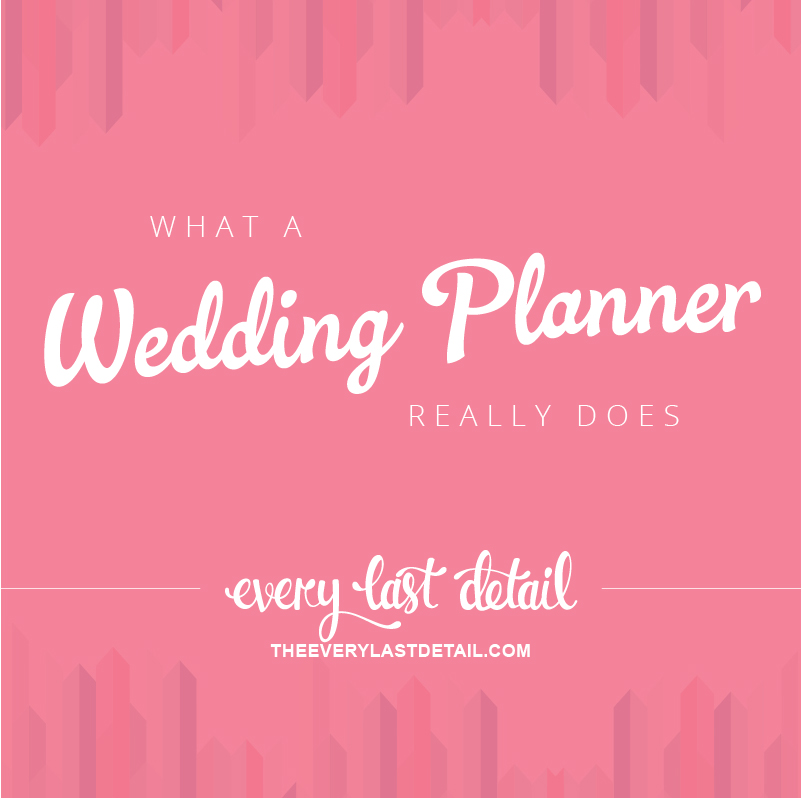 – Planning Checklist & Schedule. Ah, what every bride has to have, right? I mean, you really can't plan a wedding without knowing what has to be done right? Having a planner create a custom checklist and schedule for you- and remind you when it's time to get crackin' on the next task- is pretty awesome. Plus, all the other checklists and schedules out there aren't unique to YOU and YOUR wedding. Bonus: your planner has planned a wedding before- you haven't. ;)
– Budget. Yes, the dreaded word. A planner can most certainly help you create and stick to your budget. And when you want something that just might be completely unfeasible, your planner will tell you instead of letting you get your hopes up.
– Vendor recommendations. A planner is going to give you solid vendor recommendations of people that they have worked with before and who they trust. In fact, if you want to, ask about their experiences working with certain vendors. Sometimes they may even NOT recommend a particular vendor because of a bad experience working with them. It sounds awful, but it happens.
– Vendor communication & liason. This includes contacting vendors to find out availability, emailing, phone calls, texts, and most likely a meeting or two. Sometimes if you want, you can even have your planner communicate with all of your vendors (or just a select few) and just have him or her email you with updates, questions, concerns, etc. Oh, and let's not forget the reminders that you'll get from your planner about when it's time to make a payment to one of your vendors.
– Your wedding design. Now, not all planners are experts in wedding design. In fact, there are even wedding designers who JUST design weddings- and they are awesome. However, no matter what services your planner offers, he or she will most definitely help you figure things out when it comes to your wedding's design. Whether it's a specific idea or helping you pick out colors, they'll be by your side to help guide you along.
– Meetings & Consults. Having a planner can also mean that he or she deals with scheduling your meetings. Sometimes it can take several emails or phone calls to figure out the right time and place for a meeting or consult to take place. That's time- time that you might not have! Having a planner, you can just them a few potential days and times, and then they can get to work scheduling!
– Etiquette. You know you're going to have a question about whether or not to invite so-and-so's new girlfriend, dress code, or maybe even how much alcohol to serve. A planner knows the etiquette for all things wedding. Sometimes "etiquette" things aren't even etiquette anymore, and it's just really what works best for you and your wedding, but sometimes there are still things that are "tacky" or not. ;)
– RSVPs. Some wedding planners will keep track of your RSVPs for you. This is SUCH a tedious task- meals, seating, guest counts, etc. I myself have never handled RSVPs for my brides, but I have several friends that do. Just another thing that you don't have to do! :)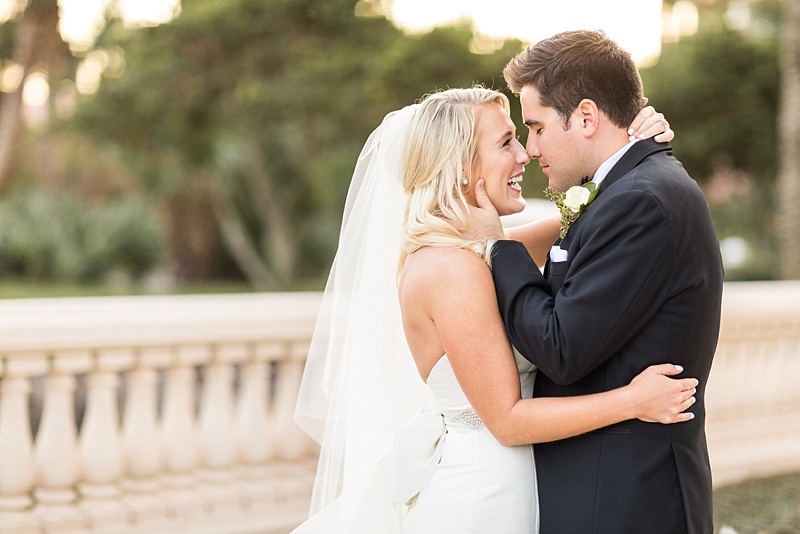 Image by Bri Cibene Photography
– Reminders. Yes, reminders. Plain and simple. Because chances are that you might possibly forget about something– whether it's big (like a DJ) or small (like menus), a wedding planner will most definitely be able to give you little reminders about things that could have potentially forgotten!
– Vendor Confirmations. The week before your wedding is going to be craziness. You do not want to have to deal with emails and phone calls back and forth with vendors to confirm times and places. Your planner will handle that. ;)
– Wedding Day Schedule. You absolutely always need to have a timeline for your wedding day. How else would you know what time to start getting ready, when to tell people to deliver things, etc? Of course your wedding planner will handle this for you, making tweaks and updating vendors as needed.
– Wedding Ceremony Coordination & Rehearsal. Sometimes a wedding ceremony can be like a huge cluster of chaos. People think they know what to do, but when it comes down to it, they really don't. Having a planner will ensure that your ceremony runs smoothly and everyone involved knows what to do and where to go!
– Wedding Day Coordination. I talk about this ALL the time. You definitely don't want to be the one dealing with setting things up on your wedding day. Making sure the cake is delivered on top, the favors get placed at each placesetting, and that adorable ribbon chandelier you made gets hung. Not only that, but what about when it comes time for your wedding to *actually* happen? Who's going to tell you when it's time to leave for your ceremony, or when to cut your cake? Oh and who will sew your bustle when it breaks or find your best man when he's missing for toasts? Your wedding planner, that's who! ;)
– Wedding Details. Who's going to put our your escort cards, make sure favors are at placesettings, and set up your special cake-and-dessert display? You don't want to entrust these tasks to just anyone. Your planner will take care of the wedding details that I'm sure you will painstakingly and lovingly create for your wedding, making sure that they will be setup to meet your expectations. And then, he or she will take everything down at the end of the night and give it your parents or keep it for you to pick up when you get home from your honeymoon.
– Wedding Gifts. Yeah, so those gifts that everyone brings. What do you do with them?! It's something that is commonly forgotten, but your planner will be sure to load up all of your gifts for a designated person to take home and keep safe and sound for you. And if they're like me, they will tuck all of your cards into your overnight bag. ;)
Oh my, now that I've listed all of that out… WOW! It's SO much! When I was reminiscing about my last wedding, I was reminded of just how much work planning does entail, and so of course I wanted to share it with you all! (And it also reminds me of why I stopped planning- it takes SO much time!) And sure, while being a wedding planner seems fun and glamorous, it's also a lot of work. But luckily, a planner really can do A LOT for you as bride- and take a lot of things off your plate too!
I'm hoping that by sharing all of this, it will perhaps help some of you who are in the same position as my brides were in before hiring me. Because friends, YOU ALL deserve to have amazing weddings, and to enjoy it too! If you have any questions at all, please feel free to leave a comment or shoot me an email asking! :)
PS: Any wedding planners have things to add to this list? Feel free to comment with additions!!
[Editor's note: Don't get me wrong- I LOVED planning weddings. I still do. But it was a decision that I had to make when faced with what direction my business would go. I either had to continue on with Every Last Detail as a wedding blog, or Every Last Detail as a wedding planning company. I decided to continue on with ELD as a blog, and I have never regretted the decision. The fact that I can reach thousands of couples with the advice and inspiration on ELD, as opposed to just a few via planning is so important to me- because I want to help as many brides and grooms as I possibly can.]
This post was originally published on November 15, 2012 and has since been updated. 
PPS: Want to know the wedding planners who I myself have vetted and verified and absolutely 1000% recommend? Click here to see them in The V List! :)

The following two tabs change content below.
Lauren Grove is the editor and owner of Every Last Detail. A clueless bride-turned-wedding planner, Lauren uses her experiences and knowledge to educate and inspire brides all over the world.