It's no secret that I think that every couple deserves to have a wedding planner- because everyone deserves to have a wonderful, stress free wedding planning process. But I know there are many brides out there who insist that their mom/friend/cousin/aunt- or even themselves- can handle things. Sure, of course they can- but there are also things that a wedding planner can do that your mom/aunt/friend can't do.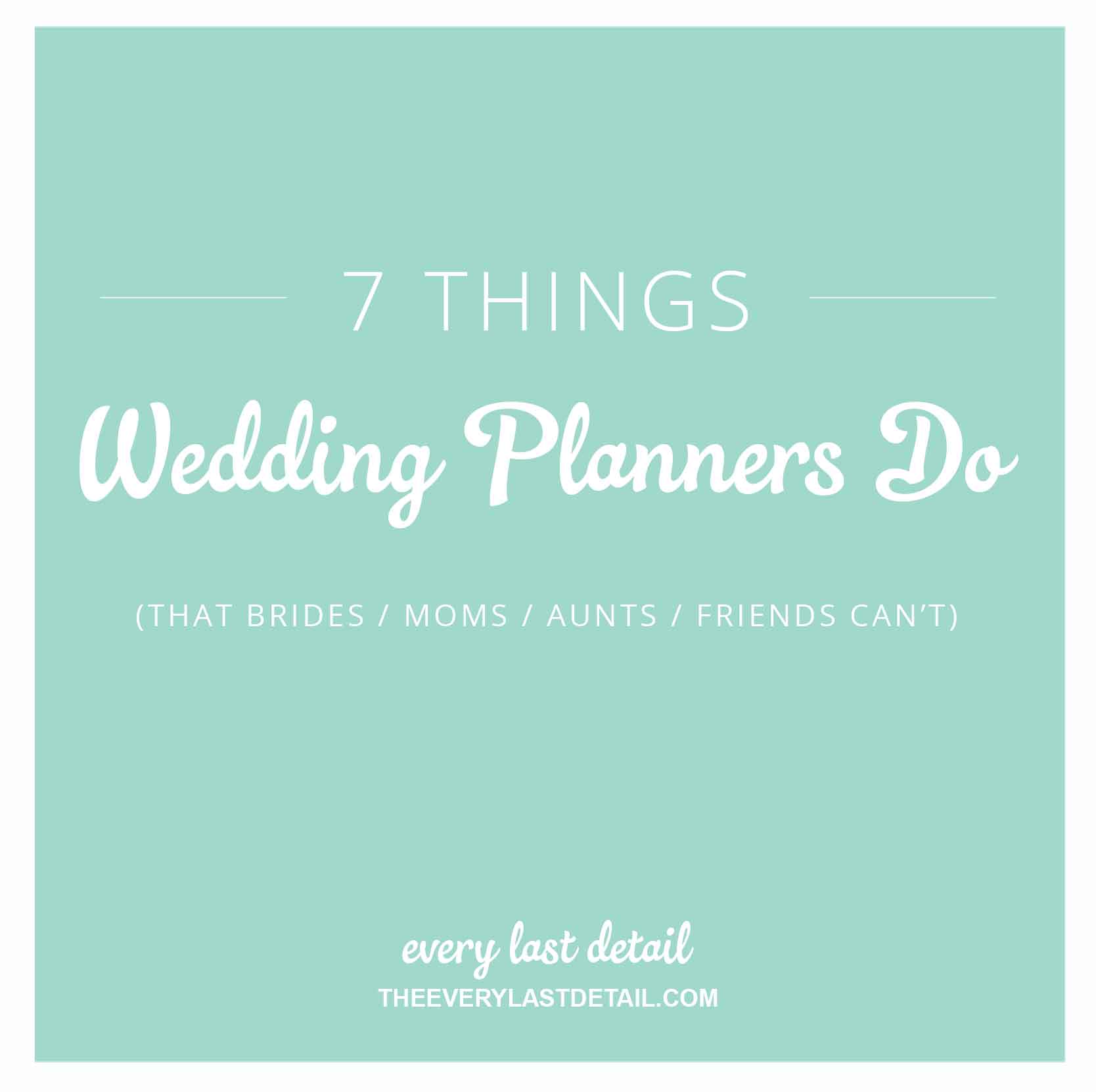 These things can range from having relationships with the vendors you're working with, to "putting out fires" in the months, weeks, or days leading up to your wedding. And chances are good that your mom/aunt/friend – even if they say they're going to take care of everything for you- are going to want to enjoy your wedding at some point.
Or what if your mom/friend/cousin/aunt isn't exactly going along with what you want for your wedding? Who's going to get them in line?
And at the reception, when someone drops a drink on the dance floor- who's going to clean up that broken glass?
Or make sure that all of your gifts and extra details get sent home?
There are so many situations that can occur that a wedding planner would be much better suited to handle. So here are a few of those things that wedding planners do, and I've asked some of our V List planners to add their insight as well:
1. Offer insight, suggestions, and advice based on their expertise.
Wedding planners are wedding planners because they plan weddings- lots of them. They know weddings, the industry, what they're doing, and the industry norms. Why go blindly into something that you've never done before (planning a wedding) when you can have someone by your side who has tons of experience? I don't know about you, but I'm not a big fan of walking into a circumstance that I've never been in before- and that is entirely what planning a wedding is!
2. Provide access to the relationships that they have in the wedding industry.
Yourself, your mom, your cousin- chances are that they don't already have relationships developed within the industry (unless they already work in the industry, and then, you're in luck!). Having a planner means that they can help you in choosing your vendors, and the relationships that they have will most certainly help. Because really and truly, sometimes there are things that you can't determine via a website or simple consultation. Not to mention that having a planner can certainly be a "plus" when you're inquiring with vendors. ;)
3. Mediation.
Wedding planners tend to be excellent mediators. Example: Maybe your mom wants you to have fake flowers because she thinks that they're cheaper, but you can't even fathom having fake flowers. A wedding planer can step in and provide logical reasons to explain to your mom why fake flowers aren't the way to go. Sometimes it takes someone who *isn't* emotionally involved in the wedding planning to make sense of things. Now think about if you didn't have someone to step in and explain logically- you would have fake flowers on your wedding day. (PS- I can't tell you how many times I've had to explain this to moms and some brides too!)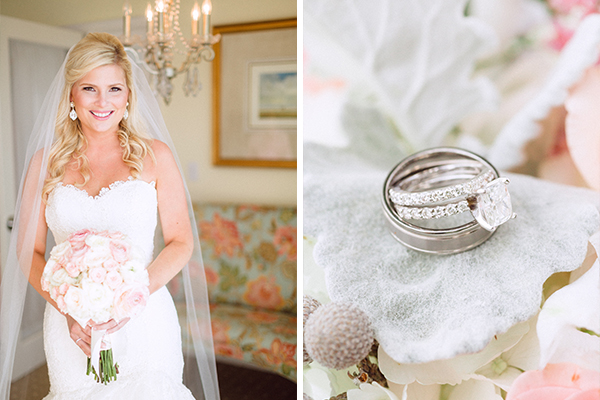 Image by Hunter Ryan Photo
4. Handle behind-the-scenes issues in the days leading up to and on the day of the wedding.
If you've read my posts before, you know that I don't sugar coat this stuff. Things DO go wrong in the days leading up to and one the day of the wedding. It could be that the linens are wrong, the guest counts are off, or a vendor is late. Regardless, you already have enough on your plate before and on the day of your wedding- you don't need more to stress you out. Which is why a planner can handle these things, and sometimes you don't even have to know! Sometimes the things that happen are just part of life and they can't be helped- human error, traffic, weather- but a planner can deal with the issues so you don't have to know about it and be stressed out by it!
 "The planner can quickly jump in and help save the day because of their relationships with the vendors. (This also helps with negotiating contracts as well.) I just had a situation where the venue manager and the bride ordered the wrong number of tablecloths for the reception and because of my relationships with other vendors, I was able to quickly call another vendor and get what we needed." – Kelly of Just Save The Date
5. A wedding planner is there to WORK for YOU. 
A planner is at your wedding to WORK, not to enjoy it and mix and mingle with friends and family. You and your mom/aunt/friend deserve to be able to enjoy your wedding day, right? You don't want those close to you to look back on their wedding day and have regrets. I've heard so many stories from brides who didn't have planners, saying that they spent their whole wedding dealing with issues and didn't even get to enjoy the night. That just breaks my heart.
"Sure the bride's sister/mother/aunt probably could (painfully) handle everything, but they will not be able to enjoy the wedding day. Those special people in a bride's life should be able to come and host, mix, mingle, dance & enjoy themselves. The bride will be happier if she can look over and see how stress-free and happy her mom is during the wedding. It's time to enjoy the day with family and friends, not running around making sure the seating arrangements are correct." – Avis of Carillon Weddings
6. Making sure the wedding gets setup correctly- without having to worry about hair, makeup, photos, etc. 
As someone who has "helped" at a friend's wedding, let me tell you- it's not very fun to be on your feet for a few hours before a wedding, setting up and sweating, and then have to put on a fancy dress and look presentable. Not fun at all. In addition to that, it's also incredibly difficult for a wedding day to go smoothly when people are running around everywhere doing things. You can't find the best man/maid of honor/mom/groom/whoever, people are late getting their hair and makeup done, and most importantly, they're not spending any time with YOU, the bride. It really does make a difference.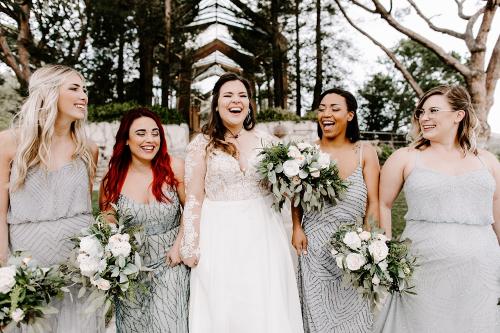 Image via Kindred Weddings & Events
7. Timing and logistics of the day's events.  
This planner describes it perfectly…
"The timing and logistics of communicating with vendors, especially as the ceremony and reception are going on. At the ceremony, I will have everyone lined up ready to walk down the aisle (MOB, best friends who are bridesmaids, and the bride herself), then I have to run all the way across the courtyard and/or signal to my assistant to cue the musicians to change the song for the family processional, bridesmaids processional and brides entrance. I am also the one that asks the guest to please rise right before the bride walks down the aisle, and none of this can be done by people closest to the bride because they are usually IN the wedding! Timing and logistics are everything, and brides have to have someone not involved in the wedding processional itself be in charge of managing the timeline in order for this to run smoothly.
The same goes for the reception. I tell all my clients I live by the "five minute rule." In advance of the bride and groom's entrance, I let the band/DJ know they have five minutes until they will need to announce the bride and groom, so that they can wrap up the song they are playing as guests are settling into the reception space. I then run over to the photographer and videographer and let them know, "Hey, five minutes until the announcement and first dance!" so they can get their lighting and equipment set up and ready to go at the dance floor in advance of the entrance. I also let Father of the Bride and Mother of the Groom know too that their dances are up right after the bride and groom's first dance, and have FOB and MOG placed close to the dance floor to ensure an easy transition into those dances. All of that takes about five minutes to communicate to the vendors, and then it is time to cue the band and go back to the bride and groom and give them the signal to make their grand entrance. NONE of this can be done by anyone who is hosting the party or participating as a bridal party member, because logistically those important people are all entertaining guests, saying hello, and taking in the moments of the day with the bride and groom and don't need to be bothered with managing the timing of everything." – Valerie of Sapphire Events New Orleans
So with all that said, let me just say that it's definitely possible for your mom/friend/cousin/aunt to help you plan your wedding- I just recommend that it be alongside a wedding planner. You can thank me later. ;)
---

A version of this post was published in August 2013, and has since been updated and revamped for accuracy. 
The following two tabs change content below.
Lauren Grove is the editor and owner of Every Last Detail. A clueless bride-turned-wedding planner, Lauren uses her experiences and knowledge to educate and inspire brides all over the world.