Chances are pretty good that if you are engaged and starting to plan your wedding, the thought of a wedding planner has probably crossed your mind. If you're like most couples, you probably immediately disregarded the thought, because you think it will be too expensive, or because you feel like this:
"We don't want to hire a wedding planner because we want to plan the wedding ourselves."
I've actually heard this statement made many times, and it has made me realize that there is a huge misconception about wedding planners and what they do. Well friends, if you know anything about us at Every Last Detail, you know that we really don't like misconceptions, so the truth is…
A wedding planner does not plan your wedding- YOU DO!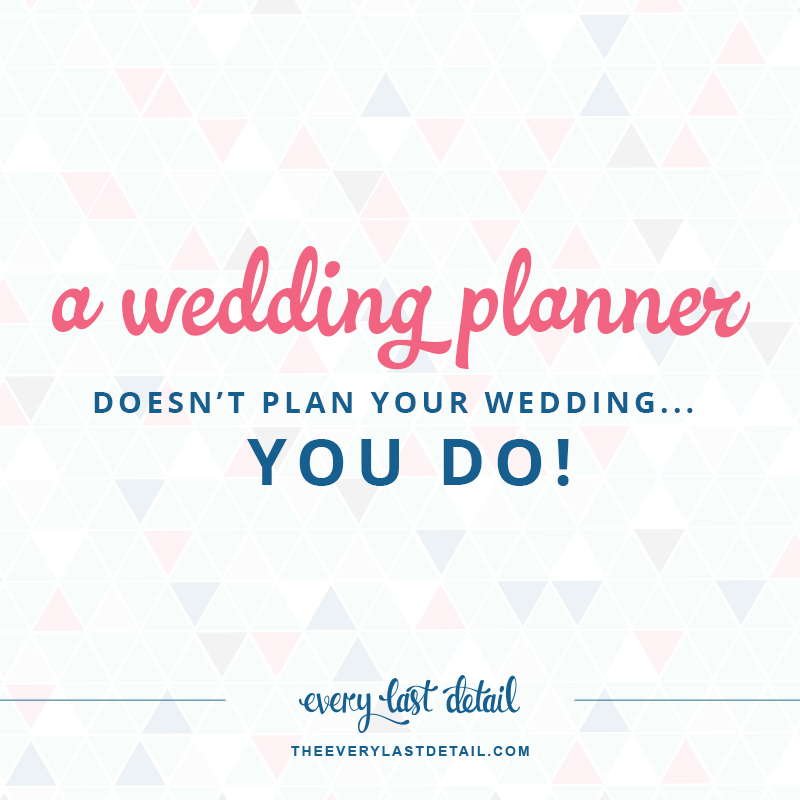 I want to tell you today that having a wedding planner isn't about having someone make all the decisions for you.
Having a wedding planner is about having someone who knows what they're doing, who can help you, and who will plan your wedding ALONGSIDE you.
Because chances are pretty good that you've never planned a wedding before and you don't quite know what to do. Weddings are a fun, exciting world, but they're also tricky and a huge unknown. It's okay to seek knowledge and help when entering upon this unknown world. Really, it is- it's what you would do in any other new situation, right?! :)
So with that said, I wanted to elaborate a bit more about why a wedding planner doesn't necessarily plan your wedding for you. I think many people still have that vision of the wedding planner seen in movies or on TV, handling every single detail of a wedding and taking over the whole entire wedding.
I'm going to ask you to throw that vision away- forget you ever saw it.
Gone are the days of wedding planners only being hired by brides with million dollar budgets, and gone are the days of the wedding planner who takes everything over. [Note: Yes there are some wedding planners that will plan the whole entire wedding but that is usually the bride's preference, and comes a very high price tag.]
A wedding planner's job is to

help you

plan your wedding.
You don't have to be concerned about whether or not you'll actually be able to plan your own wedding, because you will still be making all of the decisions and be a very active participant in planning your wedding. The only difference is that you will just have help doing it! For example- a planner may provide you with recommendations for vendors, but the decision is yours. You will still research the vendors, meet with the vendors, and hire the vendors, but it's the guidance from your wedding planner that makes the difference.
There is of course way more a planner will do for you beyond recommending vendors, and to avoid going into a the big long list of what a wedding planner does, I highly recommend that you read this post. (I would have just listed everything for you, but there are just way too many things!)
Something important to remember about wedding planners is that they are all different. They will have different packages, different styles, and different personalities. This is an AWESOME thing though, because that means that there is absolutely going to be a planner who will be perfect for you, your fiancé, and your wedding! Choosing the right wedding planner to help you in your wedding planning process will be best decision you will ever make while planning. I promise!
So the bottom line is this…
[Tweet "Guess what… you are definitely still planning your own wedding if you have a wedding planner!"]
When you have a wedding planner, you will be planning your wedding with knowledge, guidance, connections, and experience on your side! I don't know about you, but that sounds a whole lot better than planning a wedding and being absolutely clueless and stressed out- don't you agree?
I'd love to hear from you all about this- have you decided for or against a wedding planner? What are your reasons?
---
We also recommend reading…

The following two tabs change content below.
Lauren Grove is the editor and owner of Every Last Detail. A clueless bride-turned-wedding planner, Lauren uses her experiences and knowledge to educate and inspire brides all over the world.