Let's talk about something that isn't exactly the most typical situation- how to postpone a wedding.
We've been talking a lot about what to do about the Coronavirus affecting your wedding, and now it's time to go deeper into exactly how to postpone your wedding. Because let's be real- this is something that no one WANTS to do, and it's something that also isn't very common.
So, let's discuss what your options are, and what steps you should take…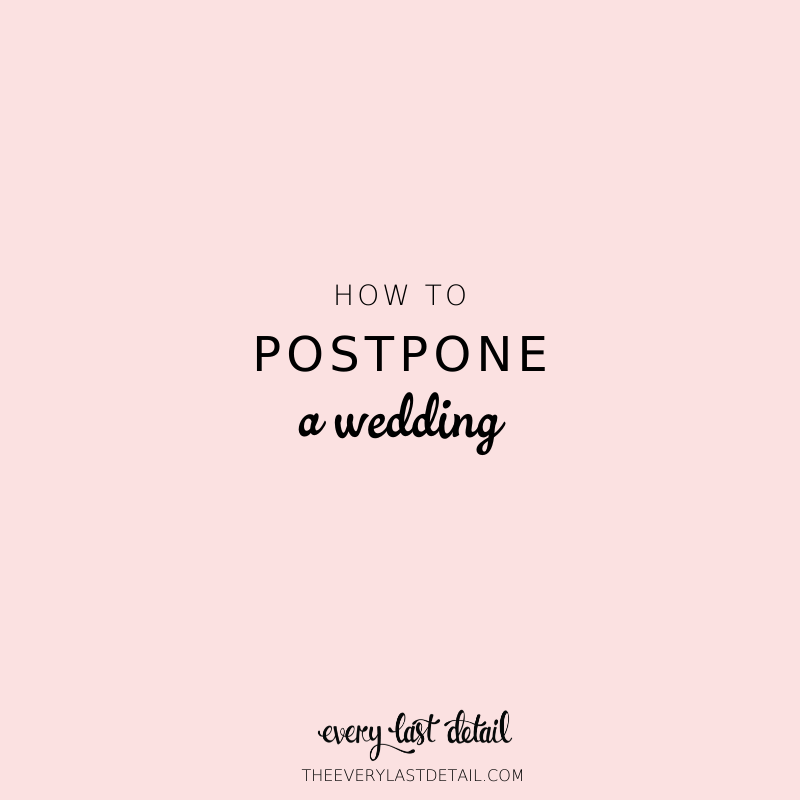 My very first recommendation when it comes to postponing your wedding is to do just that- postpone, reschedule, and NOT cancel.
We love what Brooke Kuhl of RSBP Events + PR said regarding postponing your wedding day: "Do you want to think about your wedding day and the only thing you think about is about who couldn't come? Or why they couldn't be there? Or what changed because of what's happening in the world? Why don't you just postpone it and have it the way you want it, the wedding that you dreamed of. Because that is what you're going to think about the rest of your life."
We couldn't agree more! Besides- you've already paid your deposits and likely made other payments, you've planned and envisioned your perfect day, and you don't want any of that to go to waste.
And speaking of your payments, Valerie Gernhauser of Sapphire Events shares that "you can expect that your payments that you have made toward your original date should apply to the new date in most cases." So that's good, right?!
If you're thinking twice about whether to postpone your wedding, Katerina Marie Photography. Art. Designs. LLC's words of encouragement might help you out: "Do not get discouraged! Just get excited for what may come of this! You may end up having a more intimate wedding to look back on and LOVE! Or, you may even pick a new date with better weather/seasonal scenery! Keep your heads up, keep the communication flowing between you and your top vendors and take it day by day!"
Once you've made the decision to postpone your wedding, you'll need to start taking the steps towards rescheduling. Here's what you can do:
If you have a wedding planner, contact your planner right away, and he or she will take care of helping you with all of this!
1. Contact your venue
Kelly Fowler of Just Save The Date Events suggests, "Don't panic! Start with your venue to find out what dates they have available and what their rescheduling policy is given the situation. From there, compile a few dates that you are comfortable with and either have your planner (this is where having a planner comes in big time) communicate to your other vendors or reach out yourself with the list of 1-3 potential dates. Communication is key all the way around both with your vendors and your guests."
Janice Carnevale of Bellwether Events recommends that you "ask your venue for a hold on a preferred date while you sort everything out with your entertainment, photo/video team and the rest of your vendors. A lot of couples are going to be moving dates, and soon any remaining prime dates for summer and fall will be gone."
She also suggests to "be open to Fridays and Sundays. In normal times, a Friday or a Sunday may feel like an inconvenience to some guests. But these are not normal times, and your guests will appreciate you making the decision to postpone, so that they don't have to make the decision to cancel on you now."
2. Get In Touch With Important Family Members and Friends
Don't forget the people who you really want there! Renee Dalo of Moxie Bright Events says, "Once you have some hard dates from your venue, talk to your family & friends. Get on the phone and get opinions on which new date will work best. Once you've narrowed it down, THEN reach out to your vendor team to see if they can move to the new date." Kind of like how you chose your wedding date in the first place!
3. Contact Your Priority Vendors
Before you decide on a date, you're going to want to contact your "priority vendors". Kristen Weaver Photography  recommends, "Open a line of communication with your "priority" vendors about the possibility of rescheduling. Many of us have fees for a typical reschedule, but are waiving those in light of recent situations.
I have had several clients already hold a 'backup date' for the next 2 weeks in case they're forced to reschedule based on venue, government, etc. Since it's first-come, the earlier you consider a second option, the more likely you'll be to feel more secure if something happens and you have to reschedule your event."
It's important to make sure that the vendors who you REALLY want are available, and this is where communication is going to be SO important.
Ash Simmons Photography, a photographer in Florida, recommends that you "Reach out to your "must-have" vendors first and find out what dates they have available in the timeframe you'd like to reschedule."
What if all of your must-have vendors aren't available for the same date?
"Consider getting married on a weekday," Ash Simmons says. "A lot of vendors book 12-18 months in advance and trying to accommodate all of their March, April, and potentially May and beyond couples to fall Saturdays could be an issue. If you're open to a Friday/Sunday or even Thursday wedding, take that into consideration when rescheduling."
We love what The Simply Elegant Group shared about this too:
"When you are postponing but need to figure out what order to rebook with vendors, the best way to go about this is to create a "Priority List." Make a priority list, listing out your vendors around a few key things:
1- Your relationship (IE would your wedding not be the same without them?)
2- Do they take multiple weddings on at a time? (Then they can be lower on the list.)
3- How much money have you spent with them?
4- Your contract (how much of the deposits you've made are non-refundable?)
5- Can you use their services in a different way? (Example: Baker, birthday cakes/etc.)"
Also, in dealing with all of this, remember that each of your vendors is their own business, so "their contracts, date switching, and cancellation policies will vary," as Kinsey Robers of She Creates Business states. "There is no "one size fits all" solution here as we're all in unprecedented territory so communication will be key."
---
Does communicating with a whole bunch of vendors sound a little overwhelming?
My first recommendation: utilize your wedding planner for this, or if you haven't already hired one, look into it! Many planners are ready and willing to assist you right away with this type of unfortunate situation, and some are even offering unique services especially for assisting in rescheduling.
We have a few suggestions for you to help assist in the communication of possible rescheduled wedding dates.
Google Form: You can easily create a Google Form that provides possible date options to your vendors, and they can fill in their info and select the dates that they are available. This way, you don't have to go back and forth, and you can also have all of the information pulled directly into a Google Sheet for you to be able to review. You can view an example of a form like this here, or below via the screenshot provided.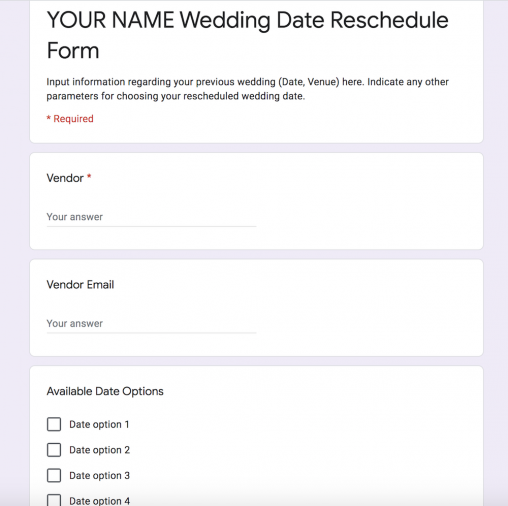 Doodle: Another platform that is great for coordinating with multiple people is Doodle. I know myself and many of my friends and colleagues use it when trying to find the best time for a meeting to happen. They have a 14 day free trial (sorry, I swear it was free a few weeks ago!), but that should be plenty of time to get connected with all your vendors and decide on your date.
---
Blooms By The Box reminds us that "in the case of caterers and florists, who will be sourcing perishable product for you, contact them as soon as possible so they can cancel their own supply purchases. They won't be able to absorb all of the costs of last-minute cancellations."
And finally, don't forget to "look over contracts to see what kind of force majeure, rescheduling, or cancellation clauses they have," says Amy Sedan of Hitch Perfect. "If you decide to change your date and that vendor doesn't have the same availability, expect to at least lose your initial deposit."
4. Choose Your Postponed Wedding Date
Once you're set on an official postponed date, Valerie Gernhauser of Sapphire Events says, "expect that your new date may come with additional charges, dependent upon the vendor, and the specific conditions surrounding your exact event details. In this case, many vendors will most certainly try to honor your original plans for the new date as much as possible, but it is not unusual to see nominal fees or additional charges that reflect additional labor costs or other work required to make the new date happen."
5. Notify Your Guests
Finally, you're going to need to notify your wedding guests that you're postponing your wedding.
Kinsey Roberts of She Creates Business suggests a few great ways to communicate with your guests:
– Post an announcement on your Wedding Website about the date change and update your wedding website with all of the new information.

– Ask your Maid of Honor, Mom, Future Mother in Law, etc to help you send text messages to your guests about the changes.

– If you have access to all or a majority of your guest's email addresses, use a service like Paperless Post to announce the date change.
Jacksonville wedding planner Terri of G.G. Events has a few extra pieces of advice too: "Be prepared to have to make some changes and be aware there may be some additional cost. Such as if florals were already ordered then they would have to order them again and the cost would need to be covered or you may have new fees if you postpone into the next year. If you already got your marriage license and you postpone over the 60 days you will need to return your current license and pay for a new one. Lastly be patient and understanding you will hopefully be working with a planner that can handle all the back-and-forth it will take working with multiple vendors and venues. Everyone is trying to help and there are a lot of couples affected by the shut downs due to Coronavirus."
Are there other ways to postpone a wedding?
What if you REALLY wanted to get married on your original wedding date? Maybe the day has a special meaning for you, or you just don't want to wait another year to be legally married! Well, let's figure that out!
You can always do a small, intimate ceremony to get married, and then choose another date for your rescheduled wedding celebration to occur.
We love the suggestion that Cat Pennenga Photography made, saying, "If you do have to reschedule your wedding due to travel restrictions or venue cancellations and now have to wait 6-12 months to finally say I do to your person, you could always have a small elopement or courthouse ceremony in the meantime. Photographers and other wedding vendors often have elopement packages, especially for weekday events and it's a great way to seal the deal privately while you wait for the big party to celebrate! Most cities have beautiful, historic courthouses for a simple elopement or you can choose an outdoor location like the beach or the middle of the woods. You also get more dedicated portrait time with your photographer and the opportunity to emotionally connect during a stressful time."
---
Just like with all of our other information we have about how the Coronavirus is affecting your wedding, we hope that this will all help make things a tiny bit easier for you in this unprecedented time.
And if you need help finding vendors to help you for a small, local wedding, or finding a wedding planner to help you out, please don't hesitate to send us a message on Instagram, or check out our vetted and verified vendors.  
The following two tabs change content below.
Lauren Grove is the editor and owner of Every Last Detail. A clueless bride-turned-wedding planner, Lauren uses her experiences and knowledge to educate and inspire brides all over the world.