So you're facing the gut wrenching decision to either cancel or postpone your wedding due to the Coronavirus pandemic and the CDC's latest recommendations. First, let me say, I am SO SORRY. This is NOT something that anyone has ever planned for or even experienced. But a decision has to be made, especially if your wedding is happening with the next 2 months.
The CDC "is now urging a nationwide halt to gatherings of more than 50 people for the next eight weeks (10 for the next 15 days at the time of publishing), citing the risk of the coronavirus." Mind you, this is a recommendation and not a mandate, so this means that you can still decide on what to do for your wedding.
Now, I must let you know- I am not a medical professional nor a lawyer, and everything that is shared here is opinion. But, they are opinions based on experience and facts, which you can then take to make your own decision.
POSTPONE, DON'T CANCEL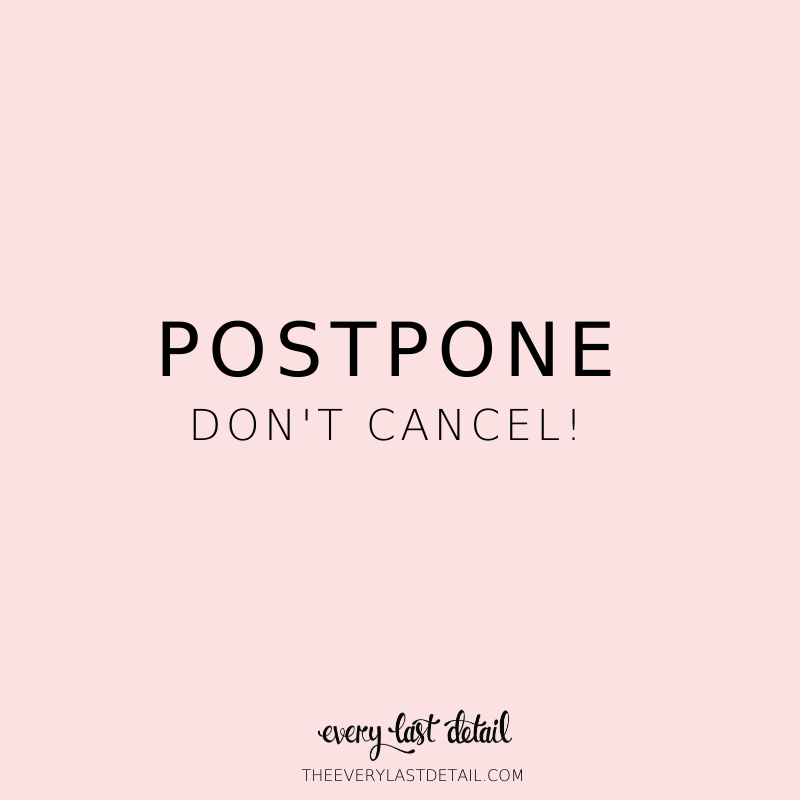 Without being aware of any of your unique circumstances, my own personal recommendation would be to postpone your wedding and reschedule to a new date.
Why?
You've already paid your deposits and likely made other payments.
You've planned and envisioned your perfect day for months, maybe even a year or more.
And I don't know about you, but I wouldn't want any of that to go to waste!
We 100% agree with what Kristy of Momental Designs said, "Who wants to cancel a wedding that has been meticulously planned and anticipated for months or even years? No one and you shouldn't have to cancel anything."
Of course, as Renee Dalo of Moxie Bright Events shared with her clients, "Only you can choose what is right for your wedding and your loved ones, in light of this public health crisis." At this point, there is no right way or wrong way for how to deal with the Coronavirus and your wedding– there is only YOUR WAY.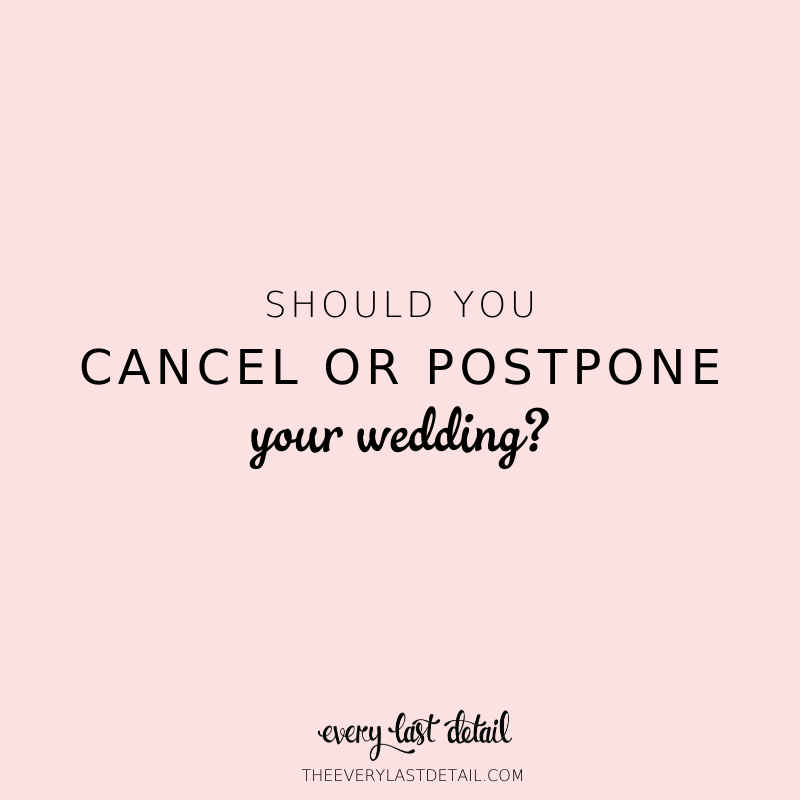 So- how do you decide whether to cancel or postpone your wedding?
Everything is canceled……is your wedding next?
"It doesn't have to be. It's a scary and uncertain time right now for couples and for your vendors. We can get through this together, and we will! Your vendors want to help you make the safest and best plan for your wedding day amid this chaos.
Here is a plan you can approach your vendors with if you've found your wedding date in the CDC's line of fire:
Continue with your wedding date but bring your guest count down to under 50 people per the CDC's guidelines to make it an intimate and bespoke affair. Talk openly with your vendors to see if they can make additional modifications to their services if needed. Can you caterer accommodate a smaller guest count? Is your photographer able to shave off a few hours of coverage?
You can think about having a larger, reception-style party later in the year or in 2021 to include everyone on your original guest list. This plan allows you and your vendors to continue as normal with a few modifications." – Kinsey Roberts of She Creates Business

Things to consider:
1) Location
2) Date
3) Guest count
Tiffany and Cody of Hunter Ryan Photo shared their insight about questions to ask yourself…
"Consider your guest list. Is this a local gathering? Is it small or large? Do you have a large out of town guest list? Is this a destination wedding? Would traveling be restricted for many guests or yourself? Is it taking place in an area of already known large Covid-19 cases/possible quarantine? Do you have immune compromised guests/elderly guests? Would you feel that guests/family/friends might feel you were insensitive moving forward with the wedding on the current date? Will your venue remain open/available (as many are already closing – Government funded museums/parks etc)? Are you stressed that even more restrictions could be put in place in the coming weeks (being possibly days before your wedding date)? If you were to have the wedding in the near future – would you feel like a dark cloud was hanging over it – would you have additional anxieties/stress beyond just normal bridal jitter stress?
We feel like these are all reasons to consider postponing, but not canceling. Canceling would be for not getting married at all – and we know you don't want that. You more than anything want to be married – to your person – so proactive postponement with flexibility is key."
And more specifically, Sasha of Oh So Classy Events says, "There are three major things to consider: where your wedding is taking place, what your guest count is, and whether your venue and vendors are still on board for the scheduled date. If your wedding is taking place in an area that is not considered a virus hot-zone, that is a great start. And if your guest count is under the recommended 50, or you can adjust it to be, then that is also helpful. Keep in mind many guests may choose not to attend, so your guest count may already be naturally lower. And lastly, your vendors and venue may very well be on board to assist and make adjustments and exceptions to a previously agreed service for a decreased guest count along with additional precautions in your specific city.
However, if any of the above points are against COVID-19 recommendations and would be considered problematic, it's best to work with your event planner to postpone. Most reputable event industry professionals are going to do their best to make that process as smooth as it can possibly be and are happy to service your event at a later available date!"
If your wedding is in March, April, or early May, you may need to make the decision to postpone.
"If your wedding is in March, April or early May, you should be making moves towards postponement immediately. With the ease of travel in our country, this virus is likely lurking everywhere already, even if it doesn't seem like it yet. We all need to do what is best for the entire population, and postpone large gatherings. And your guests will be grateful for your making this decision sooner rather than later. Otherwise they might be in the uncomfortable position of cancelling on you last minute.
Most vendors are going to be flexible and you may not sacrifice anything financially if you can move to a date within 6 months of your original date. Keeping the new date in the 2020 calendar year may also be helpful when negotiating with vendors." – Janice Carnevale of Bellwether Events 
Think things through.
"Try to take a breath before making any moves- remember, this is all very new to everyone and unless you have your wedding in the next 60 days, you can press pause for a moment and think things through. You want to be sure you're making an informed choice as I find that irrational decisions often lead to costing you more in the end.
Now is the time to revisit your contracts and, if applicable, your event insurance policies to better understand what you may owe financially for any changes. This will better guide your decision about next steps.
Bear in mind, for some, you may have very limited options and in this case, connect with your team immediately about the option to reschedule. Couples will be eager to still marry in 2020 and it's important to know upfront that many dates for late summer and fall may already be booked. This will require a degree of flexibility as you reschedule." – Eddie Zaratsian of Eddie Zaratsian Lifestyle + Design
Rescheduling is 100% the way to go.
"Rescheduling is 100% the way to go. Step one, read your venue contract to see their policy on rescheduling. If it's not clear, call them directly and ask for options to reschedule within 2020. Most venues are doing their best to accommodate couples but keep in mind most of their prime dates have already been filled. Be willing to consider an off-peak day or event a smaller guest count." – Shannon Tarrant of Wedding Venue Map
"Cancelling has a trickle effect and serious financial ramifications. You not only run into the risk of losing all of your deposits, but potentially a lot more based on the contracts signed with various vendors." – José Rolón Events 
Event professionals are here for you.
"My best piece of advice is to lean on your vendors. We are HERE FOR YOU and we have more ideas and connections in this industry that you might realize. We are survivors and have the thickest of skin. From your planner and photographers to your stationer and rental company, we will find a solution that works for all considered.
The heart and soul you poured into planning will not fade away. The details DIY'd live on and will still serve a purpose a few months from now. We're all in this, reimagining what our new world, after this blink of time, will look like. And while we may have more questions than answers right now, I do know that on the other side is a day waiting for you both.
Lean into the reality of a thoughtful postponement giving you the time to savor planning a bit more, recoup funds and savor the continued anticipation of a new day coming." – Kristy Rice of Momental Designs
"Don't make this decision on your own- instead, connect with your wedding day team to discuss at length. Your planner should be able to help you reach an informed decision about next steps and you'll also want to loop in your venue and caterer to start. In many instances, you may not have much of a choice in the matter but with the right team in place, you'll be able to navigate a postponement." – Kevin of Fantasy Sound Event Services
Get help if you can.
We're all about hiring professionals here at ELD. If you didn't already have a wedding planner, now could be an excellent time to get one to assist you in all of the extra management of tasks for postponing your wedding. Many planners are available to offer their expertise, and even their services come the day of your wedding- some are even creating special packages for this unique circumstance. You can find our vetted and verified wedding planners in The V List here. 
What else can you do? Is there another alternative to canceling and postponing your wedding?
Janeil of Seventh and Anderson shares her idea: "Have your ceremony be a relatively private affair (close family + friends..perhaps no more than 10-15 guests + your wedding party), and then do a "reception rotation." What in the world is a reception rotation? Have a certain group of people attend the reception for a couple of hours, then the next group of people, and so on. While this may not be the "ideal," you may be able to keep your wedding as scheduled and allow you to really focus on your guests and enjoy quality time with them."
Whoa, we didn't think of that! That's a good option for not canceling or postponing your wedding, especially if a lot of your guests are already local to your wedding location! (And if you can move forward with your date, you could also livestream your ceremony.)
---
We hope all of this insight and these perspectives will help you make the decision of whether you should cancel or postpone your wedding due to the Coronavirus. If you need more information about this, you can view our archives here, or you can also come join our Facebook group to get free, 1-on-1 advice from Every Last Detail's wedding experts!

The following two tabs change content below.
Lauren Grove is the editor and owner of Every Last Detail. A clueless bride-turned-wedding planner, Lauren uses her experiences and knowledge to educate and inspire brides all over the world.