What should you do about the Coronavirus and your wedding?!
Coronavirus is the
talk of the world
at the moment, and because so much of what we talk about here at Every Last Detail is
education about weddings
, we're going to tackle your questions with our wedding experts the best we can!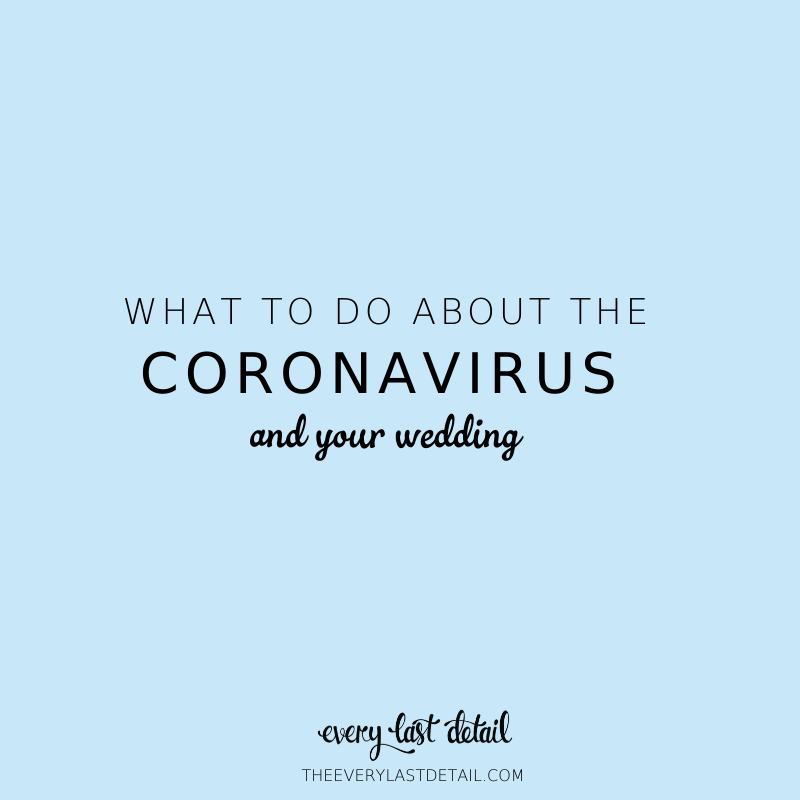 A few things to keep in mind right off the bat…
KEEP PLANNING & BOOKING VENDORS!
First off, if your wedding is happening later this year or next year, keep moving forward with your wedding planning. Keep in mind that in the future, vendors may not be quite as available, as they might need to accommodate rescheduled wedding dates. If you have been putting off booking a vendor (or venue) you love, get them booked ASAP (if you're able to)!
PLEASE DON'T ASK FOR DISCOUNTS.
We've heard that some people are asking for discounted services because of this scare. We completely understand that things are tough right now, but at the same time, a wedding service or product is someone's livelihood, just as your job is your livelihood. It's okay to ask for something like a payment plan due to the Coronavirus and your wedding, but please don't ask for a discount!
So, now let's get to the Q&A, shall we?
Q: Is there anything we can do to mitigate the financial risk of booking all of these vendors now and then potentially having to cancel later?
A: "The main thing I recommend doing to mitigate the financial risk of booking all of these vendors now is start by booking the absolute essential vendors now and wait on things that aren't as urgent. For example, book the dream photographer you've always wanted because there is only one of them. But maybe hold off renting the floor length ivory linens and gold chiavari chairs you're planning to use because those are things we are able to source from a multitude of vendors and are available in large quantities."
Q: Is Event Insurance enough, or should I also purchase Cancellation Insurance?
A: "Great question! The answer is, YES! Event Insurance has become an industry standard because it protects you and your vendors from a lot of liability. Also, you add liquor liability to that to ensure you are not held responsible personally, for the actions of intoxicated guests.

Cancellation Insurance has always been suggested during hurricane season. If a wedding is cancelled all together OR if you move your event to a new date and your vendors are not available, you can recover some funds. Now, I would suggest cancellation insurance year round. Remember, you expect your vendors to serve you as if this is their full time job & to majority of us it is our career. We are not held liable for events that do not happen due to items out of our control. It is our livelihood so expecting your vendors to hand over all money spent to date is not the route to take (P.S. make sure you are reading contracts before committing to vendors). So this extra insurance protects you and helps you momentarily recover. The catch, it HAS to be purchased before their is a named storm or breakout."
Q: What steps should I take if I'm thinking about postponing my wedding?
A: "First, contact your venue to find out what their current policies are on cancellations or postponements (i.e. how much of your rental fee is refundable, if any). Find out if they are flexible on rescheduling and if they have any other dates available this calendar year.

Then, focus on the most important vendors to you (this will be different for everyone) and look over their contracts to see what kind of force majeure, rescheduling, or cancellation clauses they have. Every business handles these types of situations differently, but expect to at least lose your initial deposit if you decide to change your date and that vendor doesn't have the same availability.

Finally, send out a communication to your guests to reassure them that you are aware of this situation and it's impact on your upcoming wedding and will inform them when you have an update – and give them a date by which you'll have a decision made ('expect to hear from us by April 30!' etc.)."
Q: What will happen with my vendors if I need to reschedule?
A: "Open a line of communication with your "priority" vendors about the possibility of rescheduling. Many of us have fees for a typical reschedule, but are waiving those in light of recent situations. I have had several clients already hold a "backup date" for the next 2 weeks in case they're forced to reschedule based on venue, government, etc. Since it's first-come, the earlier you consider a second option, the more likely you'll be to feel more secure if something happens and you have to reschedule your event. Preparation and communication will be the 2 most important factors during this time!"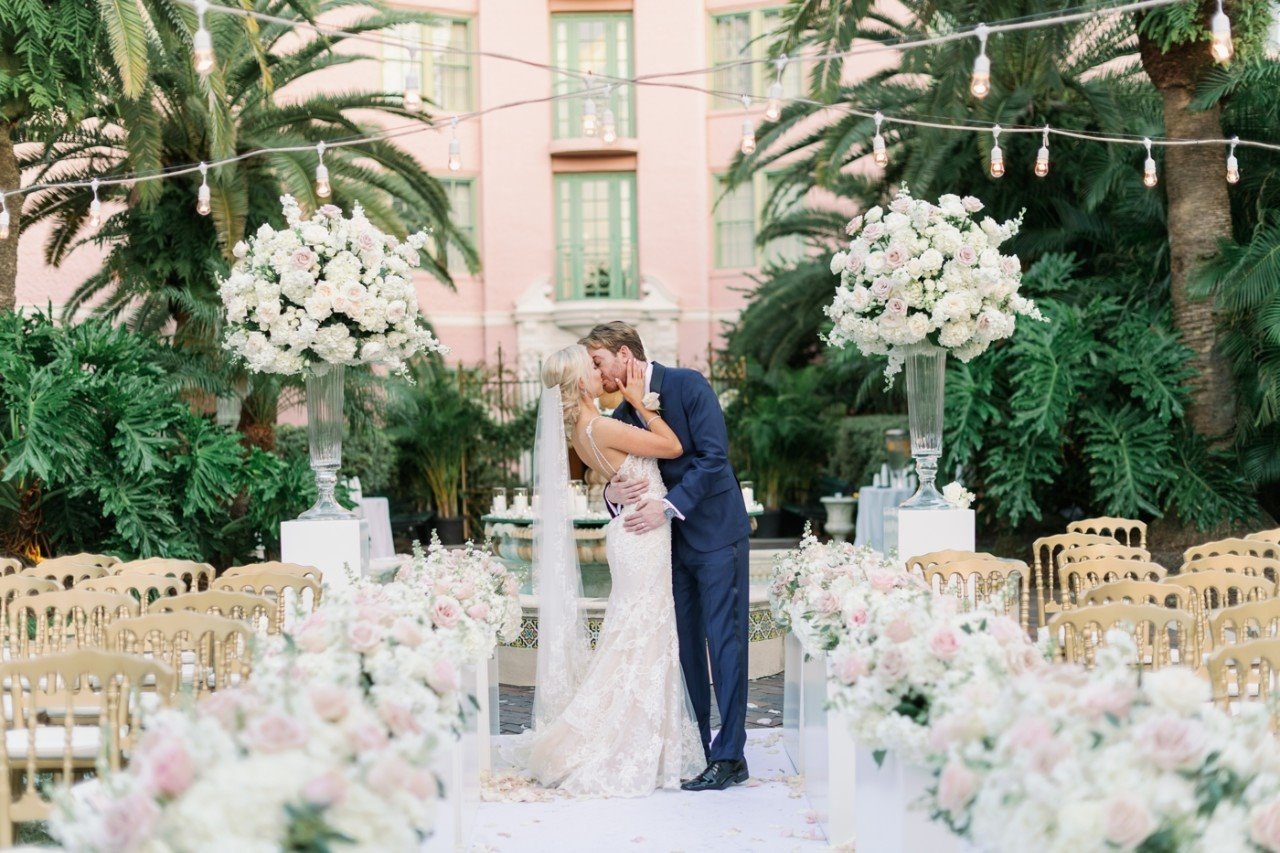 Q: What if I do have to reschedule and wait another year to marry my person?
A: "If you do have to reschedule your wedding due to travel restrictions or venue cancellations and now have to wait 6-12 months to finally say I do to your person, you could always have a small elopement or courthouse ceremony in the meantime. Photographers often have elopement packages, especially for weekday events and it's a great way to seal the deal privately while you wait for the big party to celebrate! Most cities have beautiful, historic courthouses for a simple elopement or you can choose an outdoor location like the beach or the middle of the woods. You also get more dedicated portrait time with your photographer and the opportunity to emotionally connect during a stressful time."
Q: What if we want to postpone our wedding?
A: "A couple asked me that today, whose wedding is 3/28. So not sure if it helps, however…as their photographer I told them as long as I have the date available I'll gladly reschedule to accommodate their needs!"
Q: If I have to reschedule my wedding, will I get any money back or will my payments change?
A: "If you have to reschedule your wedding, you can expect that your payments that you have made toward your original date should apply to the new date in most cases. But also expect that your new date may come with additional charges, dependent upon the vendor, and the specific conditions surrounding your exact event details. In this case, many vendors will most certainly try to honor your original plans for the new date as much as possible, but it is not unusual to see nominal fees or additional charges that reflect additional labor costs or other work required to make the new date happen."
Q: What should I do about giving my caterer/venue a final guest count?
A: "Give them a low or smaller guest count than you anticipate. Many of the caterers/venues will not let you reduce your count, but will allow you to add guests up until several days before your wedding. Hopefully, by that time, you will have a more accurate count of who is traveling and will be present. Also, ask your venue to reduce or waive the minimums. Many are making exceptions at this time."
Q: Will the Coronavirus limit your ability to get the flowers we discussed?
A: "This is a serious issue and one that our company, CeCe Designs and Events, is committed to helping our clients navigate. While we cannot predict the extent of delays this pandemic may cause, we can assure you that we work with the best farmers, growers, and flower agents in the business to ensure that we have the best access to product.

Should a postponement of your wedding or event need to take place, we will work with our clients to apply any payments to a mutually agreeable date in the future. We are confident that our country will develop a proper response to this issue and we will be back to "normal" operating procedures very soon. We would highly recommend staying in contact with your wedding pros, monitor the news responsibly, and consider purchasing event insurance. "
Q: Some of my guests are cancelling – what do I do?
A: "First, try not to panic. The truth is, every wedding has last minute cancellations due to unforeseen circumstances, and every couple deals with those late adjustments to their seating assignments. If you had a seating chart created, you may need to re-print it due to the changes, but if you're still in the planning stages, this may be a good reason to consider escort cards or a seating chart printed with table sheets instead of individual guest names. This way, if you're making modifications based on only a few guests or tables, you need only re-print a handful of escort cards or table cards, rather than a whole poster. "
Q: Should I be worried?
A: "If you are planning your wedding for Fall 2020 or 2021, then we feel you have nothing to worry about! If your wedding is scheduled for Spring of 2020, then it really falls under if you want the stress of this virus. We understand, the wedding must go on! Though, you must keep in consideration if guests cancel plans to come, if companies must shut down, or if venues must shut down.

Just be informed and understand that we are all under a State of Emergency and they might force stricter, unforeseen circumstances on the industy where we are not allowed to peform services. Reach out to your vendors and rest assure, as professionals, we are going to do everything we can to make sure you still get the best experience possible during this time."
Q: Will there be any problems getting flowers for my upcoming wedding?
A: "Yes, yes there is a problem- but that is why you have hired us. Many of our flowers come from Europe, and that is the biggest problem for now. Many come from South America, and we can see a problem in a near future – and just some of the flowers are grown in the USA. We have different sources where we get our flowers from, but please trust us. In case we have a major shutdown, we both have no control. Let's take one day after another, and hope for a better tomorrow. Communication is the key in any situation."
Q: If I reschedule my wedding, will you still photograph it?
A: "Definitely contact your photographer! We ask that our couples contact us when choosing a new date, to make sure we are available. As long as we are available, we have no problem capturing their updated wedding date!"
---
New information is coming out all the time about the Coronavirus and your wedding, and we will update this post as it is available. 
We hope some of this insight will help you out! If you have other questions, you can always come join our Facebook Group to ask our experts, and they will answer your questions directly!
The following two tabs change content below.
Lauren Grove is the editor and owner of Every Last Detail. A clueless bride-turned-wedding planner, Lauren uses her experiences and knowledge to educate and inspire brides all over the world.