So some of you may or may not know that I used to be a wedding planner. It's why I talk about wedding planning things all the time. ;) I do also still coordinate weddings with friends throughout the year, and one wedding this past spring was a doozy. There were SO many things that occurred that as the bride's wedding planner, we had to make right or find a solution to, and the bride and her family had NO idea. Thank goodness they had us, because I don't know what would have happened otherwise!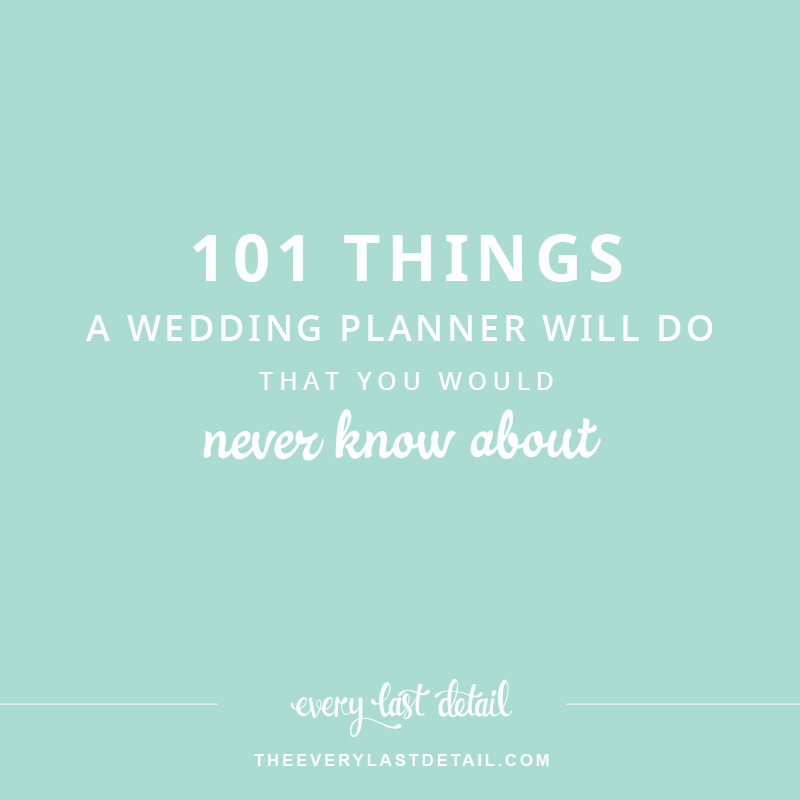 In a nutshell, the caterer was stuck in traffic because of a stopped highway, and they not only had the food, but also the reception tables and cocktail hour high tops. They ended up being 3 hours late and arrived a mere 20 minutes prior to guests arriving- and it was only 20 minutes because that's how far the church was from the reception site. I was in constant contact with the caterer, and I had everything as ready to go as possible for when they arrived. I pre-sorted chairs, menus, napkins, and chargers according to how many were to be at each table, and put markers for where each table was to go. Once the caterer arrived, I and 2 other people setup a whole reception (minus the head table that was already setup) in 20 minutes. And no one had ANY idea. Not even the photographers, or the guests who were arriving just as we were putting finishing touches on the table. I'm pretty sure the bride and groom still don't even know.
The aforementioned instance had me thinking about all of the things that a wedding planner/coordinator do that many couples, parents, and guests have no idea about. And so, I started a list of these things. And then I asked my wedding planner friends. The result is the following list of 101 things that have actually happened on wedding days that a wedding planner has remedied or dealt with. Do these things happen at every wedding? Thank goodness they definitely do not. But I'm sharing them because they have happened, and *could* happen, and having a wedding planner on your side to deal with stressful things is an important ingredient for having a great wedding!
[Editor's note: Let me preface this by saying that these things are not being shared in a "complaining" nature, but an educational, "this could happen to you" nature. The things that a wedding planner or coordinator will do for their couple could easily be compared to an instinct. A gut instinct to do whatever it takes to make sure that your wishes are carried out and that you will have an amazing wedding day, regardless of whether or not it's in their job description or list of services. A wedding planner/coordinator is excellent at problem solving, and they do these things happily and willingly!] 
1. Handle everything when the caterer is 3 hours late and shows up 20 minutes prior to guests arriving.
2. Concoct a story to get random family members from the bridal suite so the bride feels more comfortable and not overwhelmed by everyone in the room.
3. Grab things the couple/family forgets to buy and/or bring
4. Plunge toilets when they overflow at the church or venue
5. Level barrels and tables with mulch, napkins, rocks, etc
6. Fight (respectfully) any vendors for what the couple requested instead of saying it's "good enough".
7. Be the one to take the blame for your decisions that your family members or guests may not like.
8. Add fuel to a generator and start up said generator
9. Setup a whole entire reception in 20 minutes
10. Store your wedding cake in a cool location so it doesn't melt, and bring it out when it's time to cut it.
11. Make a cake topper.
12. Make sure that the cake is how it's supposed to be, and when it's not, get the baker to fix it…and then fix it themselves too.
13. Deal with a late cake delivery that didn't arrive until during the reception and make it so the bride never even knew.
14. Have a fork, knife, plate, and napkin ready for your cake cutting
15. Have a damp napkin available during your cake cutting in case you guys decide to smash the cake in your faces.
16. Physically hold a cake up so it can be cut for photos before toppling to the ground.
17. Have drinks ready for you and your wedding party after the ceremony.
18. Lend a car to the ceremony musicians.
19. Make sure your photographer gets particular photos- namely of things that are important to you.
20. Steam your linens when they're super wrinkled.
21. Figure out an alternative if you are short on napkins/flatware/dishes.
22. Re-create centerpieces to make up for ones that didn't turn out or died in the heat.
23. Go buy more ice/beer/liquor/water/cups/etc when they run out.
24. Take care of drunk guests
25. Running interference between other vendors and the couple/family and running interference between the divorced parents that hate each other and are now drunk
26. Put your cards in a safe place
27. Move your gifts to the designated person's car/room
28. Make sure sparklers get put out properly and don't light guests or you on fire.
29. Put out favors at the end of the evening- and make sure guests know to take them.
30. Place table numbers and/or place cards in the right locations.
31. Make sure the correct number of guests are at each table.
32. Make a "rain call" and handle a last minute tent for weather.
33. Serve a dinner buffet because the couple forgot that their catering for their backyard wedding was just dropped off food and not a staff of people.
34. Move items so they won't get rained on.
35. When there is a weird, loud, obtrusive noise that is interrupting the ceremony, go find the source of the noise (IE, a tire being changed on a giant semi truck) and request that it holds off for 30 minutes! Oh, and make that request in Chinese thanks to Google Translator.
36. Make sure you have your requested/needed items at your place setting.
37. Find the owners of lost items such as jewelry, shoes, cameras, purses, and more.
38. Keep your vendors on schedule so you can enjoy as much time dancing as possible
39. Gather your bridal party for announcements and special events during the reception.
40. Tell your vendors when to be ready for toasts and cake cutting so they don't miss it.
41. Sew buttons back on to groomsmen tuxes.
42. Hold receptacles under your dress so you can use the restroom, and then wipe your butt when all you friends are drunk and you need to pee but your dress is too tight.
43. Run out in the rain to guide vendors to where they need to park during a backyard wedding to hide all of the cars.
44. Run to the grocery store and get the Father-of-the-bride's date a meal because the bride didn't tell the caterer she was gluten free.
45. Fix your whole wedding reception when a tornado-like storm blows through and destroys everything when it's already setup.
46. Safety pin your bustle back together because it likely WILL fall.
47. Ask guests not to use iPads or iPhones in the middle of the ceremony aisle (because it will ruin your photos).
48. Making sure limo drivers actually make it to their location instead of getting lost.
49. Setting up chairs (or drying them) at the last moment so the couple can have their ceremony outside (when it had previously rained).
50. Uncorking all the champagne because the caterer is too slow and it's five minutes until the toast!
51. Move/fix lights so they will effectively do their job of lighting a location
52. Clear dishes and scrape plates when your caterer didn't do it so you don't get additional charges from your rental company.
53. Clear fallen branches/moss/debris from your ceremony area when a storm has just rolled through
54. Sit for 2 hours pulling glades of grass from between the panels of the dance floor, because the dance floor install was done overnight and it looked like mini hedges of grass between all of the cracks in the dance floor.
55. Have back up plans on top of back up plans in place, and the ability to think on their feet to remedy a situation!
56. Tailor a groom's shirt when it arrives in the wrong size.
57. Bug your photographer to get you back from portraits so the reception starts on time.
58. Coax drunk groomsmen out of the bathroom because they can't figure out how to unlock the stall door.
59. Take apart and rebuild an entire bouquet the bride hates.
60. Create an extra boutonniere(s) when the counts were inaccurate.
61. Find a solution when you're short a rental table linen (or any other rental items).
62. Sew a zipper back into a bridesmaids dress because it broke when getting dressed.
63. Help bridesmaids/bride/MOB get dressed
64. Hide a wall that fell apart before the reception
65. Find an officiant backup when your minister starts threatening to not marry the couple.
66. Put out fires (literally- people like to mess with the candles on your tables sometimes!)
67. Keep things going when the power goes out.
68. Find the extension cord that someone accidentally unplugged, causing half the lights in a tent to go out.
69. Find and set extra tables during cocktail hour when people who didn't RSVP show up.
70. Signal musicians on when to start songs during ceremony
71. Make an ATM run when the couple forgets to pay vendors
72. Suggest to parents of children that they tame their kids during special events like the Father of the Bride's toast
73. Keep copies of special songs on their phones just in case a DJ who's confirmed he has everything he needs actually doesn't.
74. Wash blood out of a wedding dress because the bride started her period and didn't realize it and bled ALL OVER her gown.
75. Help gather/wrangle family for family photos after the ceremony.
76. Go buy $100 in black extension cords when the lighting company shows up with bright orange.
77. Mop the floor on hands and knees when an ice bin leaks water onto the floor minutes before guests arrive.
78. Re-fold 150 napkins when the catering staff can't seem to get it right.
79. Clean the flower girl's face with your hand/dress because someone thought it was a good idea to give her candy 30 seconds before the ceremony.
80. Bus glassware from cocktail tables and ledges when the staff isn't keeping up.
81. Battling the caterer to NOT have coffee cups or sugar caddies pre-set on the tables… and removing them when they won't listen.
82. Remove the tip jar that the bartenders snuck out (when the client already paid gratuity)
83. Clean up the bridal suite from "getting ready" when housekeeping didn't come as planned and is now gone for the day
84. Decorate the bridal suite and give the bridesmaids credit
85. Act as an MC when client hired a club DJ who wouldn't make announcements.
86. Change a dirty diaper.
87. Bring extras of everything you said you would bring- just in case you forget.
88. Clean up your reception in the dark, including hauling trash cans and trash bags
89. Bring you a pretty hanger for your wedding dress in case you didn't get one.
90. Clean up broken glass on the dance floor when everyone is still dancing oblivious to it.
91. Clean up vomit in a bathroom so that you don't have to lose your deposit.
92. Drive people to the ER/do the Heimlich
93. Pick up dog poop.
94. Gather groomsmen and bridesmaid gum on their hand seconds before sending them down the aisle.
95. Come to the rescue with a special balm for chaffing when the brides arms are irritated within thirty minutes of wearing her fully beaded gown.
96. Turn lights up, instruct DJ to announce if there is a Dr in the house, get cold water and iced towel from bar staff, remove bride and groom from the room to keep them from panicking and call 911 when the bride's great uncle has a heat stroke right after the dance floor opens.
97. "Dispose" of a baby copperhead snake because it was slithering around the lawn where the guest tables also were.
98. Cut and serve the wedding cake when the couple forgets to add on the cake cutting fee with the caterer.
99. Fighting with a wedding venue 2 hours before a wedding to convince them to let a DJ play since they just decided that they no longer want to allow any amplified music at their venue.
100. Fix a broken heel as the bridesmaid was about to walk down the aisle.
101. Find a fill-in for a vendor who went into labor the day of the wedding.
---
One can't help but look at this list and think "Holy crap"! But wedding planners will do all of this not only because it's their job, but because it's what they love to do. Helping brides and grooms having wonderful wedding days is what they love to do, and so they will do whatever it takes to make sure this happens! Often times, planners are seen as a luxury, but if you ask me, they should be the very first vendor that a couple books because they save you so much heartache and stress!
So wedding planners- THANK YOU! Thank you for going above and beyond for couples all over! And brides and grooms- I highly encourage you to look into at least hiring your own wedding coordinator… because some of these things could happen at your own wedding, and you certainly don't want to have to deal with it yourself!
---

A version of this post was published in June 2015, and has since been updated and revamped for accuracy. 
The following two tabs change content below.
Lauren Grove is the editor and owner of Every Last Detail. A clueless bride-turned-wedding planner, Lauren uses her experiences and knowledge to educate and inspire brides all over the world.