Friends. Hire a wedding planner. Just do it.
The past few weeks have been a rollercoaster- no, downhill battle- of emotions. All of the experiences I've been hearing from couples and wedding professionals has been a bit… rough. But, we've talked about that stuff– today, I want to talk about one of the big heroes throughout all of this…
The wedding planner.
The wedding planner, whose job is sometimes quite literally to put out fires (dresses and napkins love to catch fire y'all). Wedding planners are the ones who deal with everything and solve problems that oftentimes you didn't even know existed. They are like tour guides and therapists and teachers and artists and architects and… the list could go on forever.
Over the last few weeks, wedding planners have stepped up to the plate, dealing with something that is entirely unprecedented. Something that no one actually knows how to handle. And they figured. It. Out. Because that's what a wedding planner does. A wedding planner is a problem solver, constantly looking for solutions and options for YOU, the couple getting married.
I feel awful for couples who are navigating COVID-19 and their weddings alone, without the expertise and wisdom of a wedding planner.
And while we have plenty of articles around here telling you what a wedding planner does, I wanted to give you a BIG HUGE reminder right now.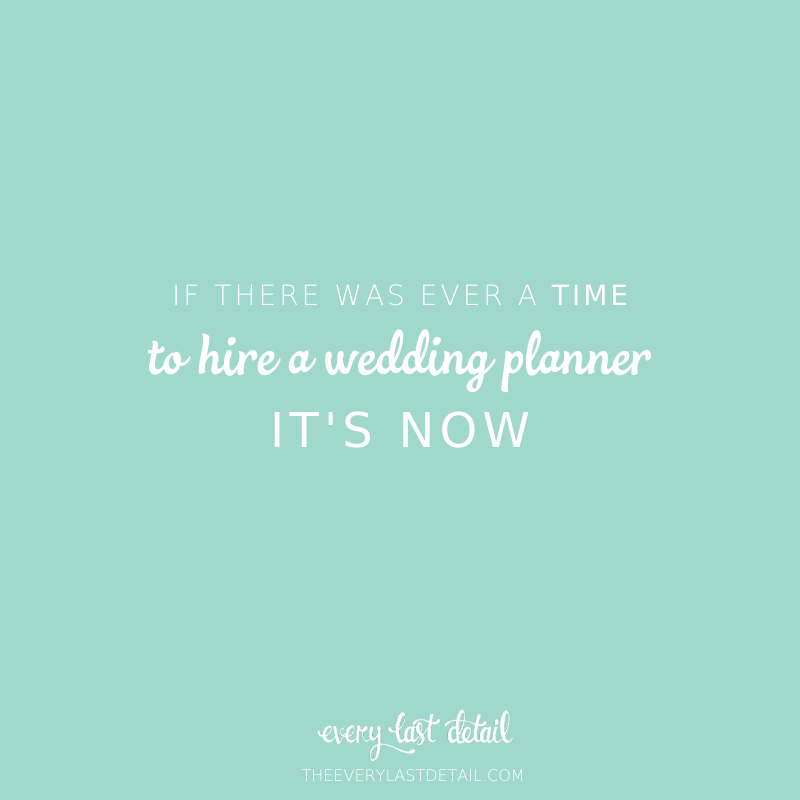 IF THERE WAS EVER A
TIME

TO HIRE A WEDDING PLANNER, IT'S NOW.
IF THERE WAS EVER A
REASON

TO HIRE A WEDDING PLANNER, IT'S WHAT WE'RE EXPERIENCING RIGHT NOW.

Friends, THIS, what so many couples are experiencing right now, is why you hire a wedding planner. <<< Imagine that I'm yelling that from a rooftop.

Situations that you have no control over, navigating uncharted territory, and adding a whole lot stress to your life… this is why you hire a wedding planner.

Heck, even if you've had to reschedule your wedding already, or if you're concerned you might have to- HIRE A WEDDING PLANNER NOW!

Inside info for you: A lot of wedding planners are offering special programs, new services, and different kinds of payment plans right now. Because wedding planners exist to HELP YOU- and that's exactly what they want to do. So whether you're dealing with a postponed wedding or just planning a wedding (hopefully) normally, you're kind of lucking out right now! ;) 
Someone to handle being in contact with all of your vendors?
CHECK.
Someone to help guide you in making decisions about something you have no clue about (weddings)?
CHECK.
Someone to help you navigate planning your wedding through a global pandemic?
Unfortunately, CHECK.
Someone to do ALL.THE.THINGS. for you on the wedding day so you and your family can be present and not running around like chickens with your heads cut off?
CHECK CHECK CHECK.
Those are of course just a few things that will happen when you hire a wedding planner- I could on and on for a while (and I have). I've likely already published everything that I would say right now SO, in case you need any other knowledge surrounding what wedding planners do, here are a few posts:
---
And here are a few more things I want you to know…
*Wedding planners are NOT just for couples having luxury weddings.
*Having a wedding planner does not take the experience of planning of your wedding away from you.
*Oftentimes, when you hire a wedding planner, he or she will SAVE you money because their knowledge can prevent you from spending on unnecessary things.
*A wedding planner is an investment for your wedding (and your sanity).
You deserve to have an awesome wedding planning experience regardless of what is happening, and a wedding planner can do that for you.
---
---
And if you'd rather have a direct recommendation of a wedding planner in your area, or if you're curious about who is offering those special programs and payment plan methods I mentioned above, I can help! DM me on Instagram and I can connect you with someone! :) 
A note for wedding pros: Wedding pros being a part of our vendor marketing service, The V List, is what enables us to continue to educate couples through content like this about the importance of hiring YOU, professionals.  If you are a wedding planner (or any type of wedding pro) and you would like to be a Vetted + Verified vendor, you can go

HERE

for more information and to submit an application.
The following two tabs change content below.
Lauren Grove is the editor and owner of Every Last Detail. A clueless bride-turned-wedding planner, Lauren uses her experiences and knowledge to educate and inspire brides all over the world.