You're newly engaged, you've celebrated your engagement, and by this point you likely cannot wait even one more second to start planning your wedding. But the thing is… we highly suggest you do wait!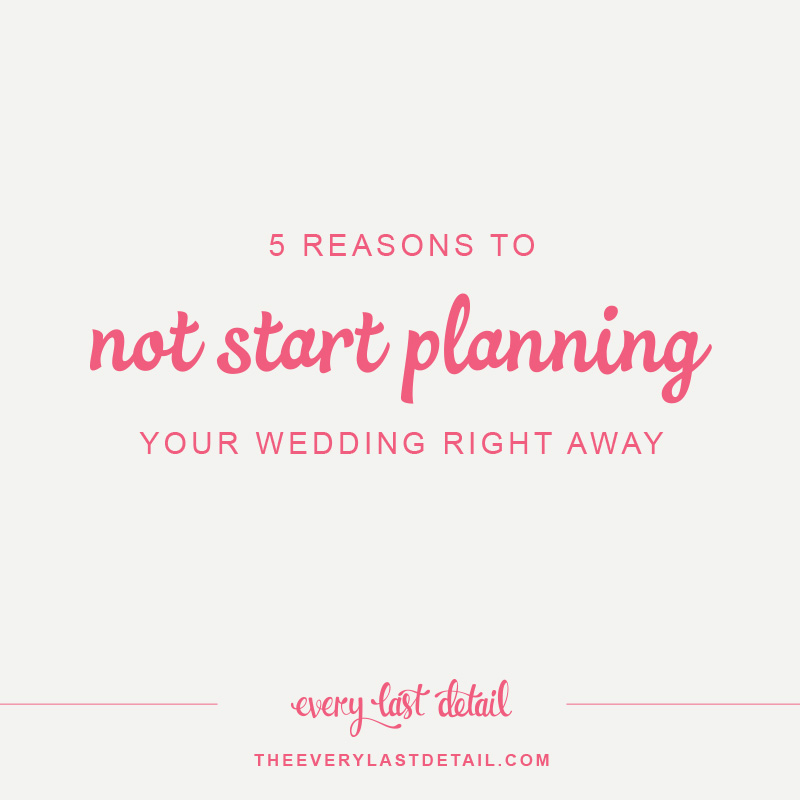 The reason is simple: we want you to think before you plan. So, we've teamed up with a few of the wedding experts in our V List community to offer you our top five reasons for why you'll be happy you took a little time rather than dive right into planning.
1) YOU NEED TO KNOW YOUR BUDGET
Even though it might not be the most enjoyable conversation to have, it's essential that you know how much each party is contributing to your event. Determining your budget early will allow you to make confident and informed decisions throughout your planning process because you will be able to allocate accordingly. Your budget is essentially the biggest piece of your wedding planning- besides your relationship of course! Our biggest piece of advice: once you know your budget, stick to it. We will have a lot more to say about this topic over the next few weeks, so stay tuned!

"You should always do your homework before jumping into planning. The more preparation you do before starting the planning process, the less overwhelmed you will feel. Setting the budget or at the very least talking about the budget should be step number 1. Spend some time researching wedding costs in your area, as well as nationally and use it as a framework for your budget. Knowing what you should be spending vs. what you would like to/plan will be the perfect first step in the planning process. This is also where hiring a professional planner can be extremely helpful!" – Kelly Fowler of Just Save The Date Events

"Before you book your date and venue – STOP. The budget has to be the first thing you outline before you do anything else. And do your homework so you have some framework on what things might realistically cost. Your venue, food and beverage costs will be the biggest expenditure (max 40-45%!), and it's directly related to your guest count. If you overspend here, it will throw your entire budget out of whack and you will end up either shortchanging other services, needing to increase your budget or cut your guest count. All of which create unnecessary stress on the process." – Michelle Garibay Events

"It's tempting to get started planning right away, but before you start signing contracts, it's so important to have the Budget Talk. Every single piece of your wedding planning hinges on your budget – from venue to vendors to guest list – and it can be one of the biggest stress factors during the planning process. Talk to your fiance and both sets of parents to decide who will be contributing and how much before you do anything else. This will give you a clear view of your wedding and help you determine priorities and guide all of your planning decisions." – Christina Sloan Events

"First and Foremost I would recommending hiring a wedding planner you trust to execute your vision. Finding a vendor team that understands who you are as a couple and how you want to infuse that into an experience for your guests is key. Second, have the "ugly money talk". Nobody wants to talk about money, but I tell my clients that having a solid budget is our foundation. I cannot even begin to recommend vendors or work on an event design until I know what I am working with. Once he puts that ring on your finger, sit down and have a conversation about budget and top priorities then find yourself a wedding planner you connect with." – Shelby Peaden Events

"Regarding budget – we often hear that if couples had taken the time to know in advance what each category/vendor realistically costs they would have re-allocated money differently.  In these cases, they have overspent on one category that wasn't really a top priority – so when a vendor IS more of a priority, they end up sacrificing them.  They had assumptions on costs, instead of actual quotes.  This is why having a planner is so important – because they already know those costs per category and can help allocate your budget well according to your priorities.  We have had several anniversary shoots with couples, who had wished they had spent the money to hire us on the wedding day, who came back to us a year or a few years later to "re-do" their portraits." – Hunter Ryan Photo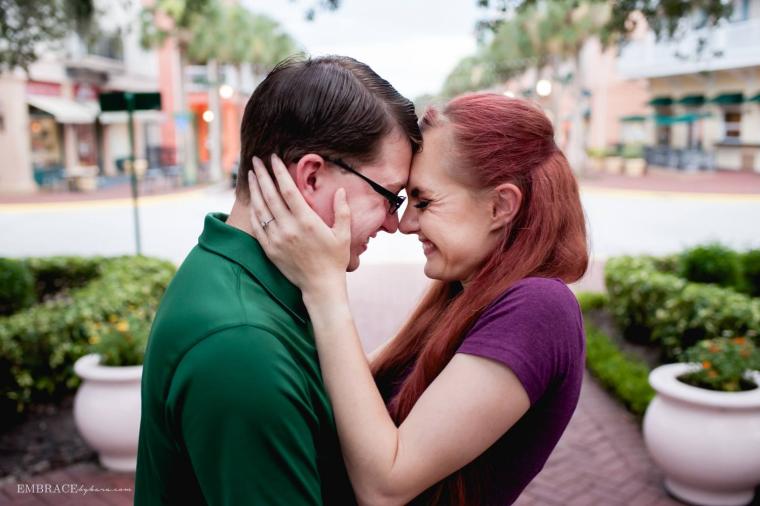 Photo by Embrace By Kara
2) THINK ABOUT DATES, VENUE, & YOUR GUEST LIST 
Before you start contacting venues and professionals, think about when you might want to get married and how many people might attend. If your heart is set on a summer wedding or you have a specific date in mind, you will want to mention this to your venue and preferred professionals up-front.

The other piece that will largely determine many of your planning decisions is your guest list. You will want to have a rough count, so you know whether your venue needs to be able to accommodate 150 or 300 guests. Many cannot do both.

All this to say that you cannot choose your venue without a few potential dates and an estimated guest count. They all go hand in hand really, and you want to make sure they will all work well together. After this is decided, then the actual hiring of your vendors and the true planning can begin.

"Planning your wedding means knowing your budget. Your wedding date, venue, and guest count will all factors into your budget. So before you set anything in stone figure out these basics! Researching where you should get married starts with where your guests are traveling from and how intimate you want your ceremony. Date is also huge! Are your guests from out of state? Then when is the best time for them to travel. Some venues offer deals depending on season and even day of week. By far the biggest wedding cost is your guest count! Having a list will help you find your venue and date and create that budget." – Embrace By Kara

"You do not have a wedding date without a venue. We see so many couples that have their date picked out, but are heartbroken when they start looking at venues and their date isn't available." – Caitlin of Plan It Event Design & Management

"We often have brides who really wished they could have booked us, but they jumped on their venue so fast trying to secure the last date they had -that all of their favorite vendors are already booked on that date.  So they choose the date, and then we're booked.  (This happened last week actually)  Or they book so fast on a venue, then find us – see another venue we've shot at that they like even more in our portfolio, and wished they would have waited to book the venue."  – Hunter Ryan Photo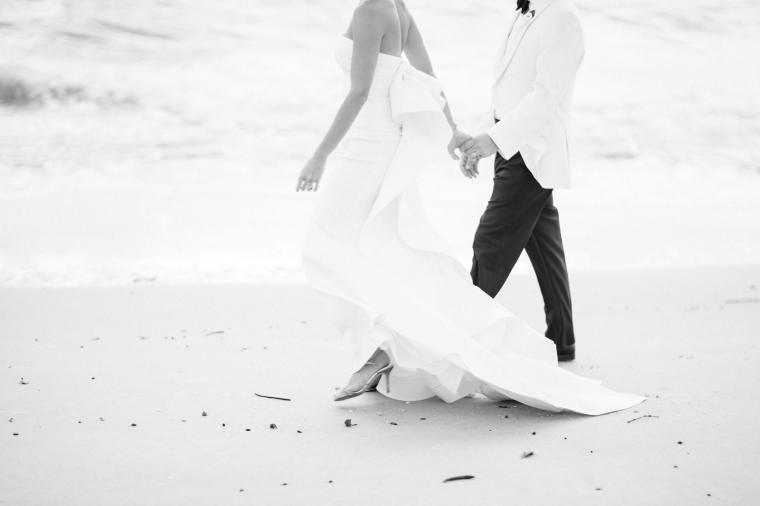 Image by Hunter Ryan Photo
3) YOU CAN CHOOSE PROS YOU LOVE
You should never feel pressured to book a wedding vendor. Do some book quickly? Absolutely, but make sure to take time to really research the professionals in your area in order to find the pros with whom you just click. Remember: you're building a team of wedding pros who are going to make your vision come to life. Make sure your personalities, ideas, and styles are in line with each other. Choosing your venue, photographer, and perhaps chatting with a wedding planner are all great places to start your vendor search. And guess what? You can find our approved vendor recommendations right here on ELD via The V List! (Editor's note: This is something I didn't do, and as a result, it's one of my biggest regrets!)
"Preferred vendor lists from venues are great because they can help jumpstart your selection process since they have experience at your venue. Recommendations from friends and family can be helpful, but by no means should these be considered your only options. None of us are one size fits all, so it is super important that you select the perfect professionals for what you and your fiance are looking for and who you click with." – Michelle Garibay Events

"Before you plan your wedding to a T, you and your fiancé should make a list of the top 3 important things each. Knowing what is most important to each of you will help you allocate your budget to the right things – and help you from overspending on things that aren't so important! You can get your favorite vendor when you make that service/item a priority. If hiring a top photographer, DJ, or etc is the most important part of your day there are creative ways to take from another category without skimping or hiring a non-reputable company." – Embrace By Kara

"Having a connection with your vendors is key. Hire the pros that you've fallen in love with because of their work and their personality. You'll be spending a lot of time with them throughout the planning process and on your wedding day. It's important that your vendors feel like family, too!" – Jen of Blush Paper Co.
"Sometimes couples are bummed I'm booked when they could have asked when I was available then booked around that." –Mikkel Paige Photography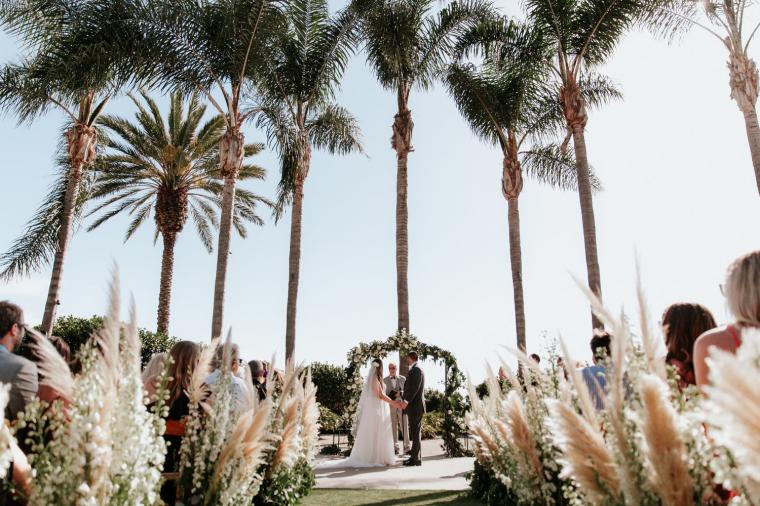 Image via Michelle Garibay Events
4) DRESS #1 MAY NOT BE YOUR SOULMATE
One of the first things you will want to do after getting engaged is to start browsing for dresses. Browsing and collecting inspiration is totally fine (we love dresses, too!). However, you might not want to rush to purchase your dress right away, especially if it's the first dress you've ever tried on. Lauren's own dress debacle story is a great one to read about this topic, and our pros agree:
"It's always great to do some research into wedding dresses before setting up an appointment with boutiques, but that's does not mean those styles will look best on you. Trust in your stylist and whoever you bring with you (recommend one person rather than a big group) to pull some options for you as well. Don't be afraid to try on multiple dresses at a few boutiques because even if you love one, you may find a different one you love more at a better price! Personally, I went to two shops. At the second shop, I tried on a dress that I loved and wanted even though it was over my budget. But then I tried on one of the dresses my mother pulled and knew this dress was "the one" as soon as the stylist was helping me into it. I hadn't even seen it yet but there was a rush of feelings that flooded me when I started to step into it. It was nowhere near what I was looking for but ended up looking fabulous on me! The bonus? It was on sale and a third of the price as the one I originally had my heart set on! Looked perfect with our wedding location and fabulous in our photos—no regrets!" – Katerina Marie Photography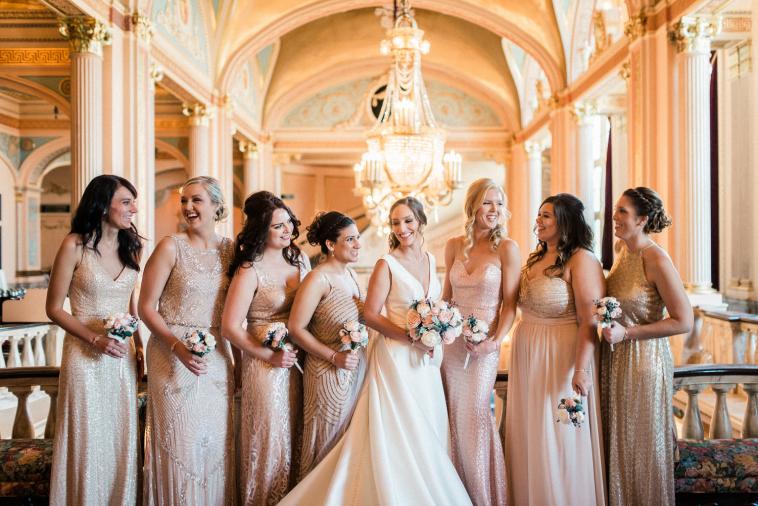 Image by Katerina Marie Photography
5) TRENDS ARE ALWAYS CHANGING
Pantone introduces a new 'it' color annually; bridal designers debut new collections at Bridal Market in October; and décor and floral styles are forever changing. While we believe that classic is always beautiful and trendy is fun, you should absolutely choose options that feel true to your aesthetic. Don't feel like you should have something just because you see it all over Pinterest!
And another note… don't feel as though you have to decide on every style element of your wedding right away. Instead, take time to make sure you love it!
"Before you hop onto Pinterest and start pinning all the latest trends, take some time to talk to your soulmate and about how each of you envision your day together. If you dive into planning and pinning right away without a general idea of what you like and dislike, pretty soon you'll have pinned the wedding you think you should have, instead of the one you really want to have. But to mention that tends are always changing and what you pin when you first get engaged may be last year's trend by the time you're tying the knot! So make sure you two know what parts of your love story you want to highlight before you start pinning. This way you'll end up with inspiration that isn't simply about the latest trends but instead truly reflects your love as a couple." – Lynne Reznick Photography

"Trends come and go. stick with a classic look that you'll love in your photos for years to come. You don't want to look back in 5, 10, 20 years and say 'what was I thinking?!', just because it was trendy at the moment." – Caitlin, Plan It Event Design & Management
And here are few more tidbits on why you should wait to start planning your wedding…
"We highly encourage couples to take a month after the proposal to just soak up their engagement. It's not always possible, but you'll be knee-deep in dynamics, emotions and logistics before you know it. Taking time to truly celebrate and enjoy the season together has been something many of our brides express appreciating. You'll never get that time back- and you'll step into the wedding planning far more energized!"- Ashton Events

"There seem to be two types of personalities when it comes to wedding planning – the decisive, type – A's who want to be 'done' with the planning process – we want to check the boxes off as soon as possible to move on to the next thing, and the more cautious type who worry they'll find the perfect (insert answer here, venue, dress, deal on photography,) if they keep shopping around. There is a balance between the two. Make sure to look at a few options in every category so that you feel confident enough in your decision to move forward but not hem and haw for months and then discover that you've lost out on the in-demand vendors." –

Arielle Doneson Photography
---
Newly engaged, about to walk down the aisle, or recently married? What's the first step you took while planning your wedding? We'd love to hear- let us know in the comments!

The following two tabs change content below.
My name is Carly, and I live for love whether it's the love I witness between my family members and friends or the love I have for places and weddings. For these reasons and more, I write about the wedding industry, and I'm an event planner, designer, and floral stylist who will forever be in love with flowers, pink, and bows.