Recently here on ELD, we talked about the truth of what weddings really cost. Since then, I've also spoken to quite a few brides who weren't sure about how to create their wedding budgets.  So to continue our discussion about what wedding costs and budgets,  I thought we could chat more about wedding budgets in general- because you're not expected to know what things should cost, right? (I know I had no clue, and had no one to tell me!)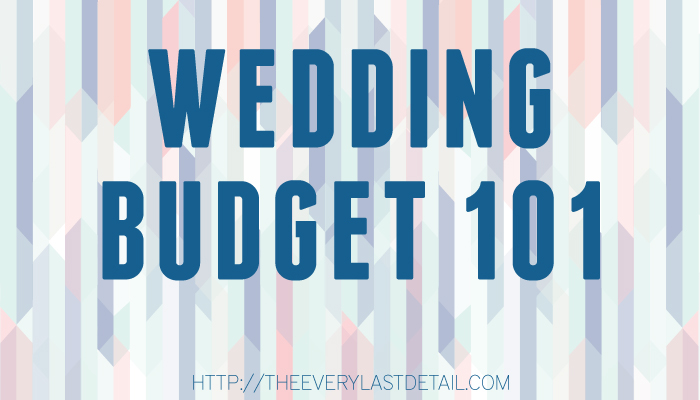 I started off with what weddings really cost because there is a big issue in wedding planning, and it all stems from couples not knowing what to *expect* things to cost. When you don't know what a budget and price range for one of your vendors is, you can't plan well. When you can't plan for the correct and accurate amount to allot to a vendor or service, then all of your other vendors suffer too. For example- you allow for $10,000 for your flowers and decor, but then you only have $2,000 left in your budget- and you still need a DJ, photographer, videographer, and limo. So then, you've committed to $10,000, but have to lower it to $2,000 to afford all of the other services that you need for your wedding. And then your vision of a wedding with $10,000 decor is going to be stuck in your mind already, and when you see your wedding with $2,000 decor, you're going to be a little disappointed. (Now this is a little bit extreme, but something similar has indeed happened to me in my previous life as a wedding designer.)
So how do you avoid encountering this issue? You create your wedding budget based on percentages of your total budget. The following are my recommendations for the percentages you should be allotting for the major areas of your budget.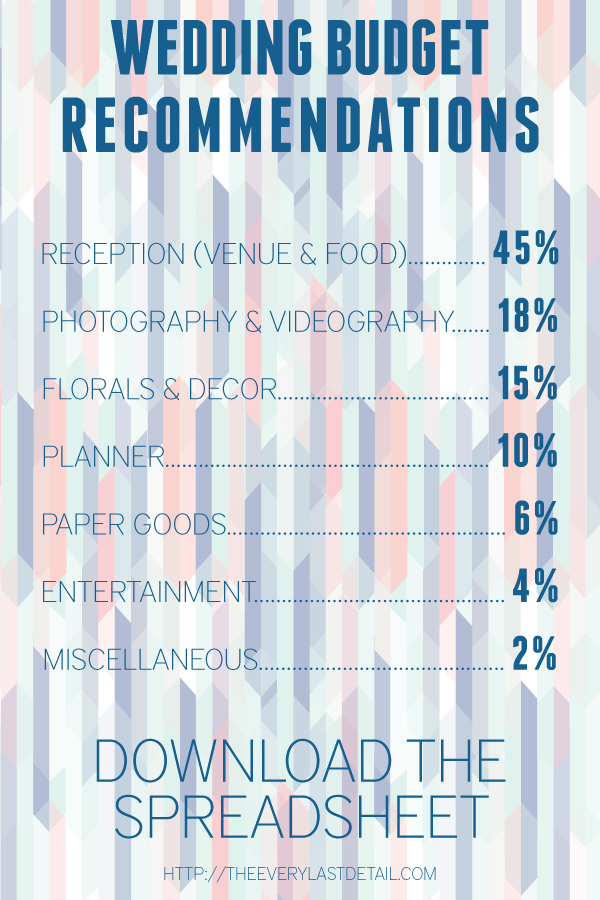 WEDDING BUDGET RECOMMENDATIONS
Reception-Venue & Food: 45%
Photography & Videography: 18%
Florals & Decor: 15%*

Planner: 10%
Paper goods: 6%
Entertainment: 4%
Miscellaneous: 2%**

*Sometimes part of this budget is included in the reception budget, depending on your linens and rentals
**Includes all other vendors that are not listed above!
Note: The above areas are by no means ALL of what is needed for a wedding or what is required, but they are a good general starting point and rule of thumb. Please also refer to other budget recommendations to determine the perfect budget formula for you and your wedding.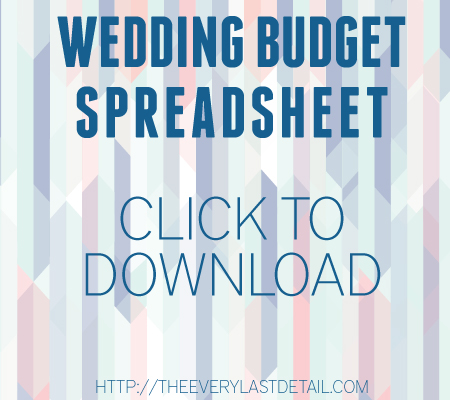 Once you have these percentages figured out for your budget, you can then adjust everything according to what matters more to you and add in other things that you need. Do you want a wedding that has fabulous design and decor with some awesome photography, but don't really care much about the venue? Spend less on your venue and food, and transfer over more "percentage" for the things you really want. Give a little and take a little.
If you want to stick to your budget, it definitely helps to have guidelines, especially so you're not dreaming up things you can't have. When inquiring with vendors, maybe even ask them what their average bride spends with them. Chances are, they definitely know, and it's better to ask them outright instead of avoiding the money topic and wasting your and the vendor's time. (I know I myself would rather have had brides ask me that right away.) Bottom line- do your research and plan ahead! [Or, you could just get a wedding planner, have he or she help you with it all, and then not have to worry about any of it. ;)]
—————————————–

A version of this post was originally published on October 28, 2010
The following two tabs change content below.
Lauren Grove is the editor and owner of Every Last Detail. A clueless bride-turned-wedding planner, Lauren uses her experiences and knowledge to educate and inspire brides all over the world.