[A note from the Editor: Hi friends! You may have heard that we're celebrating our 5 year Blogiversary for the entire month of January with fun giveaways (see Instagram!) and special features. We're starting our special features by celebrating newly engaged brides with a series of posts especially for those who are Newly Engaged! Throughout the next month, Carly and I will be offering up our best tips for you as you start on your wedding planning journey throughout the month (and likely far beyond). First up: how to celebrate your engagement- without driving your friends crazy!]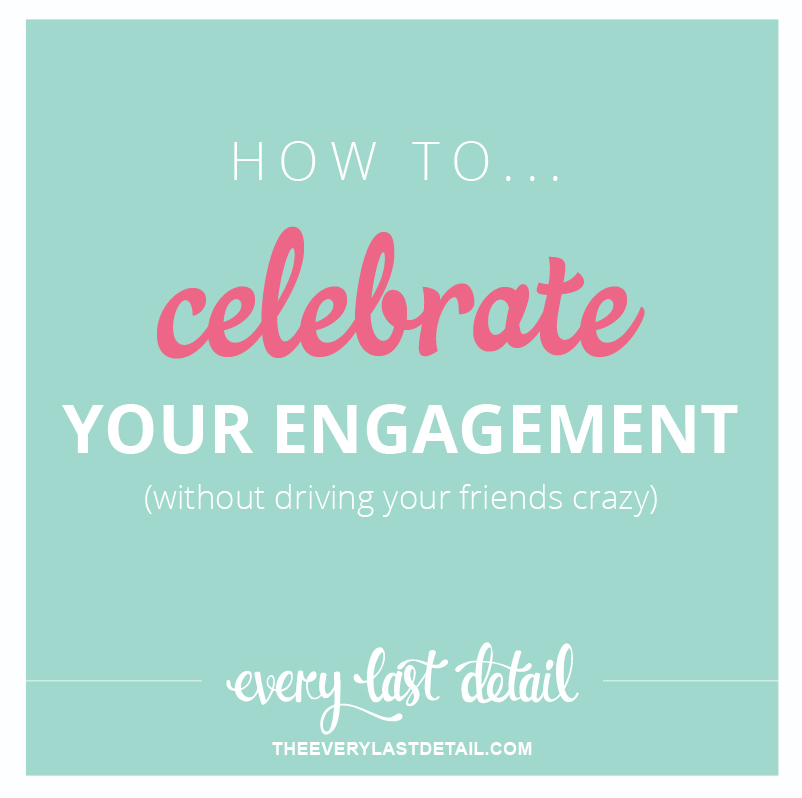 Social Media Sharing:
Because of our sincere love of social media, we thought we would start our celebration how-to here. Our biggest piece of social media advice: hold back. The reason for this is two-fold.

First, the worst possible way for your closest friends and family to learn you're now engaged is to see a photo of your gorgeous ring on Facebook, Twitter, or Instagram before they've heard the news from you personally. While your loved ones will likely be overjoyed, they'll also feel a bit left out. As excited as you are to update your status, make a list with your fiancé and call (or text!) all of your closest friends and family first. If you've left a message, think about waiting to make sure they've received it before turning to Facebook.

Second, try not to overload everyone's feed with updates and photos of your engagement and engagement ring. Just about everyone loves overjoyed news; however, engagement season can drive your single (and married!) friends insane with all of the updates they're seeing. You don't want the "It's Monday, and no one has posted about getting engaged for at least 10 minutes. Is everyone OK?" status to be directed at you. Share away, but keep the amount you're sharing in check.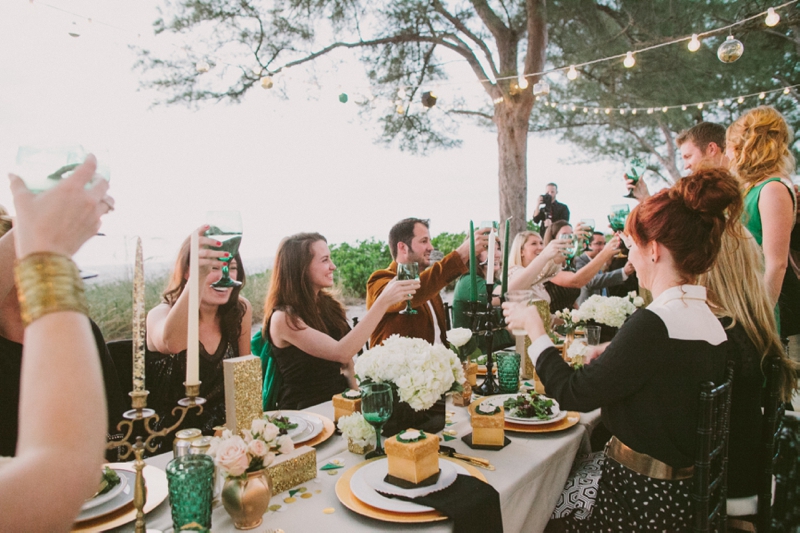 Celebrate with Family & Friends: 
One of the best parts of being newly engaged is celebrating with family and friends! If your friends and family jump at the chance to host an engagement party for you, fantastic! But if your wedding is a bit further out (usually engagement parties are held a year prior to the wedding), you should absolutely still celebrate with them.

Don't feel like it's a requirement to go the route of an organized engagement party though. Cozy dinners at home are usually a wonderful option. If you're celebrating with your family separately from your friends, typically either your parents or your fiancé's parents will host. However, if you would prefer to celebrate with your family and friends together, think about offering to host a dinner party at your home.

Other ideas: make a reservation at a favorite restaurant, opt for a wine tasting, or head to a bar that's a mutual favorite among you and your friends. Bonus points if you celebrate with your friends and family together and announce your engagement at the celebration as a surprise!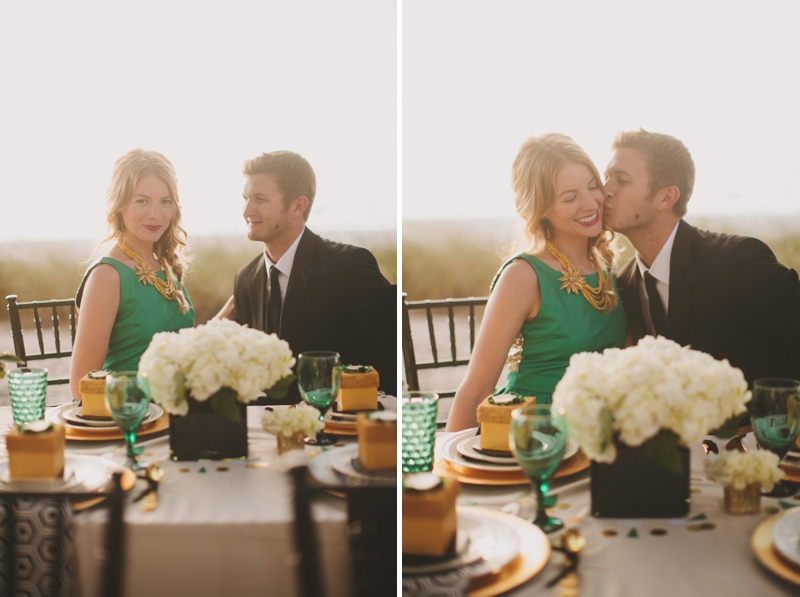 Celebrate Alone:
Your engagement is one of the best excuses to go on a date together! Although few things top being surrounded by family and friends, don't forget to take time to celebrate alone. If you've had your eye on trying a new restaurant, make a reservation. If a day exploring a city sounds more like you, plan a date to see the sights. If your schedules are both normally packed, a night in with a great movie, takeout, and a bottle of champagne is even better. Simple is sometimes even more memorable.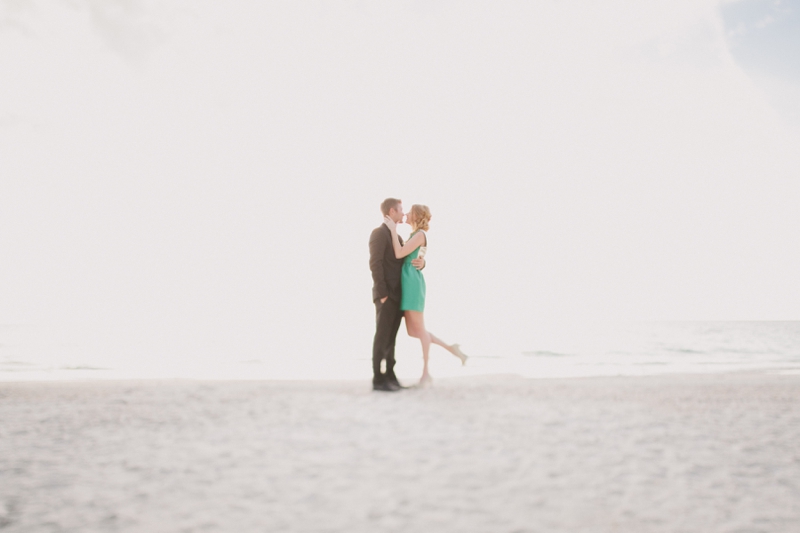 Photographer: Becka Robinson for By The Robinsons, Planning & Design: Ashton Events, via Emerald Green & Gold Engagement Party Inspiration
DO NOT Start Planning:
Whether you're planning a wedding in six months or walking down the aisle in 18 months, remember- you don't have to start planning your wedding immediately after getting engaged. In fact, we encourage you not to start your planning process right away. We adore our V List members, can't get enough of our Get Inspired page or our Newly Engaged guide, and we definitely love finding inspiration on Pinterest, but there will be plenty of time for all of that.

Instead, focus on simply celebrating this special time in your life- it will likely never happen again, right? Plus, you don't want to force yourself into making decisions immediately when you can take a bit more time to think, research, and make sure you really love the color palette/dress/vendors you find. We'll be sharing a lot more info about this very point, so stay tuned!
PS: You might want to head over to the ELD Instagram page and follow… we have some pretty amazing giveaways going on this month! :)
Did you just get engaged? Congratulations! Let us know in the comments how you're celebrating your engagement.

The following two tabs change content below.
My name is Carly, and I live for love whether it's the love I witness between my family members and friends or the love I have for places and weddings. For these reasons and more, I write about the wedding industry, and I'm an event planner, designer, and floral stylist who will forever be in love with flowers, pink, and bows.