So you're engaged? Congratulations! Once you're done basking in the newly engaged glow, it's time to get down to the nitty gritty of booking your vendors. If you are hiring a wedding planner (or even thinking about it), they might will be one of the first people you need to hire. Of course it's always great to do your research and look into various professionals prior to choosing one, but it can be difficult to figure out who is ultimately right for you. So to help you choose who will be the best fit for you and your wedding, I've compiled a few questions that are helpful to ask a potential wedding planner: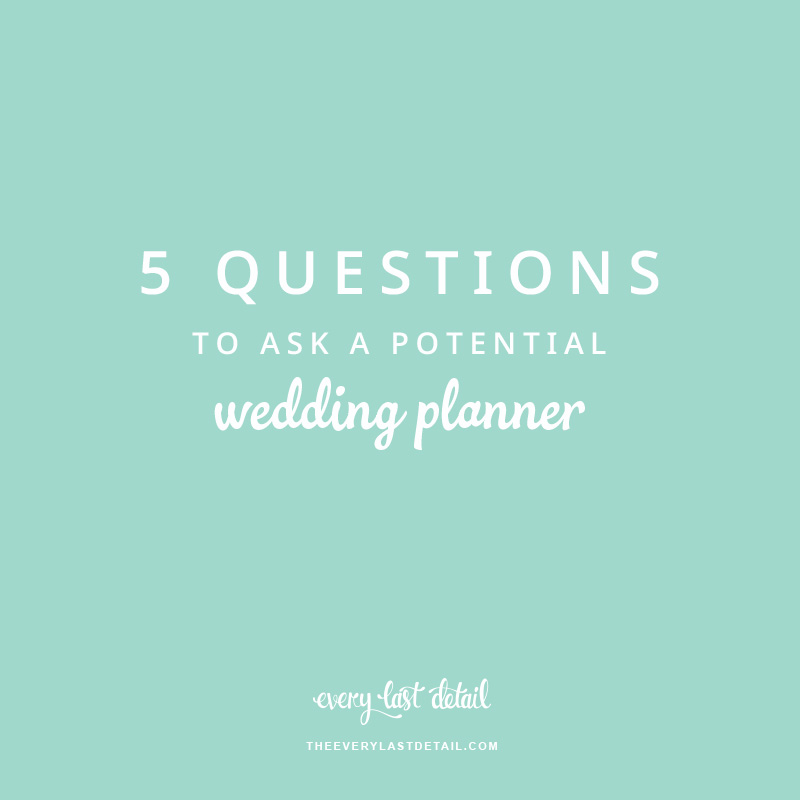 1. What does a wedding planner actually do?
As a planner, I find that initially most brides don't really know what I do. Brides know that they want some help (any help!) but they aren't quite sure what they are signing up for. You might feel silly asking this question but I really think it's the best place to start. Plus, no planner would think you're silly-I promise! Chances are good that they are going to mention things you didn't even think of- such as loading your gifts into the car at the end of the night, making sure a designated person has your marriage license, working their magic on that broken bustle/flash flood/missing boutonniere… and the list goes on and on. After asking this question, you'll be SO excited about having an amazing planner in your corner, and be one step closer to choosing the right one for you!
Read more on this: What A Wedding Planner Really Does
2. What are your service options and which should I choose?
Once you know the basic ins and outs of having a planner (if you don't, read the post mentioned above!), it's time to talk specifics. Most planners offer several service levels, and it can be tough to know which the best option for you is. Some brides come to me thinking they need one level of service but after talking things through, realize they need a different level. Part of choosing the right planner is knowing what you need from him or her and whether or not they can provide that to you. So just ask the planner you're meeting with for guidance, and you should be able to figure it all out!
Read more on this: 10 Signs You Might Need A Wedding Planner
3. Have you planned an event of my size/in my timeframe before?
When choosing the right planner it's important to ask questions specific to your event- especially if they are things out of the "norm" such as an extra-large guest count or a tight time crunch. While these aren't necessarily deal breakers per say (just because your planner hasn't had to accommodate 400 guests before doesn't mean she isn't able to), I know from experience that these types of questions matter in putting couples at ease and aiding in finding the right match. The fact is, some planners do not have the "manpower" to handle weddings of certain sizes or time frames, so it is important to assess that early on if it is a concern of yours.
Read more on this: Seven Traits of a Great Wedding Planner
4. Can you refer me to other vendors?
Okay let me point out that I did not say "can you get me discounts". That is not what I'm talking about here. I am talking about your planner's vendor network and finding out if that is something that you will be offered access to. In my opinion, a great advantage to having a planner is access to trusted vendors (like those here on ELD, yay!). My couples ask me all the time to refer them to a photographer, florist, bridal shop, etc. that I trust and that will fit with their budget. If vendor referrals are something that appeals to you, ask the planner if they offer this and what sort of style, budget, and range they can provide.
Read more on this: 7 Things Wedding Planners Do (That Brides/Moms/Aunts/Friends Can't)
5. Will you fit in my budget?
I'm sure you have all been waiting for this one! I purposefully saved it for last because while I know it is important (really, really important), I want to make sure it isn't the only question you are asking. So much more than just affordability should go into choosing your vendors. Make sure you find a planner who you trust, who offers the services you're looking for, who meshes well with your personality, who can accommodate your wedding needs, and who is within your budget. It may seem impossible but it definitely can be done! A lot of planners will talk with you about customization, smaller package options, payment plans, or may even have a different planner they can refer you to who is more in line with your budget. Remember- you will never know if you don't ask!
Read more on this: Can't Afford A Wedding Planner?
———————————————————————
Have any of you hired a planner already? If you have any other questions to add, please feel free to comment below! And any planners- feel free to add more insight in the comments below too! :)

The following two tabs change content below.
This post was written by an ELD Team Member... and there's a good chance she likely loves weddings, Kate Spade, and wedding details, as all of #TeamELD does!