Hiring a wedding planner is often the best investment that a bride and groom make. There are a lot of wedding planners out there, each with his or her own set of experiences, ideas and personality. But I've heard it asked many times- how do you know who is going to be right for you?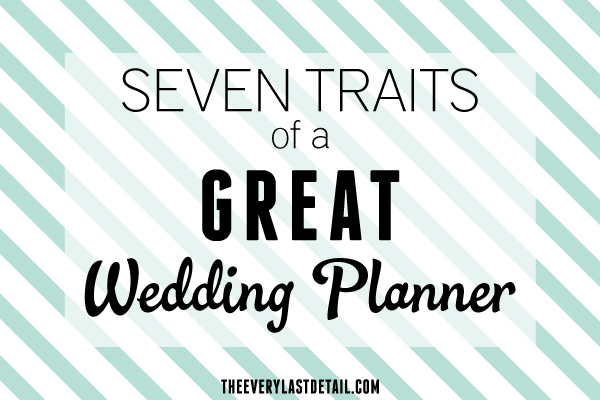 These traits below may not be first on your checklist when starting your search for a planner, but they are just as important as pricing, packages and portfolios, and you should certainly take them into consideration:
 1. Compassion – Planning a wedding is one of the most stressful and emotional events in life. Having a planner who has empathy and understanding for what you are going through is key to a stress-free and happy engagement. A good wedding planner will also understand how important the wedding is for the parents of the bride and groom and may be able to help those family members through the engagement by truly listening and understanding their concerns and desires for the wedding.
2. Listening more than talking – Wedding planners need to tell you about what we offer and our experience but we should also be listening and asking questions about you. A great wedding planner wants to make your wedding all about YOU and to do that, she must get to know you on a deeper level and really listen to your spoken and unspoken feelings.
3. Good mediation skills – A great wedding planner will mediate issues that arise with your venue and vendors and come up with a win-win solution for everyone. She will also offer guidance and advice to help you deal with family dynamics that may need mediation while you are planning the wedding. Keep in mind that your planner is not a counselor but she can usually give ideas and recommendations that will help.
Image by Lockwood Studios
4. Experience – This sounds obvious right? Does your planner have experience with your particular type of wedding, location or style? For example, tented weddings and weddings at a private home require a more advanced skill set than a wedding at an established venue. A wedding on a mountaintop or on a beach will have certain elements that only an experienced local planner may know about.
5. Processes – Being a planner takes intense levels of organization. Imagine that your wedding planner has ten clients and each of those clients has an average of ten wedding vendors. She may be managing communication with 100 or more people. Does she have a process for planning and how you will work together? Does she have spreadsheets, use software or another way of staying on top of things? It's important to ask these questions and understand your planner's processes before booking.
6. Great reviews – No matter how much you like her work or even if a friend made a recommendation for a wedding planner, take time to read reviews online and don't be afraid to ask for references. Also, ask other wedding vendors for feedback on the wedding planner you are planning to hire.
7. Do you click? – It is so important to feel comfortable, relaxed and confident in your wedding planner. As a bride, you need to be able to share your thoughts and ideas without feeling judged.  A great wedding planning will share her expertise and advice in a positive way and give direction without making you feel bad.
There are of course many absolutely wonderful wedding planners out there who exceed these criteria and so much more. Your planner is a critical component to your happiness throughout the planning process. Take extra time to really get to know him or her before making a decision. A good wedding planner will be the best investment you make for your wedding.
———————————-
Brides, have any of you hired a wedding planner yet? What helped you make your decision? 
The following two tabs change content below.
Debbie Orwat is the Founder and Editor of Planner's Lounge. Planner's Lounge is a resource site and community for wedding and event planners to relax, talk, learn and inspire. Debbie is also the Owner and Creative Director of Save the Date Events, a multi-award winning event planning and design company based in Denver, Colorado. Debbie is also the Owner of StudioWed, a boutique showroom, design studio and concierge planning service.