Although you may not believe it, the days and weeks leading up to your wedding day will pass by in a flash. As your focus shifts from planning your wedding to actually getting married (!), now is the time to chat with your vendors in order to make sure all of your last minute details are tied together with a bow. In my opinion, it's like a team meeting where the goal is for everyone – you, your fiancé, your wedding party, your guests, and your vendors – to make sure you're all completely on the same page.
[Tweet "2 important things in preparing for your wedding day: 1) over communicate 2) trust your professionals."]
Seriously. If you have a question, something you would like to add, or a change that needs to be made, make sure to let your vendors know. (And if you need to let them know, email is best because it's in writing and can be forwarded to others involved in the wedding.) Also, realize your vendors are professionals. Creating, capturing, and working weddings is what they do for a living. With a little help from you, it's their job to make your wedding day wonderful.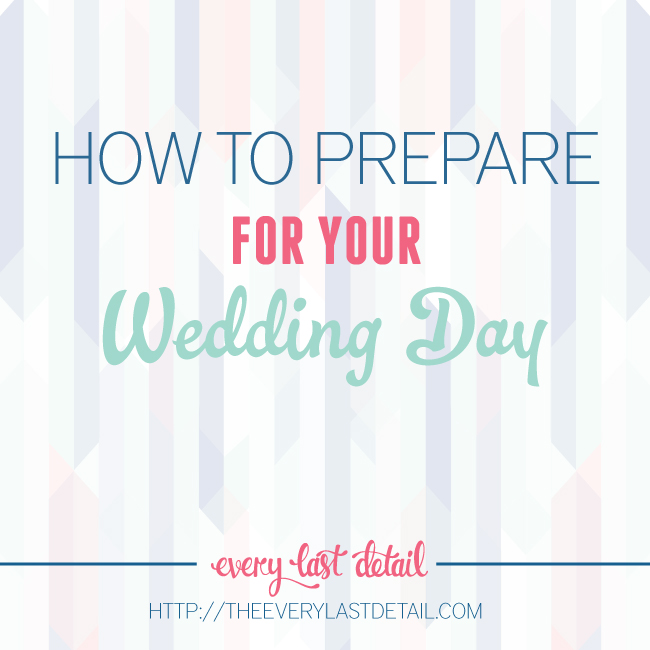 Keep reading for our 10 ways to effectively make final preparations for your wedding day with the help of your vendor team with tips from V List Members!
1. Confirm…Everything
Make sure your vendors are on board to work your wedding day particularly if you haven't spoken to them in a number of months. Also, take the time to review your contracts, especially if you haven't looked at them in a while. We can't stress the importance of knowing what is included and not included in your package enough! If you realize you need an additional service, centerpiece, menu item, or anything else you may think of, make sure to give your vendors as much notice as possible. And realize additional items will affect your budget. Review your event start times; submit songs that you don't want your band/DJ to play, have your must-have song list set, and always have your first dance songs ready on an iPod just in case; confirm each element of your ceremony with your officiant; and check in with your caterer (among a host of other must-do's!).
"Be sure to have open communication with your vendors, including returning emails and phone calls in a timely manner and don't forget to communicate the timeline (delivery/set-up and break down times). it is important fro both clients and vendors to relay their expectations so that there are no surprises on the big day!" – Just Save The Date Events
[Editor's note: This is something that I definitely regret not doing, because doing so would have resulted in a much better wedding day experience for me! As a result, my photographer left with about 2 hours left in the reception because she was at the end of her contracted time. Don't make the same mistake I did!] 
2. Payments & Gratuities
During the weeks leading up to your wedding day, make sure the paying party has remitted all of the necessary invoices to each vendor. Some require payment in full prior to your wedding day, while others may collect their final payment right after. Further, if you're planning to offer gratuities to your vendors, place amounts in envelopes that can easily be distributed to the appropriate professional on your wedding day. And, always place someone in charge of distributing tips (your wedding planner is the perfect for this role!).
"We go over all final payments owed and have the couple write checks/cash and put them in organized sealed envelopes with names on the front! This way no one is scrounging for cash!" – Whimsy Weddings
3. All of the Details
Complete all of your DIY projects, collect all of the pieces that need to be present at your venue, and create a list or diagram detailing where everything needs to go before, during, and after your wedding. (Note: some planners/designers will do this for you depending on the service you have booked with them!) Do not cause unnecessary stress by attempting to pack each detail just before your wedding day! Instead, start packing well in advance and place things together as you think of it or complete a project. Also, chat with the individual who will be taking home all of your details at the end of the night. It's important for them to know what needs to be in their car as they drive home, and it's also tremendously important for your event planner to have a point person to give details, gifts, and more to at the end of your event.
"Making a detailed inventory list when we do day-of coordination is super important so we aren't rummaging around unsure of what goes where on the big day." – Whimsy Weddings
4. Must-Have Portraits
Plan to send your photographer and videographer a list of details, portraits, and moments they must capture on your wedding day. For portraits, think in terms of family and friend groupings: members from each side of your parents' families, wedding party, siblings, cousins, long-time friends, college friends, etc. Because an event planner or photography assistant will likely be helping to gather your family together, try to list out the names of the people who need to be present in each photo. If you want to take things one step further, have a family member or friend (who is familiar with your family) assist the photographer in gathering everyone for photos. Also, gather together details (stationery, jewelry, accessories, and more) together that you would like your photographer and videographer to capture. Have these details ready for your professionals when they arrive to save time. While your must-haves are important, also allow your photographer and videographer to have creative freedom to capture the day as they see it!
5. Have A Transportation Plan
If your guests are driving to your ceremony and/or reception, make sure the addresses are correct that you have provided. Also, make a note on your wedding website informing guests of the best places to park if they're driving, or the location and times when a bus will pick them up. Make sure drivers are picking guests up from the correct hotels, and always confirm that you have reserved enough buses for your guests. You never want to have guests calling cabs at the end of the night because there aren't enough seats! Lastly, if you're having an early pickup time from your reception, confirm the time with your driver and be to fill in guests with kids or those who may want to leave early on the details.
[Editor's note: Another aspect of transportation is making sure that members of your bridal party know they need to have a ride home if you all rode to the wedding together in a limo or bus that won't be available at the end of the wedding!]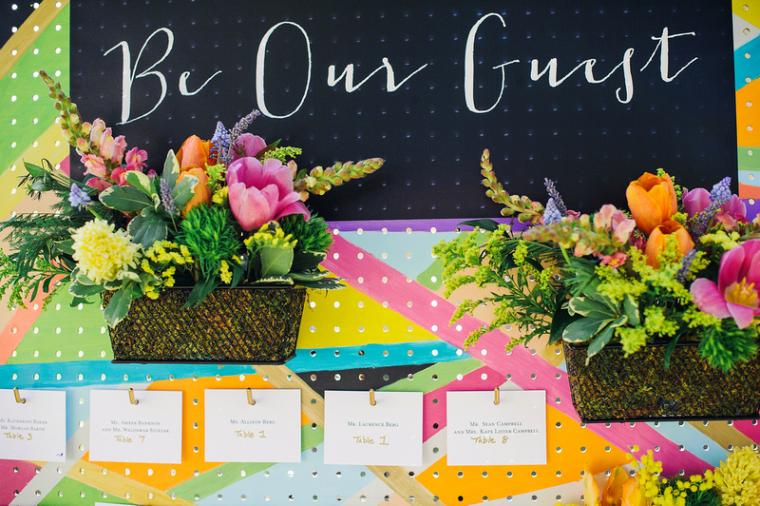 Image via Ashton Events Planning + Design
6. Check In with Guests
As your wedding day nears, check in with guests who may not have mailed their RSVP back to you (It happens- see the Editor's Note below!). They may be planning to attend and have simply forgotten to send their response back. Take time to create your seating chart, and review known allergies and menu requests from your guests with your caterer. Review your room blocks at hotels, and make sure your wedding website is up to date with all of your wedding day details, including times, locations, and registries. If there's a break between your ceremony and reception, make a note on your website of a few things guests may choose to do if they're visiting from out of town.
[Editor's Note: I will be the first to tell you that I am AWFUL at sending in RSVPs! I don't attend too many weddings since I'm usually working them, so I tend to forget about the invitations when I receive them. Ironic, isn't it?! So yes, you might have to track down some of your guests if they're like me!]
7. Family Relationships
Although not the happiest of topics, never shy away from communicating with your vendors about tenuous relationships between family members. By letting vendors like your wedding planner know, they will be able to help keep people apart or diffuse a tense moment before it turns into something more. If it's important for your planner to know why the relationship is rocky, fill her in. Your planner is your confidant, and it's her job to keep necessary details confidential.
8. Chat with Your Wedding Party
To make things simple, consider emailing a timeline of events to your wedding party (your wedding planner may also do this). Include things like when they need to be present at your rehearsal, getting ready start times on your wedding day, and the order in which they will walk down the aisle. Having a list of the names and processional order will also be perfect for your event planner! Make sure to submit the list to her, too. Further, make sure guests who are performing a reading at your ceremony are aware (and always have extra copies!), and let your maid of honor and best man know when they will be speaking during your reception. Also, make everyone aware of specific jobs they may have on your wedding day (ushering a family member down the aisle, taking gifts home at the end of the night, helping to set up details, etc).
"I always ask that my couples have whoever is speaking/making toasts narrowed down and listed out so we have proper pronunciation and order." – Whimsy Weddings
9. Create a Timeline
We highly suggest working with a wedding planner or, at the very least, a day of coordinator. If you are working with a planner, she will create a timeline for your wedding day. However, if you're not, you will still want to have a timeline that you can send to all of your vendors. Include event start and end times, when vendors can be on site to make deliveries and clean up, and all of the important moments of your wedding day (ceremony start and end time, reception start and end times, introductions, dances, dinner, cake cutting, speeches, transportation, and more). Curious about how to create a wedding day timeline? We've got you covered.
10. Review Your Rehearsal, After Party, & Brunch Plans
Just as you would confirm all of the details for your wedding day, you will want to confirm the same details for your rehearsal dinner, after party, and post-wedding brunch. You'll want to have a complete guest list for your rehearsal dinner, and a rough count for your after party and brunch. Venue and menu items should be set, and invited guests should know all of the details!
A few bonus tidbits…
From a planner…

"We are strong believers in sharing the most pertinent details with all of your vendors and creative partners so everyone is on the same page. If you only tell the photographer things you think he or she needs to know, he might not be able to spot a discrepancy in your transportation schedule or hair and makeup timeline. It's best to over-communicate the key details of the day to all vendors to have the best plan in place for a successful wedding weekend." – Tracie Domino Events

From a floral designer…

"Let your floral designer know if you are interested in receiving sneak peak pictures of your flowers, or if you would rather not and be surprised. We find that most of our brides love getting them. We typically send a picture of the flowers in buckets, one of the bridal bouquet with and without the bridesmaids bouquets, and a grouping of centerpieces. Plus should they catch something they want changed/adjusted, it's easier to do that in our studio than at the venues during delivery and setup." – Andrea Layne Floral Design

From a photographer…

"I send a thorough digital worksheet about 6 weeks before the wedding and give the option to have a consultation to go over the worksheet 2 weeks prior so I know every detail that needs to be captured, where everything is happening, every family member's name and confirm the final timeline. It is so important that brides complete this and most of mine do but sometimes they feel stressed by it. It's so much better to stress over all that stuff ahead of time so there's minimal stress on the day of!

One important thing for brides to communicate is to their family-for the couple to tell whoever they want in the family portraits what time they'll be and where! Also selfishly it'd be awesome if they communicated to the caterer how important it is that the photographers eat at the same time they do, so we aren't missing any important moments or (more likely) not eating all night." – Cat Pennenga Photography
---
Former brides and wedding professionals, do you have anything to add? What are they best ways for couples and vendors to work as a team leading up to the wedding day? Comment with your suggestions below!
The following two tabs change content below.
My name is Carly, and I live for love whether it's the love I witness between my family members and friends or the love I have for places and weddings. For these reasons and more, I write about the wedding industry, and I'm an event planner, designer, and floral stylist who will forever be in love with flowers, pink, and bows.