Engagement season is here once again, and it's safe to say you can count us excited! If you're one of the couples who just got engaged over the holiday season and you're here starting your wedding planning, let us be among the first to say CONGRATULATIONS!
At Every Last Detail, our hearts are for providing couples with education and insight. We love pulling you behind the proverbial curtain to reveal all of the details that help explain the process of planning your wedding. From things you should know and things you should avoid, to clarification on ideas you already want to put into motion, our mission is to HELP you plan your wedding with knowledge!
But, what about the advice that isn't normally shared? Aren't you wondering what wedding professionals are really thinking when you contact them? We did too. So, we asked them, plain and simple, what they would want you to know about planning a wedding as a newly engaged couple.
Below, you will find 10+ of the country's top wedding professionals not holding back one bit as they share pieces of advice that many vendors tend not to share. Get ready, because our V List members are spilling all of the secrets- for your benefit of course!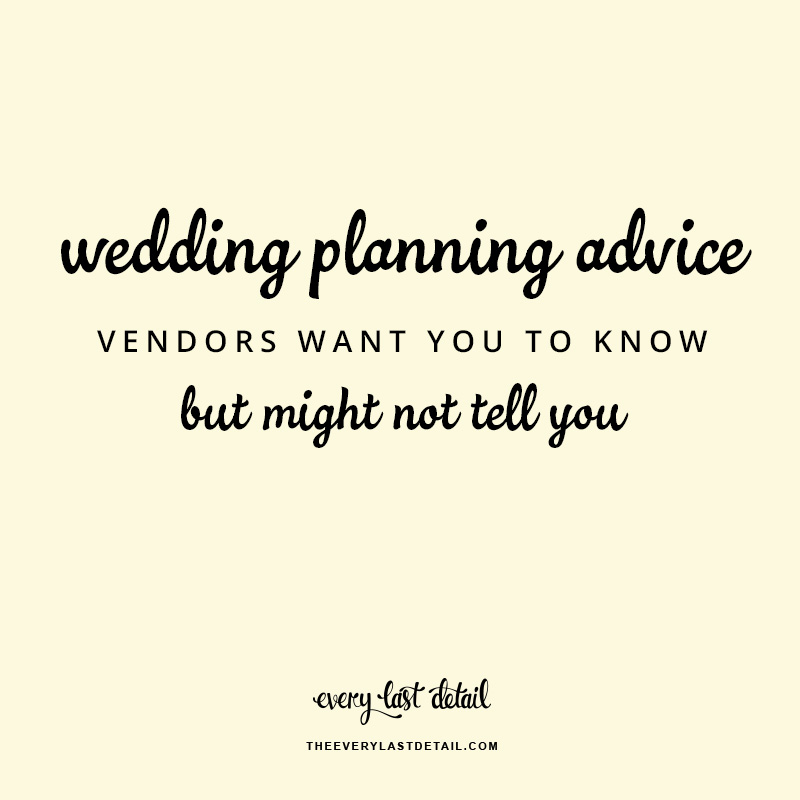 Setting Your Priorities:
"Enjoy your time as an engaged couple! Together, really stop and figure out what you and your fiance want on your wedding day. The location can change everything from the direction of your paper suite, to the dress you buy, so even if you don't quite know where you want to get married, think about the other pieces that make up your event. It should make sense that you would not want to choose a wedding venue in an elaborate ballroom if you really have your heart set on getting married shoe-less and boho. You also wouldn't want to dream of a fully beaded ball gown, but get married on the beach." – Avis Glenister, Peach & Pearl Events

"Take a minute to define what your priorities are. Don't just go by online wedding budget planners. If the band is the most important thing to you, don't be afraid to spend more on that and serve fried chicken :)" – Tracie Domino, Tracie Domino Events
On Budgets:
"Just because a vendor's rate is more than you can or are willing to pay, that doesn't mean they're overpriced. Professional vendors charge their rates based on their years of experience, expertise, level of customer service, quality of product and many other factors. Asking for a reduced rate is never ok just because you don't agree with it." – Karen Collins, KMC Weddings

"Be honest about your budget! If you're working within a certain budget, let us know! We love being able to create custom collections for couples that will work perfectly for you! Plus, we get the opportunity to still capture this next chapter of your love story!" – Tami Garber, Tami & Ryan Photography

"You get what you pay for and be wary of vendors who will keep piling on discounts just to book you. These vendors are likely desperate for clients and don't value themselves – and you always get what you pay for. Your wedding day is NOT the time to cut corners!" – Dana Cubbage, Dana Cubbage Weddings
Choosing Your Wedding Date:
"Pick 3 Dates: The number is really up to you, but try not to get your heart set on one and only one date. There are a lot of other items to consider when choosing your date, depending on what is important to you. For me personally, we chose two different months (in different seasons of the year), and then went from there. It's almost impossible to choose a date where every single person you want to attend can make it, but consider your family and close friends' schedules. Also think about holidays, sports seasons (my family loves college football so one of our wedding date options that fell on an important bowl game didn't get chosen). In a location like Florida, you may also consider time of year as far as heat, rainy seasons, and hurricane season. Last, you may want to choose your date working around the venue of your dreams, or an important vendor's availability too." – Brittany Bishop, Brittany Bishop Photography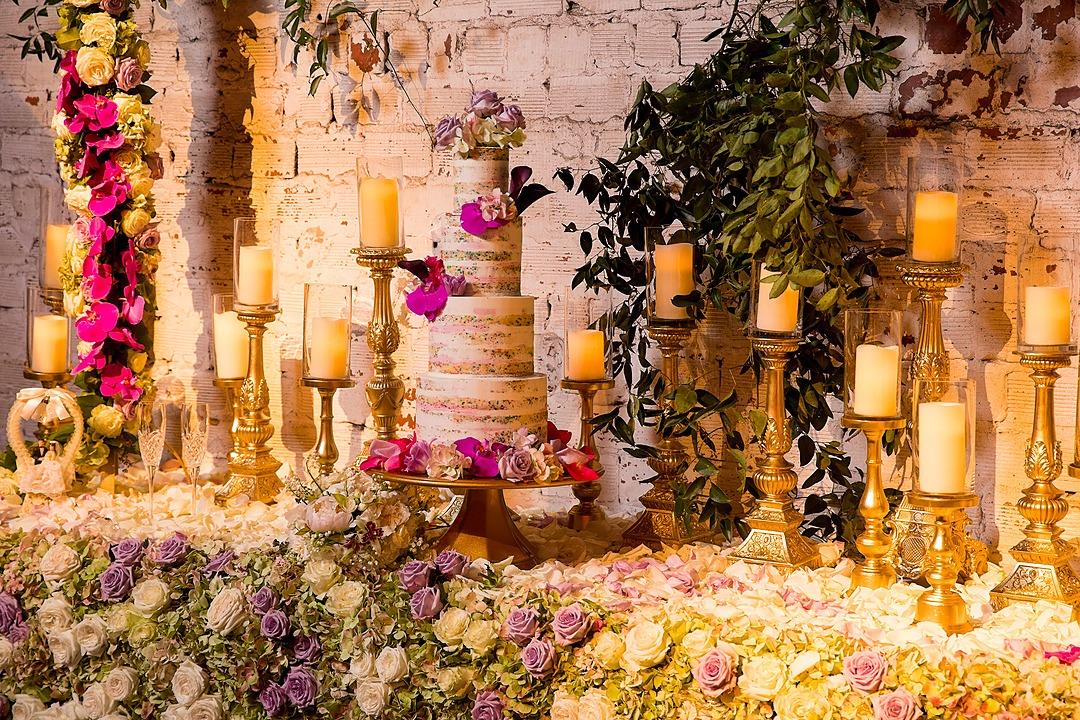 Image via Tracie Domino Events
Choosing the Right Wedding Professionals:
"Do your homework on vendors! Every vendor looks great on their own website, but make sure you're vetting your vendors properly or reading blogs that already vet them for you. Ask around to other vendors you've hired about someone you're considering hiring. We're always transparent with our clients about who and who not to hire." – Caitlin Jones, Plan It Event Design + Management

*Editor's note: This is why we're SO picky about who we accept into The V List! Head over there to find vendors who we have extensively vetted and verified!

"A wedding planner isn't here to hijack your wedding. They are here to guide you, to support you + to make sure you have the best wedding day ever! You have the ultimate say, you sign the contracts, your planner just makes the whole process so much easier + enjoyable!" – Ashlee Erlinger, Signed Sealed Delivered Events
Being Excited About Your Wedding Day:
"I would tell the couple that when getting in touch with your potential photographer to make your wedding sounds as personal and special as possible. So often couples try to downplay their celebration thinking that it will seem like 'less work' for the photographer – but we WANT to be excited by your love story and these little details help us to visualize and get inspired." – Arielle Doneson, Arielle Doneson Photography
Contacting Wedding Professionals:
"A good vendor will tell you if you're not a good fit for them just as much as the couple decides vendors are or are not appropriate for their wedding. As a photographer, if a couple tells me they're looking for a lot of dark, moody imagery I kindly share my style is colorful and bright and will refer them to another great photographer who better matches their style. This should be seen as a win-win for all rather than an insult of turning the couple away! Great vendors want to ensure their couples are going to be happy with their product or results provided – vetting vendors and couples is just one step along the road to success for all." – Mikkel Paige Mihlrad, Mikkel Paige Photography

"Wedding professionals are looking out for your best interest, so know we are not here to just sell you a service/product. We truly do want you to have the best wedding possible. TRUST your vendors and trust your decision in why you hired your vendors!" – Claudia De Velasco, A Day to Remember

"The term "day of coordinator" does not exist and you cannot hire a day laborer to make sure the hundreds of details that you've been planning for months (or years) will be executed properly!" – Caitlin Jones, Plan It Event Design + Management
Not "Ghosting" Wedding Professionals:
"Don't ghost wedding professionals that you've taken the time to inquire with! We tend to get so invested in our potential couples and their wedding day. So, when we never hear back from a couple, it hurts our hearts a little. If you found your dream wedding professional, just take a minute and let us know! We'll be super excited for you!" – Tami Garber, Tami & Ryan Photography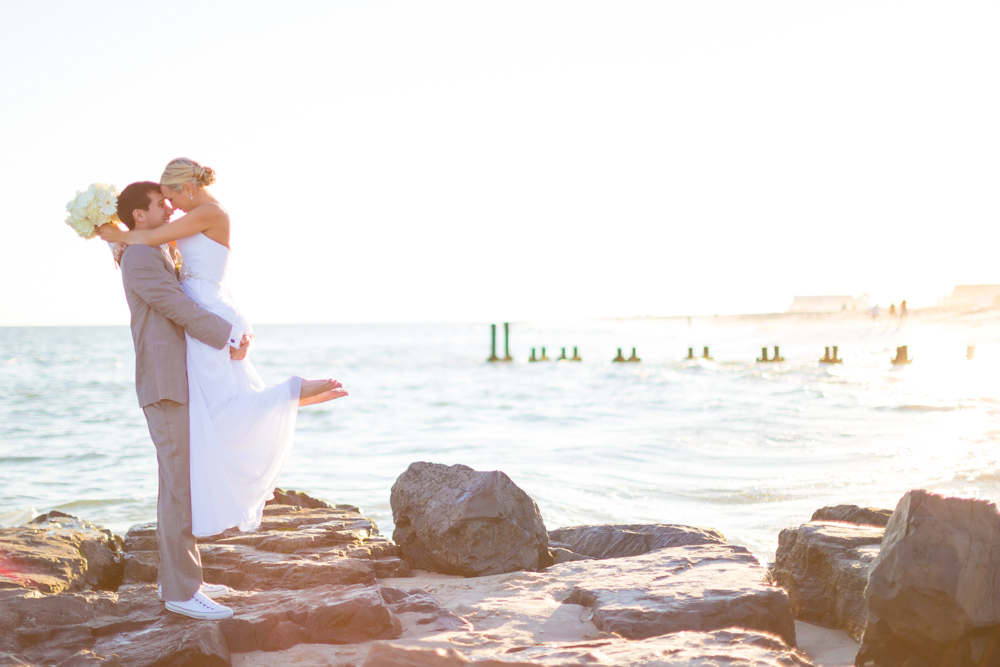 Image by Tami & Ryan Photography
Wedding Dresses:
"Strapless dresses emphasize your shoulders and make them appear broader in photos. Please do yourself a favor and try on a few different sleeve options (sleeveless v-neck, halter, short sleeve, cap sleeve, etc.) to see the differences and to make sure you do indeed feel your best in the strapless before committing to it. Because if you are even a little self-conscious about your shoulders and/or arms, you will likely not like how your photos turn out in a strapless dress." – Nicole Jansma, Nicole Jansma Photography
Timing:
"When planning your wedding date, make sure you keep in mind Daylight Savings Time. Many couples forget that the sun goes down so early in the winter. A 5:30 sunset can put a damper on the lighting for photos if you have a late ceremony with no first look." – Ashley Granstad, Brooke Images
Planning the Wedding You Want vs the Wedding Your Guests Want to Experience:
"A wedding without children is possible and we can prove it!" – Marcia Van de Kieft, Tootles Event Sitters
---
What other secrets would you like us to get the answers to?
Let us know in the comments!
The following two tabs change content below.
My name is Carly, and I live for love whether it's the love I witness between my family members and friends or the love I have for places and weddings. For these reasons and more, I write about the wedding industry, and I'm an event planner, designer, and floral stylist who will forever be in love with flowers, pink, and bows.