It always kind of amazes me how I can just jump on Pinterest, and find about ten thousand things I want to write about for ELD. I remember signing up for Pinterest over two years ago, and now it's an almost obligatory wedding planning tool. It's fun, that's for sure, but it can also be dangerous. I feel like I can take one look at Pinterest, and see several trends and just plain pretty ideas that will likely be gone the next day.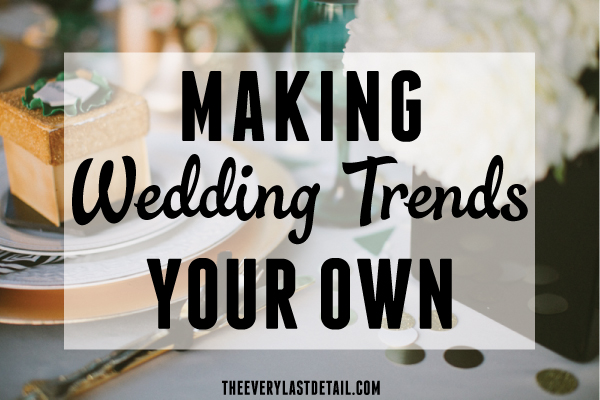 But I'm not here to talk about using Pinterest for your wedding planning. I'm here to talk about the wedding trends that come and go every day on our favorite blogs, websites, and Pinterest, and how to make them your own.
As a wedding professional, one of my jobs is to come up with the next best thing. There have been some really enduring trends, and then there have been some that just seem to fizzle out- and thanks to Pinterest, we see them all. But I think having these trends continuously pushed out to the world on blogs and then perpetuated on Pinterest has become dangerous. Wedding professionals, and even brides, constantly feel this need to have something bigger, better, and yes, sometimes even crazier. Rightfully so though, because when using all of the trends that are out there, the result is often a hodge-podge of ideas that aren't fully developed. Just pulling together several trends without any rhyme or reason for why they belong in a wedding doesn't create a cohesive, charming aesthetic.
So I guess the big question is this: if you want something that is timeless, classic, and still unique to you, is it even possible to flush through the endless trends you see on blogs and Pinterest?
The answer is YES!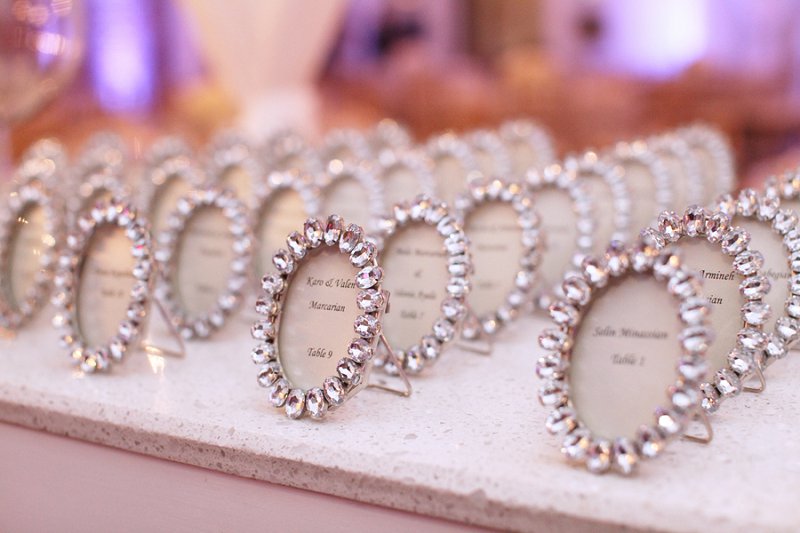 Image by Melody Melikian Photography via A Glamorous Pink, White, & Silver Engagement Party
(One of the most popular images pinned from ELD in the past month.)
I think the number one rule when utilizing trends is to use them sparingly. I love huge number and letter balloons just as much as the next person, but you may want to reserve them for just a few photos, rather than using them as table numbers (and thus seeing them in every photo). Floral crowns are BEAUTIFUL! But if you don't want to overdo it, you may want to stay away from anything too large or too colorful, and maybe just wear one for the ceremony or the reception. I always say that a wedding should be a reflection of who you are, at this point in your life. Sure, if you incorporate trends there may be things that look dated in your photos, but there IS a way to utilize trends to make something timeless.
Regardless of the trend (or trends) you want to use for your wedding, it's essential that you look at the big picture. Don't be afraid to think outside the box. Remember and repeat this: Just because you see something on Pinterest doesn't mean you have to use it. If there's something you like, perhaps there is an adjustment you can make so that it fits better with the style and tone of your wedding. Pinterest should be used as a source of inspiration, not as a step-by-step guide for replicating things to have at your wedding.
—————————————-
So friends, tell me- what trends are you loving right now? How do you plan to utilize trends in your wedding, and how are you planning on making them your own?
The following two tabs change content below.
Joelle is the founder, owner, and creative director of Joelle Charming. She blogs, plans weddings, and writes love stories. Joelle is also obsessed with Taylor Swift, loves the color pink, and likes to wear bows in her hair.