So today I want to talk about using Pinterest to plan your wedding. I LOVE Pinterest. I think it's the greatest thing since Facebook. ;) It's been wonderful for inspiration, collaboration, and most of all- weddings. What's funny is that I remember when Pinterest first started. When I told people about it, they thought I was crazy. And at first, it wasn't that great because there weren't that many people using it- but as more people started pinning, it became more and more useful.
Some of you may know that before blogging full time, I was a wedding planner. In fact, the last two weddings that I planned were super amazing, and I was kind of sad to be leaving wedding planning- but alas, I just would not have the time to plan and run this fabulous website! But I really and truly think that one of the reasons (besides the fact that my brides were awesome) my last two weddings were so super amazing was because the brides and I used Pinterest to plan the design and details! [Note: when I say "plan your wedding", I mean planning your details. It's kind of hard to plan your timeline and send confirmation emails with Pinterest, right? ;)]
Now that Pinterest has been around for a little while, I've seen the good and bad of using Pinterest to plan your wedding. So I thought I would share a few tips pointing out the best methods for using Pinterest to plan your wedding! [Note: And possibly even NOT using Pinterest…]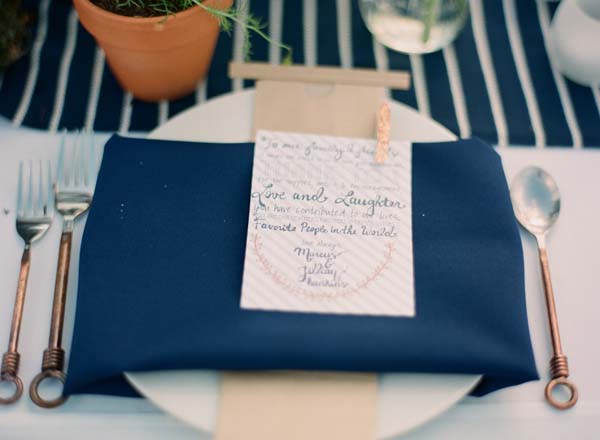 Image via Ashton Events, photographed by Dave Lapham
Be Inspired. 
Pinterest is ALL about the inspiration. There are SO many wonderful ideas for your wedding on Pinterest- from Save The Dates to ceremony programs, you are bound to find something for every part of your wedding. The key to using Pinterest is to remember to stick to using it for inspiration. Sure, it's a great thing to see something that you love and want to use it for your own wedding. But be inspired, and then make it your own- don't replicate it. It's about the inspiration, not replication. So pin away, and get inspired!
Organize. 
The point in using Pinterest for your wedding is that you want to be able to go back to what is inspiring you. The key to this is organization. Now I'm no organization queen, but when it comes to files and Pinterest boards, I'm pretty good. ;) I recommend creating one main board for general wedding inspiration first. Then, once you start to get a little more decisive in your colors and style, create boards for all of your wedding elements. Bouquets, centerpieces, invitations, etc- you can go take a look at some of my boards for an idea of which boards you should create. This way, when it's time for you to show your floral designer what you want for your bouquet or centerpieces, it's as easy as pulling up your board! And now, keep pinning! :)
Invite.
If you'll be working closely with a wedding planner, friend, or designer on the planning or designing of your wedding, I highly suggest inviting them to some of your Pinterest boards so they can share some ideas and inspiration with you too. This was the key to the super amazing weddings that I planned with Pinterest. The brides and I shared a Pinterest board, and I was able to pin things to share with them instead of having to send countless emails with links and images. And then as we progressed with the design and ideas, we were able to move on to the next step, editing!
Edit. 
Editing your boards will help you A TON when it comes time to start narrowing down your inspiration into what you actually want for your wedding. It's usually kind of cool to see the progression of your inspiration and design, and it should be pretty easy to get rid of the things that don't quite go along with the look you're going for. You can just delete the pins that don't fit, or you can edit them to go to a different board- perhaps just a general wedding inspiration one.
Step Back. 
And now for the hard part- take a step back from Pinterest. Once you have your design figured out and decided on, spending just as much time on Pinterest as you did when you were "planning" could be a bad thing. You'll keep seeing new ideas for things, and quite possibly end up with too many options for favors, centerpieces, etc etc. Sure, if you see something cool, keep pinning onto your general wedding inspiration board, but try not to add more pins to your own wedding boards unless you absolutely love something. It's really not a good thing to end up with 3 favors, 2 guest books, etc etc. Sometimes it can be too much- and end up causing unnecessary stress for you!
Pinterest can be a wonderful tool for planning your wedding if you use it in the right way. It's been amazing for showing brides ideas for details (which of course I LOVE!) and getting them to think outside of the box. But honestly, sometimes I feel like it's diluting weddings, and perpetuating the same things over and over. And so that's why I wanted to do this post- because it's a wonderful tool for planning weddings, but it can also be used TOO much. As I stated above, it's important to remember to be inspired, and then use that inspiration make something your own. 
So do you have any great tips of your own to add for using Pinterest for your wedding planning?
Oh, and don't forget to come follow me on Pinterest! :)  
The following two tabs change content below.
Lauren Grove is the editor and owner of Every Last Detail. A clueless bride-turned-wedding planner, Lauren uses her experiences and knowledge to educate and inspire brides all over the world.