[Editor's note: Happy Tuesday friends! I'm excited to welcome back Joelle of A Charming Occasion to ELD as a Tips Contributor! Joelle has some amazing insight to share with us, and I can't wait for you all to learn more from her!]
There are so many posts out there on how to find your wedding vendors (and here's to hoping that you're actually using professional wedding vendors), but what about how to work with them? It wasn't too long ago that I myself was a bride, working with my own wedding vendors. Now I'm on the flip side, and I've gained some insight about working with and trusting your vendors that will be helpful to know.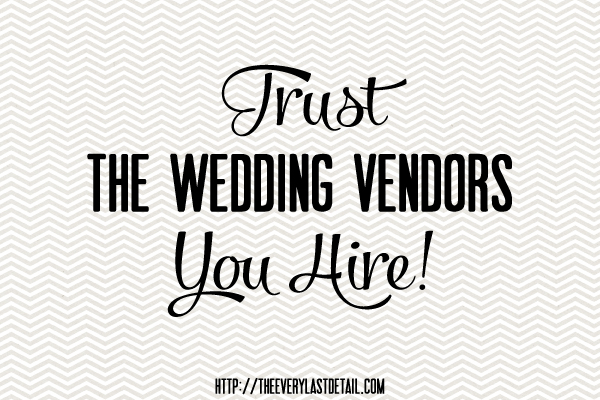 I think one of the most common arguments against hiring a wedding planner (which is what I am) is that people like to be in control. They like to be in control of the decisions and the outcome (but only if it's good, of course). It's also the most common misconception about hiring a wedding planner.
Any good planner or coordinator (I tend to use the words interchangeably) will tell you that their role isn't to take that control away from you. A good planner will want to work with you, not against you. You are their client, and they want to make sure that they are there for you, so that you can have the most amazing wedding possible; the wedding you've always dreamed of. You make the important decisions, and they help stitch it all together.
When you start looking for your vendors, you want to make sure that you can trust them. Expertise and experience are important, of course, but do you have that "gut feeling" that they are right for you? The relationship between wedding planner and client is extremely intimate and personal. We know your relationship with your fiance (the real one, not the one you put on Facebook or try to convince everyone you have).  We know your finances, since it is up to us to manage your budget. And eventually we will know your likes and dislikes, your pet peeves and the things that make you tick. When we plan your wedding, we use these things to create something unique and special- something custom made just for the two of you.
Like any good relationship, your relationship with your wedding planner, or any wedding vendor, is based on trust. You need to trust them, that they understand your vision and will be able to bring it to life- even if you can't convey what exactly your vision is in words. You need to trust that they are on your side, and that they are doing what is best for you. Wedding planning is a crazy ride, full of passion and impulsive decision making. They are your voice of reason, and your common sense when your mind is overwhelmed with wedding colors and details and choices. And you need to trust that they know what they are doing. If you can't trust them, your wedding is not going to be filled with happiness and love. It'll be filled with stress and anxiety, and even anger if something goes wrong and you blame them for it.
I recently went to a marketing workshop for vendors, and one of the speakers kept talking about how we need to market ourselves as useful to our clients, because we really don't have anything special to offer. Anything we do, according to this speaker, can be done exactly the same by someone else. I remember shaking my head at this, because it just simply isn't true. Not in this industry, at least.
What planners offer to couples is themselves. We offer our personalities, our quirks and our talents and our weaknesses, so that they can be used in the best way possible. You can't just pull a wedding out of a box. (Well, you can, but that's not what I'm about.) I'm about meshing my personality and my experience with the personality and experience of my couples, so that we can make something amazing together. And hopefully, that something amazing will be the wedding of their dreams!
—————————————————
What has influenced your trust-factor with your wedding vendors? We'd love to hear from you! 
The following two tabs change content below.
Joelle is the founder, owner, and creative director of Joelle Charming. She blogs, plans weddings, and writes love stories. Joelle is also obsessed with Taylor Swift, loves the color pink, and likes to wear bows in her hair.