Remember when no one knew what Pinterest was?
And when there was no such thing as a "Pinterest Wedding"? 
Remember when no one knew what Instagram was?
And when there was no such thing as an "Instagram Wedding"? 

I've noticed myself and others saying these things a lot, because when it comes to weddings, Pinterest and Instagram can be both a blessing and curse. Now, for the purposes of this post, I'm going to be focusing on Pinterest, because it's an actual tool that can be used to help you in designing your wedding. As for Instagram, it's definitely a lot more functional than it used to be (I would highly recommend using the "Collections" feature). But basically, they're both one in the same- they both are housing tons of images that can provide you with some awesome inspiration for your wedding.
I first happened upon this "new thing called Pinterest" back in 2011, and when I told people about how awesome it was, everyone looked at me like I was crazy. (Actually, the same could be said for Instagram too!) But now, years later, everyone and their moms (literally) are pinning things left and right, and it's a household term! Now don't get me wrong- Pinterest is awesome, and I absolutely love it! But when it comes to weddings, Pinterest (and Instagram too now) has started to cause a bit of an issue- the "Pinterest Wedding".
[Read this post: Using Pinterest To Plan Your Wedding]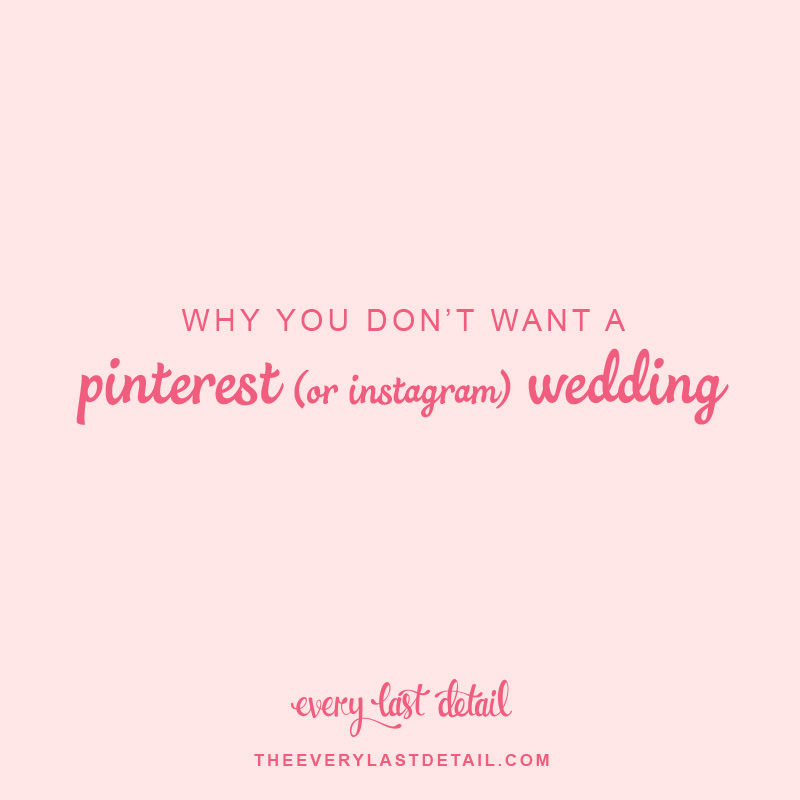 [Some background info/history: Pinterest and Instagram have been amazing for wedding inspiration and ideas, but they have also been "killing" originality in weddings. You see, with weddings, "trends" would usually make their rounds over the span of 2 to 3 years, but now thanks to Pinterest, these "trends" are perpetuated even longer than this, thus becoming old news. I blame the algorithm of Pinterest, showing you pins that have more interaction- which are also, coincidentally, the oldest! So sure, there are tons of GREAT ideas and inspiration for weddings on Pinterest, but those same ideas and inspiration are being seen by just about every bride and groom who is on Pinterest. With Instagram, it's not quite as bad, but the one thing that I see there is that there is a lot of the same happening.] 
So what exactly is a "Pinterest Wedding", and why should you try to avoid it?
A "Pinterest Wedding" is one in which many of the details and concepts have come directly from Pinterest. No tweaks, no putting your own twist on it, just replicated from Pinterest. You pulled up your Pinterest and said, "I want this," and that is what your wedding pros created for you. You may have even attended a wedding, in which you found yourself saying, "Oh, I saw that table number on Pinterest" or something of the like- that my friends, is a Pinterest Wedding.
Over the years, I've heard from past brides about how upset they were when they found out that one of their friends copied things from their own wedding. Well, Pinterest does just that- only it takes things a bit more global. When you replicate things seen on Pinterest, you are doing what was right for THAT bride, not what is right for YOU. [Read this post: Inspiration, Not Replication]
You don't want to have what every other bride in the world is going to be having, right? Take the things you see, be inspired by them, and figure out how to put your own unique spin on it- you might even come up with something even BETTER than what you originally saw on Pinterest!
Now with all this said, let me be clear- I LOVE Pinterest and Instagram, and I still think they are both amazing for finding wedding inspiration and ideas. This is NOT a Pinterest/Instagram witch hunt. ;)
However, my point is this: you shouldn't be designing your whole entire wedding design and details based off of what you saw on Pinterest and Instagram.
Yes, use the platforms to get ideas, see what other people are doing, what you like, what you hate, and learn what your style is. All of those things are essential parts of designing your wedding. But at some point, it's imperative that you step back from scrolling and pinning ALL THE THINGS, and figure out what is going to be right for YOUR wedding.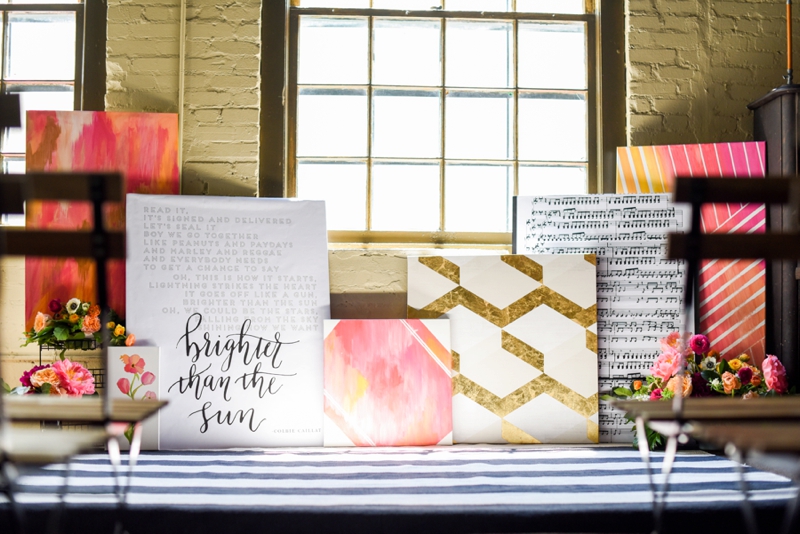 Image by Mikkel Paige, Design by Ashton Events, via
I asked some of our members of The V List for their tips on using Pinterest, and how to not end up with a "Pinterest Wedding", and they had some GREAT insight…
"I absolutely recommend that brides use Pinterest during their initial stages of design conception. It helps gets the juices flowing. However, I always tell my brides to jump off once they have their ideas together. Use it for inspiration, not for duplication. Your wedding should be a reflection of you and your relationship with your betrothed, not something that was meaningful to someone else. If you allow Pinterest to dictate your wedding, you will never be satisfied with the results because it will NEVER look like what you've seen because too many variables are in play. Allow yourself to be completely taken with what YOU come up with and the beauty that YOUR vendors create and capture!" – Emily of Treasury Rentals
"You want your wedding and your wedding photos to tell the story of YOU and YOUR LOVE, without feeling the pressure to live up to other people's ideas of the perfect wedding. When you ask your photographer to replicate images found on Pinterest, the authentic emotion he/she is trying to capture immediately disappears. Pinterest has its place, and can be a great source of inspiration, but leave it there. The images you want hanging on your wall when you're 80 are the ones that show true emotion, not a shot of paper straws inside a mason jar." – Cat of Cat Pennenga Photography
 "My two most effective ways to utilize Pinterest: 1) for figuring out what YOU are drawn towards naturally for both color palette and overall aesthetic. 2) Pinterest can be a great tool for finding solutions for a specific item (i.e., napkin fold options, print material verbiage). Beyond that- I always advise my brides to stay off Pinterest once we decide on their design board!" – Laura of Ashton Events
---
Again, I'd like to reiterate that this isn't saying to not use Pinterest or Instagram to find inspiration and ideas for your wedding. Please do- both platforms are amazing for that! But I want to encourage you to infuse yourself and your relationship into your wedding design too, and that sometimes means stepping away from Pinterest and Instagram.
And speaking of your wedding design, it's a GREAT idea to have a wedding designer. Sometimes he or she may be a planner as well, sometimes a floral designer, sometimes both, sometimes neither. But the things that I have seen wedding designers create are always unique and 100% reflect the couple. Designs like this make my heart so very happy, and I know that the same happens for the couples too!
I'd love to hear about what you all think about the "Pinterest/Instagram Wedding"… have you been to one?
What are you doing to ensure that you won't have a wedding that is just replicating everyone else's?
PS- If you're not already following me on Pinterest, come pin with me, and follow me on Instagram too! ;)
Editor's Note: A version of this post was originally published in 2013. It has since been updated and revamped for accuracy.
The following two tabs change content below.
Lauren Grove is the editor and owner of Every Last Detail. A clueless bride-turned-wedding planner, Lauren uses her experiences and knowledge to educate and inspire brides all over the world.