Hi friends! Today I want to touch on one of Every Last Detail's purposes as a wedding blog… to provide inspiration.
Providing you with inspiration for your wedding is something that I hold close to my heart and I believe it is a necessary part of wedding planning. But I've also seen some instances where the inspiration can go too far, and instead of being inspired by someone else's wedding, it just ends up being replicated.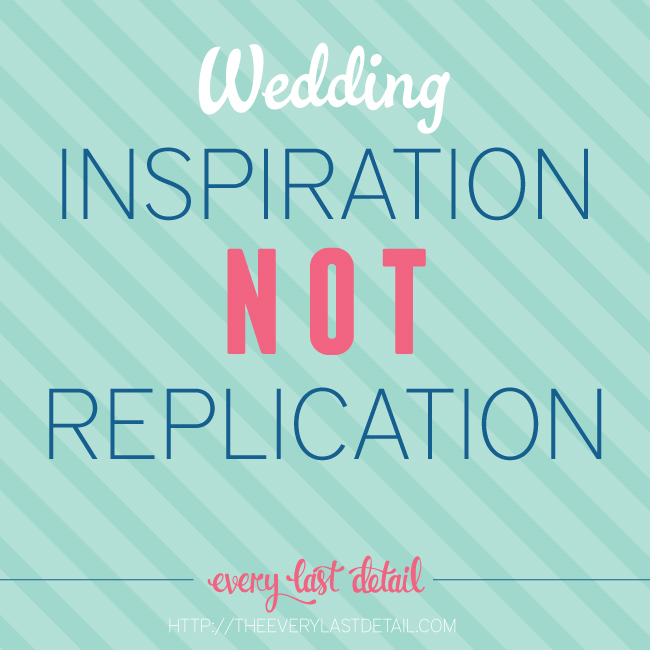 When I was planning my wedding, I was desperately searching for inspiration. Back then (Yep, in this digital age we do refer to 2008 as "back then"!) there weren't as many places to go for wedding inspiration as there are now. I found it incredibly difficult to find something that really inspired me and that I truly loved. And I think that's because I didn't quite grasp the concept of inspiration for my wedding. I thought I had to replicate everything, even if it wasn't 100% perfect for me. The problems I ran into with this were a) the things that inspired me weren't exactly *right* for me, my fiancé (now husband), and our wedding, and b) well what do you know… I have expensive taste.
Unfortunately, as it turns out, I wasn't actually able to implement anything for my wedding that had inspired me. Everything I had at my wedding was just replication of other things that I kind of liked. Which leads me to the topic of today's post- wedding inspiration, not wedding replication!
With all of the wedding blogs that are out there now and of course Pinterest, you have tons and tons of inspiration at your fingertips. But what exactly is the point of getting inspiration for your wedding? Inspiration plays a part in SO many things for a wedding. Colors, style, locations, flowers, favors, bridesmaid dresses… pretty much everything. Chances are good you're going to need examples of the type of flowers you like, the style of wedding dress you want, and even the type of photography you like to show your friends, family, and wedding professional team. And that's where blogs and magazines (aka publications) come in- to provide you with examples of those things and to inspire you.
You see, inspiration is a thing. It's a noun, not just a word to describe something. Let's get a little more literal here…
Inspiration (noun):
1. an inspiring or animating action or influence: I cannot writepoetry without inspiration.
2. something inspired, as an idea.
3. a result of inspired activity.
4. a thing or person that inspires.
 ———————————————-
See? I think the most fitting definition is "a thing or person that inspires." That's the inspiration we're all aiming for here in the wedding publication world- to inspire you!
[Note: Photo shoots that are seen in publications are meant to provide inspiration. They are often times a great way to see things done differently, and they're also a way for wedding professionals to "spread their wings" and think outside of the box. I personally love them because many people (especially brides) are very "visual", and inspiration shoots allow you to see new things for weddings!]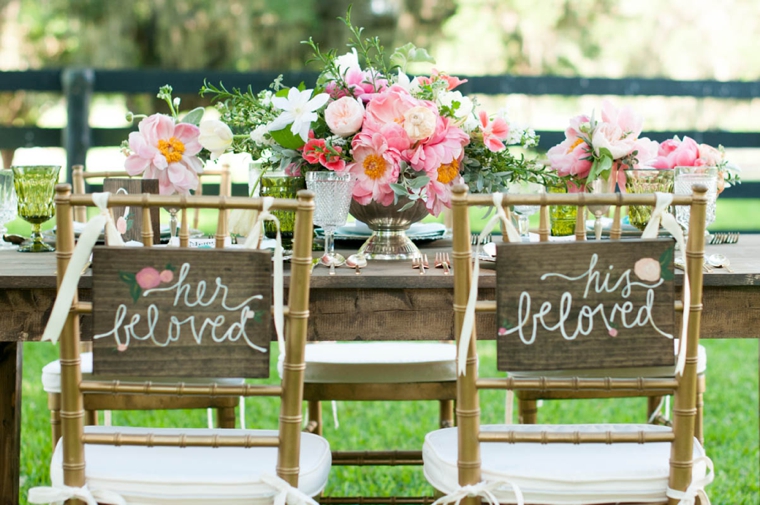 Image by  Caroline & Evan Photography, as seen via ECLECTIC KENTUCKY DERBY WEDDING IDEAS
So now that we have our literal interpretation of inspiration, let's clarify what it doesn't mean: replication.
There have been many times that I've seen things that just are replicas of something that's already been done. Don't get me wrong- I know better than anyone else that there are only *so many* ways to do something. And I'm 100% FOR details at weddings (clearly), and if it means that something has to be replicated, then go for it!
But it's when I see something at a wedding and you can tell it's there just for the sake of having it (aka it doesn't go with the wedding)- that's when I'm not a fan of details. Examples: scrabble pieces at the wedding of a couple that never plays scrabble. Or vintage furniture for a couple that wouldn't know something vintage if it fell on top of them. Just because you see something on blogs and in magazines, it doesn't mean you have to have it for your own wedding. Is it popular? Sure. But does it fit YOU? It might not.
When it comes to wedding details, don't just replicate what you've seen a million times- make it something that is unique to you!
Don't get me wrong- I'm not saying to not use the ideas of things that you see on blogs. I'm just encouraging you to make sure the details at your wedding reflect you and your partner. Every wedding is unique in it's own way because every wedding is for a different couple. No two weddings are ever the same because each and every couple is different. Your relationship is unique and has it's own story; your wedding is the opportunity for you to tell that story.
[A little example: For one wedding I planned, the couple was having barbeque as their meal. The venue was going to place bottles of barbeque sauce at the end of the buffet, but I suggested having the bottles on the table and incorporating them into their decor. The groom then suggested to "name" the two types of barbeque sauce after their dogs. They added a label that was designed by their stationer, and voila- they had a personal, unique detail for their wedding! Everyone loved it, and it was a great way to infuse a part of their relationship into their details.]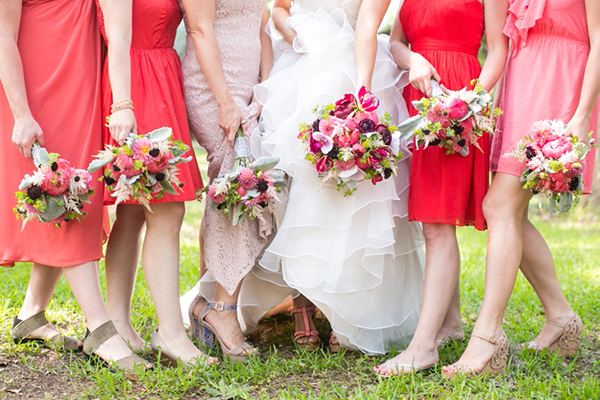 Image by Dana Cubbage Weddings
I know how it feels. You fall in love with all these blogs and magazines, and you would love for your own wedding to be featured on one of them because it starts to feel like a sort of "family" to you. So I'm here to tell you that YES, your wedding can be published- but it doesn't have to look like everything else that you see! Don't fall into the trap of what's all over the place. You really don't want a "Pinterest wedding". Don't feel obligated to have mason jars and milk glass at your wedding because that's what you see everywhere. [And just to clarify, if milk glass and mason jars are what you want and are right for your wedding, don't feel like you can't have them! :)] Do what's right for you. It's your wedding.
The content that wedding blogs and magazines share is meant for inspiration, not replication.
A few tips for making sure you're not replicating everything you see:
CHALLENGE
Challenge yourself to take the concept of something that inspires you and figure out a way to do it differently.
COMBINE
Combine elements of several different things that have inspired you and create something that is your own.
BE INSPIRED BY YOURSELVES
Use your relationship, your personalities, and your favorite things to inspire you.
CURATE
Go through your wedding Pinterest boards and delete pins that aren't a fit for you and your wedding.
[Read more on Using Pinterest To Plan Your Wedding]
STEP AWAY
One you start figuring out what you want for your wedding, STEP AWAY FROM PINTEREST.
 ——————————————————–
Most importantly, remember that all of this is about getting inspiration for YOUR wedding, not replicating someone else's wedding.
 ——————————————————–
Alright, so now tell me- what has inspired you that you'll be incorporating into your wedding? Do you have things that you like, but you're not sure how to make them your own? Or are you just flat-out clueless about how to make your wedding unique to you and your fiance?
Share below in the comments- I would love to help you figure out your unique details! :)
[A version of this post was originally published in October of 2011]
The following two tabs change content below.
Lauren Grove is the editor and owner of Every Last Detail. A clueless bride-turned-wedding planner, Lauren uses her experiences and knowledge to educate and inspire brides all over the world.