The start of engagement season has officially arrived, and we're already thinking slightly ahead toward celebrating an engagement… more specifically, how to plan an engagement party! I don't know about you, but I will take any excuse to host or attend a party, and celebrating a newly engaged couple is at the top of my list (perhaps just behind attending a wedding)! However, before the joy of the actual party is the planning process, and for the host, this can spell overwhelm very quickly. To save you from panicked moments, we're breaking down the engagement party planning process into actionable (and achievable) steps and know-how. So without further ado, here are our 10 steps for how to plan an engagement party: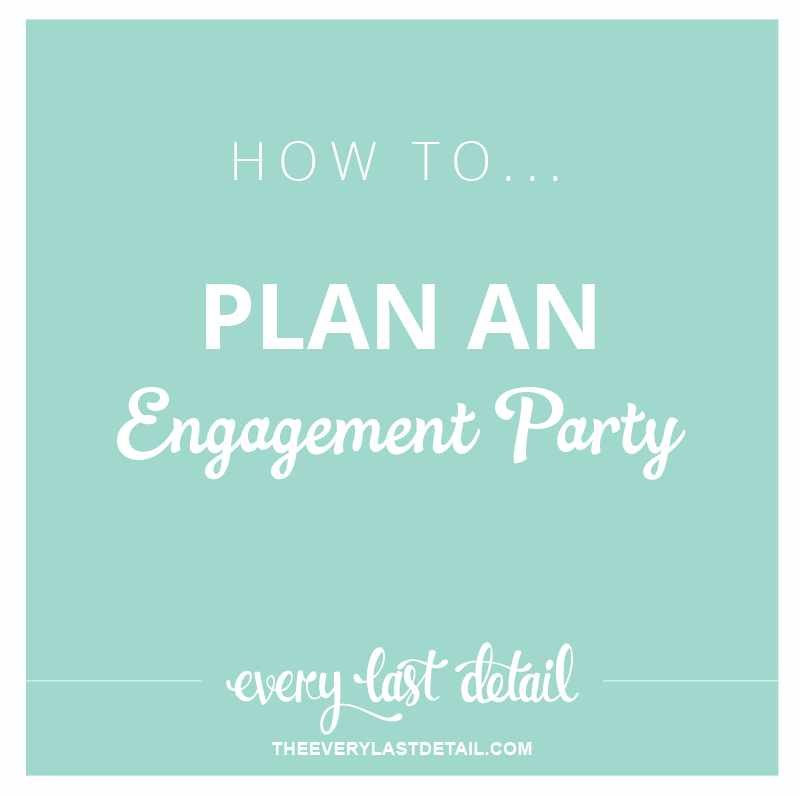 1. Who's Hosting:
Most often, the bride's family will host the couple's engagement party. However, if the groom's family wants to join in, that's perfectly acceptable! It's also very possible that close friends will want to throw a party, too.
2. Is it a surprise?:
For the most part, engagement parties are typically not surprises. Because this is the first event surrounding the wedding, it's a bit easier for the bride and groom to be in the know because they can offer tips and suggestions for the guest list and party's style.
3. Choose a Date:
We've talked about when to host your engagement party before, but a quick summary: plan a date about a year before the wedding. Try to avoid holidays and birthdays in order for the engagement party date to truly shine on it's own. Another tip: April-June and September-early November are the most popular times for weddings. Avoiding dates during wedding season may help you to have a higher guest count at the engagement party.
4. Create a Guest List:
Similar to a wedding, an engagement party can be as intimate or as large as you like. Collaborate with the bride, groom, and the groom's parents for the guest list. Sticking to family and the closest of friends is usually the way to go because you'll also want to invite this group to the wedding. Also, keep your budget in mind: guests are the most expensive part of any party's equation because your count determines your venue's required size and catering costs.
5. Choose a Venue:
Your venue does not have to match the wedding's style. In fact, an engagement party is a great time to plan something completely different! Think about casual venues, like restaurants or backyards, or more trendy places, like a rooftop! Wineries, country clubs, and museums make great engagement party venues, too.
6. Hire Professionals:
Unlike a wedding when you will want (and need!) a complete vendor team, an engagement party will involve a small pool of pros. You'll definitely want to hire a photographer, caterer, florist, and venue (if you're planning a party that's not at your home). But the decision to hire additional vendors, like a wedding planner, band or DJ, or videographer is completely up to you and the party you have in mind. A quick tip: an engagement party is more low key than a wedding and usually much more about mingling.
7. Create a Registry:
Sometimes this tip is voted as "most surprising", but from the moment they get engaged, family and friends will want to present the bride-and-groom-to-be with a gift. If the couple is open minded about receiving a piece that might hold more value to the receiver than the recipient, skip registering. However, if the couple has a few needs and wants in mind, encourage them to create a registry they can continue to build upon for their wedding day. Make sure to note the registry on the invitations!
8. Send Your Invitations:
Plan to send your invitations about six weeks before the engagement party. This will ensure that guests traveling in will be able to make their travel arrangements, plus it allows everyone to have enough time to consult with their calendars and RSVP. Also, we still believe in sending invitations through the mail. Receiving an actual invite, rather than an email or a phone call, is still much more personal.
Photographer: Kat Braman, Planning & Design: Ashton Events, via Vibrant Watercolor Engagement Party Inspiration
9. Confirm…Everything:
Two weeks prior to the engagement party, you will want to confirm your guest count. Your venue will ask for the final number of guests attending so they can create their final catering order forms. Also, plan to confirm your order with your florist and circle back with your photographer to make sure everyone is still onboard with the date, time, and plan as a whole.
10. Enjoy Your Soiree!
We cannot stress this enough, but our best advice for enjoying any party is to place your complete trust in your vendor team (and yourself!). You've planned a wonderful party that you should enjoy, and your vendors are well equipped to do their jobs well. Relax, have fun, and soak up the couple you're celebrating!
————————————————————-
Are you having an engagement party? What are your must-haves? Do you have anything to add to our tips list? We would love to hear from you!
The following two tabs change content below.
My name is Carly, and I live for love whether it's the love I witness between my family members and friends or the love I have for places and weddings. For these reasons and more, I write about the wedding industry, and I'm an event planner, designer, and floral stylist who will forever be in love with flowers, pink, and bows.