[Editor's note: Hi friends! I'm so glad you're here. Why? Because here at ELD, myself and my team go to great lengths to educate you on the wedding planning process while keeping it real and 100% accurate. There are many articles out there sharing incorrect information about weddings, and it breaks my heart to see. When I was planning my wedding, I was looking for information constantly, and I believed what those articles told me. As a result, my wedding planning experience and actual wedding wasn't as great as it could have been, and if I had been more educated about weddings in general, everything could have been drastically different. With that said, today I'm sharing a wedding planner's response to an inaccurate article about "How to be your own wedding planner" that has been floating around the web. I hope you'll take this information and truth and apply it to your own wedding planning journey in the best manner possible!]
One of the biggest challenges that the wedding world has is fighting inaccurate perceptions from "experts" in the media about what wedding professionals do. Recently, as I was perusing blog posts from all the usual suspects, I came across a gem of an article, "How To Be Your Own Wedding Planner".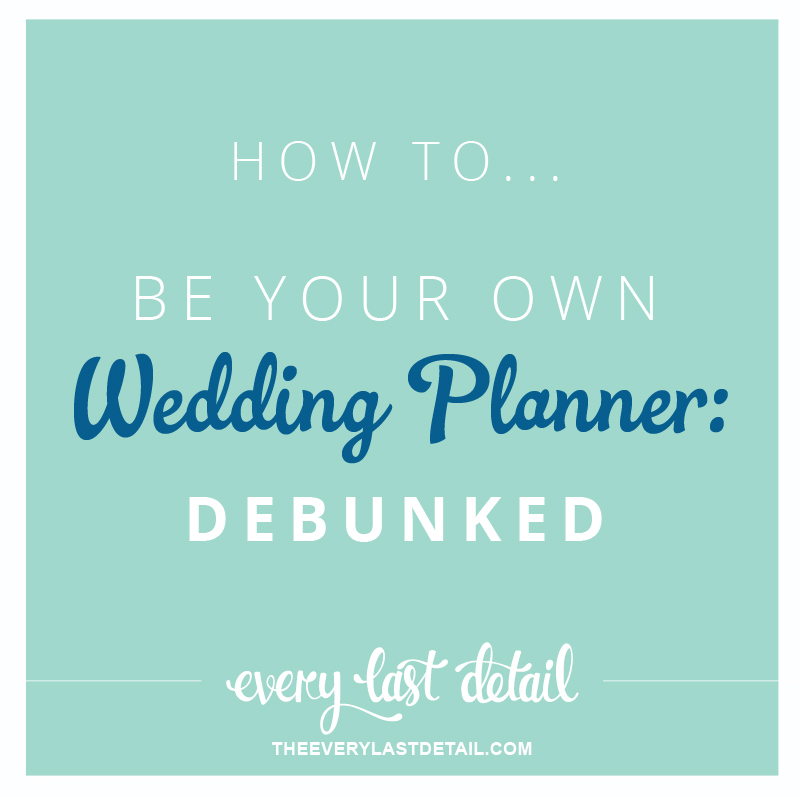 I was intrigued to say the least, since it's taken me an apprenticeship, graduating from a certification program, and years of experience running my own business to actually consider myself a rather competent wedding planner. So I read on, only to find out (as is the case with many how-to articles) that this article only had tiny rice-grain-sized shreds of truth, and far more inaccuracies than you can stand if you're actually a professional wedding planner or know how wedding planners work.
First and foremost, let me state that a wedding planner should be a part of your wedding budget right off the bat. I don't say this because I am a wedding planner, I say this because I truly want all couples to have the best wedding planning experience possible. It's not a luxury or added expense anymore. Wedding planners will not only help keep you within your budget, but they will save you precious time and keep you from making costly mistakes. And yes, there are a plethora of other things that planners do, but that's a whole other post. For now, let's go over the ways that the aforementioned article recommended on how to be your own wedding planner…
1. Get Organized
Well, yes. Being organized will of course help you in the planning process- it's imperative. As a wedding planner, I create lists specifically tailored to you and your wedding to help keep you organized. In addition to this, I provide timelines, budgets, calendars, project management programs- a whole slew of organizational tools. But here's the thing- being organized isn't going to make you a wedding planner. You could be the most organized person you know, but there are still so many other aspects to planning your wedding that go beyond organization.
2. Use free online tools
By all means, yes absolutely use the free online tools out there. But remember- not everything you read on the internet is true. Many sites have a free budget tool, checklists on what you need to do when, and recommendations on what you should spend with vendors based the average wedding costs. But the thing is, these are all incredibly generalized and not specific at all.
Do you think a wedding on top of a mountain in Colorado costs the same as a farm wedding in Montana or a wedding in a California vineyard? What about the guest list? What about the priority you place on each vendor? What about the type of food you choose?
I have some couples that have spent their nearly all their budget on their favorite band to play at their reception, and others that placed their budget priorities on hiring the perfect photographer. My point is, your geographical location and the priority you place on aspects of your wedding should shape your wedding budget- not some free tool you find on XYZ website.
Furthermore, a free website tool isn't going to help you find a quality vendor, or the right vendor for your style, or a vendor who is within your budget. There's no way these tools can replace the knowledge, experience, and know-how of a wedding planner. Do these tools also create custom wedding day timelines that meet your specific wedding needs? No. For some weird reason, I can't help but want to shout this from the rooftops:
"You, my dear, don't need to be average! Your relationship isn't average, your story isn't average, you and your fiancé aren't average, and your wedding is not going to be average."
So why base your wedding off of free online tools that are based of what they claim is the AVERAGE or what you should EXPECT? Gah, moving on. [Editor's note: I actually did use those free tools, and they were so inaccurate when it came to the costs that I was seeing. As a result, my expectations were severely inaccurate, and I truly believe that if I had better expectations, my whole wedding would have been completely different.]
3. Make your to-do lists accessible no matter where you are.
Ok, yes- you don't want to spill coffee on your paper to-do lists and ruin them. Wedding planners also keep everything digital and accessible too, because really, who keeps paper lists anymore? Not sure that this one item would make you more of a planner…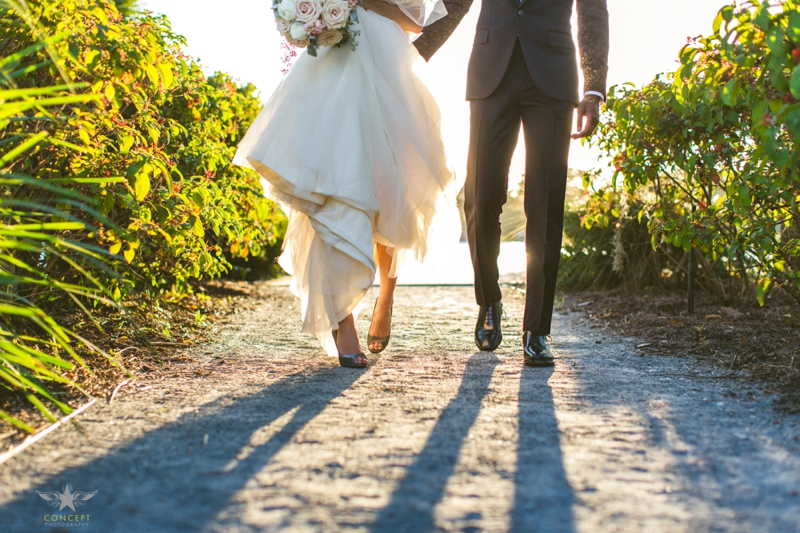 Image by Concept Photography, via An Affair To Remember
4. Do Your Research
Don't ever settle without doing your research- but this just par for the course when planning a wedding. I definitely don't think it would be wise to accept the first and only bid from vendors that you received. Get multiple quotes from multiple vendors. Compare them. Meet each vendor and interview them. They are all going to be different, have different price structures, different packages, different offerings, and different styles. You might not mesh well with one of them, your might feel like you're BFFs with another. That's how you do your research.
But negotiating prices- that is not doing your research. The wedding industry is a professional industry like any other. You don't negotiate with the hair dresser that cuts your hair, a doctor that treats you, or your accountant on the cost of their services- so why would the wedding industry be any different? Wedding vendors are running businesses. These businesses, like any other, require funds to support the owner and employees (like paying their mortgage and providing food and shelter for their families), funds to maintain them, and funds to grow them. Guys, this is how they make their living and pay bills- just like how you get a paycheck and pay your bills with it.
When you work with professionals, you're paying for their professional experience and true expertise. Not everyone is talented in arranging flowers, beautifully capturing your wedding day through a camera lens, or cooking a great meal for 150 of your closest family and friends. You get what you pay for, and when it comes to weddings, it's always extremely evident.
[Read more on this topic: Why You Shouldn't Negotiate With Wedding Vendors and Why You Shouldn't Negotiate With Wedding Vendors: Part Two]
5. Ask Other Brides.
Of course- nothing compares to first hand experience! But just remember that other brides have planned one wedding, whereas a professional wedding planner has planned more than they can even remember. Their experiences will be tried and true and based on an objective perspective. But yes, in all fairness, sharing experiences with those who have been through it does absolutely have it's value. Just keep in mind what we discussed above- that your wedding is unique to YOU.
6. Become Friendly With Pinterest.
Become friendly with Pinterest? Yes sure. But rely on Pinterest to PLAN your wedding? No, no, no. Just no! Pinterest has forever changed the wedding landscape, and not for the better. Pinterest, when used responsibly and for the sole purpose of getting INSPIRATION for a general look and feel, can be beneficial. Maybe there's even a chance I would support Pinterest for connecting couples with their perfect photographer, because it has happened!
However, Pinterest has created unreal expectations about what is possible for a wedding. You look at a well-photographed wedding, or a wedding that is detailed out to a T, and you think, "I must have that!" But did you know that it was shot by a photographer who starts at $8,000 dollars? Or that to execute that whimsical, boho, detailed look could cost over $30,000 in decor and rentals? This isn't the case EVERY time, but most times it is the case.
"Pin it and it will come true," as stated by the author of the aforementioned article, is just a tad bit unrealistic. Where is your magic wand- because I want one! Have you seen all the memes and comments about the failed attempts to recreate something seen on Pinterest? I know you have- so enough said. Oh, and let's not forget to beware of the endless stream of inaccurate wedding planning articles that companies have paid to promote on Pinterest!
[Read more on this topic: Using Pinterest To Plan Your Wedding and Why You Don't Want A "Pinterest Wedding"]
7. Divide and Conquer
Asking for help is never a bad idea if you need it. But why not ask for help from a planner who can really assist you make progress in the planning process? That's what we're here for. Your mom or your best friend will want to help of course, but they have jobs and other commitments that they'll need to also put their attention toward. You can't expect them to drop everything for your wedding and besides- who wants to put that type of pressure on the ones you love? (Of course, I can see it now – everyone says they want to help, and that's what family and your best friends are for, right? But when it comes to helping you in the best way possible, a wedding planner will be much better suited for that than your family and friends, because you won't have to worry about disagreements, hurting feelings, etc.)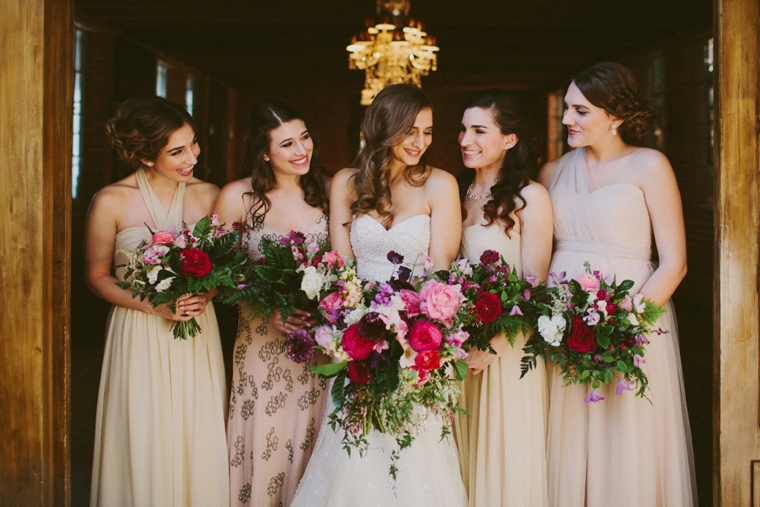 Image via Hylah White Special Events
Okay, so now that we've addressed those 7 suggestions, I'd like to point out that this expert at wedding planning who wrote the aforementioned article about how to be your own wedding planner has been a bridesmaid to a lot of her friends, but not ever a bride or a professional wedding planner. But, I'm guessing she hasn't considered that on your wedding day, if you're your own wedding planner, you or your friends and family will have to spend the day doing at least the following:
– Setting up your decor
– Hauling tables into their planned location after the rental company set up them up incorrectly
– Greeting your other vendors and directing them to where they'll be setting up the arch or hanging the chandeliers you ordered
– Dealing with any missteps that happen (and believe me, there is at least one at EVERY wedding)
– Remaining calm while problem solving… you know, like when your caterer is 4 hours late with the tables for you to actually setup your wedding.
– Make a weather call if your ceremony is outside after monitoring the radar every 5 minutes and possibly relocating your ceremony to your back up location if the weather turns
– During the reception when you're 10 minutes away from your toasts – head back to the kitchen and make sure the glasses of champagne are being poured and passed out to your guests
– At the end of the night stay and clean up your party instead of joining your other guests at the after party you have planned
So sure- if you want to have to do all those things above instead of getting pampered and enjoying the experience of getting ready to marry your Mr. or Mrs. Forever, go for it!
But I know you also might be thinking, "Well Aunt Maureen (or mom, or Jane, or insert any other close family member or friend) will do it all for me." They more than likely aren't a professional event planner either- and no, doing their own wedding or a friend's wedding or your cousin's wedding doesn't count. All of the above scenarios are applicable to them also. How do you expect them to handle these situations? Why would you expect someone you love to miss out on being a guest and celebrating with you just to make sure your wedding goes off without a hitch?
All this to say- DO NOT rely on any of the above things mentioned to make you wedding planner. You will not enjoy your wedding or the planning process- and you deserve to! Please, for your sanity and your future spouse's sanity- consult with a planner.
I'm not saying this as a wedding planner. I'm saying this as someone who has gotten married and didn't have a wedding planner. As someone who has witnessed couples planning a wedding who didn't have the help of a wedding planner. As someone who has come to rescue of couples who thought that they could plan their wedding themselves. As someone who truly believes that everyone getting married deserves to plan their wedding with professional knowledge and know-how.
Friends, there is a reason for why wedding planners exist- why there are people who plan weddings as their full time career! If it was easy to do yourself, wedding planners wouldn't exist. Incorporate the investment of a wedding planner into your wedding budget. It will pale in comparison to the time, energy, stress, and maybe even money that you will save!
---

Questions? Ask in the comments below! 

The following two tabs change content below.
A serial party planner for family and friends, Erica turned her passion for parties into a professional career. When she's not busy planning weddings, Erica spends her time outdoors enjoying the beautiful landscape of Colorado with her new husband Craig, and playing with her two dogs, Sadie and Murphy.