[Editor's note: Please note that this post was written in direct response to items presented within an article about how to negotiate with wedding vendors on another wedding website. That article has since been removed from the website, no doubt due to the inaccurate information it presented. I have since written a follow-up to this post, which I strongly suggest you go read after reading this post!] 
Hi friends! Recently I came across an article that frankly, made me sick. And now I'm FIRED UP about it, because it was oh-so-wrong! This article was published on a VERY popular wedding website, under the category of "Wedding Planning". True, it was dated from a few years ago- in fact, it's from back in 2009, which is when I got married. But while things in the wedding world have changed since then, they definitely haven't changed enough for what this article highlighted to be true today!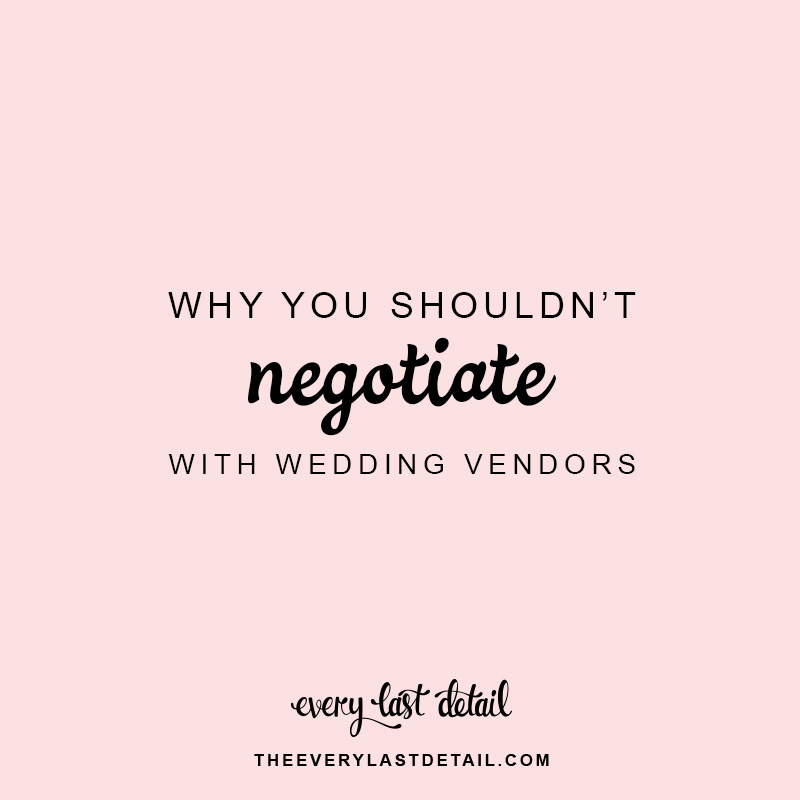 In a nutshell, this article shared tips for couples on how to negotiate with wedding vendors. While I was reading it, I felt sick. Uncomfortable. And kind of sad. So, let's talk about it, shall we?
How to negotiate with wedding vendors…
This article was telling me to pit other vendors against each other (which definitely goes against the apples to apples concept of comparison– and has happened to me before… it's NOT cool!). The article also suggested asking for a discount, pretending like you're not even interested, and even practicing your negotiating skills! WHAT. THE. HECK?! I would never have done any of those things when I was a bride!
Side note: I myself was a VERY curious bride. I wanted to know all of my options for how to do things, what the right and wrong ways were, and when I needed to do them. But I was also extremely timid. I didn't know what things were supposed to cost. I didn't have someone to tell me beforehand what they had spent on their own wedding rentals and services. I didn't have enough information to be well-informed. And so, I approached this uncertain territory with one fact that I knew for sure: the wedding vendors were the ones who knew best (for the most part) because this was what they did for a living! As it turned out, I still didn't have all the answers after my wedding, which is why I took a wedding planning class, worked in the wedding industry, and am now here sharing my insight with you all! :)
Well here's what I think…
---
When it comes to your wedding,
negotiation should be considered a BAD word.
---
So let's put this bad word, negotiation, into "real world" perspective, shall we? (Because for some reason, we all tend to forget that wedding vendors are real people and real businesses- I was 100% guilty of this myself!)
Negotiating with a wedding vendor about their services would be equivalent to…
… your boss coming to you and demanding that you give him or her a portion of your next paycheck.
… ordering a steak at a high end restaurant and then telling the server that you only ate half so you just want to pay for half.
… telling the saleswoman at a Kate Spade store that you really love that yellow handbag that costs $300, and you only have $150, but you really really want it.
Putting things in this kind of "real world" perspective helped me understand wedding vendors a bit more, and it also helped my couples (when I was planning weddings still)- so I thought maybe it can help some of you! Because like I mentioned before- for some reason, when I was meeting with vendors and planning my wedding, I didn't quite see wedding vendors as the same as all the other businesses out there. It was weird, but it was true- and I've continued to see evidence of this in the time I've spent working within the industry.
And I think the interesting (and cool and sometimes challenging) thing about the wedding industry is that it's a mix of services (people's time), experience and knowledge, and also products. Sometimes these things are separate, but sometimes they are all combined together to create something amazing (um, have you ever seen how fabulous flowers can be?!). So while you can say things like, "Well, we negotiate for a car," or "I negotiated what my salary was," quite frankly, it's just not the same.
Now don't get me wrong… there CAN be a time and place for discounts and deals when working with wedding pros. BUT it should be on the wedding vendor's own accord, and definitely not solicited.
And I'm in no way saying to not to ask questions- questions are AWESOME and in most cases, the only way that you'll truly get answers! In fact, I don't know about others, but when I was a wedding pro, I LOVED when my brides and grooms asked questions!
[Sidenote: let's also add the word "exposure" to that list of bad words. I.E., you have a few followers on Instagram and want someone to do something for your wedding in exchange for the "exposure" to be posted about on your Insta.]
Remember- this is their livelihood.
I know I say this over and over, but when dealing with wedding vendors, remember- this is their livelihood. It's how they pay bills and feed their family, just like you do with the money you make from your job. Put yourself in their shoes before you ask for a discount or something for free. Heck, they usually even DO give you something if you're nice to them! ;)
So there you have it… why you SHOULDN'T negotiate with wedding vendors! I think negotiation only belongs at car dealerships, in peace treaties, and in hostage situations. ;)
And PS: Yes, there are indeed times when you do negotiate with vendors… and in those cases, the negotiating is usually invited or initiated by the vendor. :)
I'm sure some of you have negotiated in some way throughout your wedding planning process though. For those of you who have, what was your own experience in negotiating with wedding vendors like?
---
Since this post has been published, I've written a follow-up post for it.
Please go read this post about what negotiation does NOT mean!
[Note: This article is largely in reference to a SERVICE, not a product. Services and products are priced very differently for various reasons. Please read the follow-up post linked above for more clarification.]
The following two tabs change content below.
Lauren Grove is the editor and owner of Every Last Detail. A clueless bride-turned-wedding planner, Lauren uses her experiences and knowledge to educate and inspire brides all over the world.