DIY weddings are incredibly common for lots of reasons, including budget, style, preference, or just because you're crafty and want to do everything yourself! A DIY wedding sounds like a good idea at first, but once you get into the specific aspects of planning a wedding,  you may start thinking twice about your decision to do everything yourself. The thing is, there are specific things about DIY weddings that you should know and be prepared for, and not many people actually talk about them. Well friends, that's what I'm here for- to tell you what other people won't!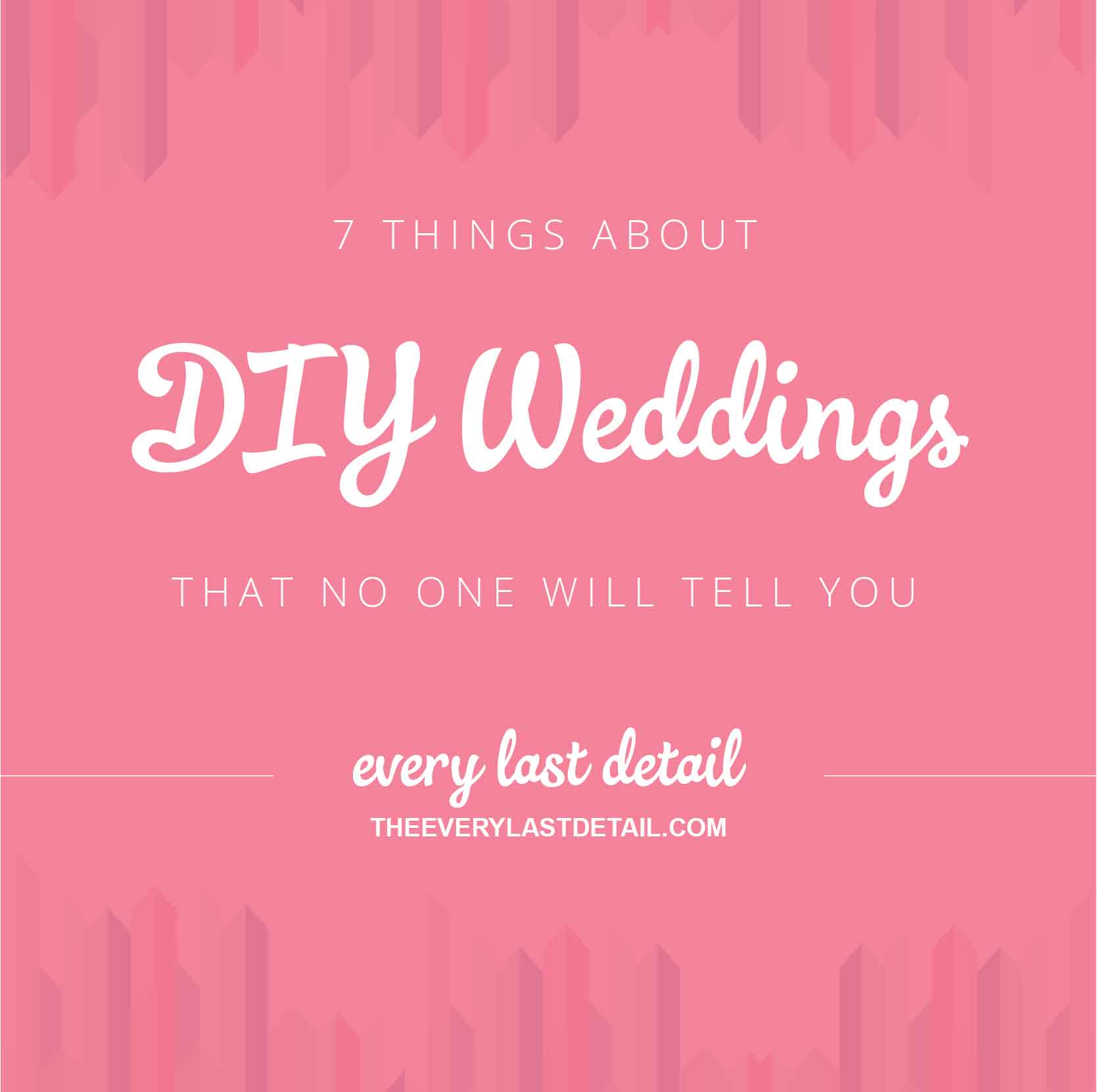 1. Some DIY weddings are not really DIY.
Many times, a DIY wedding is referred to as DIY because of the wedding details. You all know that I LOVE details, and I love DIY details even more- but the thing is, handmade does NOT equal DIY. A DIY wedding is actually when you are really and truly doing everything yourself- food, decor, entertainment, everything! Many of the "DIY" weddings that you see nowadays are not truly DIY. More times than not, they're incorporating handmade DIY details, and because of that, are assigned the "DIY" designation. So if you're basing your decision to have a DIY wedding on other weddings that you have seen, think twice and do a little more research on it, because how something is presented is not always what it seems.
Read more on this: WHAT IS A DIY WEDDING?
2. It's difficult to truly do everything yourself.
It really is difficult to truly do everything yourself. Sure, you can DIY some of your wedding, but there are certain things that you should leave to the professionals, such as food, coordination, music, and photography.
Read more on this: HAVING A DIY WEDDING? 4 THINGS YOU SHOULD LEAVE TO PROS!
3. DIY always ends up taking WAY more time than you think.
I don't know about you, but every time I sit down to do some kind of DIY/crafty project, it always takes me more time than I thought it would. If you're DIYing your details, you should definitely give yourself plenty of time. If you're DIYing any aspect of the wedding day itself, you should definitely allot way more time than you think you'll need! When it comes down to it, make sure you have a plan and do lots of research so you're prepared for anything and everything!
Read more on this: THE EXTENT OF DIY
4. You, your friends, and your family really do want to enjoy your wedding.
I always see recommendations for assigning a friend or family members to "be in charge" of everything on your wedding. Friends, this makes me SO sad, because if someone really is a friend or a family member, they really do want to enjoy your wedding! I myself have coordinated a few friends' weddings- both close friends and acquaintances- and I ended up being in "work mode" the whole time, despite the brides encouraging me to join in on the fun. This may have been because being a planner was my profession, but what happens when you flip the situation around and have friends and/or family members who don't do weddings as their profession. They may go to the opposite spectrum from where I was, and end up being in "party mode" the whole time. In fact, I've seen this happen, and it breaks my heart for the couple!
Read more on this: 5 REASONS TO HIRE A PROFESSIONAL FOR YOUR WEDDING, NOT A FRIEND!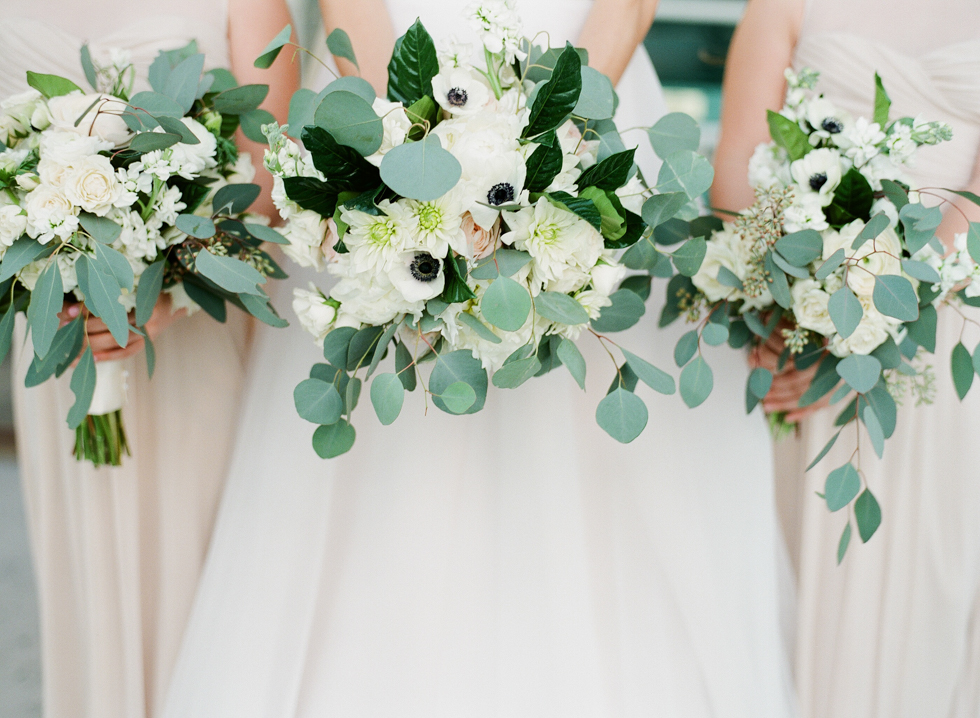 Image via Nicholle Leonard Design Studio
5. A DIY Wedding is NOT the way to go if you're having more than 100 guests.
We've talked about it before- the more guests you have, the more money you have to spend. So when we're talking in terms of DIY, the more guests you have, the more time it's going to take you to do everything yourself!
Read more on this: THE PROS AND CONS OF DIY
6. You don't have to buy everything!
Anything you think you need for your wedding, you can usually rent, unless it's something that is consumed (food and alcohol) or something that is perishable (flowers). So before you buy linens, vases, table runners, or decor, check with your local professionals to see if you can rent it from them. It may seem cost effective to buy it, but when it comes to storage, cleaning, and having a ton of items that you're never going to use again (and they're really hard to sell too), you'll thank me later! :)
Read more on this: YOU DON'T NEED TO BUY THAT
7. You need a creative team.
Most everyone that I have talked to who had awesome DIY weddings, said they couldn't have done it without their planner or their creative friends/family. If you're not hiring any professionals to help you in carrying out your wedding vision, the key is creativity… more specifically, creative friends! Sure, you can have that brilliant idea for a wall of ribbon garland behind your sweetheart table, but once you get started, you'll realize that it's going to take you forever. You will most definitely want to enlist the help of creative friends/family to help you carry out your ideas! (A little tip for enlisting their help: tell them precisely what you want them to help with. Often times people will say they'll help, but then never actually help because they don't have any guidance from you, and you might possibly be a little wary of asking them more than once. Communicate!)
Read more on this: HOW TO HAVE AN AWESOME DIY WEDDING
—————————————————————–
So with all of this said, I encourage you think long and hard about whether or not you should have a DIY wedding. You can definitely do some things for your wedding yourself and still have professionals help you out, so don't feel like you have to do one thing or the other!
Brides- have any of you found out other things about "DIY Weddings" that you would like to share? 
Wedding pros- I know you have more things you would like to share! Comment with your DIY wedding experiences!
The following two tabs change content below.
Lauren Grove is the editor and owner of Every Last Detail. A clueless bride-turned-wedding planner, Lauren uses her experiences and knowledge to educate and inspire brides all over the world.