So I have a question for you, and I would love to hear what your thoughts are: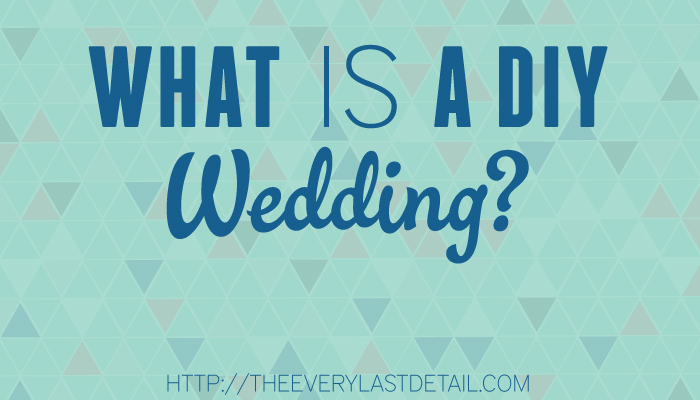 What is a DIY wedding?
Sure, DIY is supposedly one of the most popular types of weddings. But while everyone assumes that they know what DIY is, I don't think everyone's definition is the same.
So what really is DIY when it comes to weddings? Is it a style? Is it a theme? Does it mean that you're not hiring professional vendors? Does it mean that you're making your decor? How much are you doing yourself?
I'm sure you can answer these questions when it comes to your own wedding, and that's because your own definition of DIY is dependent on you and your wedding. But in my experience one bride's DIY isn't the same as another bride's DIY. DIY has become such a broad term to use to describe weddings- so much that I feel like even saying DIY can potentially be a disservice to brides altogether.
Example: you're going to DIY your table numbers and favors… but does that mean that you're having a DIY wedding? To some, it might, but in my world, no- it just means that you're having handmade details that you made yourself.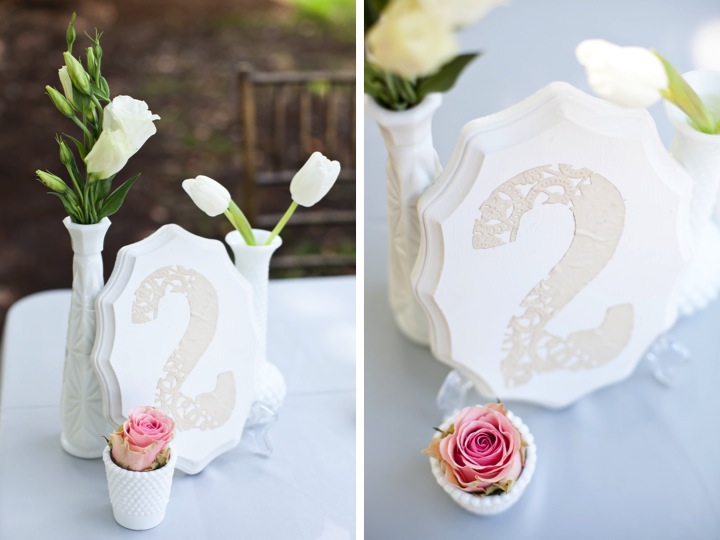 Image by Shay Cochrane Photography, Via inspiration shoot here
To me, a DIY wedding means that you really and truly are doing everything yourself. This means that you're not hiring professional wedding vendors to help you, and you're probably having family help out with food, desserts, setting up, and everything under the sun for your wedding. (This is also why you don't see too many DIY weddings and tips for DIY here on ELD, because in my experience, the weddings I always planned incorporated professional vendors. And since that's what I know, that's what I've chosen to show here on ELD!)
But then again, DIY can also be seen as a "style"- which in my eyes, is what is most prevalent in weddings today. This is where you'll usually see me use the term "handmade" instead of DIY. Because when you're DIYing things, in reality, they're handmade, right? The thing is, a wedding with handmade details doesn't make it a DIY wedding. Most wedding professionals can create and provide those handmade details, and now there are even wedding designers who are specializing in handmade designs for weddings.  In fact, some of the best weddings I've ever seen have handmade details that were created by wedding vendors! (Now this topic could potentially be a whole other post, changing DIY weddings to handmade weddings- and I'm sure I'll write about it about sometime soon!)

Images by  Rustic White Photography, Via
To get some more opinions on this, I asked some of my friends about what they thought a DIY wedding was, and here is what they said:
"DIY means that you do everything! If it's a true DIY wedding, you are saying that you don't need professionals to pull off your day. You are taking on the tasks of coordinator, florist, caterer, designer, maybe even photographer and videographer. A handmade wedding focuses more on creating memorable details, but not taking on the buden of it all. It's a way to choose to be hand-on without being overwhelmed. DIY is different for everyone but I think a total DIY wedding is a huge undertaking for any bride."  -Emily, Emily Grace Design
"A DIY wedding is NOT hiring a coordinator or someone else to "do the dirty work," for you, if you will. It's having an agreement with yourself to do all the brainstorming, organizing (people and supplies); to do the catering, all the florals, all the other decorations, your own invitations, your cake; to deliver, set up, break down and haul away everything afterwards. It's an agreement with yourself and your family that the entire engagement period will be extremely busy with decisions, crafts, gathering things. It's an understanding that everyone in your wedding party will/might be totally exhausted when your lovely event is over. There are ways to do small measures of DIY in your wedding that can be very lovely, but a true DIY is a commitment you make to do IT all instead of with the help of people/vendors who can do it for you (and would love to) so you can fully enjoy your entire experience." – Lauren Walloch, Garden Gate Florals
"A DIY wedding is when you want "personal" touches throughout your event. I have stopped using DIY and have instead begun using "Inspired" instead. DIY has a bad reputation – it doesnt always mean Do It Yourself. And this from the self proclaimed queen of DIY!" – Dawn Cowart, Traditionally Modern Weddings
"My dream! I love DIY weddings but realize there is a lot of work that goes into them. I would tell a bride to either hire a wedding stylist or make sure she has plenty of time set aside to craft everything because it is a HUGE undertaking. Also, stop looking at Pinterest you can go crazy and put way too many projects on your plate. Try to get an overall feel and cohesive look and then build on that. Happy DIY-ing!" – Amalie, Amalie Orrange Photography
"There is a dramatic difference between a DIY wedding and DIY decor. It takes a very unique bride to handle a DIY wedding without getting overwhelmed and stressed. I would encourage any bride trying to execute both DIY logistics and DIY decor to pick one of the two." – Laura Helm, Ashton Events
"A DIY wedding is when the bride takes on certain tasks for her wedding instead of hiring a vendor to complete these tasks. One of the main benefits of a DIY wedding is the potential savings. By completing a big portion of the labor yourself, you are able to save money. Aside from savings, a DIY wedding allows the crafty and artistic bride to hand create elements for her wedding. This is a great way to add a personal touch to your big day." – Krisstin Thorburn, On The Go Bride
—————————————————
So with all of this said… What do YOU think a DIY wedding is? I want to know what your definition of a DIY wedding is- tell me in the comments!
[Want more posts about DIY? Click here!]
The following two tabs change content below.
Lauren Grove is the editor and owner of Every Last Detail. A clueless bride-turned-wedding planner, Lauren uses her experiences and knowledge to educate and inspire brides all over the world.