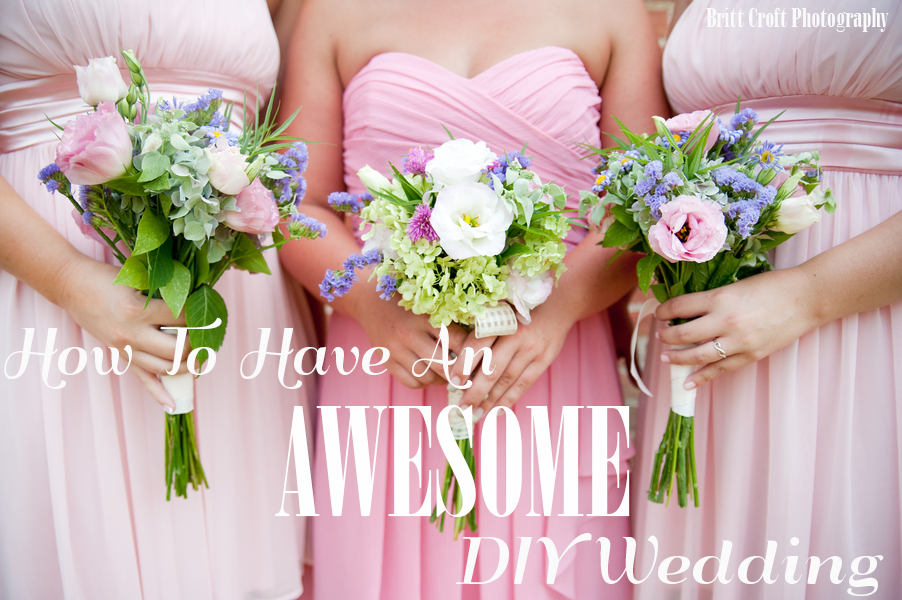 It's no secret that I'm all about doing what I can to help you all have amazing weddings… but I recently noticed that one type of wedding I don't talk about too much is DIY weddings. But you know the thing is, often times DIY weddings have the BEST details, which of course I'm ALL about too, so today… we're talking DIY!
To start off, I want to state that to me, a DIY wedding is more of a style of wedding (which is also known as "handmade"). Clearly, DIY is a huge, all encompassing term… it can be attributed to details, planning, elements, how a wedding is carried out, etc. With that said, there are also differences among DIY weddings, and those differences can be the division between having an AWESOME DIY wedding and just a plain old DIY wedding.
So here's the deal- couples often turn to DIY to stay within their budget, right? It's not necessarily always a style choice- sometimes it's the choice that's made out of pure necessity. But there are also couples who decide on having DIY weddings because that is 100% them. They're artistic, creative, intimate, and want something that is going to reflect them. Ding ding ding! Friends, THOSE are the awesome DIY weddings that you're seeing all over the internet and in magazines.
Now sometimes those couples have a decent budget, and sometimes they have a smaller budget… but the success of any DIY wedding, no matter the budget, can hinge on a few important elements. DIY weddings have awesome details because with a DIY wedding, you are truly putting yourself into your wedding. In addition to that, it's also a combination of a few other things, so I thought I would lay them out so everyone can have an AWESOME DIY wedding…
Use professionals where & when you can… 
Yes! You can certainly still hire professionals to carry out your DIY wedding. In fact, there are even professionals who specialize in DIY weddings! Have a strict budge to stick to? Try to hire the crucial ones- the ones who will play a big role in how your day pans out. I've heard it said many times that if you're having a DIY wedding and you hire an amazing photographer and an equally amazing planner, they will be SO worth the money that you spend. What means the most to you? Food? Then hire a great caterer or even see if your favorite restaurant or food truck (YES, food truck- do it!) offers catering. Or maybe decor and having your DIY projects and vision brought to life means the most to you… then go for a planner or designer to carry everything out on your wedding day. You know what your budget is and what means the most to you though, so I'm not going to tell you who to hire and who not to… all I'm saying is hire pros if you can! You will not regret it! (PS: as I say so very often… you get what you pay for!)
Keep the guest count small…
I've said it time and time again… if you want to save money, keep your guest count small! If you know that you have a tight budget, start off with a small guest list. The great thing about guest lists is that you really don't have to commit to the people on your list until you send out invites about 8 weeks before your wedding. So you can certainly also make cuts to your guest list if you have to. (Note: Unless you sent them a Save The Date… keep in mind when you're sending Save The Dates that you only want to send them to people you ABSOLUTELY know you want at the wedding!)
Keep everything reflective of you…
As I mentioned earlier, the best DIY weddings are those that are completely reflective of the couple. Of course those are always the best details in general, so just always remember that! You don't have to do what Susie and Joe did, and you don't HAVE to have favors… it's your wedding, do what is YOU, and do what you want!
Creativity is key (aka creative friends)… 
Most everyone that I have talked to who had awesome DIY weddings, said they couldn't have done it without their planner or their creative friends/family. If you're not hiring any professionals to help you in carrying out your wedding vision, the key is creativity… more specifically, creative friends! Sure, you can have that brilliant idea for a wall of ribbon garland behind your sweetheart table, but once you get started, you'll realize that it's going to take you forever. You will most definitely want to enlist the help of creative friends/family to help you carry out your ideas! (A little tip for enlisting their help: tell them precisely what you want them to help with. Often times people will say they'll help, but then never actually help because they don't have any guidance from you, and you might possibly be a little wary of asking them more than once. Communicate!)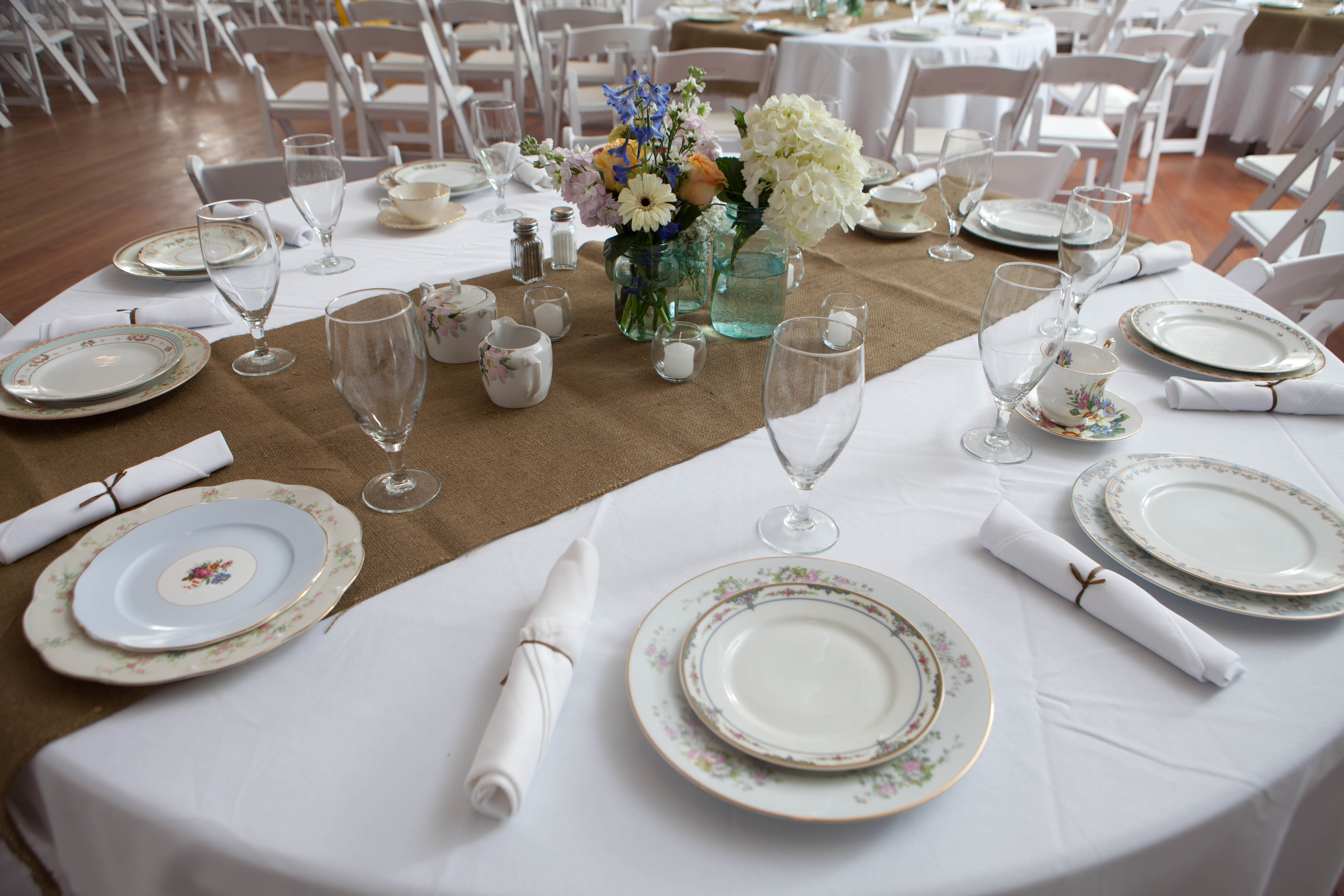 Photo via Simply Savannah Events 
Test out your DIY projects… 
There are certain things that are easier to DIY than others. Specifically, the things that you can before the actual wedding week are always your best bets for DIY projects. Once you know what DIY elements you want to do, you'll want to test them out. Don't buy a million things right away- you could definitely end up spending way more than you need to! Test out your DIY projects, to make sure you can even do them. I have attempted so many things and then realized that a) it took way longer than I expected and b) it was way more work than I could put in. If it doesn't pan out, purchase the item from somewhere/someone (Etsy is always great) or have someone with experience do them (Glamour & Grace's Handmade Guide is awesome too!). You can still have that DIY "style", and not necessarily have to DIY every single thing!
You don't need EVERYTHING…
I recently had a nice little discussion with some wedding pros about what actually makes a wedding. The resounding topic was that sure, while centerpieces and favors and menus are awesome (and great details), they're not going to make or break your wedding. I agree. You don't need EVERYTHING… and there are always alternatives! Don't want to print 100 menus? Do one big chalkboard menu! Don't want to get favors for all your guests? Make a donation to your favorite charity instead. It's okay if you nix a few things… just make sure they're not things that you absolutely love. :)
Allow for plenty of time…
Ah one of the biggest parts of a DIY wedding, having the time. This pertains to both in the months, weeks, and days leading up to your wedding, as well as on your wedding day. Allow for plenty of time for any DIY projects to get done. Plan ahead, and set a DIY schedule for yourself in the time leading up to your wedding. (You don't want to be like me and be making your menus until 3am the night before your wedding.) And on the day of your wedding, create a timeline for the people who are helping you (if you don't have a planner, that is). Make sure everyone knows what they are doing, where everything is, and where they need to be. The earlier the better- especially if the people helping you out are going to be attending your wedding. :)
With all of this considered, let's keep in mind that not ALL DIY weddings are also going to be considered "budget" weddings. Some are, but then again, some aren't. It all depends on several factors that are different for everyone- including what someone's budget is! (Because everyone has a budget, right?!) Keep in mind that with a DIY wedding, there are certain extents of DIY. You could truly be DIYing EVERYTHING about the wedding, including how it's carried out, or you can have someone else carry out your DIY elements. Either way, you're still having a DIY wedding, and if you stick to the above things, you can have an AWESOME DIY wedding!
So who's having a DIY wedding? What *kind* of DIY wedding are you having, and what exactly will you be DIYing? I want to hear your plans! :)
*Photo at top of post by Britt Croft Photography, via this DIY Wedding*
The following two tabs change content below.
Lauren Grove is the editor and owner of Every Last Detail. A clueless bride-turned-wedding planner, Lauren uses her experiences and knowledge to educate and inspire brides all over the world.