The spring is one of the most popular seasons for weddings, and it's equally as popular for bridal showers. The common question for brides ends up being… what to wear to your bridal shower? Speaking from firsthand experience, I always become so frustrated when I can't find a unique dress to wear for an event.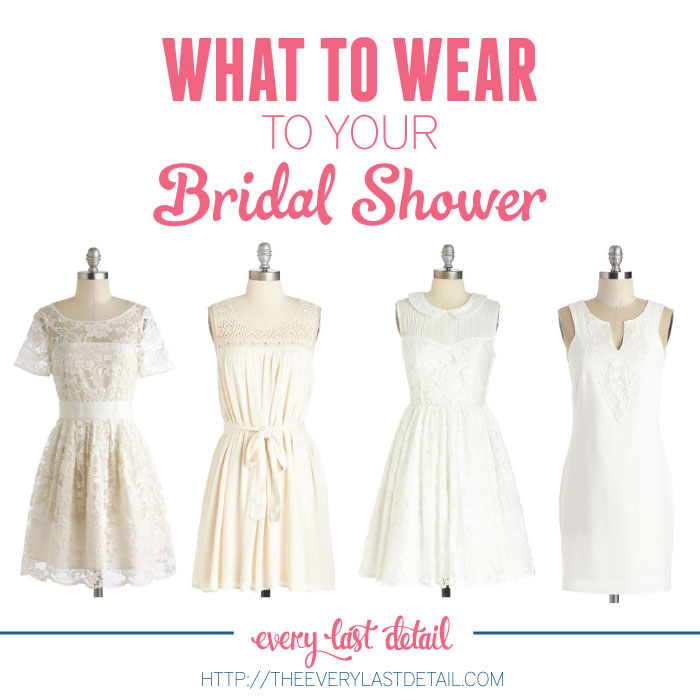 With that in mind, we thought we would do our own search for the very best bridal shower dresses just for you. Take a look below (there are so many styles, stores, and price points represented!), and then keep reading for our top tips to keep in mind when deciding which dress you would like to add to your cart:
[show_ms_widget id="17114580″ image_id="17967985″ width="760″ height="3783″]
---
---
Tips On Deciding What To Wear To Your Bridal Shower
1. Wear White
Because you're the bride, now is definitely the time to continue the trend of wearing white. It's highly unlikely that another guest will wear white (most know it's reserved for the bride), so you're sure to stand out. And that's definitely the goal.
2. Choose Your Style
Your shower is likely not a black tie event, so plan to wear a shorter dress. Also, keep the details of your wedding dress in mind. Would you like your shower dress to have similar elements (lace perhaps?), or would you rather wear something that's completely different? Your shower is a great opportunity to represent your style in a different way, so don't feel as though your shower dress needs to mimic your wedding dress.
3. Be Conscious of Your Venue
If your shower is not a surprise, tune into the style of your venue. A lightweight eyelet dress is perfect to wear if your shower's venue is more casual, while a dress with an illusion neckline definitely has a more dressed up vibe.
4. Add Accessories
The best way to add interest to any outfit is to pair your dress with statement jewelry and great shoes. Because your dress is white, don't shy away from color when choosing your accessories! We love BaubleBar for their fun accessory options! Keep in mind: the best way to make an outfit feel more formal is to add accessories (usually sparkly ones), while the best way to establish a more informal feel is to take accessories away or use color to accessorize.
5. Will You Wear Your Dress Again?
Although you want your bridal shower dress to stand out, you may also want to consider whether you will wear it again. Spending a bit more on a dress you know you can wear for years to come will always make you feel more confident when making an investment on a dress that's a bit more expensive. Not planning to wear your dress again? Turn to Rent the Runway!
What are you wearing to your bridal shower? Where are your favorite stores to find unique dresses? Make sure to comment below! Obviously I'm taking notes right along with you, so I can add to my list of the best places to turn to when I need a dress in a pinch.
[Disclosure: This post contains affiliate links. If a purchase is made via any of the links, a portion of your purchase may go to Every Last Detail.]
The following two tabs change content below.
My name is Carly, and I live for love whether it's the love I witness between my family members and friends or the love I have for places and weddings. For these reasons and more, I write about the wedding industry, and I'm an event planner, designer, and floral stylist who will forever be in love with flowers, pink, and bows.