We're back with another edition of our V List Member Tips series! This week, we're talking all about wedding trends. And, you should know this: we gave our members free reign to say exactly how they feel about every last thing they have seen and experienced at weddings. The results? They're likely going to surprise you! From things to avoid and things you should definitely do (hello, first looks!), to questions we know you have (should I use Pinterest to plan my wedding?)- our pros have a lot to tell you (and we do too). Let's get to it!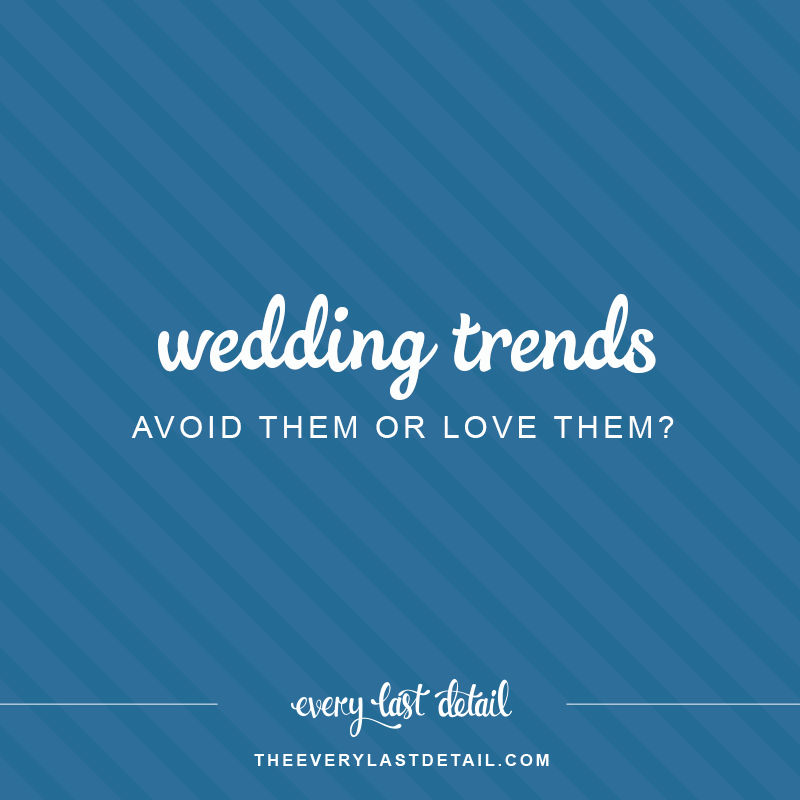 Is Pinterest a trend to avoid?
Make sure to use it properly!
If you're not careful, Pinterest can be a 'personality hijacker' and you'll end up with all these Pinterest-y things at your wedding that don't make any sense given who you are and what you like to do. So, my 'rule' for clients is: Stay off of Pinterest until you've a) decided on a style for your wedding that reflects you as a couple AND b) secured a venue. After that, you can get back on Pinterest to get some decor ideas that will fit your particular style and your venue. – Nicole Jansma, Nicole Jansma Photography

 Pinterest as a whole can be used to support a central idea or concept for a wedding, but not create one. You'll end up copying so many different things that you'll get a half-baked result. Get a wedding planner and designer. They'll be able to help keep things in line and creatively support your idea and concept. All while keeping your wedding unique. – Rudy Montilla, Rudy & Marta Photography
Are burlap and baby's breath really a thing of the past?
If you love either one, no. But, there are a number of other ways to create a vintage or rustic wedding!
Baby's breath. It wasn't cool 5yrs ago and still isn't cool now. It doesn't smell good at all. I understand they are budget friendly but please use hydrangeas vs those. I find they are slowly making a comeback and I want to scream. – Bumby Grimm, Bumby Photography

If there's anything that we would say to avoid, it's burlap. It's been done so much, and thanks to Pinterest it keeps on being rehashed every year. – Rudy Montilla, Rudy & Marta Photography
Should we plan a single wedding day or a multi-day celebration?
Multi-day celebrations allow you to spend even more time with your guests, and you can most often do so in much more relaxed settings. We love what photographer Justin DeMutiis shared about his own wedding.
We placed a high priority on making memories (and capturing them with an amazing cinematographer and incredible photographer). And since I'm a photographer, there were 12 photographers in attendance, so the days leading up to the wedding were well documented from various view points. I'm not suggesting the trend should be a 3-4 day event, but I believe in experiences over things… So if you're going to spend your money, spend them on making memories, not on pointless knick-knacks that the guests are going to throw away. So many of our friends told us that they hadn't had that much fun since they were in high school (and many of my closest friends I've been friends with since middle school and high school). I don't know if the limits of American venues (4-6 hours) is a trend, but my understanding is that weddings in Europe, Australia, and many other places is a multi-day celebration. – Justin DeMutiis, Justin DeMutiis Photography
Are white wedding dresses a thing of the past?
No, but you definitely don't have to wear white!
One of the things that I feel should be abandoned is the notion that you have to have to have a white dress. Not everyone looks great in white or ivory. If you don't feel beautiful in white, pick a gown in your favorite color! – Katie Martin, Elegance & Simplicity, Inc.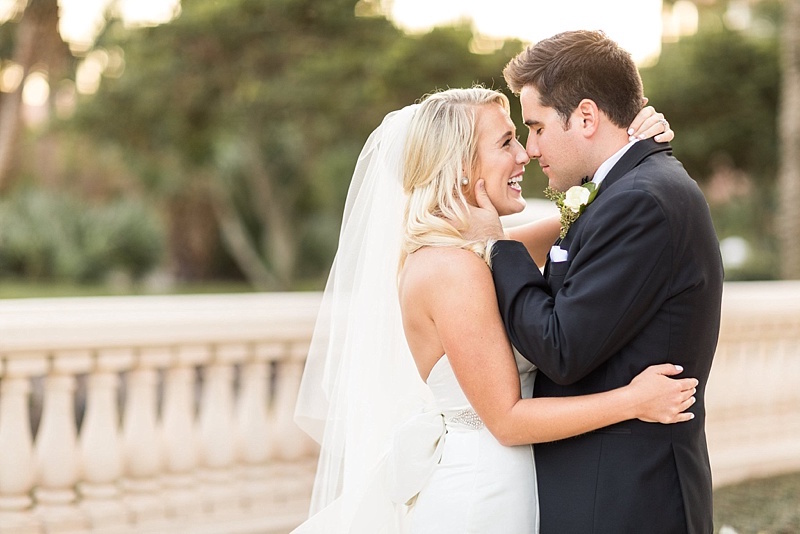 Image by Bri Cibene Photography
Why are first looks trending?
They make a world of difference for your timeline, but you may want to avoid one kind.
The biggest trend that I see emerging is the "joke first looks." If you and your fiancé are total jokesters and this is really personal choice, by all means, do this. But if you're riding on the copycat train, with a bedhead first look, t-Rex suit first look, or something else for sheer virality and attention, you will probably look back on these pictures with a bit of an eye roll. – Ashley Gerrity, Ashley Gerrity Photography

First looks need to become the standard. Too often, people feel they're bad luck for the marriage. But, if it's good luck when it rains on your wedding day, then does it mean it's bad luck if the sun is shining? The idea of not seeing your spouse before you walk down the aisle started at a time when marriage was prearranged. While prearranged marriages are still popular in some cultures, most couples are choosing their future spouse. If marriage has advance, why not also step beyond superstitions too and focus much more on the practicality of a wedding day. A first look allows a wedding to run so much smoother because your photographer can take the time to allow you to soak in all of the emotions you feel as you feel them and photograph your moment before your wedding and during your ceremony. You will feel different during each, so embrace the opportunity to see each other. – Rudy Montilla, Rudy & Marta Photography
What food trends should we incorporate (or not)?
Make sure meals are readily available for everyone.
Food trucks are a horrible idea for dinner service! Asking a large number of people to wait in line as a few people take individual orders is tacky and super time-consuming for a wedding dinner, cutting into the rest of your reception and your dancing time. And, when I ask, most couples can't answer who will set and buss tables, serve water and remove trash at the end of the night. Have a few trucks for a late night bite, sure, but this is a trend that was clearly not thought through. – Michelle Garibay, Michelle Garibay Events

Make sure you feed your vendors. Some of them are with you the entirety of the day. We know exactly how you feel when you're starving after the ceremony. We're right there with you. For a lot of photographers, if food isn't provided, then they'll leave the property to get food. – Rudy Montilla, Rudy & Marta Photography
What do people really think of bouquet and garter tosses?
Your guests may feel slightly awkward…
I personally have never been a fan of bouquet and garter tosses. The thing I love about modern weddings is that they can be customized to be whatever the couple wants! There are no longer any "rules" about what you have to include or where you have to get married. Weddings have truly become a unique reflection of each couple, rather than ritualistic carbon copies, and I think that is so beautiful! In my experience, the bouquet/garter toss tends feels very forced and antiquated. If you truly want to do bouquet and garter tosses, absolutely 100% do it! But if you're only doing them because you think that's "standard practice" for receptions, DON'T :) – Nicole Jansma, Nicole Jansma Photography
The wedding exit trend – do we really have to do one?
Of course not! And also…
Don't plan a sparkler send-off. It's dangerous for you and your photographer/videographer. It's been done for so many years that it's not unique anymore. And many venues are no longer allowing them. Think of something unique that fits with your wedding style (but be sure to check with your venue). – Heather Canada, First Coast Weddings and Events
Should we work with a classic or "trendy" photographer?
The choice is up to you, but classic images do stay completely relevant even as time passes!
I've been shooting weddings since 2004, I've seen a lot of photography trends come and go. I appreciate those photographers with an incredibly original and artistic point of view, but I have always been a lover of rendering images faithfully and true to life when it comes to weddings (I guess I've always had a slightly classic sensibility). There are plenty of trends that are easily dated, but images that are natural and represent the actual memory of the day will never go out of style. And if you've been intentional in the planning process about creating plenty of opportunities to spend time with your family and friends, you'll have an extremely happy photographer. – Justin DeMutiis, Justin DeMutiis Photography
What is the NUMBER ONE wedding trend?
Just be you and do what is going to reflect YOU most!
If it isn't something that is inherently your style or aesthetic, don't feel married to an idea just because it has become hip. – Ashley Gerrity, Ashley Gerrity Photography

When you do things that are too trendy you run the risk of dating your wedding. There is something to be said for classic and timeless. You can achieve that by sticking with what is important and meaningful to you as a couple. What do you love to do together? What's important to you as a couple? What matters? Elaine Palladino, Elaine Palladino Photography

In general, couples should avoid wedding trends that do not match their personal style or wedding aesthetic. Instead, opting for wedding trends that enhance their wedding vision and guest's experience while staying true to their personalities! – Mariana Herrera Mosli, Kismis Ink Photography

I think couples should plan their wedding style and colors based on their taste as a couple. I would recommend staying away from popular color palettes that will date a wedding rather than making it special. Pinterest is a great tool, and it should be used to inspire to create something unique to them rather than copying exactly what they see. A wedding that is unique and special to a couple because the details are planned around the couple's story is always so exciting to me to photograph because I'm immersed in their story from beginning to end and the end result of the photos is always so special. – Ly Sué Hernández, LH Photography

I think couples should avoid "trends" altogether. Instead, they should evaluate what's important to them and what makes them special/quirky as a couple and keep that in mind throughout their event design and experience! – Avis Glenister, Peach & Pearl Events
There you have it! Things to do, things to skip over, and ways to make sure your story shines brightest at your wedding – these are the wedding trends that interest us most.
What trends would you add to the conversation?
The following two tabs change content below.
My name is Carly, and I live for love whether it's the love I witness between my family members and friends or the love I have for places and weddings. For these reasons and more, I write about the wedding industry, and I'm an event planner, designer, and floral stylist who will forever be in love with flowers, pink, and bows.