Hi friends! Over the past few weeks, we've been talking about things that you need to know when you're newly engaged- like setting a budget, choosing your wedding date, and finding wedding vendors. (If you missed any of these, hop on over to our recent wedding planning posts to catch up.) Today we're moving on to expectations and vendor pricing… more specifically, how to find out wedding vendor pricing.
When I was planning my wedding, I had no idea what to expect for wedding vendor pricing. I had never planned a wedding before, I was the first person out of all my friends to get married, and I couldn't find anything that told me what things should actually cost for a wedding. I know some of you are either newly engaged or are starting to plan right about now, and you are BOUND to be in the same situation I was in. Because let's face it- you've never planned a wedding before, right? But the catch is, that one of the very first things you want to know is what to expect things to cost, right?
Which leads me to today's topic of how you can find out vendor pricing?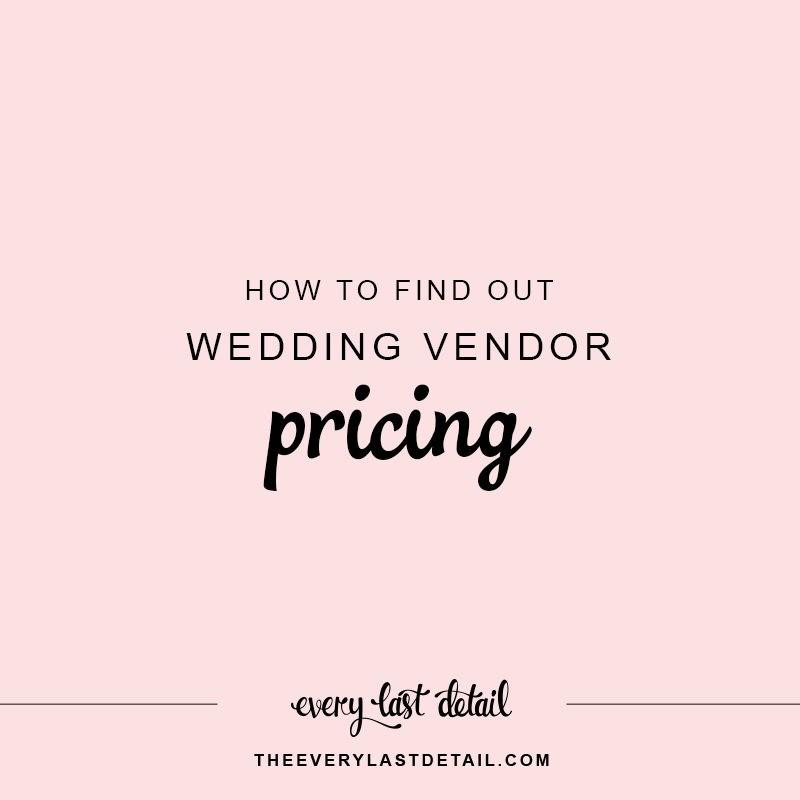 It's so funny to me, because in 2008 (when I was planning), email wasn't quite the sole means of communication for people like it is today. I mean, the iPhone wasn't even in existence yet! <gasp> (Funny, yet kind of sad, right?!) What's even funnier is that the other day, I had the realization that I was *afraid* to inquire with wedding vendors.
So there I was, completely clueless about weddings and what things were supposed to cost, and yet I wasn't able to find out anything because I was afraid to inquire. I suppose part of my thinking was that if I couldn't find pricing on their website, I wouldn't be able to afford them. Which is totally NOT TRUE! I'm pretty sure that if I had just sucked it up and called or emailed people, I would've probably had a much better wedding. Clearly, information wasn't quite as readily available then as it now.

I wasn't able to find out anything because I was afraid to inquire.
Luckily, we now live in a world FULL of information and communication. Just about every vendor will have a contact form that's easy to fill out and submit. Some vendors have their pricing on their websites. Some don't. [And that really doesn't mean anything either which way- trust me, it's a big huge, ongoing debate in the wedding industry.]
But no matter what method you use to find out pricing, it's SO EASY to do- all you have to do is ASK! I mean really- with all of the methods of communication that we have at our fingertips now, you have NO excuse! ;)
So if you're looking for information from vendors on their pricing, here is what I recommend doing:
1. Make a list
Make a list of your potential vendors. These are vendors that you have already researched. You've already stalked their website, read their about pages, and fallen in love with their work. [If they have their pricing on their site, you can stop here if you're just concerned about pricing. If you want more INFO from them beyond just pricing, like if they're available for your date, continue.] For these vendors, there is definitely some potential of you booking them, and therefore, they are your potential vendors.
2. Email or Inquire
Email or inquire with each of these vendors, making sure to include: when you are getting married, where you are getting married, and that you are interested in learning more about their services/product.
3. Share
TELL them if you are solely looking for pricing information and researching your options! They're going to be okay with it- but you also want to be sure to respond to them- no matter what. Whether you want to schedule a consult or not, please please please let them know where you stand and that you received their email! Don't ghost them! As a wedding professional, there's nothing worse than getting excited about a potential couple and then never hearing from them. Trust me- I know.
[Extra tip: a great way to get an accurate representation of pricing is to ask vendors what their couples spend with them on AVERAGE. Not their starting amounts. This will give you a good enough idea of their pricing.]
SHAMELESS PLUG: All of the vendors in The V List have been extensively vetted and verified by me, and they are all the absolute BEST!
4. Be nice
BE NICE and remember that wedding professionals are people too! Goodness gracious, I can't tell you how many rude emails I used to get from couples. It's so weird- when you're planning your wedding, it's easy to think of wedding vendors differently. I don't know what it is, but hey, I did it too! It's really helpful to remember that yes, wedding professionals do what they do because they love it and enjoy it, but it's also their livelihoods. So before you judge or question pricing, remember that tidbit, and maybe even put yourself in their shoes- how would you like it if someone told you that they thought you should make less money? I'm sure none of you would do any of that, but I'm just saying… it's always nice to have the reminder, right? :)
Pricing will vary for every single type of wedding vendor,
depending on several unique factors.
Please do know that YES, pricing varies for every single TYPE of vendor, and then it varies even more depending on options, what you get, level of experience, etc. So no matter what, it's impossible to compare "apples to oranges"– because an apple is certainly not the same as an orange.
While you might not be able to compare each and every vendor against one another, you can certainly educate yourself on their pricing– even if you're not quite ready to book yet. Because an informed decision is far better than… an uninformed decision.
Here's the big thing to remember. If you're just looking for information, then you need to convey that when contacting wedding vendors. TELL them that you're looking into your options. Don't be shady about it or beat around the bush. Just TELL them… but don't forget to also get back to them!
Finding out vendor pricing really isn't a big deal… pricing and information being shared are two things that make the world go 'round! :)
---
So, how are you approaching finding out vendor pricing? Are you intimidated like I was? Or do you find it easy to get information?
And vendors, if you have any tips for couples looking for information, please feel free to add them in the comments! :)
Editor's Note: This post was originally published in April 2012 and and has been revamped and updated for accuracy and comprehensiveness. 
The following two tabs change content below.
Lauren Grove is the editor and owner of Every Last Detail. A clueless bride-turned-wedding planner, Lauren uses her experiences and knowledge to educate and inspire brides all over the world.