Ghosting.
It's a newer term, made popular thanks to dating apps and the internet. The notion of starting something, and then ceasing communication and disappearing.
But now, it has started to become more prevalent in areas of life beyond just online dating. And yes, it has entered the world of planning a wedding.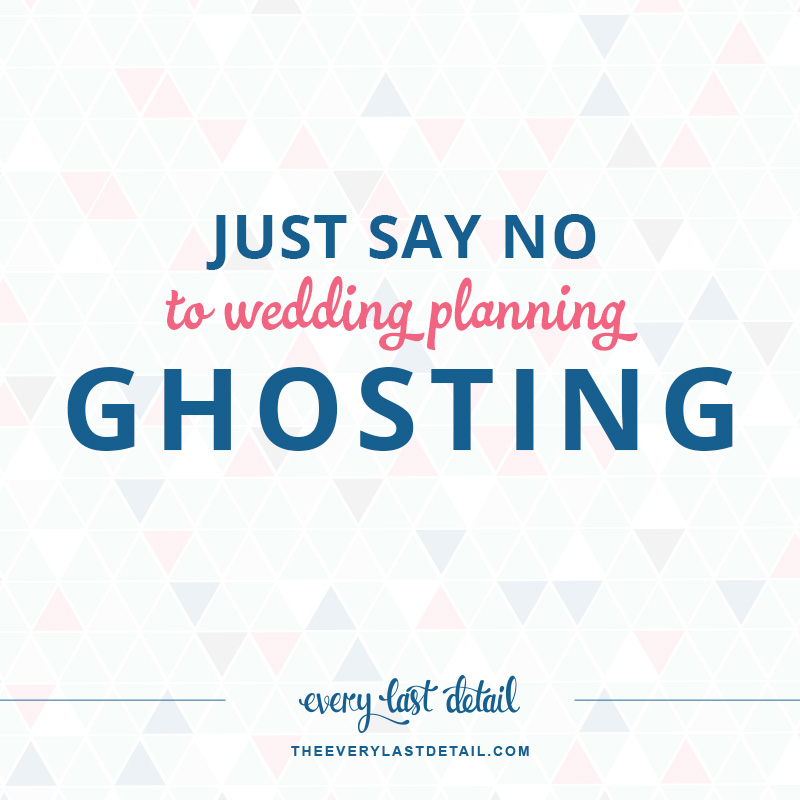 The thing is, you might not even think about ghosting when it comes to planning your wedding. You're just doing your thing, right? Inquiring with a few select wedding vendors (see this post for info on the best process for inquiring with vendors), gathering information from them, and making a decision and hiring one.
But… what about the ones you didn't hire?
You see, when it comes to sales in a business, there is a process. Part of that process involves sending information to someone who has requested it, and then following up with them if there is no response. And in weddings, there is an additional angle being added- your wedding date. When you request information, you typically provide your wedding date, and the wedding pro will then know that they have an inquiry for that date. Sometimes even, a pro can receive more than one inquiry for a specific date, and thus a "battle" for the date can ensue. This is another reason why it's important to respond, so the vendor can know if they can open up that date for someone else, or if they should give you priority.
So, if you don't respond, a wedding vendor will follow up with you, thinking things like, "Well, email is tricky sometimes. Maybe they have lots of emails. Or maybe they just didn't get my response at all."
And quite often, the response is S-I-L-E-N-C-E.
I know- it's AWKWARD telling someone, "Sorry, I didn't choose you."
And yes, I know it sucks.
But it's also even more awkward when they are trying to get in touch with you, and you just don't respond. And when someone is following up with you and it's radio silence, they may feel even more rejected than if you had just straight up said, "I went with someone else."
Plus, on the bright side, you could even provide some feedback as to why you chose someone else, giving them insight that will help them in running their business. Was the "ghostee" out of your budget? Did you just connect with someone else even more? Maybe you went in a completely different direction? Communication is always a great option, right?!
Now, don't get me wrong- I'm SO guilty of this too! I did it 10 years ago (!!) when I was planning my own wedding (ha! When email was just starting to get popular and there weren't half as many awesome tools as there are now), and I have done it now when it comes to outsourcing things for my business or home. And I myself get ghosted all the time by wedding pros themselves too! <<GASP!>>
With all the ways we use the internet nowadays, it is SO much easier to "hide" behind the keyboard and computer screen.
What about wedding vendors ghosting YOU?
I also know that I've heard from some couples planning a wedding that they have been ghosted by wedding vendors. But know that sometimes there ARE email mishaps. I know I've experienced that too. So if you feel like you're being ghosted by a wedding vendor and they are TRUE professional (because let's be honest, there are lots of hobbyists out there who might not be running a true business), then try to reach out to them via other methods- social media is a great option for this.
BUT, don't go the other way around. Please don't officially inquire with a wedding professional via social media. It is VERY hard to keep track of those kinds of things. Sure, get in touch with them, have a conversation, but try to make sure that you are submitting an official inquiry via an inquiry form or email. Because those are the ONLY ways that a wedding pro can truly and accurately keep track of things.
All this to say… try to make sure that you are closing the loop with the vendors that you have inquired with- and just SAY NO to wedding planning ghosting, okay?
The following two tabs change content below.
Lauren Grove is the editor and owner of Every Last Detail. A clueless bride-turned-wedding planner, Lauren uses her experiences and knowledge to educate and inspire brides all over the world.