Finally booking and attending your first appointment to shop for your wedding dress is beyond exciting. You've poured over Pinterest (or simply visited this roundup and swooned over each and every dress); you've read this post while planning for your appointment; and now you're ready to truly enjoy your experience. Although there definitely aren't any rules to follow while shopping for your dress, we do think there are guidelines to keep in mind that will help you throughout the process. So, here they are – the 10 do's and don'ts of wedding dress shopping…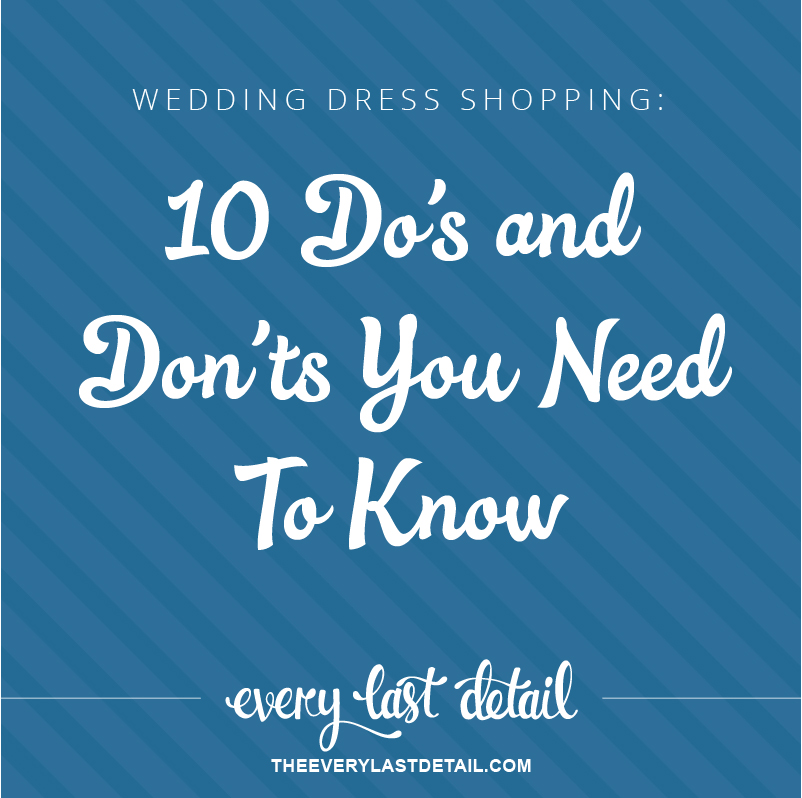 DO book an appointment
We never recommend arriving to a bridal shop without an appointment because it prevents you from stopping by only to learn the shop is completely booked for the day. Make sure to visit the shop's website to determine if any designers are visiting for trunk shows. Then keep in mind that most appointments last for about an hour and a half. It's always best to plan to arrive a few minutes early to ensure you make it on time.
DO have your wedding style in mind
Plan to have an idea of your desired wedding season, venue, and style before shopping for your dress. That way you'll be well aware if you should be looking for a dress appropriate for a relaxed beach fete rather than one that would fit right in at a classic ballroom affair.
DON'T bring everyone you know
Quality is much more important than quantity in terms of who joins you for your appointment. Bringing an entire entourage is not necessarily a great idea. However, arriving with your mom, future mother-in-law, and/or your best friend will be a much better fit. Look to invite those who will support and make you feel confident rather than those who will offer judgment that might alter the mood. Also, keep in mind how many people you would like to see your dress before your wedding day. If you want it to be a surprise for everyone outside of your immediate family, not inviting your full wedding party to your appointment will keep your plan in check.
DO your hair & makeup
If you're planning to wear your hair up on your wedding day, place it in a ponytail or a bun for your appointment. If you're waiting to find a dress before deciding on your hair, have a hair tie on hand for a quick fix if needed. In terms of your makeup, up the ante just a bit by wearing more than you would on a typical day so you can see yourself with a more formal look.
DO wear appropriate undergarments
Plan to wear either the undergarments you're going to wear on your wedding day or something similar when trying on dresses. Keep in mind that a stylist will likely be assisting you while you're trying on dresses, so please wear something that you will be comfortable in.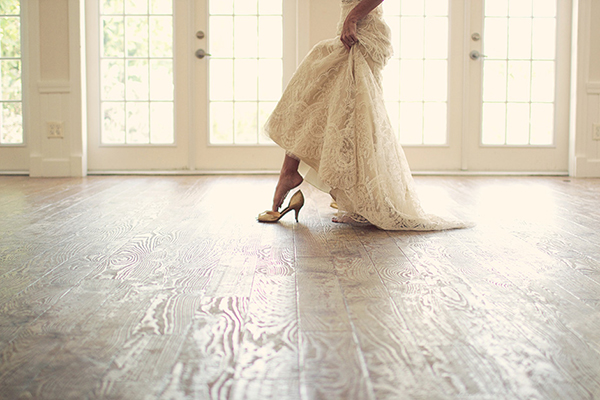 Image by Reign7 Photography
DON'T toss your budget aside
If you've heard it once, you're going to hear it many more times – never try on a dress if it's outside of your budget. By allowing yourself to try it on, you risk loving it only to compare it to each and every dress you try on afterward. We will say, however, if you love a more expensive dress, do your research online. Places like Once Wed and PreOwnedWeddingDresses.com allow brides to resell their dresses, and one of our favorites, Luxe Redux Bridal, resells brides' dresses and samples from bridal salons, so make sure to take a peek!
DO have an open mind
Although you may have a dream dress, designer, or style in mind, be open to your stylist's suggestions. She knows how dresses fit, and if she chooses a dress for you to try on, say yes! The dress you never thought you would like may be the one that is exactly right for you. We've seen this happen SO often, so be open to anything!
DO allow enough time
The most comfortable time to shop for your wedding dress is roughly 10 months prior to your wedding. You will have plenty of time to visit a few stores, and you will have time to purchase shoes and get your dress altered. Whenever you decide to shop, keep in mind that it's highly likely your dress will be made to order for you by the designer. Plan to build that additional time into your timeline, and make sure you're still able to attend a few appointments for alterations.
DON'T feel as though you have to purchase a dress
Never walk into an appointment and feel as though you have to purchase a dress that day or even from that bridal shop. It's perfectly fine to try on dresses, feel as though you might love one, and take a few days to think it through to make sure you really want to purchase it. Unless it's a sample that's on sale and at risk of selling while you're mulling, there's no need to purchase unless you're ready. Note: If you purchase a dress too early, this could happen to you.
DON'T think you have to cry when you've found "the one"
Even though your best friend cried when she tried on the dress she knew she would get married in, that doesn't mean the same thing has to happen to you. In fact, there are so many brides who don't cry! Feeling happy, excited, confident, and as though you don't want to take off your dress might be your way of knowing you found your gown. (Our editor Lauren didn't cry- she was just able to imagine herself walking down the aisle in THE dress!)  Own how you feel, and don't compare yourself to others. :)
Why are you most excited to go wedding dress shopping? And if you've already gone shopping, fill us in on your experience in the comments!
The following two tabs change content below.
My name is Carly, and I live for love whether it's the love I witness between my family members and friends or the love I have for places and weddings. For these reasons and more, I write about the wedding industry, and I'm an event planner, designer, and floral stylist who will forever be in love with flowers, pink, and bows.