We're back with another installment in our wedding stationery series! Today, we're giving you a behind-the-scenes peek (and ALL of the information) about wedding invitation detail cards (also known as wedding info cards). These always seem like the most elusive piece of wedding paper – do we need them; are they necessary; what are they?! You're about to know every last answer – sit tight and keep reading!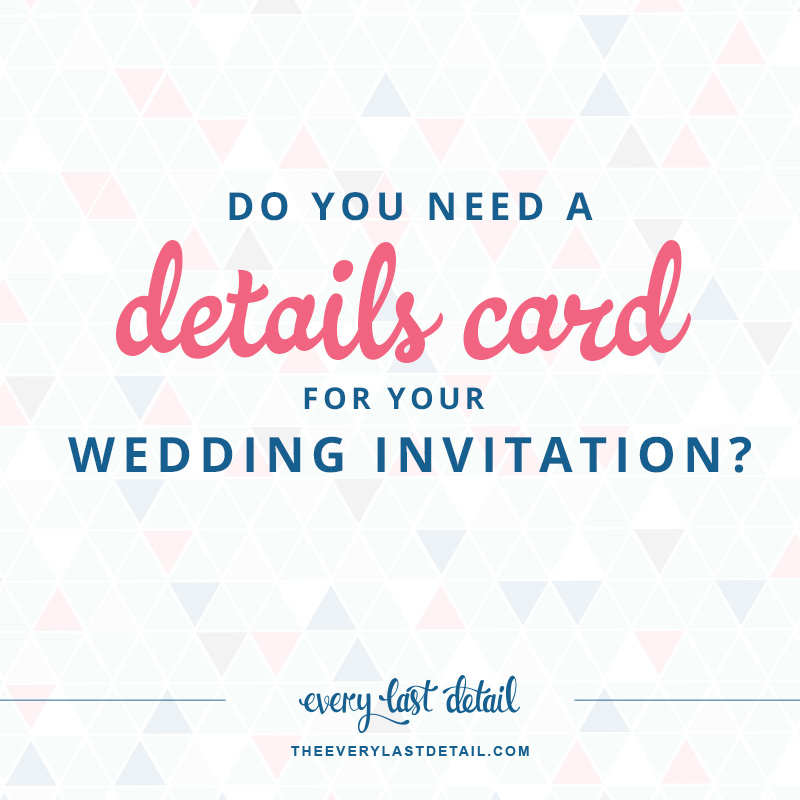 Wedding detail cards can encompass so many different things. They can be the place where you inform guests about wedding hotel blocks; you can use them to provide details about your wedding weekend (a key thing to do if it's a destination soiree!); or they can simply be a spot to clue your guests in on all of your wedding's locations (think: ceremony, reception, and brunch). But, this piece can also serve other purposes!
Y'all already know how much we adore our V List Members, so we turned to one of our favorites, custom stationery designer Sandy from Roseville Designs. Her recent blog post sharing the ins and outs of wedding detail cards was incredible… so much so that we decided we needed to have her share a few of her tips on Every Last Detail! Make sure to keep reading below because this stationery piece is about to make sense.
Ah, the elusive information card for your wedding invitation suite. I constantly get questions from clients on wording for details cards. The truth is, it's not one size fits all. What you include really depends on your guests + your wedding details, but here are a few things I always tell my couples…
1. Include Your Wedding Website
I can't stress this one enough! You may have put it on your save the date, but it's a long time between when they get the save the date and then the invitation. Though you want to believe your save the date is proudly displayed in their home, the truth is it may have eventually gotten bumped off for another fridge-worthy piece of snail mail. (If you're looking for a great wedding website service, check out appycouple.com. It has password-protected options and has mobile-friendly versions!)
Image by: Brooke Allison Photo
2. Decide if a details card is necessary
Though I believe the wedding website somewhere in your suite is a must, if you have a reception card where you can include the URL you may be able to forego the info card completely! (Woo hoo – money saver!)
3. Share Some Information, Not All Information
In this digital era, people don't need turn-by-turn directions. If the location is hard to find or there's some snag in the usual route, it's helpful to include that detail. But at the end of the day, most of us have our smartphones which give us all the info we need.  This is why including the wedding website is so important; it gives you the opportunity to communicate as much info as you want to your guests online, and update it as things change (e.g. one hotel block books up!).
---
There are even more key tips in Sandy's blog post, so make sure you don't miss reading more! P.S: If you're searching for custom wedding stationery from save the dates to invitations (and everything in between!), take a peek on Sandy's site. We think you will be blown away by all of her lovely suites!
The following two tabs change content below.
My name is Carly, and I live for love whether it's the love I witness between my family members and friends or the love I have for places and weddings. For these reasons and more, I write about the wedding industry, and I'm an event planner, designer, and floral stylist who will forever be in love with flowers, pink, and bows.