[Editor's note: I think we've all established that the best, most unique weddings are the ones that are *personal* to a couple. Well I have a confession to make- I found it really difficult to personalize my own wedding (mind you, I was planning my wedding before I knew anything about weddings). I'm excited that Kelly is talking about having a personal wedding today, because I know I certainly needed these tips- hopefully they can help some of you!] 
Hi y'all! I am excited to be back with you today, talking to you about one of my favorite topics… how to have a personal wedding!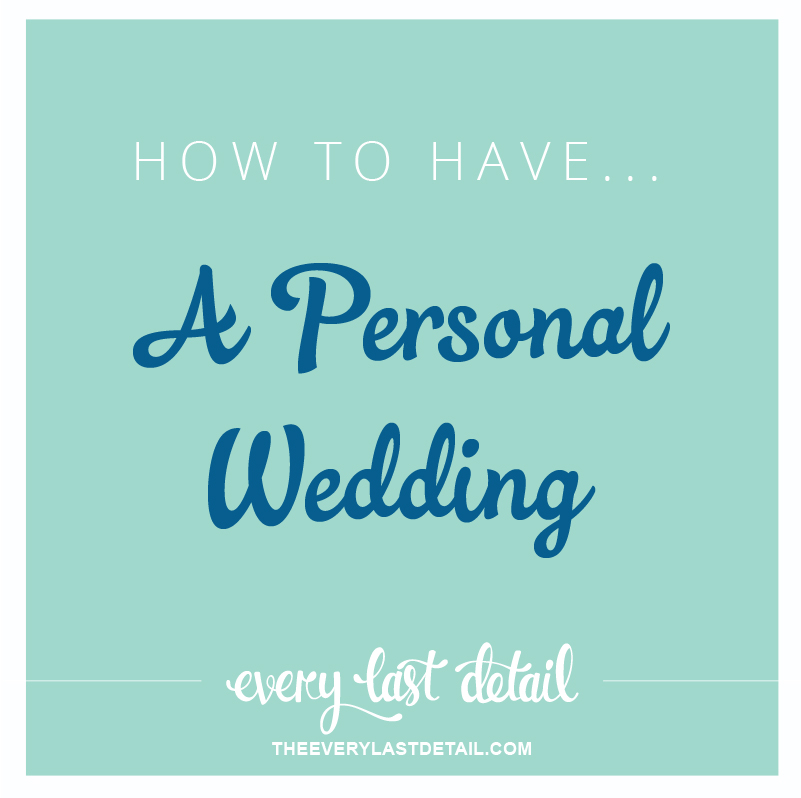 As I have previously mentioned, I'm a bride-turned-planner, and in my own wedding, as well as the weddings that I plan, creating a personal wedding day is what I am all about. I strive to create weddings that capture the essence of a couple and conveys their love story… and it also helps that I am in love with details.
I know what you're probably thinking, "With all the inspiration out there, how do I execute a wedding that feels personal and is a reflection of our story? How do I come up with original ideas? Does it cost more to personalize?" Planning a personal, detailed wedding may seem tough at first (hiring a planner can come in handy here!) but these 4 guidelines can get you on the right track…
1. Define your overall style
Before you can start infusing your own personal style into your wedding day, you first need to identify what that style is. For some, this is a no-brainer, but for others it can actually be quite a challenge. When I was planning my own wedding (and I see this with brides I work with too) it was easy to be drawn to a gorgeous picture and then automatically want to replicate it. But while a chic, black tie affair may look stunning in a magazine, it really wasn't me (or my groom). Pausing and taking time to think about what you and your fiancé like can be a huge help. Where are your favorite places to go on vacation? What colors schemes do you consistently see popping up in your wardrobe/home/etc.? What are some of the most memorable dates you have been on together? Do you have similar styles, or opposite styles that will need some blending? Start to identify who you are as a couple and go from there. Because let's face it- if you love to be outdoors and are not very traditional then a fancy church wedding may not be the route you want to go… no matter how handsome you think he will look in a tux.
2. Define what is important to you
Now that you have an idea of your style and what type of wedding you want to plan (i.e. modern, traditional, etc.), you can start thinking of ways to incorporate personalization into the details of your day. As a planner, I like to ask couples to identify the most important elements of their wedding day. For example, if you are a foodie and your fiancé is a music junkie, then those are places you would want to infuse your style and special details. This can be especially helpful if you are feeling restricted. Perhaps you are short on time or maybe your budget doesn't allow for a lot of extras. By identifying what is most important to you both and focusing there first, you can create something special while still working within your limits.
3. It's in the details
When it comes to personal details, I definitely encourage thinking outside of the box. Are the two of you are known for being amazing salsa dancers? Great! Scrap the slow song and salsa for your first dance. Perhaps your family plays board games every week. Fun! Put your favorite games at each table and let your guests in on that tradition. Making things personal doesn't have to be pricey or extravagant. It's about taking each element of your wedding day and using it as an opportunity to reflect who you are as a couple- and details are the way to do this! Look at everything as a detail- from site location to table numbers to the flowers you carry in your bouquet… they are all details that can help tell your story.
4. Remember, there is no right or wrong
This is something that I struggled with as a bride myself, and a point that I try to emphasize to my brides. There is no right or wrong when it comes to personalizing your wedding. You aren't required to have mason jars just because you see them all over Pinterest. You don't have to have a bridal party because it is the norm. You don't even have to have a reception if the courthouse sounds more like your speed! Take the inspiration you find as just that- inspiration. Then tweak things to match what you love about each other and tell your story. By creating a day focused on your love and staying true to who you are as a couple, you really can't go wrong. Because in the end, you will have a day that's personal to both of you, and a representation of your life together!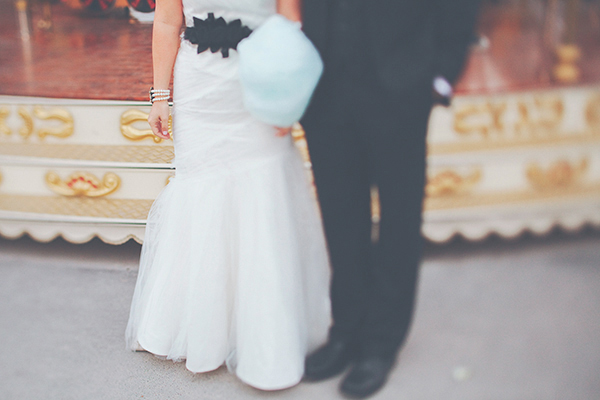 Image by Papered Heart Photography
To give you a few more suggestions, we (Lauren and I) asked some of the members of Every Last Vendor to share what they would suggest for having a personal wedding…
"When deciding on details like music or food or formality, ask yourselves "do we really love this style of music or particular song? Or is it just something fun and hip that no one else has heard of? Does this reflect us as a couple? Or do we love this type of food, and love eating it together or are we having it bc it's different and funky and cool. And are we this causal? Should we have a rustic burlap wedding because it reflects our tastes and similar interests? Or bc that's what we see a lot of online?" So many couples are so busy making things looks like Pinterest or some idea they saw online when it really has nothing to do with their likes and interests. If you're doing something just bc you think it's cute or trendy, then I'd advise to get rid of it. Don't waste your engagement on details that aren't really important to both of you as a couple." – Michelle of Michelle Kristine Photography
"It is always fun to go with a custom couples logo for programs and hand outs! Also, don't be afraid to think outside the box when it comes to your wedding details." – Lauren of Palazzo Del Sol
"Make it personal by having a meaningful purpose to your choices. It shouldn't be a Pinterest wedding… inspiration should remain inspiration. Look for what is inspiring you as a couple to identify what your style is. Add elements that you wouldn't ever see pinned anywhere because they directly reflect you and your relationship. It doesn't have to make sense to anyone as long as it makes sense to you." – Roey of Roey Mizrahi Events
"Infuse little details throughout your big day that have personal significance to you as a couple- for example, serving a wine that you both love or using a certain flower in your bouquet that has a special meaning to you. I had a former client who used succulents throughout her wedding and while that is very trendy right now, it was significant as the couple loved to garden." – Ashley of Lemon & Lavender
"Making it personal is really very easy. Deciding to place elements in your wedding that mean something to the bride and groom leave the guests feeling like they were a part of something very special. For example, our family has been enjoying my Mother-in-laws delicious carrot cakes for decades. When our daughter, Sarah, got married she asked her Grandmother to make a cake or two for her reception. She ended up making 8 cakes and they all were devoured! Another special, personal moment is when Sarah said her vows to her husband, Alejandro, in Spanish. Although he grew up in the US and speaks perfect English, it truly blessed and surprised his Mother and the rest of his family and guests that came to the wedding from Puerto Rico. The couple has now been married for several years but many people still compliment them on their beautiful and original wedding." – Lauren of Garden Gate Florals
"1) Write personal vows, 2) find vendors who put a high priority on relationship, 3) make time for speeches, 4) put your guest experience over tradition, 5) infuse meaning into everything, 6) consider not inviting everyone and their mother, instead invite the people who mean something to you." – Craig of Watertown Films
——————————————
There are SO many amazing ways that you can have a personal wedding- the possibilities really are endless, you just have to know how and where to find the inspiration! Hopefully all of the tips above will help you out!
I absolutely want to hear how you're planning on infusing you and your fiancée's personalities and story into your wedding! Please share in the comments below! 
The following two tabs change content below.
Kelly Hancock is the owner of Kelly Hancock Event Planning. As an organization and detail junkie turned bride turned event planner, she has a passion for love stories and adores taking care of the "little things" so brides can savor every moment of their engagement and wedding day. Originally from New Orleans, you can currently find Kelly in St. Petersburg, FL with her husband of four years, running Kelly Hancock Event Planning.