With it being "engagement season", and right after the holidays, I've been thinking a lot about family; specifically, family and including them in the wedding planning process. Families are wonderful, complex things and when you mix in the stress, excitement, to do lists, and a whole host of other factors that come with wedding planning, well sometimes it's not the smoothest of scenarios. Here are a few things that might help when it comes to mixing families and wedding planning.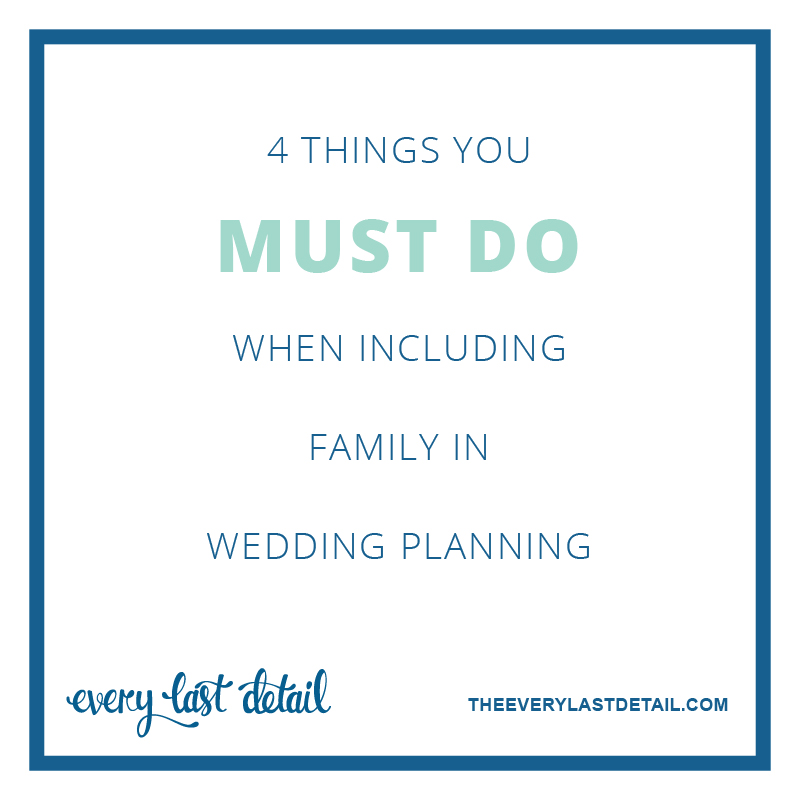 1. Know your non-negotiables.
Everyone has an opinion on what the perfect wedding should look like. Some people have a lot stronger opinions than others. Before you get deep into wedding planning, I recommend sitting with your fiancé and discussing what areas (if there are any) that you are not willing to budge on. Whether that means the two of you will not be having a church wedding, or that Uncle Al's band cannot play at the reception. Whatever it is, have the discussion with your fiancé at the start of planning. This way the two of you can be on the same page, have a united front, and plan out your response (should you need to have one prepared). Keep in mind that if someone else is contributing to the cost of the wedding, they may have non-negotiables too. Be prepared to come up with a compromise everyone is happy with or cover some of the costs if needed.
2. Discuss sensitive subjects in neutral moments.
Sometimes things in wedding planning can get intense and there are a lot of emotions that happen on all sides. During my own wedding planning I had a break down with my mom about the location of our rehearsal dinner. I was so stressed in the moment that something small was blown into a huge, ugly cry/my wedding is ruined type of deal. I cried. She cried. We ended up working it out later but the point is that we chose to have a sensitive conversation at the wrong time. I find with brides that a lot of family disagreements or stress can be avoided if you discuss things in a neutral moment. This way you can feel calm and collected and you are more likely to explain yourself better. You also have a better chance of being heard and of reaching an agreement if stress levels are not already high.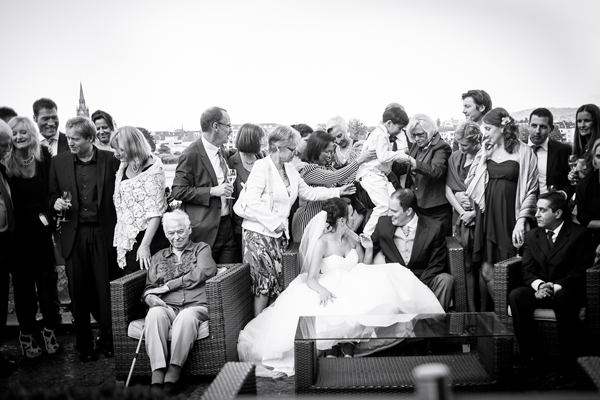 Image by Kate Breur Wedding Photographers
3. Communicate with your vendors.
This is an important one! If there are any special family accommodations that need to be made, be sure to discuss them with your vendors. This way on the day of your wedding things can run as smoothly as possible. This can mean anything from informing your planner that your divorced parents can't be seated at the same table, to letting the photographer know of the special memorial honoring your grandfather's absence. You know your family best and by letting your vendors in on any anticipated needs or special requests, they can be prepared, plan accordingly and help your wedding day be wonderful for you, your groom, and your families.
4. Assign a non-biased party.
This is along the lines of number three, but if you anticipate any issue arising (and something always does!), it is a good idea to assign a non-biased, third party to handle it on your wedding day. This is something that I take on as a planner but you can also enlist the help of your maid of honor, best man, etc. if you do not have a planner. Just remember to plan ahead so that this person knows to step in so you don't have to. For example, telling your Aunt Betsy that she cannot sit in the church during your first look. Having someone like a planner to run that interference for you allows you to stay calm and stay focused on what matters. It also allows everyone in the family to stay focused on what matters too. After all, this day is almost as important, exciting, and emotional for them as it is for you!
Hopefully these suggestions will help you out when it comes to including family in wedding planning! Have you encountered any issues with your family already that you've learned from?
The following two tabs change content below.
Kelly Hancock is the owner of Kelly Hancock Event Planning. As an organization and detail junkie turned bride turned event planner, she has a passion for love stories and adores taking care of the "little things" so brides can savor every moment of their engagement and wedding day. Originally from New Orleans, you can currently find Kelly in St. Petersburg, FL with her husband of four years, running Kelly Hancock Event Planning.