Whether you're newly engaged or you've been planning for months, we always love hearing from brides and grooms! One of the top questions we're asked is whether we think you should work with a wedding planner. While this is a completely personal decision (just like every other professional you may or may not choose to hire!), we can tell you we always offer the same answer each and every time: YES.
As long as you're working with the right wedding planner for you and your wedding, you will likely feel rather quickly as though you don't know how you could plan your wedding without help from a planner. Planners are quick to offer suggestions when you're searching for other wedding pros, they're more than happy to learn about family dynamics (in fact, they need to know!), they can pull together all of the logistics for your wedding into a timeline that keeps everyone on the same page, and you will rarely find your planner sitting down on your wedding day (despite what their feet tell them).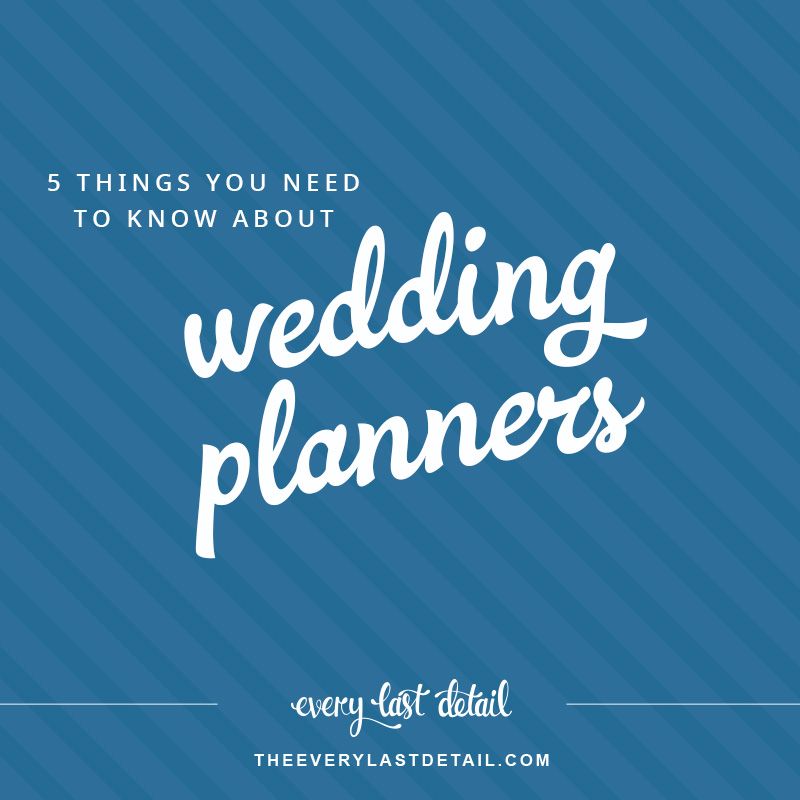 While these professionals may seem as though they have magical powers, there are five things you need to know in order to allow your planner to do her job to the best of her ability:
1. Planners are an investment not an expense. 
Unlike a photographer, videographer, or florist, for example, a planner is solely creating an experience for you rather than creating an experience and providing a product. As a result, sometimes planners are categorized as an "expense" for a wedding. However, we beg to differ. Wedding planners allow you to invest in your wedding day.
Just like other wedding professionals, wedding planners have a roster of pros they love to suggest for your wedding day team. This is because most planners plan many weddings each year. When piecing together a team, planners know who will work well together and keep your best interests at heart. Plus, they also know the professionals who will mesh well with your personality, budget, and style.
Further, as your wedding day approaches, your planner will begin to pull together all of your logistics. She (or he) will become the point of contact for your team (if this hasn't already happened), which will allow you to answer less questions and focus on enjoying the final weeks of your engagement. On your wedding day, your planner will know every last detail (really and truly) about your day, and she will be ready and waiting to put everything into motion.
Simply put, trust us when we say you will be able to feel the difference when working with a planner. Your stress level will be lower, you will make better, clearer decisions because you have a guide you trust, and you will enjoy your wedding day rather than just living it.
2. Planners have personalities too. 
Just like you and your fiancé, every wedding planner has a distinct personality. Just because you love a wedding planner's website or your best friend loved the planner she worked with, does not mean that planner is the right choice for you and your wedding. So, do your research online, over the phone, and in person (if possible!).
No matter if you decide to work with a planner from the beginning of your engagement or you make a decision two months before your wedding to hire a month-of coordinator, you need to make sure you truly like (if not love) your planner. We say this because your wedding planner will likely start to feel like a friend and close confidant. She's going to ask you so many valuable questions, and your planner will also be with you for (almost) your entire wedding day. So before you hire a planner, ask yourself if you want to spend a lot of time with that person.
If you're shy, working with a wedding planner with a strong and bold personality may not suit you best. If you're sarcastic, make sure your wedding planner has a sense of humor too. Just like finding friends, it's important to mesh well with your pros. If you feel like a planner is a great choice or not quite right, listen to your gut.
3. Planners plan, stylists style.
We have mentioned this before, but some planners strictly plan while others offer planning AND styling services. Ask all of the questions so you know exactly which services your planner offers.
If she is strictly a logistics planner, that's okay! Your timeline is the most important piece of your wedding day, and all of your wedding professionals will receive an incredible amount of communication from your planner. Believe us when we say the right planner will keep everyone on the same page.
However, some planners also offer styling services. This means your planner is not only skilled at logistics but she also has an eye for design. You may find she has suggestions for how to design your escort card display or cake table. She will feel comfortable working with you to choose a layout for your lounge, and she may even be the one to guide you as you choose your wedding style, color palette, and more.
Whether your planner strictly plans or incorporates styling services, make sure to inquire about how she likes to structure her day. Will she have an assistant present? Will she be with you while you're getting your hair and makeup done? How does she like to work with wedding professionals? All of these questions (and more!) are key to ask so you know exactly how your day will look, but they're also so important because they offer clues into how your logistics will feel.
4. Planners are on a need to know (everything) basis.
Although each and every wedding planner wishes she could read minds, she cannot. As a result, you need to tell your wedding planner everything.
Inform your planner of important relationships in your family. Believe us when we tell you, there is no reason to feel embarrassed if members of your family don't get along. Wedding planners have been there before, and they've already experienced it. It's truly okay! Your planner just needs to know so she can help you navigate those waters on your wedding day.
If there are specific moments you have always envisioned experiencing or places at your venue where you know you want to capture photos, inform your planner. Getting ready, ceremonies, introductions, dances, and cake cutting happen at just about every wedding, but your planner doesn't know what you have in mind for your wedding until you tell her.
This also includes any purchases you make or vendor relationships you establish. If you're thinking about buying something on Etsy for your wedding design, maybe check with your planner first. She may have a better source for whatever you are wanting. The same goes for vendors. If you have started communicating with a vendor, loop your planner in on the conversation. It's always easier to have her clued in sooner rather than later.
There truly isn't a moment when you will have over informed your wedding planner. In fact, almost every wedding planner would rather know more than they need to than have to pause to ask you questions on your wedding day. Simply put, don't be afraid to speak up! Your planner is counting on you to say something.
5. Planners can solve anything but not everything.
Wedding planners may seem like they can solve just about every problem (and most can!), but remember your wedding day is real life not a movie.
Wedding planners have a way with logistics, and each will work her magic if she sees your wedding timeline falling behind schedule or running early. But, there are only so many adjustments she can make. It's true that a wedding cannot start without the bride (or the groom!), but a reception does have an end time. Just because your ceremony didn't start on time does not mean your venue will allow you to add on additional time at no charge. Please be mindful!
Also, remember planners do not control the weather. Your planner cannot stop rain from falling just as she cannot prevent a summer day from becoming too warm. Planners cannot stop snow from accumulating just as they cannot prevent a day from becoming overly windy. Your wedding planner is well equipped to deal with any scenario Mother Nature presents, and the best thing you can do is to be open to any and all suggestions she makes.
Brides, grooms, and fellow wedding professionals: what other tips would you add to our list? We would love to know! Make sure to leave a note in the comments.
---

The following two tabs change content below.
My name is Carly, and I live for love whether it's the love I witness between my family members and friends or the love I have for places and weddings. For these reasons and more, I write about the wedding industry, and I'm an event planner, designer, and floral stylist who will forever be in love with flowers, pink, and bows.